Story Progress
Back to home
Afghanistan vs West Indies Live Score, Over 46 to 50 Latest Cricket Score, Updates
Live Updates of Today Match between Afghanistan vs West Indies from Headingley, Leeds. Check commentary and full scoreboard of the match.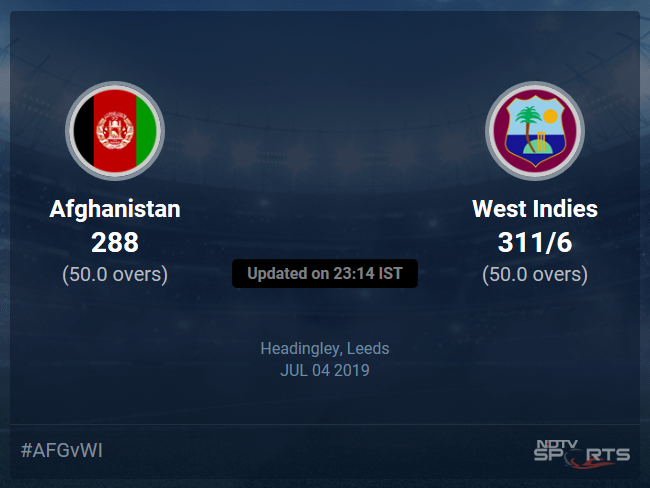 AFG vs WI Latest Score
Done with the match. 111 runs were given by the Afghan bowlers in the last 10 overs and that cost them big in this match. Plenty of lessons for both sides as they end their campaign here. We now switch our attention to the next match on Friday at Lord's between Pakistan and Bangladesh which is almost a dead rubber. The action will begin at 1030 local (0930 GMT). Do join us then. Cheers!
West Indies skipper, Jason Holder says it was good to get over the line. Mentions that they have had some close encounters in this tournament but he is happy they got over the line today. States the batters set the tone and 300 was a good total. Further adds they did not start as they wanted with the bat but they kept on building partnerships and finished strongly. Admits they were inconsistent in all the three departments throughout the tournament and they need to get a lot more consistent. He congrats Chris Gayle and says he has done leaps and bounds for West Indies' cricket. Finishes with a word of praise for Ian Gould who is also in his last World Cup.
Afghanistan skipper, Gulbadin Naib says they did finish with a good score but at once it did look like they will win the game. Credits the way Rahmat Shah and Ikram played. Further adds that Ali Khil, who is very young, played very well but it is not only him and they have a lot of good youngsters back in Afghanistan. Hopes they keep getting stronger. Further adds he has learned a lot from this World Cup. Ends by saying that the fitness is a big issue for them and they need to improve. Also wants his team to learn how to handle pressure and keep working on their skills.
SHAI HOPE IS THE MAN OF THE MATCH! Says it was important they get that score on the board. Feels that Afghanistan have some decent spinners and it was necessary for them to have the launching pad heading towards the end. States he is not very happy with his performance in this World Cup but hopes he can go from strength to strength. Ends by saying he is happy he finished on a high and hopes to carry it in the next series.
Post the second wicket stand, Afghanistan tried to maintain the same intensity through Najibullah Zadran and Asghar Afghan but they failed to bat longer and the batsmen who followed fell in a heap. After an ordinary beginning with the ball, West Indies picked themselves up and tightened the screws. Kemar Roach was the best bowler for them in terms of control while Carlos Brathwaite with a 4-fer was the most successful bowler for the Caribbean team. Chris Gayle also bowled some tidy overs and he got the prized scalp of Ali Khil. Both teams were pretty ordinary in the field as we witnessed quite a few chances getting missed.
Coming to the summary of this match, West Indies put up a strong batting show and powered their way to a total in excess of 300. Barring Gayle, all their top batsmen performed and the century partnership between Pooran and Holder provided the real impetus at the death. In chase, Afghanistan lost their skipper early but the 133-run stand between Ikram Ali Khil and Rahmat Shah kept on track. Both played delightfully and till the time they were in, Afghanistan were in with a chance.
Chris Gayle has the match ball in his hand as he waves to the crowd. This is the last of the big man at the biggest stage. Plenty of smiles and hugs. He has always been a likable character and is loved all over the world for his unique style.
Another tale of Afghanistan presenting a good fight but then running out of gas before the chequered flag! They close their campaign win-less but have plenty of positives to take forward. Even towards the end of this chase, their lower order batsmen put up a spirited show and narrowed down the defeat margin.
49.6 overs (0 Run) OUT! What a catch to end the game! That is a screamer! Fabien Allen, he is a good fielder but this is something extraordinary. It is outside off, Shirzad looks to hit it over the off side but it goes off the toe-end. Lobs over towards Allen at cover-point, who runs back, dives by stretching his left hand out and takes a one-handed stunner. He is elated and so are the West Indian players. They end the World Cup with a win by beating AFGHANISTAN BY 23 RUNS!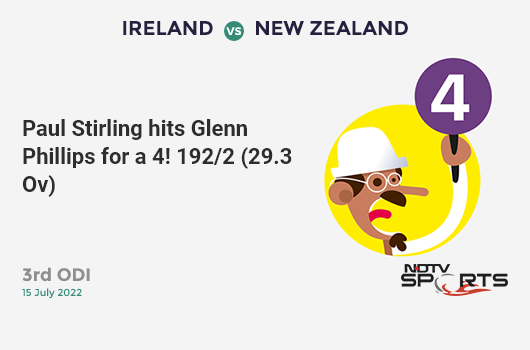 49.5 overs (6 Runs) SIX! This guy can hit the ball really well! Oshane goes full and on off, Shirzad smashes it over the long off fence for a biggie.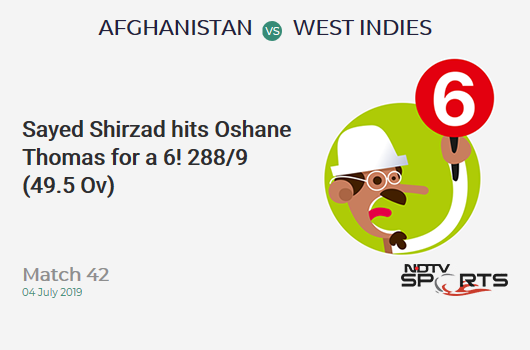 49.4 overs (0 Run) Outside off again, Shirzad swings but misses.
49.3 overs (4 Runs) FOUR! Another boundary for Shirzad! A full toss outside off, he gets bat on ball, clears the in-field and it races away to the fence.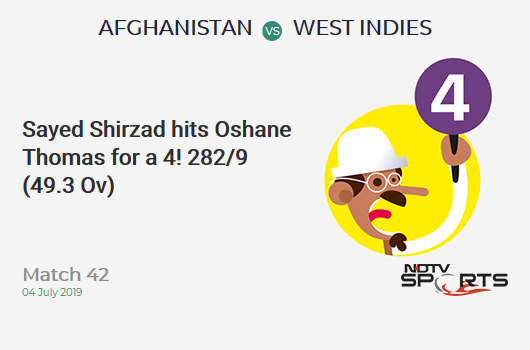 49.2 overs (0 Run) Shorter now and outside off, Shirzad looks to flat-bat it but misses.
49.1 overs (0 Run) Yorker outside off, this is jammed out to point.
48.6 overs (0 Run) He does not! He misses by a whisker. Mujeeb makes room and Brathwaite follows him. Mujeeb swings but misses, the ball just about kisses the leg pole. An excellent day with the ball for Brathwaite. His figures are 9-0-63-4.
48.5 overs (1 Run) On the bounce! Fuller and on off, Shirzad chips it to long off for one. So one ball left for Brathwaite to get a fifer. Can he?
48.4 overs (1 Run) Fuller and on middle, this is hit through mid-wicket for one.
48.3 overs (1 Run) Make that three now as Shirzad mistimes this down to long on for one.
48.2 overs (0 Run) Slower one outside off, the batter swings but misses. 4 more balls left for Brathwaite to get a fifer.
48.1 overs (0 Run) A yorker on middle, this is jammed out to the bowler.
47.6 overs (1 Run) A single to end! A yorker on middle, this is jammed out through mid-wicket for one.
47.5 overs (1 Run) On the fuller side, Mujeeb smashes it hard but to deep mid-wicket for one.
47.4 overs (4 Runs) FOUR! Beats the fielder inside the circle and bags a boundary! Mujeeb joins the action. Fuller and on middle, Mujeeb hits it past the diving mid on fielder and a boundary results.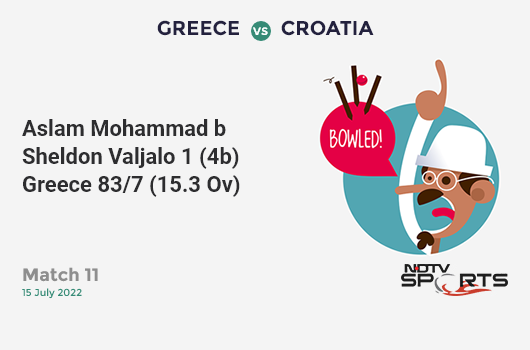 47.3 overs (1 Run) Fuller this time and on off, Shirzad drags it over mid-wicket for one.
47.2 overs (0 Run) Length and outside off, Shirzad swings but misses.
47.1 overs (0 Run) Shorter and outside off, it is flat-batted to mid on for no runs.
46.6 overs (1 Run) Keeps strike now as he guides this through point for one.
46.5 overs (6 Runs) SIX! In the air... but over this time! Good shot, this! A low full toss on middle, Shirzad gets low and lofts it over the long on fence for a biggie. He also wants to present a fight.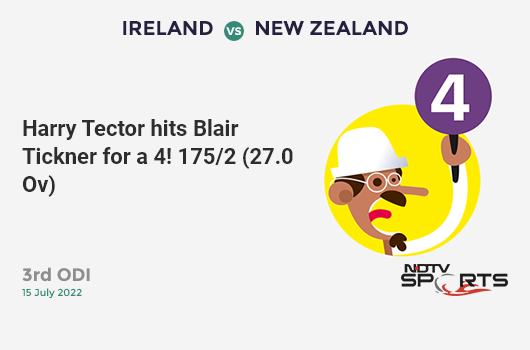 46.4 overs (1 Run) He is off the mark as he pulls this through mid-wicket for one.
Mujeeb Ur Rahman is the last man in!
46.3 overs (0 Run) OUT! Once again the Brathwaite-Holder partnership combines to hunt down a wicket. West Indies are a wicket away now. CB goes fuller and around off, Rashid hits it flat towards long off. It is hit well but does not get the distance as Holder takes another good catch near the fence. Fourth wicket for CB!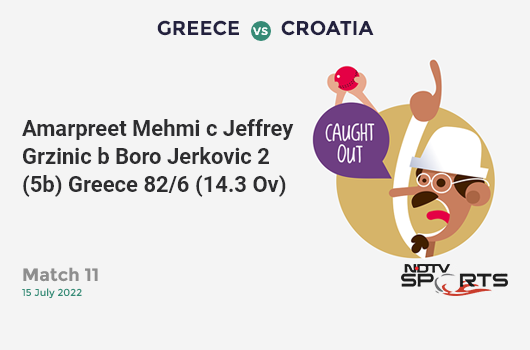 46.2 overs (0 Run) Another dot as this is just inside the tramline on the off side, Rashid leaves it thinking it is a wide. It is not.
46.1 overs (0 Run) Swing and a miss! Slower one outside off, Rashid swings across the line and misses.
45.6 overs (4 Runs) FOUR! Wow, Shirzad opens his account with a delightful boundary. Very full in length around leg, Shirzad gets behind it and bludgeons it down to long on for a boundary.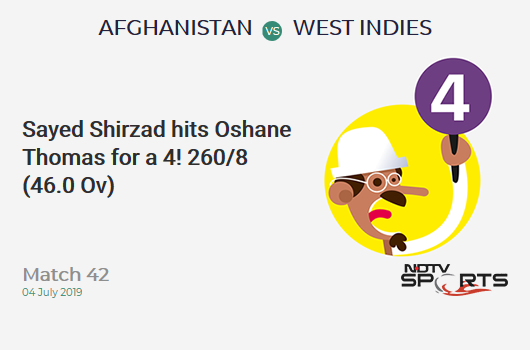 45.5 overs (1 Run) Pooran drops! A full toss on off, Rashid gets bat on ball and pumps it through the line. It goes aerial to Pooran at extra cover who puts down a sitter at the edge of the circle. A single taken.
45.4 overs (0 Run) Another miss. Good length and wide outside off, Rashid flashes and misses.
45.3 overs (0 Run) Big swing and a miss. This time Rashid gives the charge to the fast bowler. Tries dismissing it over the boundary line but is beaten for pace.
45.2 overs (0 Run) Beaten! Thomas delivers it on a length outside off, Rashid though is glued inside the crease and ends up pushing and missing inside the line. The last delivery forced him to do that.
45.1 overs (0 Run) A bouncer around middle and leg, Rashid ducks to save his life.
Match Reports
Topics mentioned in this article