Story Progress
Back to home
West Indies vs Afghanistan Live Score, Over 36 to 40 Latest Cricket Score, Updates
Live Updates of Today Match between Afghanistan vs West Indies from Headingley, Leeds. Check commentary and full scoreboard of the match.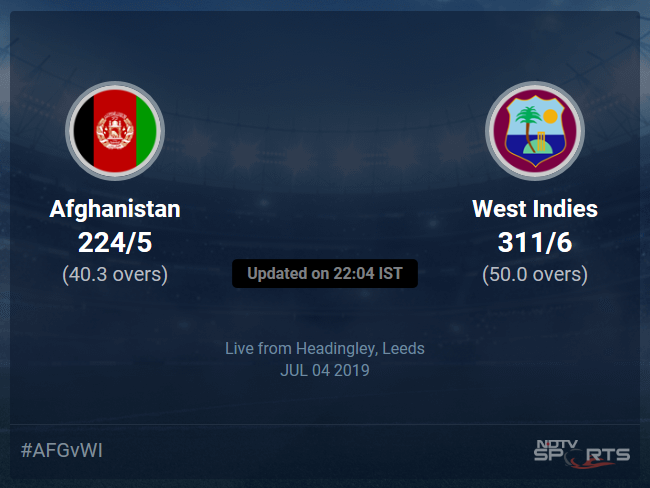 WI vs AFG Latest Score
39.6 overs (1 Run) One more single! Shorter and outside off, Afghan looks to cut but ends up chopping it on the off side for one. Another top over by Roach. 92 needed in the last 10 overs.
39.5 overs (1 Run) Another single! This is shorter and on middle, Shinwari pulls it through backward square leg for one.
39.4 overs (1 Run) Another slower one outside off, Afghan works it behind square on the leg side for one.
39.3 overs (1 Run) This is angled into the batter, Shinwari works it through mid-wicket for one.
39.2 overs (1 Run) Lovely delivery! A slow dipping yorker on middle, Afghan jams it out on the leg side and a run is taken.
39.1 overs (0 Run) Outside off, Afghan slashes at it but it goes off the inner half to the keeper.
38.6 overs (1 Run) Once again pushes a full ball with gentle hands towards wide mid on and calls for two. This time though the long on fielder quickly gets to the ball and they have to abort the plan. 14 from the over, 97 needed off 66 balls.
38.5 overs (2 Runs) Goes for the yorker but it turns out to be a full toss. Asghar nudges it through mid-wicket and calls for two. Gets it easily. There is some urgency shown by the current Afghan pair.
38.4 overs (0 Run) Play and a miss! Afghan is deceived by the slower one. It's short and outside off, Afghan slashes his blade early and misses.
38.3 overs (4 Runs) FOUR! Asghar Afghan is doing it for Afghanistan! Short and wide outside off, Afghan rocks back and smashes it right through the gap between short third man and backward point. No stopping this one.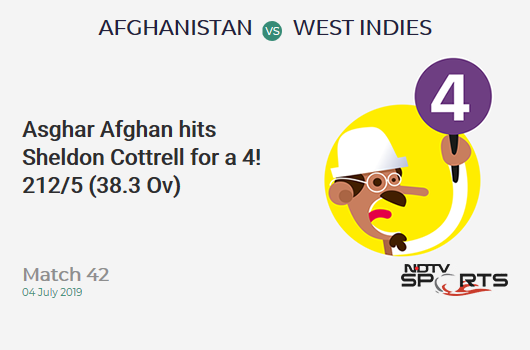 38.2 overs (6 Runs) SIX! Afghan gets into the position early, rocks back and waits for the ball to arrive. Sheldon serves it in his zone and Asghar launches it over mid-wicket. Muscled.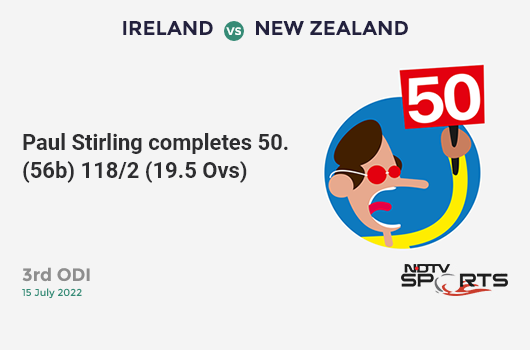 38.1 overs (1 Run) Short in length around off, Shinwari pulls it in front of square leg and picks up a single.
37.6 overs (0 Run) Another dot! A wicket maiden by Roach which is tremendous at this stage. Fuller and on off, Afghan strokes it to mid off.
37.5 overs (0 Run) This is angled into the pads, Afghan looks to work it on the leg side but misses to get hit on the pads.
Samiullah Shinwari is the new batsman.
37.4 overs (0 Run) OUT! Nabi holes out and the wheels for Afghanistan are coming off! This is a big wicket as Nabi is a very, very dangerous player. Roach strikes in the first over of his new spell. He bowls a slower one outside off, Nabi lofts it over covers but straight to the only man out in the deep. Allen there, makes no mistake. Half the side back in the hut for Afghanistan.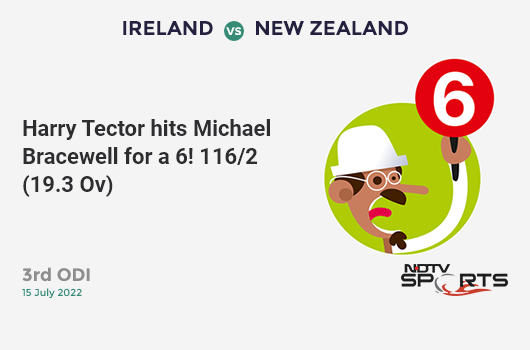 37.3 overs (0 Run) Another dot! Slower one outside off, Nabi guides it to point.
37.2 overs (0 Run) BEATEN! Good length and just outside off, Nabi looks to play it fine on the off side but is beaten.
37.1 overs (0 Run) Back of a length on off, Nabi pushes it towards cover and wants one but is sent back.
Kemar Roach is back into the attack!
36.6 overs (1 Run) Works it with gentle hands towards mid on and scampers across to the other end.
36.5 overs (1 Run) 200 up for Afghanistan! Too full in length on middle and off, it's drilled down the ground for a run as long on cuts it off.
36.4 overs (0 Run) Shaping back in from a length around off, some extra bounce as well, Afghan tries working it around but gets an inside edge behind towards the keeper. Looks for a run but is sent back.
36.3 overs (1 Run) Pitches it up and around off, it's driven confidently off the front foot but straight to mid off. Still a run taken.
36.3 overs (1 Run) Heading down the leg side, the batsman tries flicking but misses. Given a wide!
36.2 overs (1 Run) Straighter in line, it's turned to square leg for a run.
36.1 overs (0 Run) Good length ball on middle and off, Afghan defends it off his back foot to the off side.
35.6 overs (1 Run) Floats it up on middle, this is worked through mid-wicket for one. So 9 off the over but two wickets in it as well. Universe Boss has done his job!
35.6 overs (1 Run) WIDE! Down the leg side, Afghan looks to pull but misses.
Mohammad Nabi arrives in the middle. 118 needed off 85 balls.
35.5 overs (1 Run) OUT! Two wickets in this over and this time it is a run out! The last thing Afghanistan would have wanted. The game has turned on its head. West Indies back on top again. This was just not needed. Very poor from Afghan. He works this with soft hands through mid-wicket and the batters take the first one quickly. Afghan wants a second but Zadran is not interested. AA sees that but still keeps going for it. Zadran eventually has to go for it. It is too late till then. Hetmyer from the deep runs in, picks the ball up and throws it to Brathwaite who has come to the stumps at the non-striker's end from covers. He collects it and whips the bails off. No need to go upstairs. Two new batsmen out there now.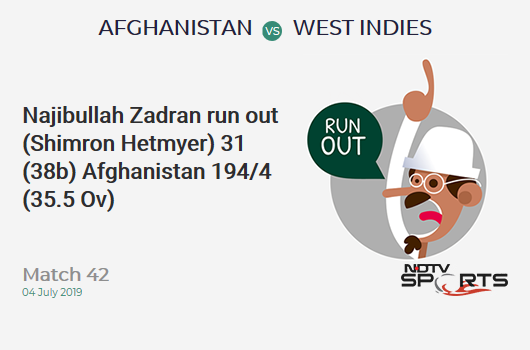 35.4 overs (4 Runs) FOUR! Gayle fires in a full toss on middle, Afghan sweeps firmly and the square leg fielder fails to stop it. A boundary to open the account for Afghan.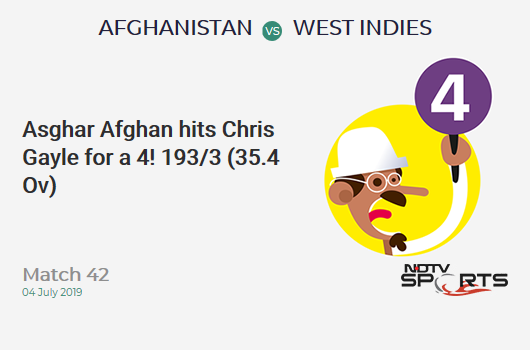 Asghar Afghan comes out to bat.
35.3 overs (0 Run) OUT! Ikram Ali Khil has to go back! No century for the young man. But what a knock by him, truly showed his class and character. Gayle strikes here after bowling some really tidy overs. A flighted full off spinner, on middle, Ali Khil tries to sweep but misses. He is rapped on the pads, they appeal and the finger goes up. Ikram has a word with his partner and then goes for the DRS. The replays roll in and they find no bat first and then the Ball Tracker shows three reds. The 18-year old walks back to a good ovation from the crowd. 123 needed more.
DRS time! Ikram Ali Khil has been adjudged lbw. He walks up to his partner and decides to take the review at the last moment. Looks quite straight, this. Only an inside edge can save him. No bat on the Ultra Edge. Ball Tracker confirms that everything is right and it's hitting the stumps.
35.2 overs (1 Run) Goes on the back foot and forces it down to long off for a run.
35.1 overs (1 Run) Full and flighted wide outside off, it's swept through square leg for a run.
Match Reports
Topics mentioned in this article