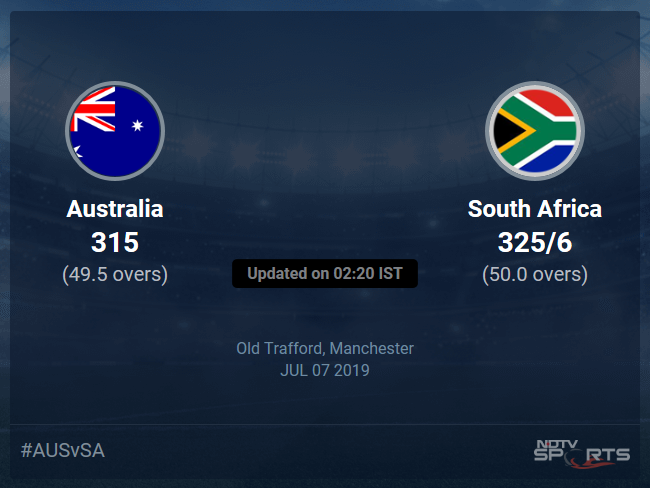 Right then! The league games have ended at last! It is India vs New Zealand at Old Trafford, Manchester on Tuesday, 9th July, 2019 while on Thursday, 11th July, 2019, Australia clash with England at Edgbaston. Both games will start at 10.30 am local (0930 GMT) and there is a reserve day for both the games. Join us for the semi-finals. ADIOS! TAKE CARE!
Victorious South African captain, Faf du Plessis, is back on again. Admits that it is frustrating to have been waiting for so long for the last 5-6 weeks for such a performance. Is happy that the batsmen put runs on the board and the bowlers strutting their stuff, especially with the likes of Rabada getting back to form. On trying to figure what could have happened and what has happened, Faf puts it down to inconsistent cricket. Bluntly says that the team did not play its best cricket and the guys could not quite step up. On Australia bringing out the best in him, Faf smiles and says that he just loves playing Australia. On being asked to tip who could be the eventual winners, Faf says that India will be happy with South Africa's win and looking at New Zealand's form over the last 3 games, he expects an India-England final. On asked further to predict the tournament winner, du Plessis says that normally India and Australia play big games better than the rest, so he would go for one of those to win the final.
Australian skipper, Aaron Finch, says that in spite of the loss, Australia will take some positives in Alex Carey and David Warner's knocks. Admits that with the ball, they were either too full or too short. Praises Markram for taking the new ball advantage away from the Aussies. Adds that one more positive is that they managed to come close in spite of not playing their best cricket. Is tight-lipped on Usman Khawaja and Marcus Stoinis' fitness and says that an assessment will be done only in the morning. Smiles on the fact of meeting England in the semi-final and cheekily says that it will be a blockbuster, with the fans ready to 'welcome' the Aussies.
FAF DU PLESSIS HAS BEEN NAMED THE MAN OF THE MATCH. On his individual form, Faf says that he felt that he was hitting the ball well but could not quite get the big scores. Praises both the teams for putting in a splendid show and is happy that he can go home with some smile on his face. Says that today is the best example for youngsters on how to go about stuff if you are struggling. Praises Rassie van der Dussen for showing great maturity and hanging in there. On his cracking straight drive off Pat Cummins, du Plessis chuckles and says that normally he plays that shot to bowlers who bowl in the 130s but today he pulled it off. Is full of praise for the two retiring blokes - Tahir and Duminy - the former always keeping the dressing room in high spirits and the latter being a good role model of sportsmanship.
A good bowling performance by South Africa but they will feel they let it slip in the middle overs after having Australia 4 down. They somehow managed to hold their nerve with Kagiso Rabada picking up 3 wickets Phehlukwayo took 2. But the real effective bowler was Dwaine Pretorius, taking 2 of the biggest scalps - Smith and Warner. Please stay tuned for the presentation.
The duo of Warner and Carey started its innings cautiously but then slowly started to get the runs. They added 108 for the 5th wicket when Warner fell but Carey kept on going. He tried to hang around with the tail but eventually it was too much for him to do.
326 was never going to be easy to chase and the Aussies found that out pretty early. Captain Finch started the rut in the third over itself and then the middle order was blown apart. Usman Khawaja retired hurt as well, which made the chase even difficult. But out of nowhere, Warner found an able partner in Carey.
So the final four are sorted! India finish on top, hence take on New Zealand on Tuesday while Australia meet England on Thursday. But what a match this was. Aggregating 640 runs at an average of 40 per wicket. Almost went down to the wire, although at one stage, it looked like South Africa were all over Australia like a rash.
49.5 overs (0 Run) OUT! Caught! That ends the game. SOUTH AFRICA WIN BY 10 RUNS. Andile takes the last wicket of the match. A length ball around off, Lyon gets down and mows a slog towards mid-wicket. But he finds Aiden Markram in the deep running to his left who completes an easy catch.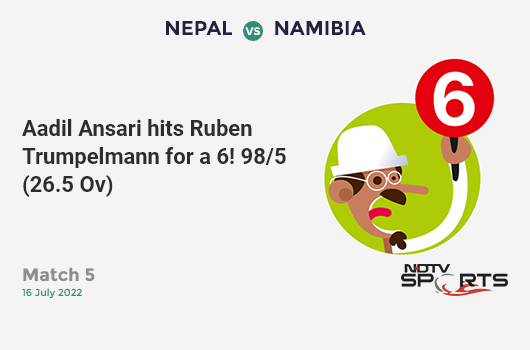 49.4 overs (1 Run) Outside off, heaved down to long off for a single.
49.3 overs (2 Runs) NOT OUT. Outside off, Behrendorff lofts it over mid off and hares back for the second. The throw is a good one to the keeper who disturbs the stumps and appeals. It is referred upstairs but replays show that Jason has used his long reach to stretch in.
Is that the end of the game? De Kock seems to be confident that Jason Behrendorff is short. Referred upstairs. Replays show that the big man has used his height to get in.
49.2 overs (1 Run) Outside off, punched off the back foot for just a single.
49.1 overs (3 Runs) A length ball on middle and leg, whipped over short fine leg. JP Duminy tracks it down from deep backward square leg and dives but then slips and concedes an extra third.
Andile Phehlukwayo to bowl the final over.
48.6 overs (2 Runs) Outside off, eased through the covers for a couple. 7 runs and 2 wickets from the over, Rabada finishes with figures of 10-0-56-3.
Nathan Lyon is the last man in.
48.5 overs (0 Run) OUT! BOWLED! Full and straight, Starc swings hard but misses. The ball hits the timber and Rabada gives Starc a send-off.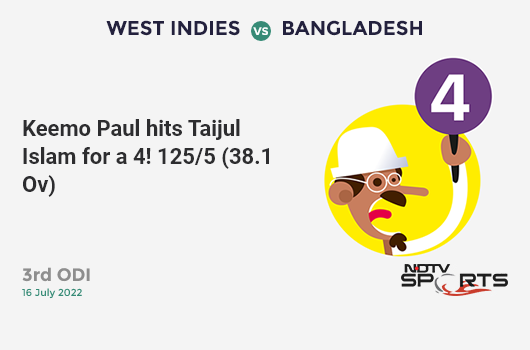 48.4 overs (1 Run) A short ball, pulled to long on for one more.
48.3 overs (2 Runs) Outside off, dabbed towards third man for a couple.
48.2 overs (2 Runs) A sharp bouncer around off, Behrendorff takes his eyes off the ball and looks to fend it. The ball goes off the outside edge towards point. The batsmen go for a quick single and the fielder has a shy at the bowler's end but concedes an overthrow instead. A single added to the single.
Jason Behrendorff walks in at number 10, replacing Khawaja.
48.1 overs (0 Run) OUT! BOWLED! Khawaja has played that back onto the stumps! Usman stands there in remorse while Rabada smiles. It is not a wry smile, it is just a genuine one. He too, agrees that Khawaja is a bit unlucky. A full toss outside off, Uzzie gets across and looks to paddle but hits it from the bottom half of the bat onto the stumps! Well tried, brave lad.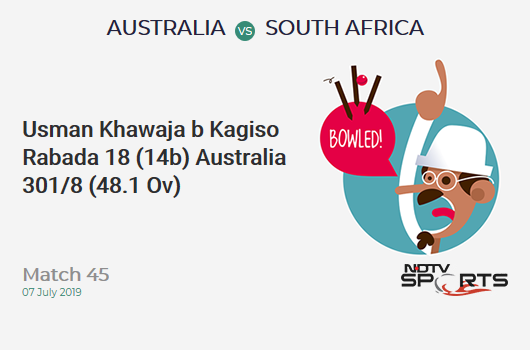 47.6 overs (1 Run) Outside off, hit through the covers for a single. 17 from the over, do Australia still have a chance? 25 needed in the last 2 overs.
47.5 overs (4 Runs) FOUR! 300 UP FOR AUSTRALIA! From 119/4 and a batsman more down, this is a fabulous effort. A full toss, on middle, Khawaja brings his subtle wrists into play and flicks it through mid-wicket!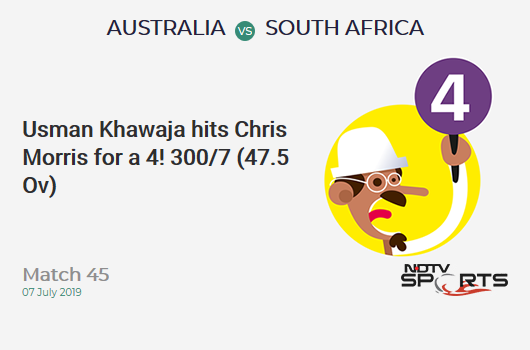 47.4 overs (1 Run) Full and wide outside off, squeezed through the covers for a run.
47.3 overs (4 Runs) FOUR! Nice shot! Full and around middle, Starc backs away and hammers it straight back past the non-striker, to the long on fence!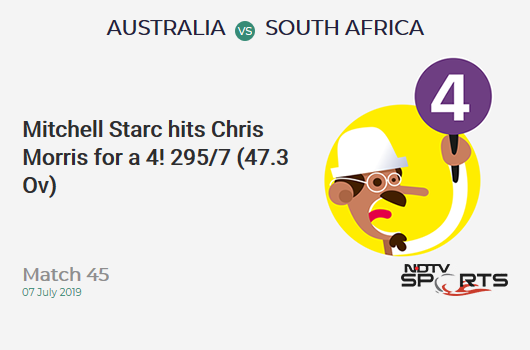 47.2 overs (6 Runs) SIX! AUDACIOUS! A length ball, around middle and leg, Starc pulls this over mid-wicket for half a dozen! 35 more needed from 16 balls now.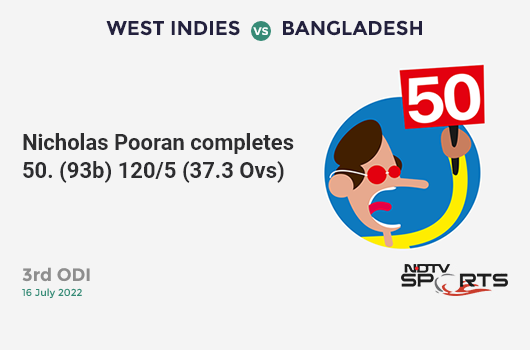 47.1 overs (1 Run) Oops... Gets across to play a paddle but cannot make use of the low full toss. Gets into a tangle and the ball hits the outside edge and goes to short third man. A single taken.
46.6 overs (1 Run) Outside off, driven through the covers for one.
46.5 overs (4 Runs) FOUR! Nicely done. A short ball, down the leg side, would have been a wide had it been left alone but Khawaja helps it with a pull over the keeper to the fine leg fence.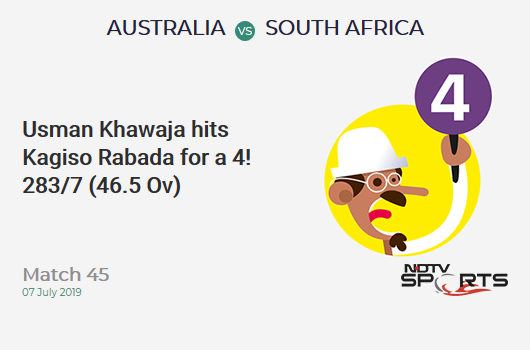 46.4 overs (1 Run) A length ball on middle and leg, turned through mid-wicket for a run.
46.3 overs (1 Run) Backs away to the leg side, is followed by a short ball and somehow Usman fends it towards short third man for a single.
46.2 overs (0 Run) Full and outside off, Khawaja looks to go big but the ball hits the toe end of his bat and goes to mid off. Does not carry.
46.1 overs (0 Run) A short ball outside off, Khawaja looks to pull but misses.
Kagiso Rabada returns. 8-0-42-1 so far. Can he finish things off?
45.6 overs (0 Run) A short ball, around off, Mitchell tries to hook but misses.
45.5 overs (0 Run) Dropped short, pulled straight to short mid-wicket.
45.4 overs (2 Runs) A short ball, pulled behind square leg for a couple.
45.3 overs (0 Run) Full on middle, flicked straight to short mid-wicket.
Who is coming out to bat? It is Usman Khawaja. Australia having one last coughing shot. Is there anything still left in the game? The pilot will have to pilot this innings (He is an air force pilot, remember?) No singles, because he cannot run. Just fours and sixes. 9 boundaries should do the job...
45.2 overs (0 Run) OUT! Caught in the deep! Fighting knock from Carey comes to an end. He tried very hard to take Australia home but the task is too steep. A cutter outside off, Carey backs away and tries to carve it over cover but finds Aiden Markram at sweeper, who comes running in and takes a diving catch! The entire Protean unit mobs him. That surely should be the game? 51 more needed from 28 balls.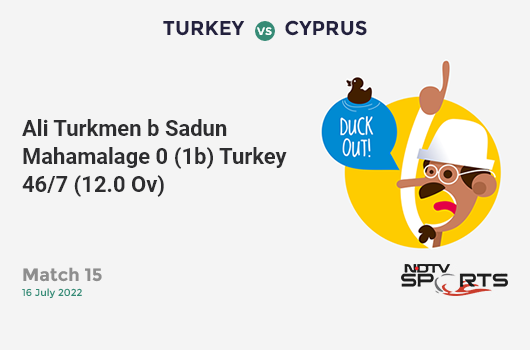 45.1 overs (1 Run) Excellent yorker outside off, dug out towards cover for a single.
Match Reports
Topics mentioned in this article
Australia Cricket Team
South Africa Cricket Team
Old Trafford, Manchester
World Cup 2019
Australia vs South Africa, Match 45