Story Progress
Back to home
New Zealand vs West Indies Live Score, Over 46 to 50 Latest Cricket Score, Updates
Live Updates of Today Match between West Indies vs New Zealand from Old Trafford, Manchester. Check commentary and full scoreboard of the match.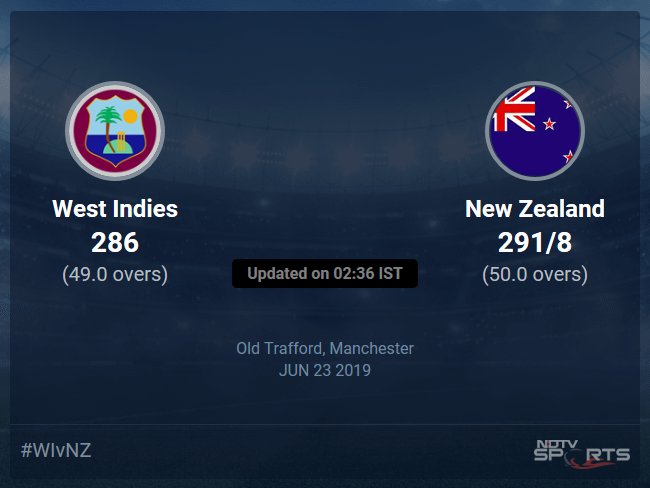 NZ vs WI Latest Score
Right then! Another double header comes to an end. Two thrillers to boot. India beat Afghanistan at Southampton while New Zealand managed to shake off a powerful West Indian resurgence. The caravan moves to Lord's next where Pakistan take on South Africa in match 30 at 10.30 am local (0930 GMT). ADIOS! TAKE CARE!
Victorious New Zealand captain, Kane Williamson, admits that Trent Boult took a wonderful catch to seal the game but also admits that there were a few dropped catches today. Analyses the game as a brilliant one, with sixes bringing the run rte required down, then wickets pushing it back up before more sixes rained in. Praises his bowlers for their performance and just credits the West Indies batsmen as well for clean striking. Puts down this match as a massive learning experience. Kane says that such matches are very important as they help you learn and when such things happen against quality sides, you use that experience to end up on the right side of the result. Summarizes that from such matches, some things need to be learnt and taken forward while some need to be moved on from. On the possible team changes for the upcoming fixtures, Williamson says that the unit is fresh and because every team is so good, it becomes all the more important to try and win as many games as possible.
West Indies skipper, Jason Holder, says that he is disappointed with the result but is proud of his team. Praises Chris Gayle for setting the tone. On the game overall, Holder is proud of the fight shown but also believes that one or two moments in the game could have been seized properly and the game could have been won. Blames the collapse in the middle order for the slipping of the momentum. Praises Roach and the tail for fighting hard. On the upcoming games, Jason wants to win all the matches and play for pride.
KANE WILLIAMSON HAS BEEN NAMED THE MAN OF THE MATCH. Smiles on being asked about his heart rate and says that the West Indies are an unbelievable side. Admits that the Kiwis did not get the best of starts with the bat, crediting the Windies bowling but then believes that himself and Ross Taylor stitched a partnership. Is happy to finish on the right side. On the pitches in this tournament, Williamson says that from where they started, the tracks have got a lot slower and it feels nice to be adapting to the conditions. On his own innings and consistency, Kane says that his aim is only to contribute and every day is a fresh one, but his thoughts are more or less the same.
Full marks to the Kiwi bowlers. For doing well under pressure. Boult rocked the Windies early but then the Caribbeans launched into a counter-attack. being under the pump, the Black Caps found a way to come back again with wickets of the middle order. Once again, the game felt like going away before they held their nerve at the very end. Trent Boult was back at his best, with 4/30 in his 10 overs while Lockie Ferguson took 3. Matt Henry took a pounding and he will be thanking his stars that his batsmen managed to get those 5 runs more than the Windies. Please stay tuned for the presentation...
Once the penultimate wicket fell, the big man took it upon himself to close the game. He started playing his shots but the killer blow came in the 48th over. Matt Henry was taken to the cleaners and he ended up conceding 25 and at that stage, it looked like the tables had turned. However, in the final moments, the big man could not quite take his team over the line.
Enter Carlos Brathwaite. Begin the fight. The never-say-die spirited man believed in himself and transferred the same onto his mates. First, he found an able partner in Kemar Roach, adding 47 for the 8th wicket, then got another 34 for the 9th, forming an alliance with Sheldon Cottrell.
When 292 was set as the target, not many gave the Windies a chance. And when they were reduced to 20/2, those chances went even down further. But Chris Gayle and Shimron Hetmyer stitched a 122-run stand for the third wicket and that revived the hopes. However, a collapse from 142/2 to 164/7, all but sealed the deal. Or did it?
Spare a thought for Carlos Brathwaite. He is on his knees in disappointment, thinking what could have, what might have happened, had he got an extra metre on that shot. He slowly gets up now and starts shaking hands. What a game of cricket. What a day of cricket. A thriller at Southampton between India and Afghanistan and a thriller here. Wow. Just wow.
Unbelievable scenes at Manchester. How sporty are the Kiwis? They are not even celebrating. Kane Williamson and Jimmy Neesham are having a word with Brathwaite, consoling him. Well played, Brathwaite. But what a gesture by New Zealand. Hats off.
48.6 overs (0 Run) SIX? NO! OUT! YES! Caught! Oh dear me! I don't know what to tell you! Boult has stunned the crowd here. Neesham bowls a slower bouncer outside off, Brathwaite looks to pull. It looks like, this is the end. It looks like West Indies have sealed the deal but NO! TRENT BOULT! He holds his nerve, keeps his calm and considering the situation takes a blinder at long on. He takes a very good catch just, just before the ropes. Brathwaite cannot believe it. He is down in disbelief. The Kiwi players are riding with joy. NEW ZEALAND WIN BY 5 RUNS!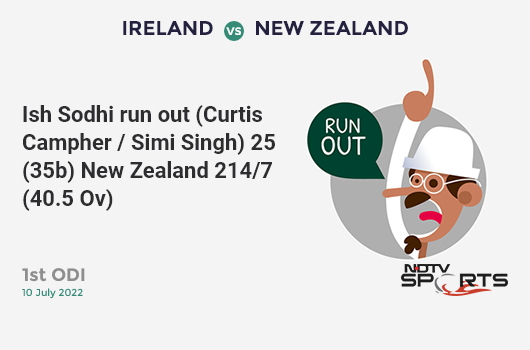 48.5 overs (0 Run) Slower ball outside off, Brathwaite looks to play it and then decides to leave it thinking it will be wided but it has not been.
48.4 overs (2 Runs) 100 FOR CARLOS BRATHWAITE! What an innings this has been! His maiden one in ODIs but he knows the job is not done. Back of a length ball on off, Carlos pulls it to deep mid-wicket and takes a couple to bring up his century. The hero of the 2016 T20 World Cup might be the hero here as well.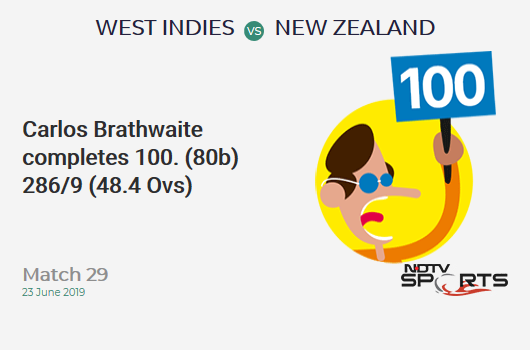 48.3 overs (0 Run) Three dots in a row and now something has to give. Another bouncer outside off, Carlos misses his pull once again.
48.2 overs (0 Run) Bouncer! It is away from Brathwaite. He looks to pull but misses. 8 off 10 needed.
48.1 overs (0 Run) Good length ball outside off, Brathwaite punches it to cover.
Jimmy Neesham to bowl the 49th over. 5-0-33-0 so far. Will there be a 50th? Will Carlos Brathwaite finish it off in this over itself? A century is there for the taking!
47.6 overs (1 Run) Smart batting. Back of a length ball on off, Brathwaite hits it over point and gets a single. 25, I repeat 25 runs have come off this over. 8 off the last 12 needed. Out of nowhere West Indies are in the driver's seat now.
47.5 overs (4 Runs) FOUR! Edged! But who cares? 24 runs off the over. Henry bangs it in short, Carlos goes for the pull but top edges it over the keeper's head for a boundary.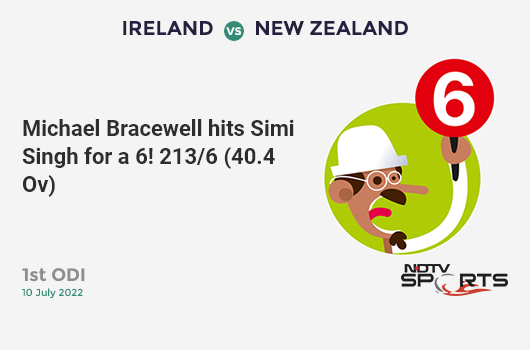 47.4 overs (6 Runs) SIX! Not full, but a full toss! Brathwaite is becoming the hero but dear me! Henry is becoming a villain here. He bowls a full toss on off, Brathwaite smokes it over long off for a maximum.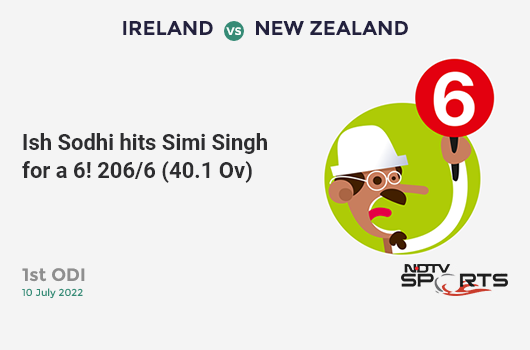 There is a mini-conference going on out there. Henry, Williamson, Boult and Santner are involved. Henry looks under immense pressure. Williamson is doing really well not to show any nerves. Just two men in the deep on the off side. Fine leg and third man are up. Will Henry bowl it full?
47.3 overs (6 Runs) SIX! Fasten your seat belt, Brathwaite is on a mission here. Full toss wide of him, Brathwaite slices it over backward point for another maximum. 19 needed of 15 balls. With West Indies you just don't know what's going to happen. Even New Zealand. They have provided a lot of thrillers.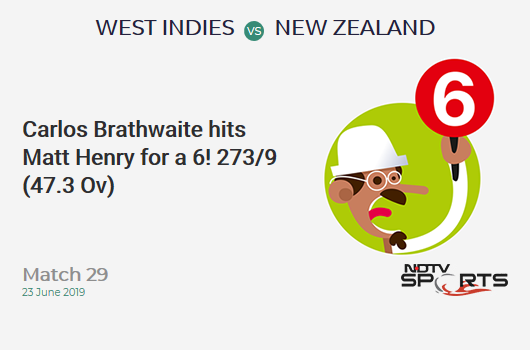 47.2 overs (6 Runs) SIX! Can Brathwaite take his side home? Back of a length ball on off, Carlos flat bats it like a bullet over long on for a maximum.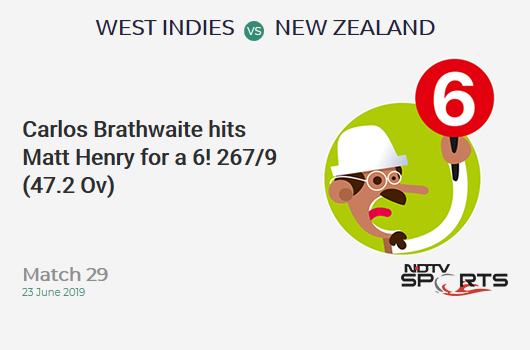 47.1 overs (2 Runs) In the air...but safe. Short on off, Brathwaite looks to pull but does not time it well. It goes towards backward square leg. The fielder from mid-wicket cleans it up but they take a couple.
46.6 overs (0 Run) Full toss on off, Thomas takes no risk and just taps it back to the bowler. Sensible thought this. He does not need to be a hero here.
46.5 overs (1 Run) Short in length, Brathwaite pulls it to deep mid-wicket and takes a run. One ball for Thomas to negotiate.
46.4 overs (0 Run) On off, Brathwaite cuts it but straight to point.
46.3 overs (6 Runs) SIX! Connects and connects well this time. Full on off, in the slot for Brathwaite. He takes full toll of it and smokes it over long off for a maximum.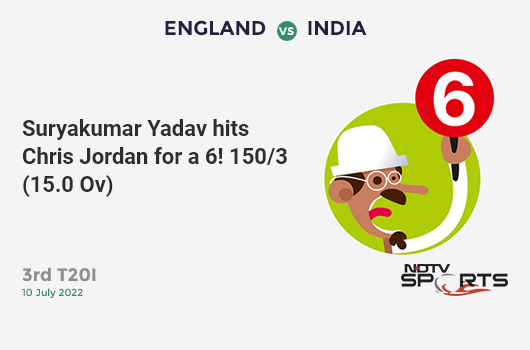 46.2 overs (0 Run) Good ball. Nice change of pace. It is on a length, Brathwaite swings his bat at it but misses.
46.1 overs (0 Run) Refuses to take a single. Full on middle and leg, Brathwaite hits it to long on but does not run.
45.6 overs (0 Run) Thomas survives. Full on middle and leg, Thomas hits it straight to mid on. Boult finishes off with the figures of 10-1-30-4. He has had a brilliant day.
45.5 overs (0 Run) Yorker! It is on off, Thomas does exceedingly well to get his bat down. Now he just has to bat one ball to get through the over.
45.4 overs (0 Run) Well done. Good length ball on off, Thomas does well to defend it.
45.3 overs (1 Run) Superb stop by Williamson! But should Brathwaite have taken that single? Full and outside off, Carlos looks to go over mid off but mistimes. Kane Williamson at mid off sprawls forward but cannot get to the ball. But manages to prevent it from going behind. Just a single.
45.2 overs (2 Runs) Short again, pulled through mid-wicket, this time for a couple. 250 UP FOR WEST INDIES!
45.1 overs (4 Runs) FOUR! SMASH! Brathwaite has decided to free his arms now. He has to! A length ball outside off, Carlos clubs it via a pull, past the bowler, down the ground and to the long off fence!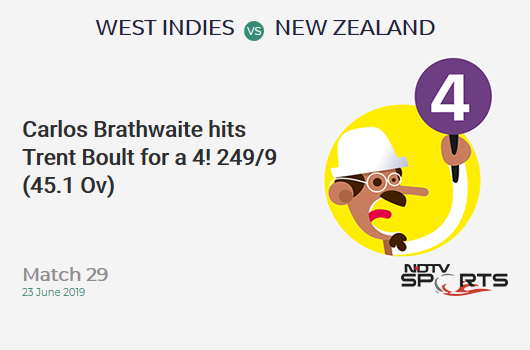 Topics mentioned in this article