Story Progress
Back to home
Australia vs Bangladesh Live Score, Over 46 to 50 Latest Cricket Score, Updates
Live Updates of Today Match between Australia vs Bangladesh from Trent Bridge, Nottingham. Check commentary and full scoreboard of the match.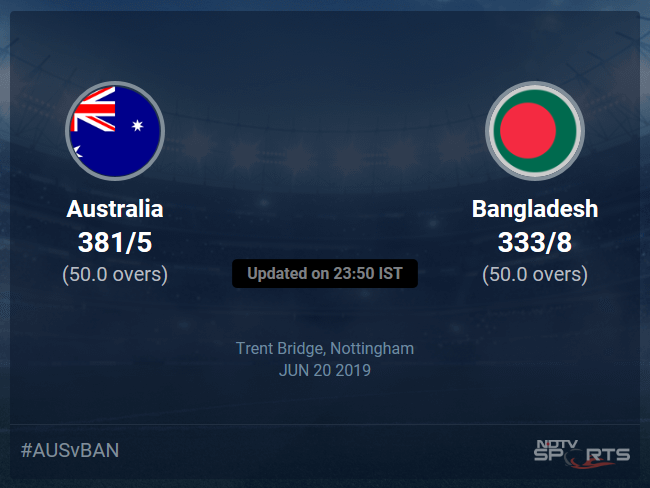 AUS vs BAN Latest Score
Number 10 for the Aussies in terms of points! They get back their pole position. Still, no one is qualified for the semis officially, while no one is out. On Wednesday, New Zealand topped the table. Thursday, it was done by the Aussies. Come Friday, England will look to win the musical chairs round by beating Sri Lanka. Do we have a surprise in store? Join us on June 21, 2019 at 10.30 am local (0930 GMT) at Headingley, Leeds. ADIOS! TAKE CARE!
Victorious Australian captain, Aaron Finch, is not quite fussed about being nervous during the Mahmudullah-Rahim stand and says that there is plenty of experience in the Aussie bowling to finish things off. On his partnership with Warner, Finch says that both of them are pretty much experienced and know how to go about things. Admits that they missed Stoinis a lot in the last 2 games and today he was welcome. On the possibility of 2 spinners in the side, Finch says that it depends on the track and also about the balance of the side. Admits that the fielding was very sloppy today. With one leg almost in the semi-final, Aaron says that the Aussies would like to have one more win and consolidate that spot. On his own batting form, Finch says that as an opening batsman, once you get a couple of boundaries, you are on your way to getting confidence.
Bangladesh skipper, Mashrafe Mortaza, says that had the target been 40 runs lesser, the mindset of the Bangladesh batsmen would have been different. Praises his batters though and credits the Aussies for piling on a huge total. On the current squad, Mash says that they have the best team that they can possibly put together. On the run chase, Mortaza says that big partnerships were needed but even then, admits that 381 was a bit too much. Sadly says that he can only focus on winning his own games and hoping that some other teams lose above Bangladesh.
DAVID WARNER HAS BEEN NAMED THE MAN OF THE MATCH. On his 16th ODI hundred, being par with Adam Gilchrist, Warner says that it is a great achievement but is happier with the 2 points. On his and Finch's newly found approach, David says that it is all about respecting the new balls and then opening up and target the secondary bowlers. Adds that one needs to adapt to the conditions and then play according to the situation. On the pitch, Warner says that the pitch was a tad slow and a grind for the bowlers. Ends the conversation with a smile, saying that he will continue trying his best to get the big scores.
Not a great reading for the Aussie bowlers. This was a game where they had plenty of cushion with the score reading 381 but barring Starc, no one bowled well. On a track which had nothing for the bowlers, everyone suffered, not quite doing that well. A worrying sign, with the business end approaching. Australia have 10 points from 5 wins but none of those 5 have quite seen a complete performance yet. Please stay tuned for the presentation...
The brothers-in-law, Rahim and Mahmudullah then decided to have some fun. They teed off, punishing all the Aussie bowlers and added 127 for the 5th wicket but in the end, the task was too much to do. Rahim got to his century but today, when Shakib was needed to score big, could not quite get a big one.
When a team is chasing 382, it needs a solid and a quickfire opening stand. Bangladesh could not get that. Sarkar was dismissed early and after that, even though Shakib and Tamim revived the innings, that stand seemed a bit slow and was always behind the 8-ball. The acceleration never really came till Liton Das joined forces with Mushfiqur Rahim.
Comprehensive win for Australia but Bangladesh fought hard. Had the target been around 350, they might have very well chased it. The Aussies might have ironed out their batting issues but the bowling still needs a lot of working over.
49.6 overs (0 Run) OUT! Caught. A wicket to end the game. A short ball, outside off, Mortaza pulls it away but it is only as long as deep mid-wicket. Glenn Maxwell runs to his right and completes the formalities. AUSTRALIA WIN BY 48 RUNS.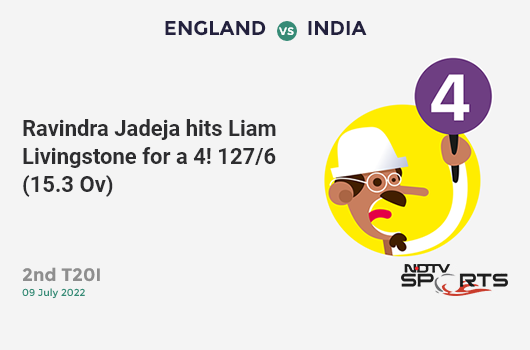 49.5 overs (1 Run) A low full toss outside off, flicked towards mid-wicket for a run.
49.4 overs (1 Run) Full and on the off stump, pushed towards point for a run.
49.3 overs (4 Runs) FOUR! Nice shot. Full and in the slot, outside off, Mashrafe gets under it and bashes it out over the bowler for a boundary down the ground.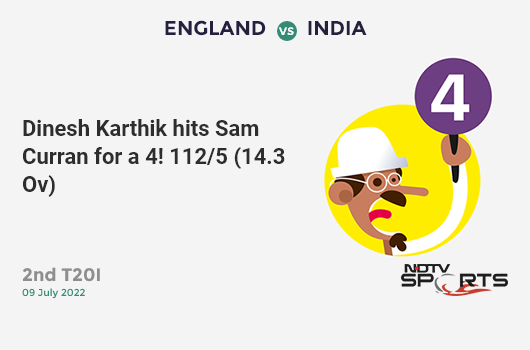 49.2 overs (0 Run) Outside off, a wild heave but a miss.
49.1 overs (1 Run) On middle, tucked to the leg side for a single.
48.6 overs (1 Run) HUNDRED FOR RAHIM! Well played. What a knock. Fighting hard with the chips down. Gets there with a gentle push through the covers. Starc is done - 10-0-55-2.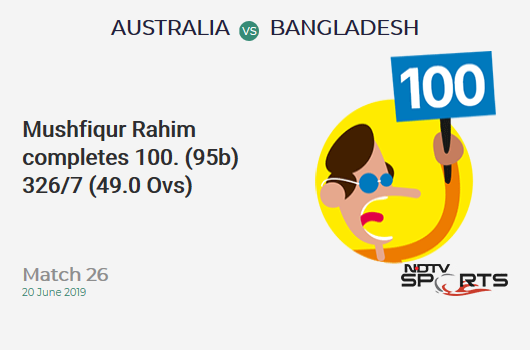 48.5 overs (0 Run) Around off, solidly defended.
99...Mushfiqur. No field changes from Finch. Shouldn't the fielders come in?
48.4 overs (1 Run) A terrific yorker, Mortaza somehow gets his bat down in time and ekes out a thick outside edge to third man for one.
48.3 overs (1 Run) 99. Full and on middle, flicked through mid-wicket for a run.
In comes the skipper, Mashrafe Mortaza, for the final rites. He will be at the non-striker's end as the batsmen crossed.
48.2 overs (0 Run) OUT! Caught. Starc gets another tail-ender. This is a quick one, 145 kph, in line of the stumps, Mehedi backs away to the leg side and looks to chip this over the on side but only mistimes it straight to mid on. Easy catch for David Warner and Starc has his second.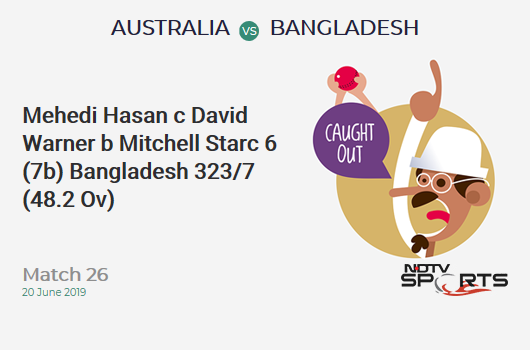 48.1 overs (1 Run) Yorker on the stumps, dug out towards point for a single. Moves to 98.
47.6 overs (1 Run) Yorker on off, squeezed behind point for a single to keep the strike.
47.5 overs (0 Run) A slower bouncer, outside off, MR looks to play the upper cut but misses.
47.4 overs (4 Runs) FOUR! A bit lucky, for Rahim and he will take that. A hit away from a century now. Outside off, Mushfiqur has a poke at it but gets a thick outside edge, wide of Carey to the third man fence.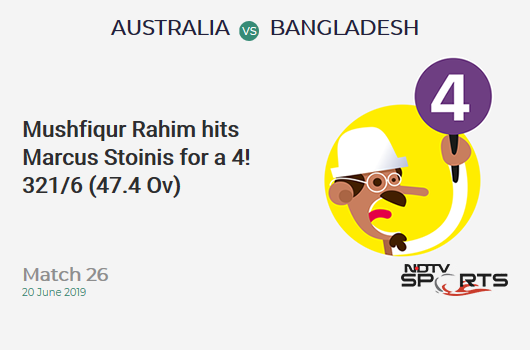 47.3 overs (2 Runs) Full and around off, Rahim works it through square leg, Mitchell Starc gives it a good chase from fine leg and dives, stopping the ball cleanly. Two runs taken.
47.2 overs (4 Runs) FOUR! Just over! Full and outside off, Rahim backs away and hits it hard. Just about clears a leaping Aaron Finch at mid off. Moves to 90. That is the only point of interest left in this game now.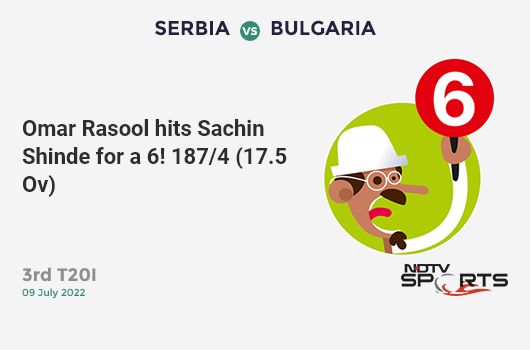 47.1 overs (1 Run) Short and outside off, slapped through point for a single.
Marcus Stoinis to bowl the 48th over. 6-0-35-1 so far.
46.6 overs (1 Run) Excellent over. Just 6 off this one. Back of a length on off, Mehedi hits it over the bowler's head and gets just a single.
46.5 overs (0 Run) Full on middle and leg, Mehedi strokes it towards mid on. Mushfiqur wanted a single but Hasan says no. Warner has a shy at the bowler's end but misses. Replays shows had he hit it would not have made a difference as Rahim was in.
46.4 overs (2 Runs) Back of a length ball outside off, Mehedi lofts it over point and gets a couple.
46.3 overs (1 Run) Very full outside off, Mehedi guides it to backward point for a single.
46.2 overs (1 Run) Full once again on off, Mehedi plays it towards covber and gets to the other end.
46.1 overs (1 Run) Fuller on off, Mushfiqur strokes it to cover and gets a single.
45.6 overs (1 Run) Single to end the over. A brilliant over from Coulter-Nile. 4 runs and 2 wickets off this one. The last ball is short, Mushfiqur pulls it to deep mid-wicket and keeps the strike.
45.5 overs (1 Run) Mehedi does well to deal with the hat-trick ball. Good length ball on middle, Mehedi tucks it towards mid-wicket and gets one.
Mehedi Hasan comes out to face the hat-trick ball.
45.4 overs (0 Run) OUT! Two in two. Coulter-Nile on a hat-trick now. Good length ball outside off, and for some reason Sabbir was trying to run it down towards third man. The required run-rate is well over 12 but he still goes for this shot. He ends up getting an inside edge which goes onto hit the stumps. In a matter of two balls all the Bangladeshi hearts are broken.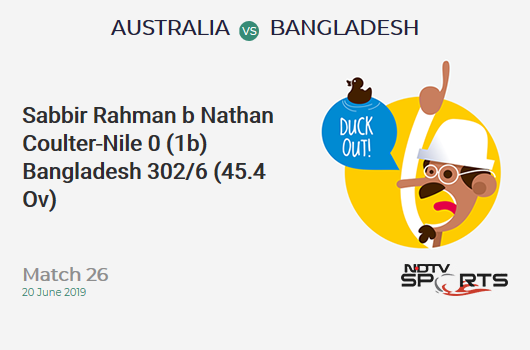 Sabbir Rahman walks in at number 7, replacing Mahmudullah. All is not lost yet. One big over, in the 20s, can still even this contest.
45.3 overs (0 Run) OUT! Coulter-Nile gives Australia the big breakthrough and maybe that is the final nail in the coffin for Bangladesh in this chase. Coulter-Nile bangs it in short, Mahmudullah goes for the pull. It makes sweet sound off the bat but he does not time it well and it goes straight to Cummins at deep mid-wicket. The crowd is dejected. Mahmudullah did give some hope but could not quite fulfill the needs. End of a magnificent innings though.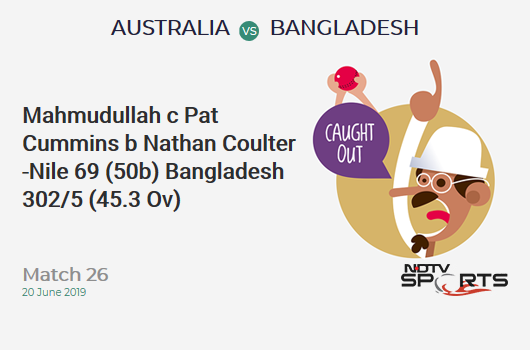 45.2 overs (2 Runs) In the air but safe. Good length ball outside off, Mahmudullah looks to hit it over long on. It does not come off the middle. It goes towards long on. The ball falls short of Starc who lost it in the sun as he dived but was nowhere close.
45.1 overs (0 Run) Smartly bowled. Slower one outside off, Mahmudullah comes down the track and looks to flat bat it over long off but misses.
Topics mentioned in this article