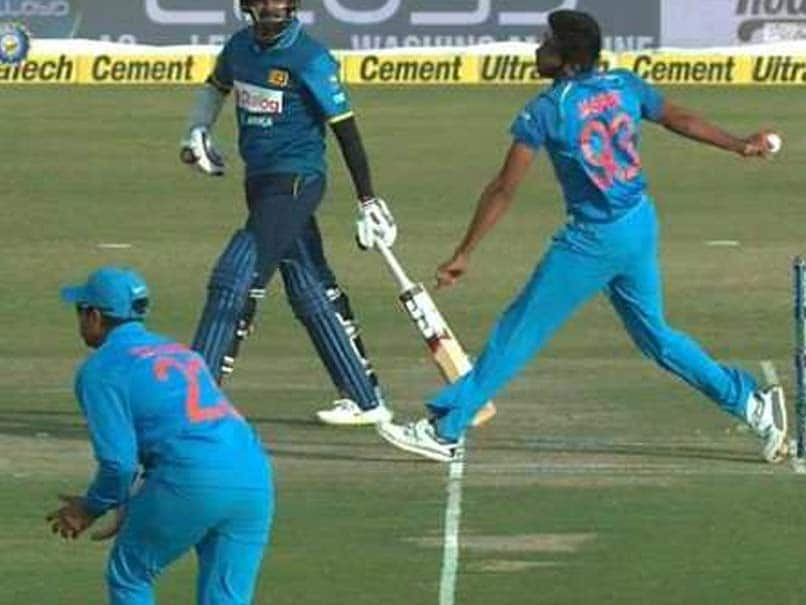 Jasprit Bumrah took Upul Tharanga's wicket off a no-ball in the first ODI
© Twitter
Remember Jasprit Bumrah taking Pakistan batsman Fakhar Zaman's wicket off a no-ball in the final of the Champions Trophy in June? Zaman went on to post a match winning 114. Bumrah did it again in the first ODI with Sri Lanka, which India lost by seven wickets. Chasing a meagre 113 to win the match, Sri Lanka had lost the first wicket in the fourth over and almost lost Upul Tharanga in the sixth, had Bumrah not bowled a front-foot no- ball. Tharanga batsman went on to make 49 and took the team to the comfortable situation. Twitterati didn't spare him and trolled the bowler brutally.
Although India captain Rohit Sharma played down the no-ball, but Sri Lanka coach Nic Pothas believed it was one of the turning points of the match. "I firmly believe that there were two massive moments in the game," Pothas said. "The toss was one and the no-ball to Upul Tharanga. We are suddenly 15 for three and that is a hugely different situation. We have looked at two situations where for me they sort of defined the day," he added.
Rohit felt that India's batting cost them the game. "We lost the game with the bat and not with the ball. It will be unfair to single out one individual especially a bowler. I think we as a batting group failed to tackle the situation. I wouldn't say it cost us dearly because there was not enough runs on the board," he said.
Zaman made full use of the opportunity as he went to score his maiden ODI century and was only dismissed after scoring 111 more runs. India lost the match by a massive 180-run margin.