Story Progress
Back to home
Ravi Shastri Taken To Task By Fans For His Comments On T20 Cricket
Ravi Shastri's "we don't care" comment on T20 cricket didn't go down so well with fans.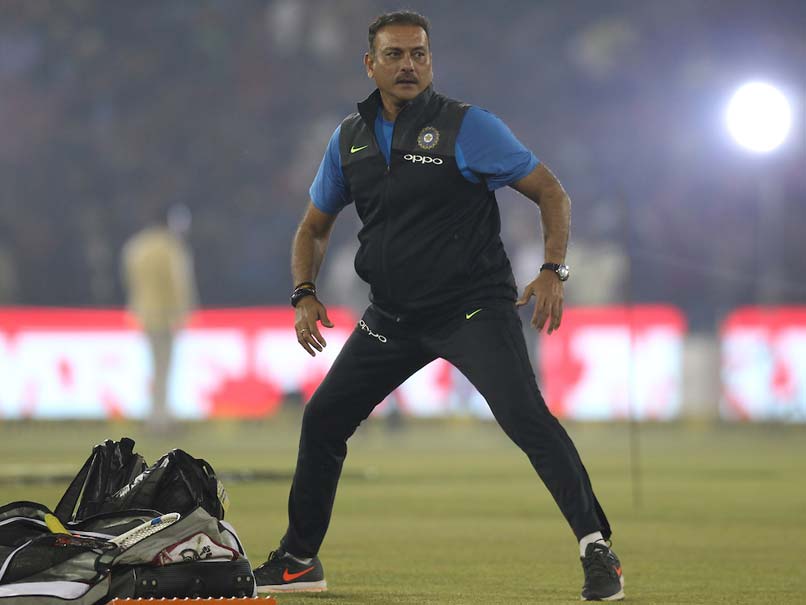 Ravi Shastri had said his team is not too bothered about T20 cricket.
© BCCI
Highlights
Fans slam Shastri for his comments on T20 cricket

Fans say comments unbecoming of a coach

Shastri said his team not too bothered about T20 cricket
Ravi Shastri has made it amply clearly -- India's focus is on Test and ODI cricket, while T20s are a way of blooding in youngsters and opportunity for those looking to the nail down a place in the Indian squad for the 2019 World Cup. Following India's win over Sri Lanka in the third and final T20I in Mumbai that helped them complete a whitewash over the visitors, Shastri said his team is not too bothered about T20 cricket and it really doesn't matter whether you win or lose in the format. While some fans on Twitter hailed the Indian coach for getting his priorities right, others were not too impressed with his statements.
"T20 cricket for us, we don't care. You win or lose, it doesn't matter, but give youngsters the opportunity so you come to know who is in the fray for 2019," Shastri had said on Sunday.
These comments didn't go down too well with the fans with many saying it was unbecoming for a coach of the national team to make such statements.
It is unbecoming of a coach to say si irresponsible statement.#T20 #INDvSL

— A Delhite (@vk_vk1954) December 25, 2017
A very bad &rather an arrogant statement.Good or bad T20 is here to stay &a team should take it seriously as they take tests&ODIs.

— Halan Sevannan (@HalanSevannan5) December 25, 2017
I see that his words doesn't justify actions. Winnings the series was his first priority, then giving chance to the youngsters. #IndvsSL

— Adesh Kothari (@AdeshKothari27) December 25, 2017
Ravi Shastri does not seem to care about his ever expanding waist too

— gill pind (@gillpind) December 25, 2017
Why is Dhoni even playing T20 then. His words doesn't match with his actions.

— Ir0nClaw (@fa1zaan) December 25, 2017
How he can say don't care T20....we are number 2nd in t20s..behind Pakistan and this man saying don't care..if u don't care then resign from head coach and train youngsters in under 19...all formats are v imp for india

— Sagar Chavan (@Sagarchavan4050) December 25, 2017
Don't care about T20s?? Get this man out asap.

— Sharath Subramanian (@TonyStark769) December 24, 2017
Good Decision by Ravi & Rohit Sharma

— Praveen Kumar (@pvn19) December 24, 2017
Ravi shastri said 'don't care about T20'. Indian team not bothered about good performance ? Am I wasting money buying T20 match tickets and time seeing those matches?

— harish (@ram_se_pyaar) December 25, 2017
However, there were some who did support Shastri for what they thought was a bold but an honest opinion.
Seriously those are some strong words, coming from the coach. Telling the focus in on the Tests & ODIs, really good to see..

— Ankit Jain (@ankitjainrpr) December 24, 2017
"You know, T20 cricket, we don't care, whether we win or lose."

Fair play to Ravi Shastri, admitting what most people thought was the case.#INDvSL

— Vinayakk (@vinayakkm) December 24, 2017
Meanwhile on Monday, Shastri made an impassioned defence of MS Dhoni, saying Dhoni, aged 36, is fitter and faster than players who are ten years his younger.
The Indian coach came out with some strong statements against people criticising Dhoni and asked them to look at the mirror and see what they were doing at Dhoni's age.
The wicket-keeper batsman was pushed up the order in the T20I series and that seemed to have a positive effect on his batting, which was clear to see in the opening T20I at Cuttack. Dhoni had smashed 39 off just 22 balls that helped India post 180.
Topics mentioned in this article