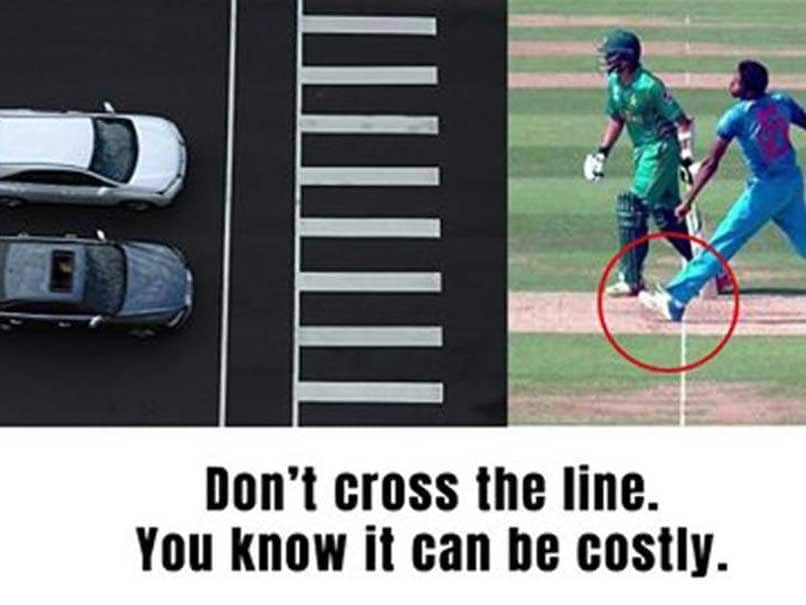 Jaipur Traffic Police used Jasprit Bumrah's no-ball image for a road safety campaign.
© Twitter
Jasprit Bumrah was left enraged by Jaipur Traffic Police's decision to use his ICC Champions Trophy 2017 final no-ball image as a campaign for road safety. A large billboard shows the image with two cars behind a line on one side and Bumrah's no ball on the other with the caption: "Don't cross the line. You know it can be costly". Bumrah, who has been rested for the West Indies tour, didn't find the campaign funny and replied on Twitter. "@traffic_jpr well done Jaipur traffic police this shows how much respect you get after giving your best for the country." He added, "@traffic_jpr But don't worry I won't make fun of the mistakes which you guys make at your work .because I believe humans can make mistakes."
@traffic_jpr  But don't worry I won't make fun of the mistakes which you guys make at your work .because I believe humans can make mistakes

— Jasprit bumrah (@Jaspritbumrah93) June 23, 2017
Soon after Bumrah's reaction, Jaipur police's Twitter handle put out a statement for the Indian pacer.
Dear @jaspritbumrah93, our intent was not to hurt your sentiments or the sentiments of millions of cricket fans.

— Traffic Police JPR (@traffic_jpr) June 23, 2017
Social media was quick to react. Some supported him, while others didn't lose opportunity to vent their anger.
Whosoever is mocking at u, those ppl even don't know ABCD of cricket. Just ignore them, u r playing for national team so b focused.

— Kushal Agrawal???? (@Kushal05agr) June 23, 2017
Don't worry sir..... We are always with you..No matters what.. That was just a bad day. I was I am ur big fan and will remain ur fan forever

— Mahamaya Chatterjee (@cmahamaya16) June 23, 2017
Yes once its ok, but you also bowled no ball during T20 semifinal with windies. Learn from your mistakes and not repeat them.

— Chetan Singh (@chetansdsays) June 23, 2017
Zabardast mirchi lagi bhai tumhey....ye har ham bhool nhai panigey

— Faran Shakeel (@Faranshakeels) June 23, 2017
The traffic police in Pakistan's Faisalabad city too are using the fast bowler's image to warn drivers to stay behind the line at traffic lights. Below the caption, is the logo of the City Traffic Police, Faisalabad.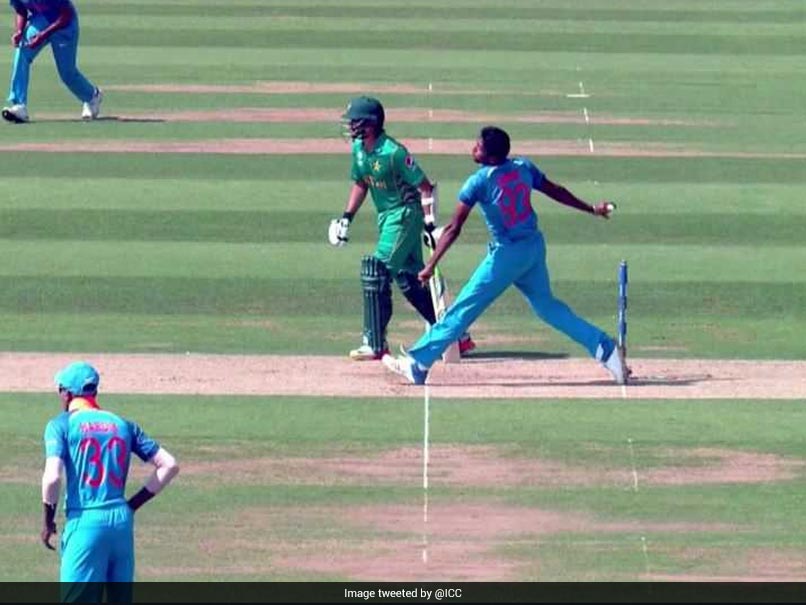 During the ICC Champions Trophy final on June 18, Bumrah got the better of Pakistan opener Fakhar Zaman, who edged a ball to Mahendra Singh Dhoni while batting on 3. The umpire checked the no-ball and the replays showed that the bowler had overstepped his mark.
Zaman made full use of the opportunity as he went to score his maiden ODI century and was only dismissed after scoring 111 more runs. India lost the match by a massive 180-run margin.