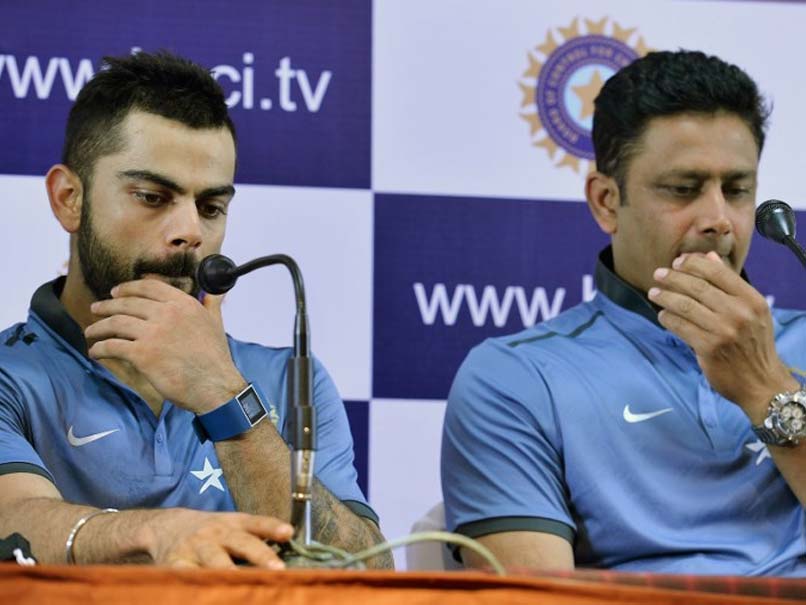 Virat Kohli and Anil Kumble stopped talking 6 months ago
© AFP
The Anil Kumble-Virat Kohli spat has been a trending topic since the former tweeted his resignation as India coach highlighting his reasons for quitting the high-profile job - among them that Captain Kohli had "reservations" with his style. But with skipper Virat Kohli prepping for the series with the West Indies, his side of the story is yet to be heard. Sources have told NDTV that there were sharp differences and several reasons why to two were almost destined to fall apart. For one, they alleged, "Anil Kumble treated players like school kids."
The coach reportedly gave the players a "dressing-down" after the team lost the ICC Champions Trophy final to Pakistan at The Oval on June 18. The team members, who were feeling terrible about the loss in any case, felt that their coach was scolding them like children and not treating them like professionals, the sources said. The captain, they said, is very possessive about his team in the dressing room and he was upset at the way Kumble spoke to them.
Kumble stepped down as the head coach of the India cricket team on Tuesday and in soon tweeted a long letter, listing his reasons and the circumstances under which he had left the post. The Indian team was on its way to the West Indies at that moment and till now, there has been no response from Kohli on this. While the news of differences between the coach and captain had been doing the rounds for quite a long time, even the Board of Control for Cricket in India (BCCI) was taken by surprise by reports that the two were not on talking terms for the 'last six months'.
Nevertheless, the rift was a very defined one and the sources also told NDTV that there were several reasons why to two were almost destined to fall apart.
Kumble wanted to bat first in the final
The source also said that the Indian skipper opted to field in the final but the coach wanted to bat first and put runs on the board. But we all know that Kohli's decision prevailed.
Control over the dressing room
The source elaborated that the two had major issues about dressing room control. The coach wanted players to follow his template -- of a regimented lifestyle -- which Kohli rejected because the current crop feels they multi-task.
Differences began during Australia series
According to the source, the differences first cropped up during the Australia series earlier this year when Kumble decided to field left-arm wrist-spinner Kuldeep Yadav in place of the injured Kohli in the fourth and final Test at Dharamsala. It seems Kohli was not aware of Yadav's selection.
The Indian cricket team on Wednesday reached Port of Spain (Trinidad) for a limited-overs series against the West Indies. The first ODI is scheduled for June 23 (Friday).
The cricketing fraternity is still waiting to hear from Kohli on the issue, but the Indian captain has been silent so far.
(With inputs from Rica Roy)