Story Progress
Back to home
More England Players to be Available For IPL: Eoin Morgan
Captain Eoin Morgan said that more England players will be available for the upcoming edition of the Indian Premier League.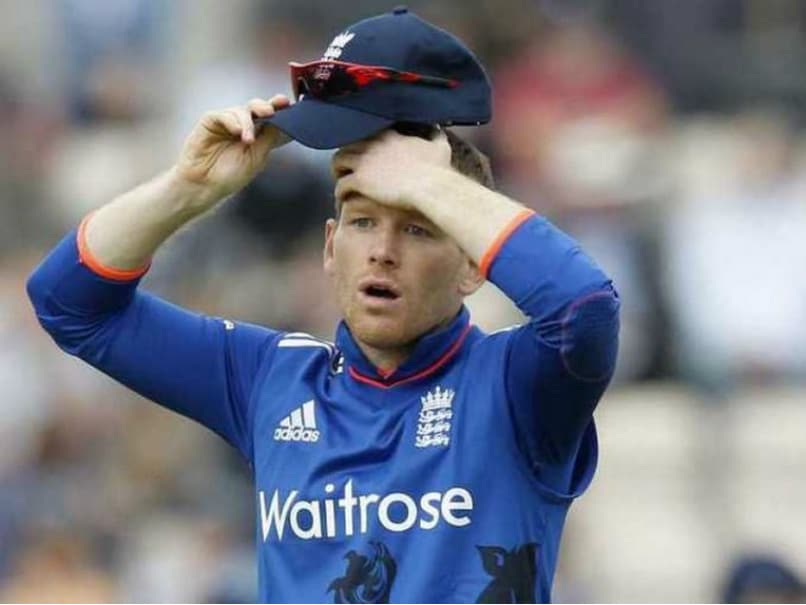 Eoin Morgan's century went in vain on Thursday as England lost the 2nd ODI to India.
© AFP
Highlights
Eoin Morgan is the captain of the England cricket team

India have won the 3-match series 2-0

The 3rd and final ODI will be played in Kolkata on Sunday
Captain Eoin Morgan has said that more England players will be available for the auction of the upcoming edition of the Indian Premier League. Unlike earlier years when England players were not available in large numbers at the lucrative IPL auctions, the scenario will be different this time feels Morgan. The 30-year-old is looking forward to the auction that will take place later this year.
"Yes, I do and a lot of them will be available for the auction this year. Hopefully, they will be picked up and playing the majority of the games. That's the best case scenario," said Morgan.
Morgan like Jos Buttler believes that IPL is a platform that can help the English players grow and the ones like him who have played for long should help out.
"It's with our skill level. The belief is there, character is there, talent is there - it's reproducing your skill level. As I mentioned, India are a tough side to beat at home. You need to have skill level. The guys playing the IPL I believe will set them up."
Morgan wants to look at the positives despite his team's series defat against India as the Champions Trophy will be played at home in five months time.
"Although the series is gone, looking further ahead, it's still to be a good test for us as we prepare for the Champions Trophy. The wickets are not turning square, it's not the typical India, it's actually modern-day 50-over cricket challenge," Morgan told the post-match news conference after their 15-run loss last night.
Chasing 382, the England skipper kept themselves alive with a domineering 102 from 81 balls but only to fall short by 15 runs as India took an unassailable 2-0 lead going into the final one-dayer at Eden Gardens in Kolkata on Jaunary 22.
"You're learning all the time, given the conditions. It's different from what we're are used to. The grounds have been very similar, very small, very batting-friendly which continues to be the case for white-ball cricket. It's almost the case of who bats the best wins. And we haven't produced our best with the bat. We've pushed them close twice, there are positives signs within themselves, but as you said we've lost the series."
.@Eoin16's brilliant 102 proved in vain as England lost a thrilling clash in Cuttack:https://t.co/UkySRMBYsv pic.twitter.com/FBUCaAbFqp

— England Cricket (@englandcricket) January 19, 2017
It was for the second successive match, England put up a score of 350 or excess -- the first being 350/7 in Pune their best against India, and yesterday's 366/8 was their highest second innings total.
Blaming their bowling attack that once again let them down after a fine start, Morgan said: "We weren't our best again with the ball, we took early wickets, which is a really good sign but letting two experienced guys get themselves in like that."
"We didn't produce our best performance or anywhere near our best performance with the ball, in this game and the last, which is very disappointing. Chasing 382, we had incredible amount of belief in the changing room, we believed that we could chase it down, and again we went far off."
From an ominous start, India turned it around with Yuvraj Singh and MS Dhoni cracking centuries as India posted 381/6 and Morgan said the duo's rich experience made it count.
"Within their side there are a few 2011 World Cup winners and of course having that experience and coming up against these sides in world competitions is a big test for us.
"You have got to produce close to the best to beat them when they are at their best and we haven't managed to do that. Again, we have another chance, another opportunity to do that in Kolkata."
His eighth ODI century was near perfection as he paced his knock beautifully by seeing off the spin duo Ravichandran Ashwin and Ravindra Jadeja before being run-out for 354/4 with the target of 27 runs from nine balls.
England captain Eoin Morgan: "It's tremendously disappointing to get so close and not get over the line." #IndvEng pic.twitter.com/Hr9RCWSlR0

— England Cricket (@englandcricket) January 19, 2017
"When you don't execute your plans, you're obviously backtracking a bit and chasing a tail, and just trying to try different things. A bowler doesn't get a ride on the day which can happen all the time, you try different things. When you're trying different things the two guys who are in, they can really hurt and today they did."
But there impressive fight does not give any satisfaction to Morgan whose century went in vain.
"It doesn't work like that. It's actually the opposite way. Pretty disappointing day. Anytime you get runs, more often than not, you're in the team, you perform, the side wins. But when you lose, there is absolutely no satisfaction."
Morgan took over the captaincy from Jos Buttler who led the side in Bangladesh after the former refused to go there on security concerns.
There were captaincy changes and everything, does this knock push everything into the background?
Promoted
"You are captain, you are playing professional cricket for your country, you want to perform, you have to perform. There's always pressure, it's a privileged position to be in."
(With PTI inputs)
Topics mentioned in this article