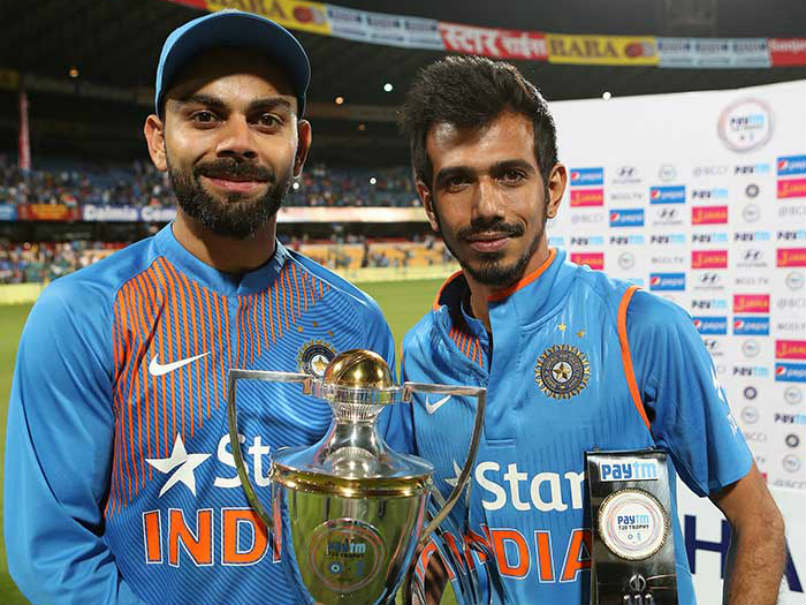 Virat Kohli and Yuzvendra Chahal are pictured together in the post-match awards ceremony.
© BCCI
Virat Kohli maintained his top spot in the latest ICC Twenty20 International Rankings for batsmen while India gained one point and retained their second place, trimming number-one ranked New Zealand's lead to just five points thanks to their 2-1 series win over England. However, the biggest mover was India leg-spinner Yuzvendra Chahal, who rocketed 92 places to claim 86th position. Chahal took six for 25 in the series decider against the English -- the best figures for an Indian in the shortest format of the game to date and the third-best overall.
Kohli leads number-two ranked Aaron Finch of Australia by 28 points, while Glenn Maxwell of Australia is third.
India's Jasprit Bumrah, who along with England's Chris Jordan was the second most successful bowler in the series with five wickets, has narrowed the gap with South Africa's number-one ranked Imran Tahir, who claimed six wickets in the series against Sri Lanka. The two are now separated by just four points.
Other bowlers to head in the right direction include England's Jordan in 17th (up by nine places), Ashish Nehra of India in 24th (up by two places), Sri Lanka's Nuwan Kulasekara in 26th (up by 11 places) and Moeen Ali of England in 46th (up by 49 places).
Joe Root, who finished as the leading run-scorer in the T20I series against with 126 runs, jumped two places that put him in fifth position.
Root currently sits third in the Test and sixth in the ODI player rankings and will be eying a rise by at least one place in the forthcoming ODI series against the West Indies, so that he can join India's Virat Kohli and Kane Williamson of New Zealand as the only batsmen to feature in the top five of each format.
Kohli is ranked second in Tests, third in ODIs and number-one in T20Is, while Williamson is ranked fourth in Tests, fifth in ODIs and fourth in T20Is.
Other batsmen to head in the right direction following the latest updates, which also include the series between South Africa and Sri Lanka, include England captain Eoin Morgan in 11th (up by four places), India's Lokesh Rahul in 15th (up by 15 places) and Jos Buttler of England in 18th (up by two places).
Meanwhile, in the ICC T20I Team Rankings, England have slipped behind Australia in sixth position.