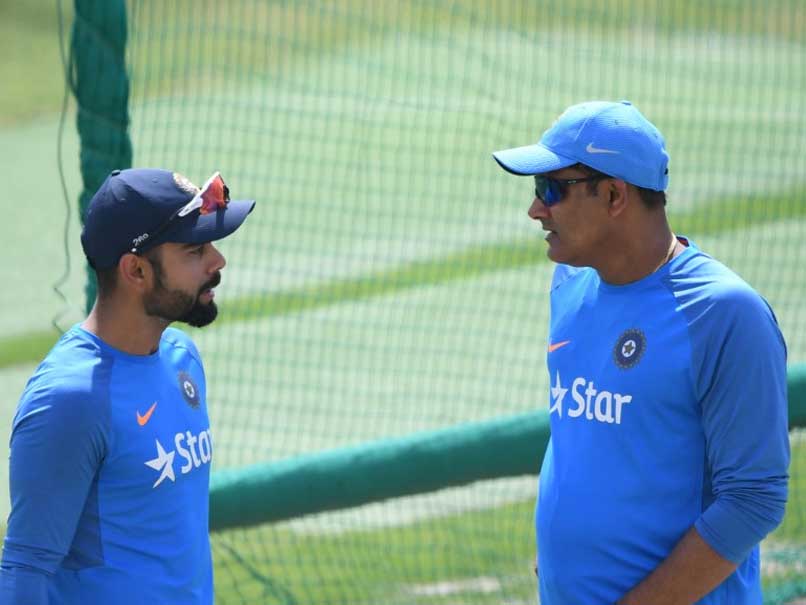 Virat Kohli is reportedly 'unhappy' with Anil Kumble.
© AFP
The Indian cricket team finds itself hit by a huge controversy with reports of a rift between captain Virat Kohli and head coach Anil Kumble taking centre-stage. While everything appeared hunky dory during India's all-conquering home season, it has now come to light that Kohli has concerns over Kumble's appointment from the very beginning. Former BCCI secretary Ajay Shirke made this revelation on Thursday in an interview to the Indian Express. Kohli had to accept the appointment because it was a direct recommendation of the Cricket Advisory Committee (CAC).
"There had been some murmurs about this (Kumble-Kohli rift) even at the time of Mr Kumble's appointment. At that time, our president (Anurag Thakur) had taken the initiative and had a detailed discussion with both parties, and it was decided that since the cricket committee (CAC) had recommended Mr Kumble as the best option, we should go ahead with that. Therefore, I think the real reason for a one-year contract was that we would work and evolve, and see how this went, so as to keep the options open at a future date," Shirke said.
According to Shirke, former BCCI president Anurag Thakur took both the parties into confidence and ensured there were no problems.
"Let us say he (Kohli) had his own views about it. And like I said, our president, Mr Thakur, took the initiative and told him that this was the unanimous choice of the cricket committee and we would have to abide by their recommendation and Kohli should accept it," Shirke said.
The CAC, with Sachin Tendulkar, Sourav Ganguly and VVS Laxman, opted for Kumble over Ravi Shastri, who many believe was Kohli's preferred choice for the role.