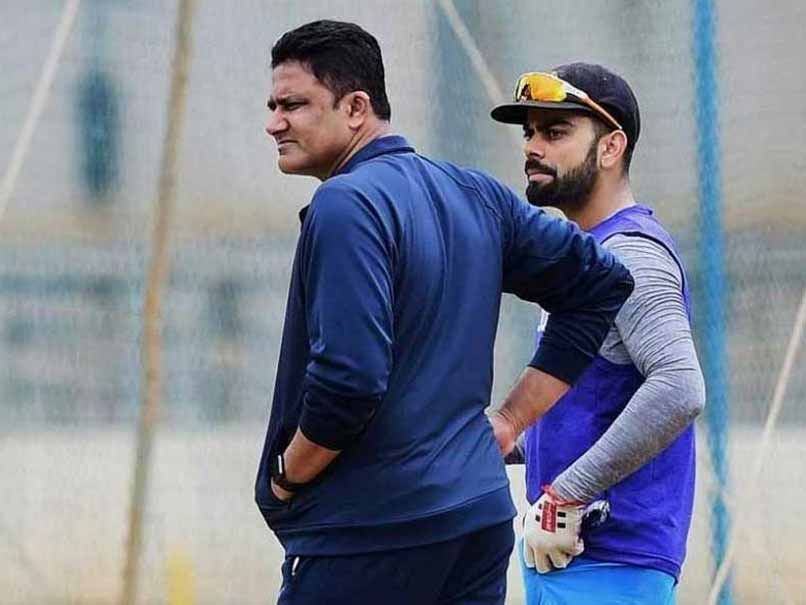 The 'rift' between Virat Kohli and Anil Kumble have been categorically denied by BCCI
© PTI
The acting secretary of Board of Control for Cricket in India (BCCI) Amitabh Choudhary and BCCI's General Manager (cricket) had a meeting with the members of the Indian cricket team on Thursday. However, the outcome of the meeting is yet to be ascertained. Sources suggest, that the meeting was held with some of the players to discuss about Anil Kumble and find out if there is any discontent. The vexed issue of the 'rift' between India captain Virat Kohli and Head Coach Anil Kumble have been categorically denied by Choudhary, who told NDTV that there was 'no smoke', referring to the rumours and conjectures related to the two not seeing eye to eye on cricketing issues and that had resulted in Kumble being put in a position where his contract as coach, which ends at the end of the ICC Champions Trophy, may not be extended.
"There is no smoke," Choudhary told NDTV. "I keep speaking to the players. The appointment was made for a period and a process had to be followed after that."
Asked if he was happy with Kumble's performance, Choudhary responded: "Not only me but the entire country is happy with Anil Kumble's performance but it is up to the Cricket Advisory Committee (whether the contract should be extended or not)."
The Cricket Advisory Committee consists of Sachin Tendulkar, Sourav Ganguly, and VVS Laxman. The body will decide on whether Kumble would get an extension or someone else would be chosen.
Among those who have applied for the post are former India batsman Virender Sehwag, Australian Tom Moody and Richard Pybus.
The BCCI has already issued a press release asking for applications for the post of Head Coach for the Indian men's cricket team, the deadline for which ended on Wednesday.
Choudhary is part of the BCCI and Committee of Administrators (CoA) team that will be heading to England to talk to Kohli and Kumble regarding the issue.
According to reports in sections of the Indian media, the CoA is trying to broker peace between Kumble and Kohli but the differences are "almost irrevocable".
The three-member team includes Choudhary, CoA head Vinod Rai and MV Sridhar, who is the General Manager, Cricket Operations, of the BCCI.
(With inputs from Rica Roy)