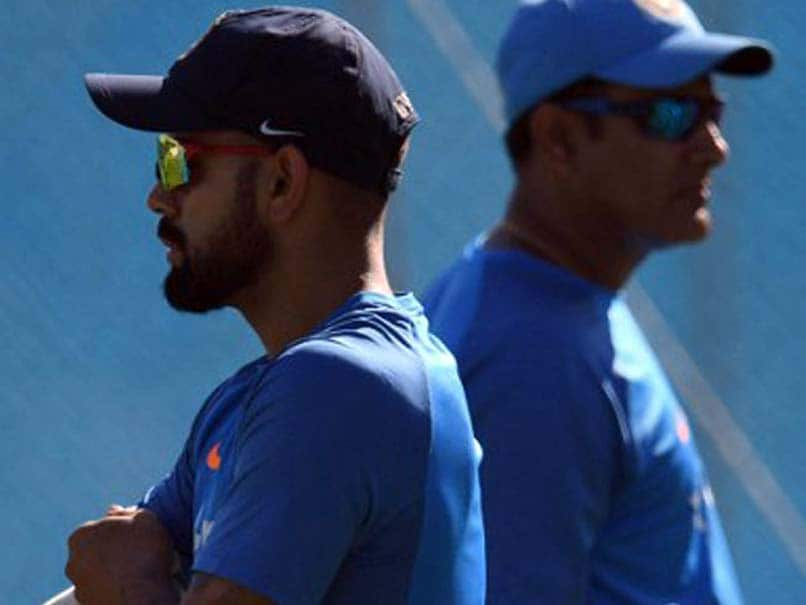 Virat Kohli spoke to the media ahead of the India-Pakistan clash.
© BCCI
India Captain on Saturday Virat Kohli dismissed all rumours about there being a rift between him and head coach Anil Kumble. Addressing the media in Birmingham, Kohli said that there was no problem with Kumble and people were making up issues. "There are no problems whatsoever," he said ahead of the ICC Champions Trophy India-Pakistan match on Sunday. "People are trying to create a livelihood by making up issues." He further added that, "it's been really good working with Anil Kumble."
When asked about how does he handle such situations, Virat Kohli responded saying there is nothing to handle. "I chose not to think about something so there is nothing to handle," he said. "In India people lack patience and speculate a lot... That's all we can say... We are focused on our livelihood (on the field). As a cricketer we are focused on the Champions Trophy."
There had been widespread rumours this week that all was not right between Kumble and Kohli. There were even reports of former captain Sourav Ganguly meeting the entire team at the hotel asking for feedback on him as a coach. Ganguly is part of the three-member Cricket Advisory Committee that also includes Sachin Tendulkar and VVS Laxman.
However, on Saturday, Ganguly came out and quashed all talk of him meeting the players. Considering the team is in the middle of an important tournament, Ganguly said it was best if the focus was kept on cricket. Ganguly also refused to comment on Kumble's future as coach of the Indian cricket team.
India take on Pakistan in their opening match of the ICC Champions Trophy on Sunday. Kohli chose to focus on the upcoming match.
"We don't play Pakistan often but they can create a surprise. Can never take them lightly. We focus on what we can do," Kohli said ahead of the match on Sunday. "I'm under no pressure. My mindset remains the same in all games."
He added, "Will pick our best bowling attack".