Story Progress
Back to home
West Indies vs Sri Lanka Live Score, Over 46 to 50 Latest Cricket Score, Updates
Live Updates of Today Match between Sri Lanka vs West Indies from Riverside Ground, Chester-le-Street. Check commentary and full scoreboard of the match.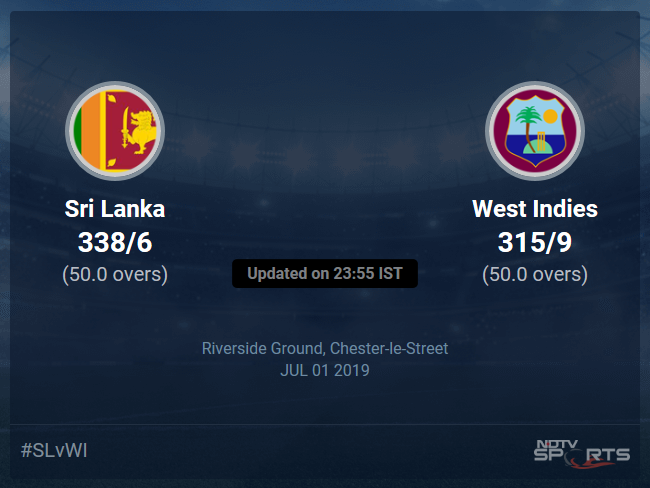 WI vs SL Latest Score
So! A dead rubber ends in an interesting fashion. Neither side can qualify but at least both gave it their all. Tuesday, July 2, 2019 sees Bangladesh take on India at Edgbaston, Birmingham. Join us at 10.30 am local (0930 GMT). ADIOS! TAKE CARE!
Victorious Sri Lankan captain, Dimuth Karunaratne, says that these kinds of wins build a huge amount of confidence. Admits that in the earlier games, they put pressure on themselves and hence committed mistakes. In this one, he agrees that they played freely due to lack of pressure. Praises Avishka Fernando and wants his side to learn from him. Admits that the SA game was a must-win one but wants his side to play freely in the next game. On the bowling, Karunaratne says that the Lankans concentrated on keeping it tight, not conceding too many runs, which resulted in a couple of run outs. On Mathews bowling the 48th over, Dimuth says that he had to bowl 2 overs off the 5th bowler and was going to bowl one himself but says that Angelo Mathews himself came and said that he will bowl. On the question whether Angelo will bowl regularly, Karunaratne laughs it off, saying that he does not think Mathews will bowl much again.
West Indian skipper, Jason Holder, admits that the West Indies were slow off the blocks with both, bat and ball. Rues the fielding efforts throughout the effort, letting key moments slip. Feels that 338 was about par on a wicket which was slow at times. Reckons that Pooran showed that if someone spent some time at the wicket, they could bat deep. On the Caribbeans doing well at the death with the ball. Holder praises his bowlers for coming back strongly. Tells that the team was backing itself when the Allen-Pooran stand was going on and is sad that they could not win. Agrees that this sort of play and this lot of youngsters are really promising and is happy with the attitude being shown. On their final game, Jason just wants a win through a complete performance.
AVISHKA FERNANDO HAS BEEN NAMED THE MAN OF THE Match. He has a special translator in Kumar Sangakkara. Avishka says that when he went in, he was happy that he did what was required. Is delighted with the way they bowled and fielded and his knock has come in a winning cause. He is very happy to get the opportunities and wants to focus on developing his game.
Earlier in the day, a masterful century from Avishka Fernando took Sri Lanka to 338, with decent knocks from Kusal Perera and Lahiru Thirimanne. This win takes the Lankans above Bangladesh to 6th in the points table, with 8 points. However, they cannot qualify even if they beat India on Saturday. Please stay tuned for the presentation.
Nicholas Pooran then took the mantle upon himself and with 31 needed from the last 3 overs, Karunartane had to decide whom should he turn to, to bowl 2 remaining overs of the fifth bowler. He went with his most experienced player - Angelo Mathews. The bloke, who had not bowled since December 2017, struck gold on his very first ball, getting Pooran dismissed and that nipped the game in the bud. Malinga was the chief destroyer, with 3 wickets while the others, though not wicket-taking, were decent.
Pooran was involved in three successive 50-run stands, first with Holder, then Brathwaite and finally Allen. Comically, all the partnerships ended in a run out. Of all the three stands, it was the Pooran-Allen stand which injected some momentum into the chase. The 83-run stand came in just 58 balls and at that time, it seemed like West Indies had a chance. But his run out once again changed the tempo.
For a match which ran close, Sri Lanka always looked comfortable while defending. The top four batsmen did not contribute much for the Windies and neither scored at the rate they were expected to. At 84/4, it looked like we were in for a quick finish but Nicholas Pooran stepped up.
A close finish in the end. The run chase looked dead and buried in the 35th over, when Carlos Brathwaite got out but Nicholas Pooran almost single-handedly took his side home. Have to feel for the youngster but had he received some more support from the other end, the West Indies might have ended on the right side.
49.6 overs (0 Run) SRI LANKA WIN BY 23 RUNS! Dot ball to end things. Back of a length ball on off, Cottrell punches it from the crease but finds extra cover. The fielder stops it at the edge of the circle and the batsmen decide not to cross. That will be it. A hard-fought victory for Sri Lanka.
49.5 overs (1 Run) Goes hard at a fullish ball in the line of the stumps and gets it away towards mid on. They cross for a quick single.
49.4 overs (1 Run) Angles in a full ball on middle, Cottrell whips it down to wide long on for a single.
49.3 overs (1 Run) Shortish and around leg, Shannon tries to pull but gets an inside edge down to fine leg for a run.
49.2 overs (0 Run) Again a slower length ball outside off, Gabriel is early into the swing of his bat again and misses.
49.1 overs (0 Run) Swing and a miss! Slower full ball around leg, following the batsman down, Shannon swings his bat and misses.
27 needed off 6 balls. Angelo Mathews to bowl it...
48.6 overs (1 Run) A single to end! Full and on middle, this is hit down to long on for one. Another brilliant night for Malinga comes to an end. His figures are 10-0-55-3.
48.5 overs (0 Run) A yorker but outside leg, Thomas swings but misses.
48.4 overs (0 Run) Almost gets the last wicket. Malinga goes full and this one tails back in from off. Gabriel looks to drive but gets an insde edge onto the pads.
Shannon Gabriel walks in next. Watch out for your toes.
48.3 overs (0 Run) OUT! It is not close, it is out! West Indies are nine down now. Malinga gets his third. This lands around middle and leg. Thomas swings but misses. It goes off the pads towards third man. The batters run one as the bowler appeals. The umpire shakes his head. Kusal Perera suggests to review it and Dimuth Karunaratne obliges. Hawk Eye shows three reds and Thomas has to take the long walk back.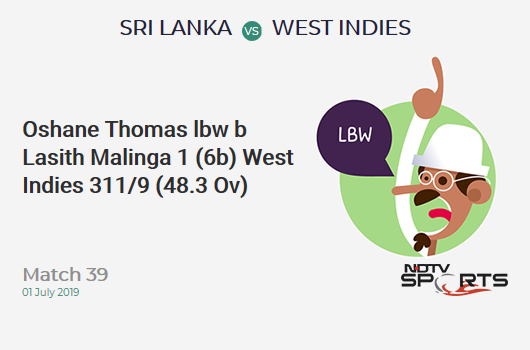 A huge appeal for an LBW has been turned down. Sri Lanka have reviewed. Looks close.
48.2 overs (0 Run) A low full toss outside off, Malinga swings but misses.
48.1 overs (0 Run) Fuller and on off, Thomas drives it to covers.
47.6 overs (0 Run) A dot to end a brilliant over by Mathews. This on a length and around off, it is pushed back to the bowler. 3 runs and a massive breakthrough, the seasoned campaigner has done his job efficiently.
47.5 overs (2 Runs) DROPPED! This though was a touch chance! Cottrell flicks this ball angled into him uppishly towards wide long on. Udana there runs to his right, dives and tries to take it but fails to do so. The batters take two.
47.4 overs (1 Run) Fuller and on off, this is hit towards cover. The batsmen take off. The fielder has a shy at the non-striker's end but misses.
47.3 overs (0 Run) Way too wide outside off, Thomas swings but misses again.
47.2 overs (0 Run) Swing and a miss! Full and outside off, Thomas looks to go over mid on but misses.
47.1 overs (0 Run) OUT! EDGED AND TAKEN! What a masterstroke this is! Angelo Mathews who is bowling his first ball of this World Cup, forget the World Cup, his first ball after eternity, gets the batsman who had all the West Indies' hopes pinned on him. Mathews bowls it wide outside off, Pooran goes after it but the ball takes the outside edge and carries to Kusal Perera who makes no mistake. Mathews is pumped up and why not? He has probably won Sri Lanka the game. Pooran walks back dejected. What an innings from him but it would have been even more special had he taken his team over the line! West Indies need a miracle from here on.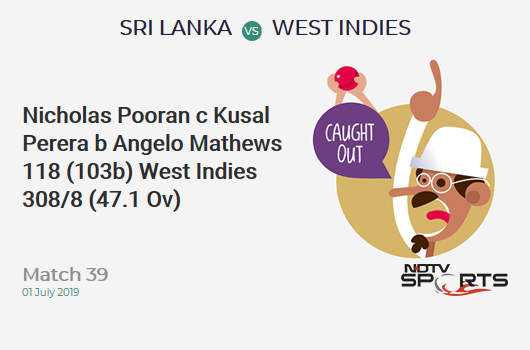 Look who has the ball in his hand! The experienced head of Angelo Mathews has been given the ball by Dimuth Karunaratne. This is his first over of this World Cup. Watch out for his clever change in pace.
46.6 overs (0 Run) A dot to end! Shorter again on middle, Cottrell defends it on the leg side. 31 needed in 18 balls.
46.6 overs (1 Run) WIDE! Pressure getting to the bowler here. This is down the leg side, Cottrell looks to flick but misses.
46.5 overs (2 Runs) Two taken! Sloppiness from Sri Lanka. This is short and on the body, Cottrell hops and defends it on the off side. They go for the run. The fielder from covers gets to the ball and has a shy at the non-striker's end. He misses, the fielder backing up fumbles and the batters take another run.
46.4 overs (0 Run) A dot! Short and outside off, Cottrell lets it be.
46.3 overs (1 Run) Takes the single! So he is backing Cottrell. This is fuller and on middle, Pooran swings but it goes off the inner half through square leg for one.
46.2 overs (4 Runs) FOUR! That is in the gap! The slower one and shorter in length. Pooran is ready for it. He waits for it and then pulls it through mid-wicket, away from the fielder in the deep and a boundary.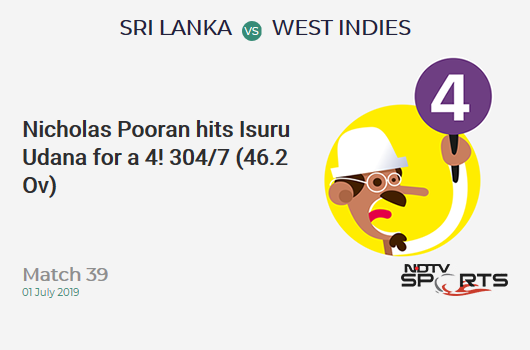 46.1 overs (1 Run) Does get off strike! This is on a length and around off, Sheldon walks down the track and looks to defend but the ball straightens, it goes off the outside edge down to third man for one.
45.6 overs (0 Run) A dot to end! Which means Cottrell will be on strike in the next over. This is a full toss outside off, Pooran hits it to covers. Just the 7 from the over but that is fine considering it was Malinga's over. 40 needed in the last 4.
45.6 overs (1 Run) That has slipped! A high full toss outside off, Pooran goes after it but misses. The keeper fails to collect it cleanly but the batters don't run. Wide.
45.5 overs (1 Run) Inside edge! Close, very close. Like I wrote, Malinga went for the yorker. Cottrell looks to jam it out but the ball goes off the inner half down to fine leg for one.
45.4 overs (1 Run) Another very full ball outside off, Pooran looks to drive it through the off side but it goes off the inner half through mid-wicket. They take a run. Cottrell has two balls to play out. Not going to be easy for him. Malinga will be going for yorkers only, I believe.
45.3 overs (0 Run) Another yorker on middle, this jammed out.
45.2 overs (0 Run) A yorker outside off, Pooran jams it out to point.
45.1 overs (4 Runs) DROPPED AND FOUR! That has been misjudged horribly. Has Thisara Perera, the sub, dropped the game? Well, we will find out. Malinga bowls it full and on off, Pooran lofts it towards long off. He has not got enough on it. Perera though runs in then realizes it is going over him. Looks to recover by moving back and by stretching his hands up. The ball bursts through and goes into the fence. Malinga is not impressed. Karunaratne is shaking his head. Massive moment, this.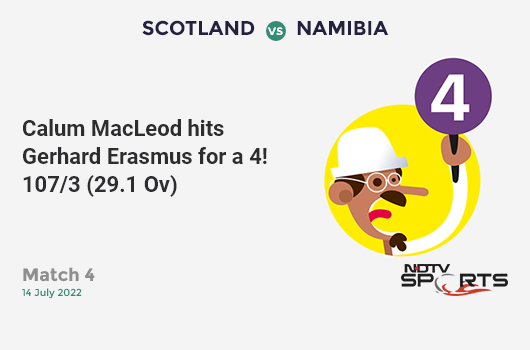 Match Reports
Topics mentioned in this article