Story Progress
Back to home
Sri Lanka vs West Indies Live Score, Over 1 to 5 Latest Cricket Score, Updates
Live Updates of Today Match between Sri Lanka vs West Indies from Riverside Ground, Chester-le-Street. Check commentary and full scoreboard of the match.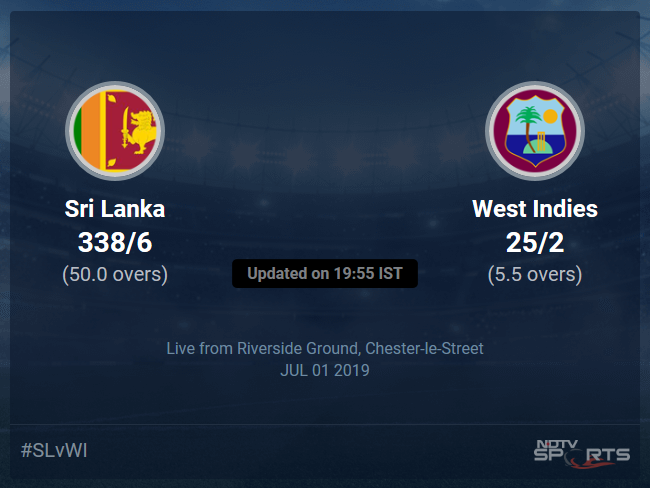 SL vs WI Latest Score
4.6 overs (0 Run) OUT! Drags it on! Malinga has got Hope. A big wicket as Hope could have been the anchor man in this chase. West Indies are in big trouble here. Another slower one by Malinga. This is outside off, Hope throws his bat at it but due to the slowness of the wicket, he gets an inside edge and it hits the stumps behind. Another successful over for Malinga comes to an end.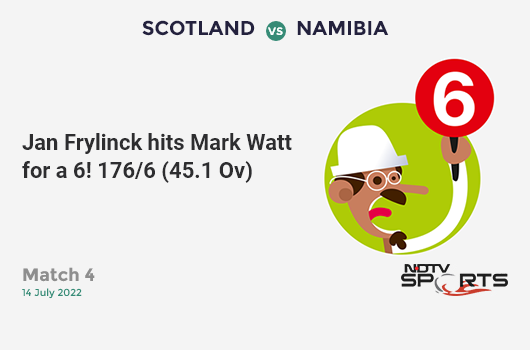 4.6 overs (1 Run) This is way too short, Hope lets it be and it has been wided.
4.5 overs (0 Run) Slower one outside off, it does not quite come off the surface. Hope mistimes his push back to the bowler.
4.4 overs (0 Run) A bumper now on middle, Hope ducks under it.
4.3 overs (0 Run) Another one on the pads, Hope once again flicks it to mid-wicket.
4.2 overs (0 Run) A little too straight this time, Hope works it to mid-wicket.
4.1 overs (1 Run) Direct hit but Gayle is quick enough! Fuller and on middle, Gayle jams it out to mid off and goes for a run. The fielder does hit the stumps at the non-striker's end but Gayle is in.
3.6 overs (1 Run) A low full toss on off, Gayle hits it down to long off for one. Tidy over by de Silva.
3.5 overs (0 Run) Gives it air and lands this one outside off, Gayle strokes it to covers.
3.4 overs (1 Run) Floats it up on off, Hope hits it down to long on with the turn for one.
3.3 overs (1 Run) NOT OUT! Gayle is well in! Not sure why they went up. This is worked through mid-wicket. The batters go for a run. The fielder picks the ball up and scores a direct hit at the non-striker's end. It then deflects onto the leg of de Silva. He though appeals and the umpire takes it upstairs. Replays show he is fine.
Run out appeal has been referred upstairs! Also, the bowler is down in pain here as the ball after hitting the wickets at the non-striker's end deflects to catch Dhananjaya on the back of his right leg. Gayle looks to be safely in though in the replays.
3.2 overs (0 Run) This is fired on the stumps, Gayle pushes it to mid on.
3.1 overs (0 Run) Flatter and on middle, this is kept out.
2.6 overs (0 Run) Good length again around off, Hope guides it to point. A successful over for Lanka.
2.5 overs (0 Run) Bowls it on a length this time and it is outside off, Hope looks to go after it but is beaten.
2.4 overs (4 Runs) FOUR! Hope takes full toll of it. He also gets off the mark. This is full and around off, Hope clears his front leg and smashes it over covers. No stopping those.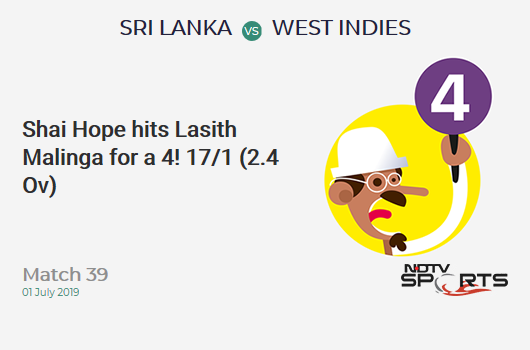 2.4 overs (1 Run) NO BALL! That came out wrong! Malinga looks to bowl the slower dipping yorker. It comes out wrong though, it ends up being a high full toss on the body which Hope ducks under. Free Hit coming up. Sixth of the game.
2.3 overs (0 Run) On a good length and around off, Hope blocks it out.
Shai Hope is the new man in. 192 runs in this World Cup so far for him which includes a couple of fifties. West Indies require him to stand up today and deliver a big knock.
2.2 overs (0 Run) OUT! CAUGHT BEHIND! Malinga has bounced Ambris out! Early wicket for the Lankans. Dreadful start for the Windies. Lasith bangs it short and around off, Ambris looks to pull but does not get on top of the bounce. It hits the top edge and goes into the gloves of Perera who makes no mistake. Another failure for Sunil.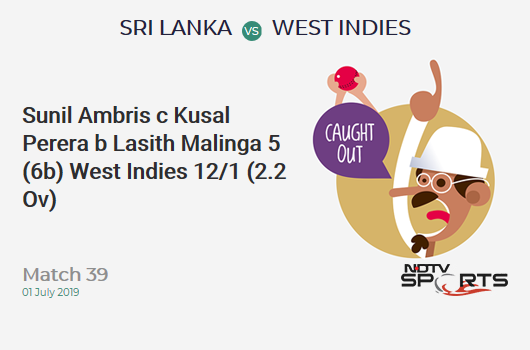 2.1 overs (1 Run) Slower one on the pads, Gayle looks to work it but misses. It hits his pad and rolls on the leg side. A leg bye taken.
1.6 overs (1 Run) Flatter and shorter on middle, fired into the batsman, Gayle moves back and punches it through the gap on the leg side at mid-wicket for one.
1.5 overs (1 Run) Lovely drift into the right-hander, fuller and on middle, Ambris knocks it down through mid on for a run.
1.4 overs (0 Run) Driven towards the mid off region. No run.
1.3 overs (1 Run) Very full and on off, it's driven with the full face of the bat to long off for a run.
1.2 overs (0 Run) Beauty by the offie! Nice drift into the batsman, it's on a full length around off, Gayle draws forward in defense but it spins away to beat the outside edge and the off stump by less than an inch.
1.1 overs (2 Runs) Everything happened in slow-mo! Fuller and around middle and leg, Gayle works it behind square leg and ambles back for the second run. The fine leg fielder took his own sweet time in releasing the throw back to the keeper.
Spinner from the other end! Dhananjaya de Silva to bowl with a slip and leg slip in place.
0.6 over (4 Runs) FOUR! Finds the fence! Malinga overpitches on off, Ambris presses forward and drives it through the gap between covers and cover-point for a boundary.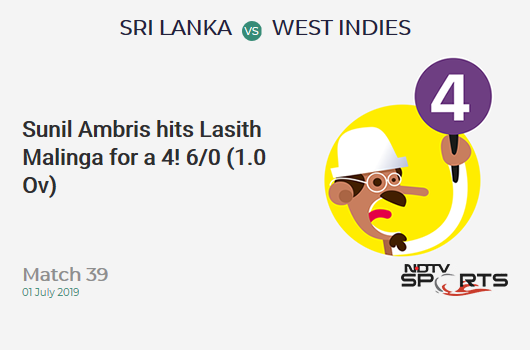 0.5 over (0 Run) A very late decision to leave. Slower length ball outside off at 117 kph, Ambris is almost through his shot but then tries to pull his bat back. It goes very closely past the outside edge.
0.4 over (0 Run) Very full and on off, Sunil tries to drive but it takes the outer half and rolls to point. The fielder there dives to his right to make the stop.
0.4 over (1 Run) Wide! The wind is just too strong at the moment and it's not easy for the bowlers. Malinga sprays a length ball wide down the leg side, Ambris swings his bat and misses. A good take by the keeper.
0.3 over (1 Run) A near yorker by Malinga, around middle, Gayle digs it out in front of mid off and scampers across to the other end.
0.2 over (0 Run) Nice delivery, fuller and on off, a hint of inward shape, Gayle without much footwork pushes it out to covers.
0.1 over (0 Run) Play and a miss first ball! Too full in length and wide outside off, Gayle chases it away from his body but fails to keep it out.
The run chase is upon us! Chris Gayle will open the innings with Sunil Ambris, who seems to have recovered after hurting his ankle while fielding. The Lankan players get into a huddle near the boundary line. They have plenty in the bank at the moment but need to spend carefully. Lasith Malinga to begin with the first new ball.
Topics mentioned in this article