Story Progress
Back to home
Pakistan vs Afghanistan Live Score, Over 46 to 50 Latest Cricket Score, Updates
Live Updates of Today Match between Pakistan vs Afghanistan from Headingley, Leeds. Check commentary and full scoreboard of the match.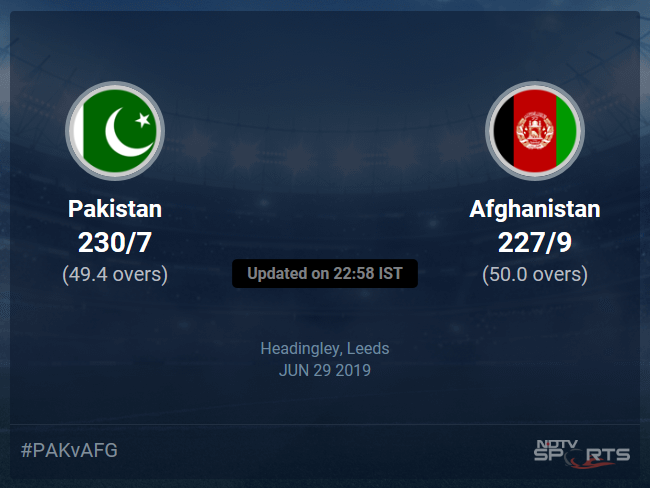 PAK vs AFG Latest Score
That's all from this close encounter. Afghanistan really scared Pakistan just like they did to India but failed to cross the line. On Sunday, we have a mouthwatering match lined up - England will be taking on India in a crucial encounter at Edgbaston. Do join us at 1030 local (0930 GMT) for all the action. Meanwhile, you can switch to the concerned tab to get the updates from Match 37 of this World Cup. Cheers!
Pakistan skipper, Sarfaraz Ahmed starts by thanking the Almighty. He then thanks the fans for their support. Credits Imad Wasim for his brilliant innings. Informs that the pitch was two-paced and they knew it was going to be a tough chase. He is happy though that everyone chipped in. Credits his team as it is not easy winning 4 out of 4 games. Credits Wahab too as his 12-15 runs helped the team. Mentions that Shaheen has worked hard and he bowled really well along with the other bowlers. Further adds that they will watch India taking on England on Sunday but are not thinking too far ahead.
Afghanistan skipper, Gulbadin Naib says they fought well and gave their all but in the end they missed the opportunity to win. Credits Imad for the way he played and also credits Shadab for rotating the strike. Feels had they worked hard, they could have won. Still reckons that they improved with every game. On bowling that 46th over, he replies that they lost Hamid Hassan due to injury and counts that as their bad luck. Credits his bowlers for bowling the way they did. States that in a tournament like this, getting 40 odd runs is not enough to put big runs on the board and wants his batsmen to take more responsibility. He also thanks the crowd for all the support.
Imad Wasim is adjudged the Man of the Match for his all-round performance! Says when he came to bat Rashid was bowling really well and admits he struggled to pick him. Tells the plan was to play the full 50 overs. Mentions that Naib was the only bowler who they could have targeted as Afghanistan have great spinners. Thanks the crowd for their support as it made them feel at home and also dedicates this win to the supporters. States that this win has given them a lot of confidence and hopes that they can win the next one and qualify for the semi-finals.
A target of 228 on this turning pitch was always going to be tricky. Once Pakistan lost Fakhar Zaman on the second ball of the run chase it gave us a hint that it's not going to be a smooth ride for the green team. But then, Babar Azam and Imam-ul-Haq got involved in a 72-run stand to pave the way. Just when it looked like Pakistan will cruise, Mohammad Nabi removed both Imam and Babar in quick succession to peg Pakistan back. Mohammad Hafeez and Haris Sohail also formed a partnership but the Afghan bowlers kept bouncing back to create pressure. The run out of Sarfaraz Ahmed handed the Asian minnows the upper hand but Shadab and Imad stitched in a match-winning 50-run stand to close the doors on Afghanistan. The 46th over where Imad Wasim took Gulbadin Naib to the cleaners by hammering 18 runs proved to be the turning point as it took away the scoreboard pressure.
A narrow escape for Pakistan and they have kept their campaign alive. Imad Wasim has done it for them. A very vital knock from the southpaw. He struggled at the start of his innings but gutted it out and has scripted a thrilling victory for his team. A word of praise for Wahab Riaz as well whose 9-ball 15 cannot be undermined. Heartbreak for Afghanistan. But credit to them for making Pakistan sweat hard for this win. Well done, Afghans!
49.4 overs (4 Runs) FOUR! PAKISTAN WIN BY 3 WICKETS! Naib hurls in a low full toss outside off, Wasim drills his drive through extra cover and it speeds away to the fence in a flash. The crowd erupts in joy. Great scenes out there!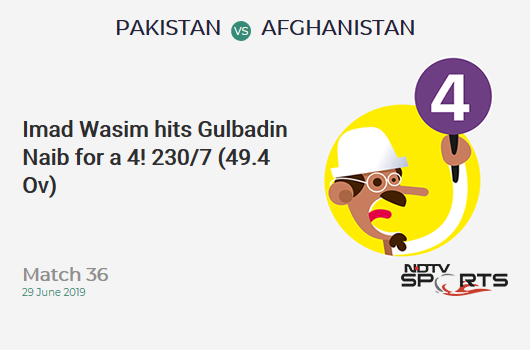 49.3 overs (2 Runs) Run out chance missed! Extra run taken. Poor from Naib again. Fullish and outside off, Imad drives it straight to extra cover and crosses for a risky run. The fielder picks up the ball and throws it to the bowler who fails to catch it. It goes behind and the batsmen run an overthrow.
49.2 overs (1 Run) Slower one, full and angling down the leg side, Wahab swings his bat early and misses. It goes off his pads to the leg side and they cross. Given as a run. Maybe, some inside edge then.
49.1 overs (1 Run) Full toss outside off, Wasim smashes it to sweeper cover for a single. 5 needed off 5 balls.
6 needed off 6 balls. Gulbadin Naib has the ball in his hand.
48.6 overs (1 Run) Shortish and on leg, Wasim tries to flick but misses. It takes his pads and rolls to short fine leg for a leg bye. 10 from the over!
48.5 overs (1 Run) Flatter and fuller around middle, Wahab reverse sweeps it through covers for a single. 7 needed off 7 balls.
48.4 overs (0 Run) Googly around off, some extra bounce, Wahab swings and misses.
48.3 overs (2 Runs) Excellent running between the wickets. A googly around off, turning in, Wahab doesn't pick it but does well to force it down towards long off for a couple.
48.2 overs (6 Runs) SIX! This one has disappeared into the crowd. 10 needed off 10 balls. Floated delivery, full and on middle, Wahab kneels and smokes it deep into the stands at mid-wicket. This is a clean hit by Riaz. Look at the crowd. They are loving every bit of the action here.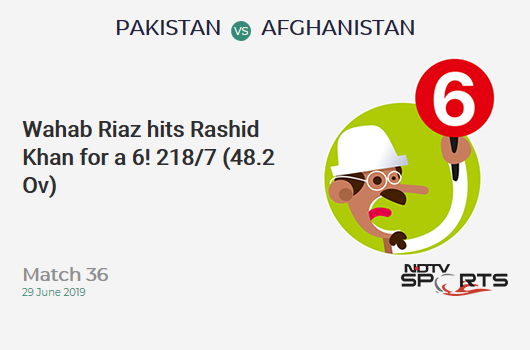 48.1 overs (0 Run) Swing and a miss! Flighted and outside off, Wahab tries to slog sweep but it turns away to beat his bat.
47.6 overs (0 Run) Very full and outside off, Wasim squeezes it out to covers. Dot ball to end an excellent spell by Mujeeb, 10-1-34-2! Outstanding job done by the offie. 16 needed more off 12 balls.
47.5 overs (1 Run) Flatter and quicker on off, Riaz gets back deep inside the crease and pushes it out with gentle hands to covers. A single taken.
47.4 overs (1 Run) Too full in length on off, driven back firmly and it took Mujeeb's leg before deflecting towards deep mid-wicket. A single taken. Mujeeb is down on the ground in some pain.
47.3 overs (0 Run) Three dots. Pressure. Short and wide outside off, Imad tries to cut but misses as it bounces over his bat.
47.2 overs (0 Run) Full and on off, driven back to the bowler.
47.1 overs (0 Run) Tossed up ball outside off, tapped down from the crease to point.
Mujeeb Ur Rahman is into the attack. His team needs him to build pressure with dots and a wicket here will be cherry on the cake.
46.6 overs (4 Runs) FOUR! Wow, Wahab has drilled his shot! Full and flighted outside off, Riaz watches width there and muscles it through covers. 10 runs and a wicket from the over, 18 needed off 18 balls.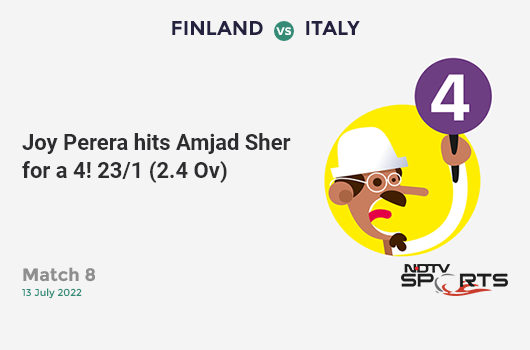 46.5 overs (0 Run) Stifled appeal for an lbw! A googly on off, some extra bounce as it spins back in and hits Wahab high on his front leg.
Wahab Riaz walks out to bat next. Remember he has a fracture on his finger. Wahab can hit the long ball but will this injury be an issue?
46.4 overs (1 Run) OUT! Shadab is short! A flatter delivery on middle, Khan whips it to deep mid-wicket and attempts for the second run. Naib in the deep runs forward and sends in a bullet throw to the keeper who breaks the stumps as Shadab dives in. They appeal, it's referred upstairs and the replay find Khan short. 50-run stand is broken immediately. 22 needed off 20 balls.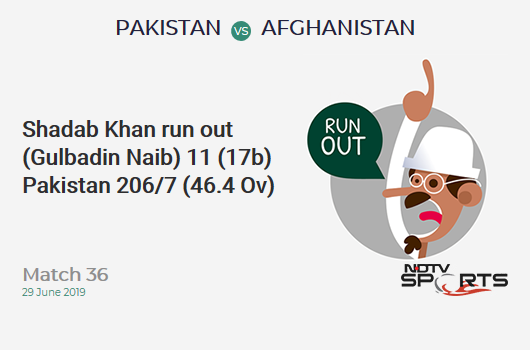 Appeal for a run out! Is there any more twist left in this match? Shadab is in question. Has his dive saved him?
46.3 overs (4 Runs) FOUR! Streaky! Pakistan will take it. A full delivery landing on off and spinning away, Shadab presses forward to push it through but it takes the outside edge and runs wide of short third man for a boundary.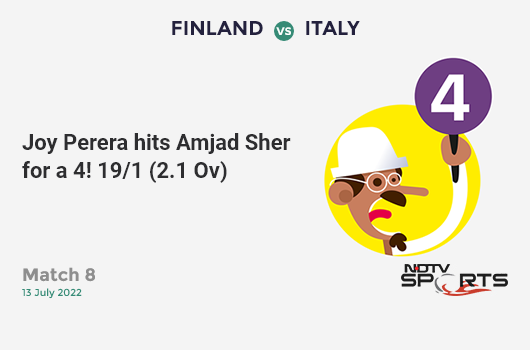 46.2 overs (1 Run) Spinning away from the batsman, it's on the shorter side, Wasim stays back and steers it through point for a run.
46.1 overs (0 Run) Quicker and fuller on off, Imad defends it to the off side.
Rashid Khan into the attack. His skipper bowled an expensive last over and now Rashid will have to get a wicket here. If not a wicket he will look to not leak too many runs.
45.6 overs (1 Run) Smart batting. Fuller and on off, Imad tries to drive but it takes the inside edge and hits him on the pads. It deflects towards extra cover and they cross. 28 needed off 24 balls and this over has made Pakistan the favourites again.
45.6 overs (1 Run) Wide! 29 needed off 25 balls. The crowd is going mad. Fullish and angling down the leg side, Imad tries to flick but misses.
45.5 overs (4 Runs) FOUR! Another boundary, make it 16 from the over. Imad has unleashed here. Poor bowling by the skipper. Keeps bowling short and wide outside off and Wasim whacks it through point.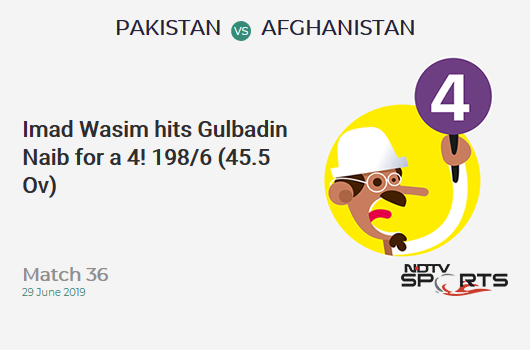 45.4 overs (4 Runs) FOUR! Edgy! Luck is going Pakistan's way. Width on offer outside off, Wasim throws his bat at it and edges it wide of short third man for a boundary. 12 from the over, so far.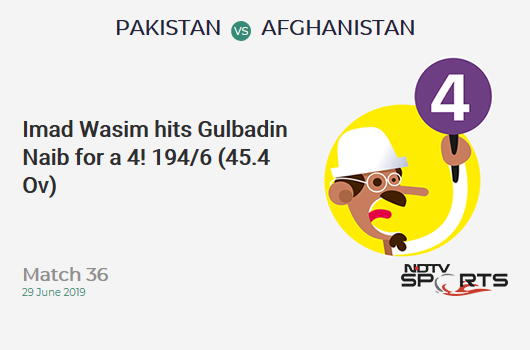 Slight hold up in play. Imad Wasim has cramped himself and is lying flat on the ground. Shadab helps him in stretching. Physio has come out now. 38 needed off 27 balls.
45.3 overs (2 Runs) Whips this delivery through wide mid on for a couple of runs.
45.2 overs (2 Runs) In the air... Afghan misjudges it! A length delivery outside off, Imad miscues his shot in the air at extra cover. Afghan runs back from the circle but misjudges it as the ball drops wide of him. A couple taken.
45.1 overs (4 Runs) FOUR! Thumped! Full toss outside off, Wasim shuffles across the stumps, fetches it from there and swings it across the line. It hurries in front of square leg and finds the fence after beating the dive from the deep fielder.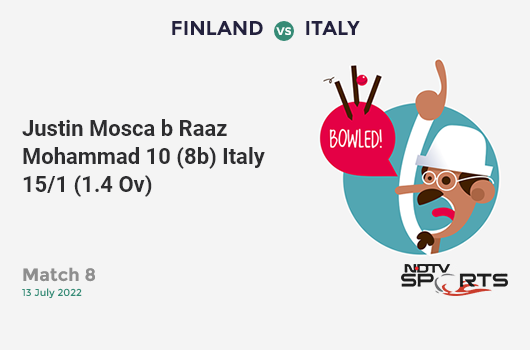 Match Reports
Topics mentioned in this article