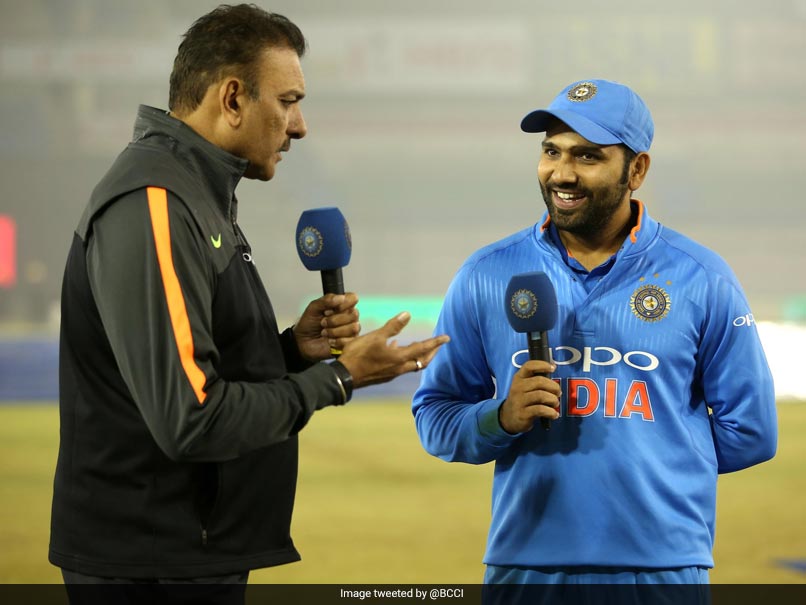 Rohit Sharma scored his 3rd ODI double century in Mohali.
© AFP
Rohit Sharma scored a sensation double-century, his 3rd in One-day International cricket, as he led India to a massive win over Sri Lanka in the 2nd ODI at the Punjab Cricket (PCA) Stadium in Mohali on Wednesday. It was also the Hitman's second marriage anniversary and wife Ritika Sajdeh got the best gift possible. The innings was of such brilliance that it inspired team coach Ravi Shastri to pick up the microphone again in a Board of Control for Cricket in India (BCCI) video to throw questions at the star of the day.
"Rohit excellent timing. Third wedding anniversary, stunning innings, third double-hundred in white-ball cricket. Where would you rate this one?" was the opener from Shastri.
"It's so difficult to pick one because all three have come at crucial junction of the game, at difficult time and scenarios of the game," Rohit responded.
"Against Australia, it was a series decider, and the 264 which I got against Sri Lanka again that was I got after a three-month layoff as I had a finder injury. I was nervous. Will I be able to score runs or not? Those things were going in my mind.
"This one, again, having lost the first game, we wanted to come back as a batting unit really hard. I kept telling myself that unless I make a mistake, I'm not getting out. I want them to get me out. I don't want to throw away my wicket. So that is something I kept telling myself and I was quite determined to bat as long as possible. The wicket was superb and the outfield here is so fast. I just kept telling myself to hold the position, hold the shape and hit through the line. That's all I did."
December 14, 2017
Shastri went on with his questioning, the next one beginning with "The Hitman was in business." He asked Rohit about shot selection and some other stuff.
One question was about how Rohit had become stronger and how his sixes were clearing the fence at the PCA Stadium, one of the biggest in India.
"Thanks to our trainer (Shankar) Basu," Rohit responded. "He has been working really hard with all of us. My strength is time the ball. I was just looking to time the ball, get in the line and time. I know I am not like MS Dhoni or Chris Gayle and these kinds of players. I don't have so much power but I rely on timing. Exactly what I did."
"You sure timed it beautifully. Well played Rohit. You are Rohit paisa-vasool Sharma today even for us from the dressing room," the former commentator signed off with his usual flourish.