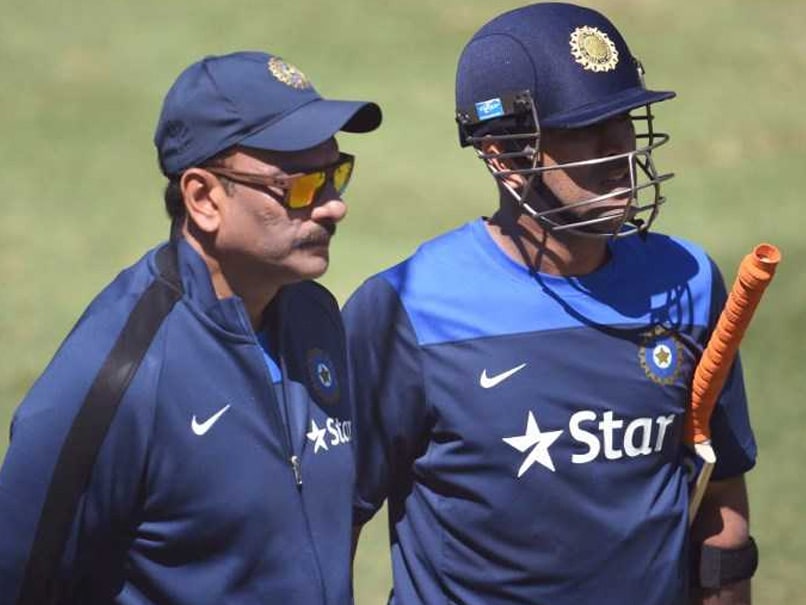 Ravi Shastri has said people should look at their own career before commenting on MS Dhoni.
© AF
Ravi Shastri, coach of the Indian cricket team, has once again come out in fierce defence of Mahendra Singh Dhoni, saying cricketers commenting about the former captain "should look back at their career before commenting". Dubbing Dhoni a 'legend', Shastri said the 36-year-old had a lot of cricket left in him and that there was no one better than him behind the stumps. The likes of VVS Laxman and Ajit Agarkar had both disputed Dhoni's place in Team India's T20I team, suggesting that it was time he made way for the youngsters. The comments led to a massive uproar from former cricketers and fans.
"People should look back at their career before commenting on Dhoni. The (former) captain has a lot of cricket left in him and it is the duty of the team to back the legend," Shastri was quoted as saying by PTI.
"There is no one better than Dhoni on the field given his ability behind the wicket and with the bat and his presence of mind and sharpness on the field."
Current Team India captain Virat Kohli had termed the criticism of Dhoni as 'unfair' and also cited his predecessor's fitness and contribution to the side to drive home his point.
Those sentiments were later echoed by Shastri. He said that some 'jealous' people wished to see the end of Dhoni's international career.
Former India captain Sunil Gavaskar had also come out in support of Dhoni. Speaking exclusively to NDTV, Gavaskar had said that when someone crosses 30 years of age, everybody is looking to find fault in his game.
India take on Sri Lanka in first of the three Tests starting November 16 at the Eden Gardens, Kolkata. Speaking about the series, Shastri said that the Indian team would look to win the entire series, including the ODIs and T20s, and take that confidence to South Africa.
"This team always turns up on the park to win. We hope to win the series spread over one and half months before going to South Africa."
(With PTI inputs)