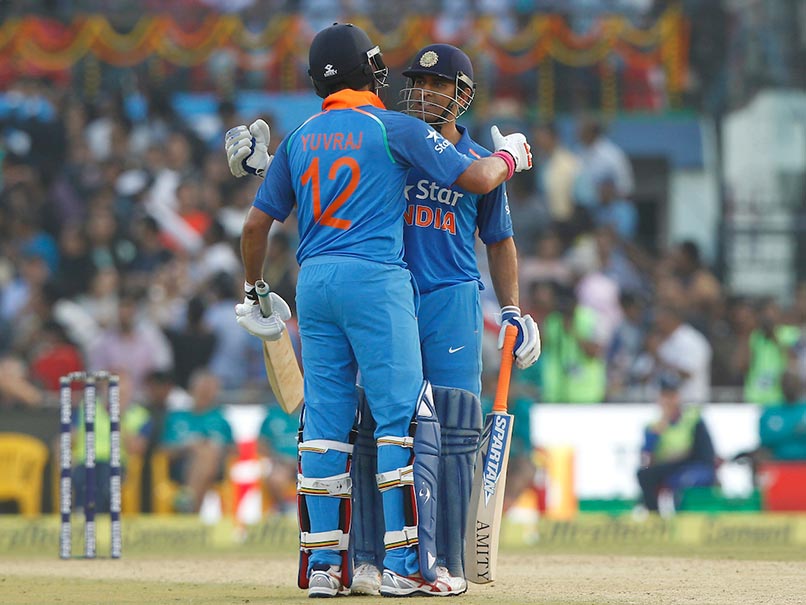 Yuvraj Singh and MS Dhoni forged a 256-run partnership as India beat England in the 2nd ODI.
© AFP
Yograj Singh has never minced his words when it comes to Mahendra Singh Dhoni and blamed the former India captain for many things that might or might not have happened to his son -- Yuvraj Singh. However, the on-field chemistry shared by Dhoni and Yuvraj has led India to many a victory and once again it was there for all to see as the English were put to the sword in the second ODI. Dhoni and Yuvraj forged a 256-run partnership as India posted a mammoth 381/6. The hosts won by 15 runs and Yuvraj and Dhoni became the toast of the nation.
 
Yuvraj scored 150, his first century in almost six years, while Dhoni smashed 134 to make the already raucous crowd at Cuttack go wilder.
 
Yograj had only recently grabbed the headlines by saying that his son had returned to the India ODI squad because Dhoni had quit captaincy.
 
"I had said this couple of years ago that he would be back in the team once Dhoni wasn't the captain. It's proved true now," he said in an interview to Maharashtra Times.
 
In 2015, Yograj had made scathing remarks against Dhoni, saying that his image has been created by the media and that the cricketer has never really deserved his accolades. Yograj also claimed that he knows several Indian cricketers who talk lowly of Dhoni.
 
In another instance, on the day Yuvraj fetched a record-fee of Rs 16 crore in the IPL 2015 player auction, Yograj had blamed Dhoni for Yuvraj's absence from the Indian squad for World Cup 2015 in Australia and New Zealand.
 
While Twitter users showered praise on Dhoni and Yuvraj as they led India to a series win over England, they obviously hadn't forgotten Yograj's remarks about Dhoni.
 
The social networking site was buzzing with hilarious memes of Yograj reacting to Dhoni and Yuvraj's match-winning partnership.
 
Here are some of the tweets.