Story Progress
Back to home
Pakistan vs South Africa Live Score, Over 46 to 50 Latest Cricket Score, Updates
Live Updates of Today Match between Pakistan vs South Africa from Lord's, London. Check commentary and full scoreboard of the match.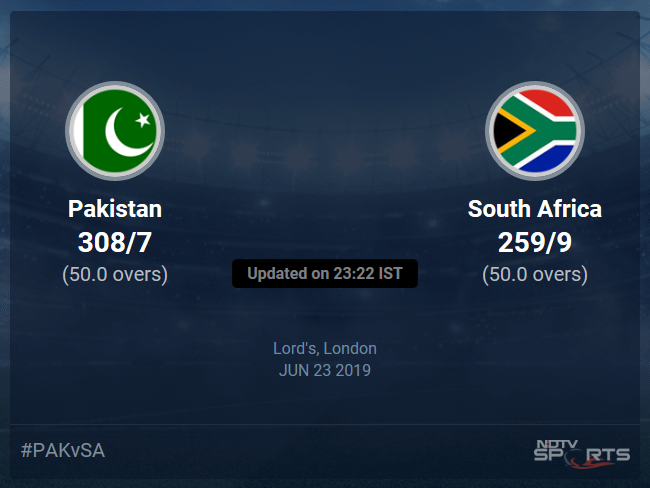 PAK vs SA Latest Score
That ends yet another weekend in the World Cup. The new week will be begun by two competitive teams - Bangladesh and Afghanistan at The Rose Bowl, Southampton. The match begins at 10.30 am local (0930 GMT). ADIOS! TAKE CARE!
Victorious Pakistan captain, Sarfaraz Ahmed, credits the win to a team effort. Praises Babar Azam and then Haris Sohail. On being asked why Sohail was not played earlier, Ahmed says that team combination did not allow them to field him. Compares his innings of today to Jos Buttler's heroics at the death. Admits that the fielding was very poor and they have to work very hard and sort out these things. Praises all the bowlers - first Amir for setting things up with the new ball, then Shadab Khan and Imad Wasim in the middle and Shaheen Afridi in the remaining part.
South African skipper, Faf du Plessis, admits that the Proteas did not play good cricket at all in this tournament. Adds that even in this game, the new-ball bowlers did not get off to a good start and allowed Pakistan to run away with the game. Says that 300 on this wicket was a bit too much. On the batting department, du Plessis says that lack of partnerships was the key but puts it down mainly to lack of confidence within the group. On Imran Tahir, Faf says that the leggie was exceptional, leading the attack consistently but rues the fact that there have not been enough guys like him. On the biggest downside, du Plessis says that South Africa are not playing like South Africa, letting themselves down in terms of skill set.
HARIS SOHAIL HAS BEEN NAMED THE MAN OF THE MATCH. He says it is tough when you are sitting out and waiting for an opportunity but was eager to play and grab the opportunity he gets. Ends by saying when he went to bat, he was told to build a partnership with Azam, things were not easy but he backed himself and it all went well.
In a forgetful tournament, only Imran Tahir and Rassie van der Dussen have been the bright spots for the Saffas. No one really stepped up with either bat or ball and their position shows in the points table. Pakistan move to 7th with 5 points. Please stay tuned for the presentation...
SOUTH AFRICA HAVE BEEN OFFICIALLY KNOCKED OUT OF THE 2019 WORLD CUP. It was a disappointing start to their campaign and they never got going, except for a win against Afghanistan. Even in this game, their new-ball bowlers struggled, a perennial problem throughout this tournament while with the bat, only de Kock and du Plessis played an innings of any substance.
After winning the toss, Pakistan batsmen did a reasonable job of seeing off the new balls and then consolidated in the middle order and teed off at the death. With the ball, Mohammad Amir found his mojo while Wahab Riaz and Shadab Khan shares the spoils with 3 wickets each.
Pakistan are alive. This was the 'other' Pakistan which turned up today. They batted responsibly, piled on a big score and then bowled well to defend the total.
49.6 overs (1 Run) A single to finish! A full toss on the pads, Phehlukwayo hits it towards deep mid-wicket for one. PAKISTAN WIN BY 49 RUNS!
49.5 overs (0 Run) Full and on the pads, Phehlukwayo looks to flick but misses. The ball hits the pads and rolls on the leg side. Phehlukwayo does not take the run.
49.4 overs (4 Runs) FOUR! Another poor effort in the fielder! Phehlukwayo hits this through covers. The fielder in the deep runs to his left but dives over the ball and Andile bags a boundary.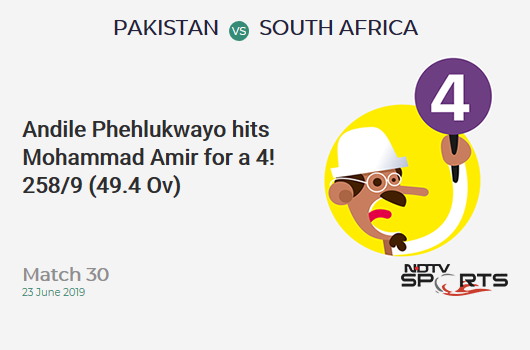 49.3 overs (2 Runs) NOT OUT! Phehlukwayo is in! Amir bowls a slower one outside off. Andile swings but it goes off the outside edge which goes up in the air but lands well short of third man. The fielder collects the ball and fires it to the keeper who whips the bails off and appeals as the batsmen try and compete the second. The umpire takes it upstairs. Replays roll in and they show that Andile is in.
Have South Africa been bowled out? An appeal for a run out has been taken upstairs. Pakistan don't seem excited though.
49.2 overs (2 Runs) Length and around off, Phehlukwayo swings again but it goes off the outer half towards deep point for two.
49.1 overs (2 Runs) Safe! Slower one on off, Phehlukwayo lofts it over the bowler's head. Long on runs to his right and cuts it down. Two taken.
48.6 overs (0 Run) Well played! Gets it right up there does Wahab. Tahir jams it out.
48.5 overs (0 Run) This is angled on the pads, Tahir works it to mid on.
48.4 overs (1 Run) Slower one outside off, this is hit through covers for one.
48.3 overs (1 Run) Tahir gets off strike! A direct hit would have got him though. He covers the line of this delivery and pushes it to mid off. He takes off but then stops, then goes for it again. Hassan Ali, the sub, picks the ball up and has a shy at the non-striker's end but misses.
Imran Tahir is the last man in!
48.2 overs (0 Run) OUT! This is why he wanted to get off strike! Wahab is just too good for him. Wahab lands this one middle and gets it to straighten. Ngidi plays the original trajectory and gets squared up. The ball goes past the outside edge and knocks the stumps behind.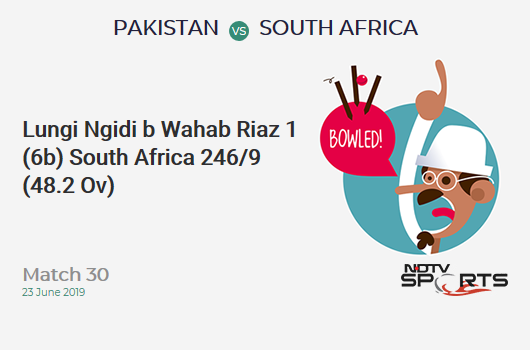 48.1 overs (0 Run) BEATEN ALL ENDS UP! Another yorker just outside off, Ngidi fails to jam it out. He wants to get off strike and that was evident there. He was on the run as he was playing that shot.
47.6 overs (1 Run) A single! Ngidi once again throws his bat at it but the ball flies off the outside edge down to third man for one.
47.5 overs (0 Run) Another swing and another miss! A slower one just outside off, LN looks to hit straight but misses.
47.4 overs (0 Run) Swing and a miss! Length and outside off, angling away. Ngidi looks to hit it against the angle but misses.
47.3 overs (1 Run) A low full toss outside off, this is hit to mid off for one.
47.2 overs (4 Runs) FOUR! Poor effort in the field! Very full and outside off, Phehlukwayo jams it through backward point. Afridi runs to his left from third man, dives and looks to push it back in but does not do it convincingly and the ball rolls back onto the fence.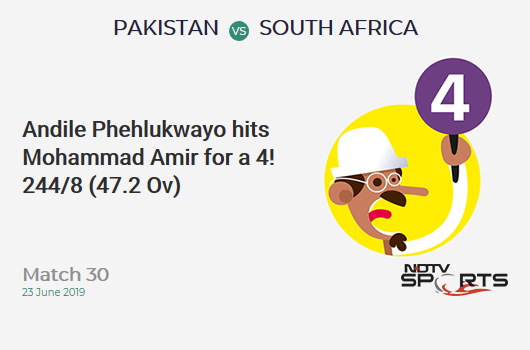 47.1 overs (0 Run) Slower one and outside off, Phehlukwayo does not pick it, he looks to hit it on the leg side but misses.
47.1 overs (1 Run) WIDE! Too far wide outside off, Andile looks to slash at it but misses.
46.6 overs (0 Run) OHHHH! Almost got another! He comes from around the wicket and bowls it very full around off, once again it tails away. Ngidi looks to drive but is beaten.
Lungi Ngidi walks out to bat.
46.5 overs (0 Run) OUT! Full, straight and Wahab has knocked Rabada over! Too good this for the no. 9. This starts from outside off and then it tails back in. Rabada misses his drive and the middle stump is disturbed.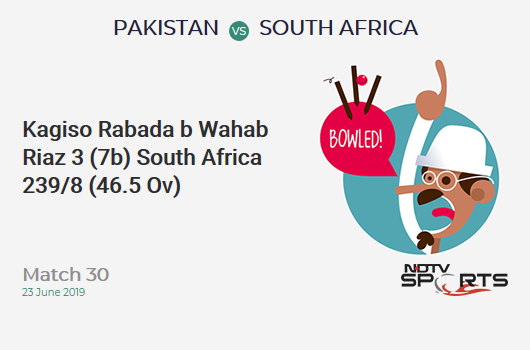 46.4 overs (1 Run) Another single! Good length and on middle, Phehlukwayo pushes it on the off side for one.
46.3 overs (0 Run) Shorter and outside off, Phehlukwayo looks to cut but misses.
46.2 overs (1 Run) Fuller again on middle, Rabada once again looks to play it with a straight bat but it goes off the inner half through square leg for one.
46.1 overs (0 Run) A low full toss on middle, the batsman looks to drive it with a straight bat but gets an inside edge onto the pads.
45.6 overs (4 Runs) FOUR! Off the top edge now. Another short ball, Phehlukwayo looks to pull again but this time gets a top edge. It sails over the keeper, eluding fine leg.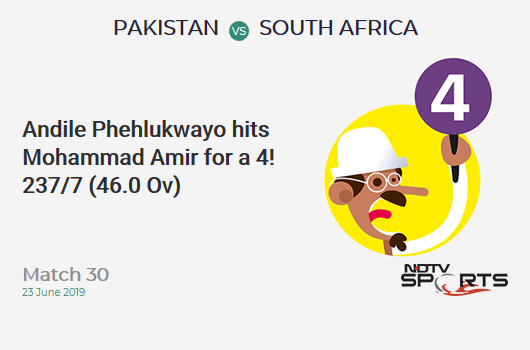 45.5 overs (4 Runs) FOUR! Fine shot. A short ball, around off, Phehlukwayo pulls it over mid-wicket, one bounce and into the ropes!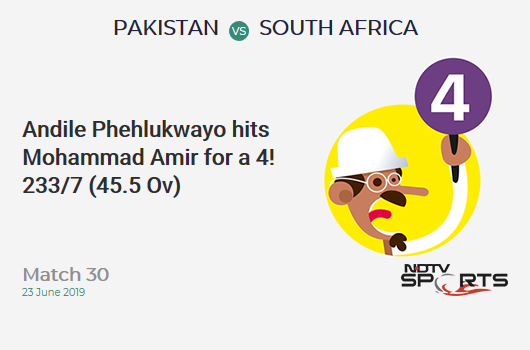 45.4 overs (0 Run) Outside off, a swing and a miss.
45.3 overs (2 Runs) A short ball, another slower ball, Andile is early into his pull shot and drags it through mid-wicket. Imam-ul-Haq runs to his right from fine leg, dives and parries it, but wide of Babar Azam running towards him from mid-wicket. Luckily for Pakistan, it does not touch the boundary. Imam smiles. Two runs taken.
45.2 overs (1 Run) Around off, on a length, coming in, watchfully defended to the off side for a run.
45.1 overs (1 Run) Full and outside off, slower in pace, Phehlukwayo swings hard but the ball goes off the inside edge past the stumps towards fine leg. Just a single.
Topics mentioned in this article