Story Progress
Back to home
South Africa vs Pakistan Live Score, Over 36 to 40 Latest Cricket Score, Updates
Live Updates of Today Match between Pakistan vs South Africa from Lord's, London. Check commentary and full scoreboard of the match.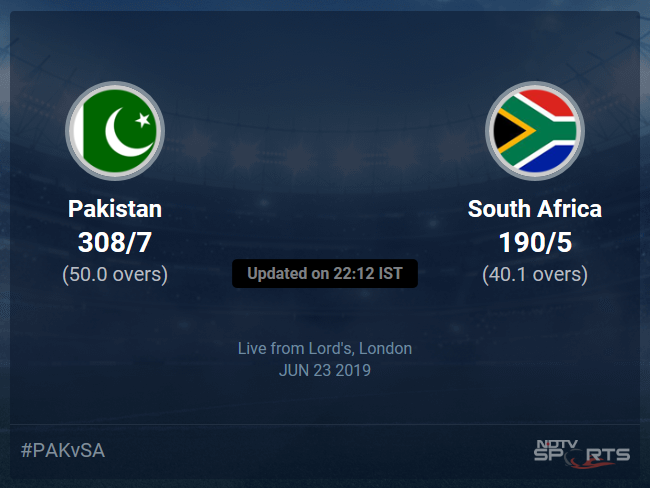 SA vs PAK Latest Score
39.6 overs (0 Run) NOT OUT! There is an inside edge! South Africa will breathe a huge sigh of a relief! The googly on middle, Miller looks to sweep but he seems to have missed it. The ball hits him on the pads. An appeal and the umpire raises his finger. Miller reviews immediately. Time for the replays and they show there is an inside edge. The on-field call has to be overturned. But just three runs and a wicket from the over. 120 needed in the last 10.
Has Shadab got another? Miller has been given out LBW. Looks out. This will probably be the game for Pakistan if this is an unsuccessful review.
39.5 overs (0 Run) Flatter and on off, this is slapped to point.
Andile Phehlukwayo walks in next.
39.4 overs (0 Run) OUT! Pakistan finally hang onto one. A very good catch this by Hafeez. Also, clever bowling from Shadab. He slows it up and bowls it outside off, it is the leg spinner. It pitches and turns away. Rassie looks to hit it against the spin, over the leg side but gets a top edge. It goes high in the air, so high that it probably has snow on it as it comes down. Sarfaraz goes for it and Hafeez from point is also interested. The latter calls for it, Sarfaraz lets it be and Mohammad takes it with a dive to his right.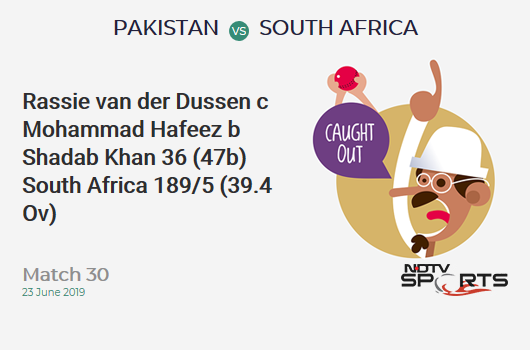 39.3 overs (1 Run) Leading edge but safe! the googly on middle, Miller looks to work it on the leg side, against the turn. He gets a leading edge past the bowler and down to long off for one.
39.2 overs (1 Run) Flatter and on middle, this is worked through wide long on. They take on, think of a second but then bail out.
39.2 overs (1 Run) WIDE! But turn there and uneven bounce! This is flatter and outside off, it pitches and turns away and also stays low. Rassie looks to cut but misses. It is wided.
39.1 overs (0 Run) Shorter and outside off, this is cut to point.
Shadab Khan again. 7-1-35-2 so far.
38.6 overs (0 Run) Third strike! Miller walks down the track and Wahab bowls it short. Miller looks to pull but does not connect.
38.5 overs (0 Run) Swings but only connects with thin air! Good length and just outside off, Miller looks to hit it over the mid-wicket fence but misses.
38.4 overs (0 Run) Length and around off, Miller looks to force it through the off side but misses.
38.3 overs (1 Run) Lovely, lovely bowling! It was above 140 KPH all this while and this time he comes down to 118 KPH. Rassie is way too early in the pull. It hits him on the body and rolls on the off side. The batters take one. Once again no signal from the umpire so there might be an inside edge.
38.3 overs (1 Run) Down the leg side, Rassie swings but misses. Van der Dussen will feel he missed out there, had he got bat on that, a boundary was on offer. It has been wided though.
38.2 overs (1 Run) Nice shot! Full and on off, Miller times it beautifully towards the bowler. He makes a half-stop but can't stop the single.
38.1 overs (1 Run) Right on the helmet! A short one and it is a well-directed bouncer. Rassie is beaten by pace. He looks to pull but the ball hits the helmet and rolls on the leg side for one. No signal from the umpire so there might be bat involved.
37.6 overs (2 Runs) In the air... but wide! Slower one on middle, Miller ends up dragging his stroke just wide of the diving Amir at mid on. Deep mid-wicket gets across and keeps it down to two. A huge over this, 14 from it. They need a lot of big overs like this. 127 needed in 72.
37.5 overs (1 Run) A single now! Full and on middle, this is jammed out to point for a quick run. The fielder does have a shy but he misses. Had he hit, Miller was a goner.
37.4 overs (6 Runs) SIX! High and handsome! That made a cracking sound of the bat! Rassie goes down on one knee early, it is in his slot. A length ball, he heaves it over the mid-wicket fence. 11 from the over so far, two balls to go.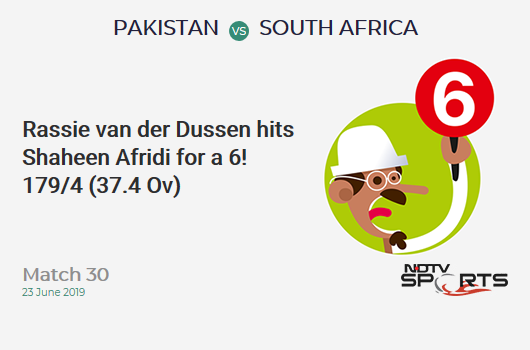 37.3 overs (1 Run) Slower one and fuller in length, Miller strokes it to long on for one.
37.2 overs (0 Run) A dot on the second though! Short and outside off, Miller looks to pull but misses as the ball stays low.
37.1 overs (4 Runs) FOUR! Creamed! Too full outside off, Miller smashes it through covers and it races away. A boundary on the very first ball, need to make this a big over.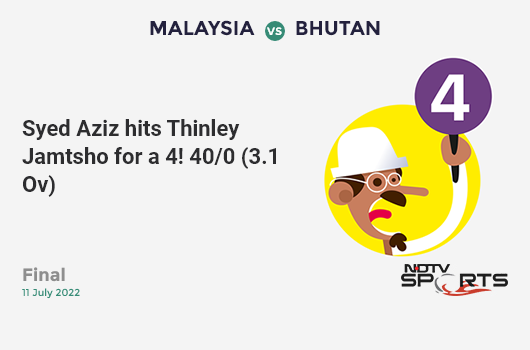 36.6 overs (2 Runs) A couple to end an over which could have seen both the batsmen back in the hut. Riaz goes full again, Rassie hits it over mid on. The timing is not that great but enough to clear the fielder and two is taken.
36.5 overs (1 Run) Another drop! Second life for Miller. Are these signs of today being his day? South Africa will hope so. A short delivery outside off, Miller plays the upper cut but straight towards third man. Amir runs to his left and looks to take it with a slide but spills it. A single taken.
36.4 overs (1 Run) PUT DOWN! A sharp chance but you expect your keeper to take those! Wahab goes full and around off, Rassie looks to whip it through the leg side but it goes off the leading edge to the right of the keeper. Sarfaraz dives and sticks one hand out but the ball does not stick. A single taken.
36.3 overs (1 Run) Slower ball and it is outside off, Miller slaps it hard towards sweeper cover but only a run.
36.2 overs (0 Run) Another short one! This is bowled at 145 KPH. Miller bails out of the pull at the very end.
36.1 overs (0 Run) Short and this skids onto the batsman, Miller looks to pull but mistimes it to mid-wicket. Another dot.
35.6 overs (0 Run) Close! Rassie once again walks right across the stumps, Shaheen aims for the leg pole but misses it by just. Not wided though. Just the three singles from the over.
35.5 overs (0 Run) Sees Rassie takes a few steps down and bangs it short. Van der Dussen ducks under it.
35.4 overs (1 Run) This time though Miller happily guides it down to third man for one.
35.3 overs (1 Run) Angles this on the pads from around the wicket. Rassie looks to flick but misses to get hit on the pads. The ball rolls towards square leg. A leg bye taken. So the plan seems to be clear, van der Dussen will stay there and Miller will go after the bowlers at the moment.
35.2 overs (0 Run) Attacks the stumps, Rassie keeps it out.
35.1 overs (1 Run) On the bounce! Short and on middle, Miller pulls it but it goes on the bounce to deep mid-wicket. A single.
Topics mentioned in this article