Story Progress
Back to home
India vs Bangladesh Live Score, Over 46 to 50 Latest Cricket Score, Updates
Live Updates of Today Match between Bangladesh vs India from Edgbaston, Birmingham. Check commentary and full scoreboard of the match.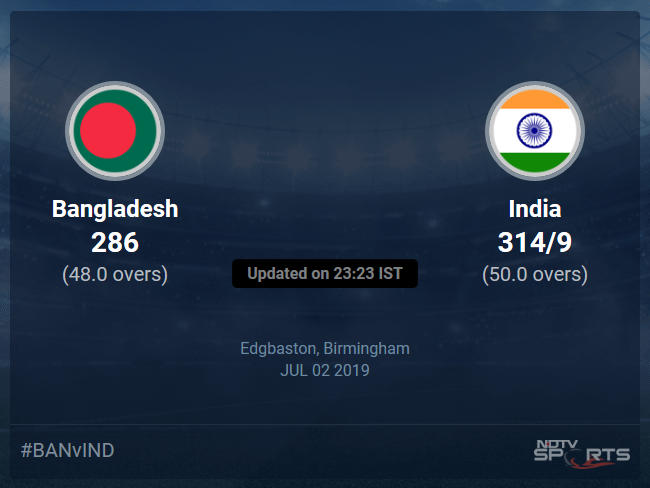 IND vs BAN Latest Score
Right then! Match 40 is done and it is time to look at Match 41. England take on New Zealand at Chester-le-Street from 10.30 am local (0930 GMT). ADIOS! TAKE CARE!
Victorious Indian skipper, Virat Kohli, says that Bangladesh played some really good cricket in the tournament but is happy that India made it through. On the 5-bowler strategy, Virat praises Hardik Pandya who has shown immense maturity in coming back stronger and performing better under pressure, which increases the confidence in a skipper. On the team changes for this game, Kohli says that they were made due to the boundary dimensions of this ground and wants his side to be flexible. On Rohit's form, VK smiles and calls him the best ODI player in the world. Adds that if he plays well, India will get a big total. Hopes to play three more games and see two more big scores from Sharma. On Bumrah's bowling, Virat says that the first few overs went for runs but the champion bowler that he is, bounced back superbly. On anything left to be reached in the final league game, Kohli says that perhaps the only thing he would wish is for the team to continue its good efforts and maybe score that extra 20-30 runs at the death with the bat.
Bangladesh captain, Mashrafe Mortaza, is disappointed with the loss but praises his team for trying hard. Admits that his team could not forge big partnerships and wishes at least one of those could have been an 80 or 90 which would have been match-winning. Agrees that Bangladesh did play better than the tournament points table suggests. On Rohit's dropped catch, Mash puts it aside and says that such things happen but also admits that the century did hurt them. Hopes to end the tournament on a good note.
ROHIT SHARMA HAS BEEN NAMED THE MAN OF THE MATCH. He says he had a great feeling at the start of the game. Tells it was a used pitch and hence he started slowly. In the first game, Rohit says the conditions were challenging and in the last game the pitch was slow and England bowled good slower balls. Says batting first, there was no scoreboard pressure. Says he was lucky and tells fortune favours the brave. Tells the idea is to pressure on the bowlers once he is set. On being informed about him registering his fourth century in this World Cup, Rohit says that he leaves things happened in the past behind and takes everyday as a new day. Adds what has happened today has happened and now he is focusing on the next game.
Partnerships were the key for Bangladesh and they did get them but not big enough. The first 4 stands all crossed 30 but could not quite get convert into at least a 75 or a 100. The Saifuddin-Sabbir partnership did try hard but by then the game had gone out of grasp. A special mention to Shakib Al Hasan. His team has bowed out but he fought another battle, but could not quite go through. Looking at the margin of defeat, if he had got a century, who knows, Bangladesh might have still been alive. Please stay tuned for the presentation...
315 may not have been a huge target to chase but India were superb on a slowish track. Bhuvneshwar and Bumrah were excellent with the new balls and then Shami started well, though he went for plenty towards the end. The pick of the bowlers was Hardik Pandya, who kept on taking wickets at crucial intervals and ended up with 3 scalps. Bumrah took 4 but those were cheap wickets, coming right at the end.
A close margin of victory in the end but India always seemed comfortable. They become the second team after Australia to qualify into the semis and sadly for Bangladesh, they are out of the tournament. They tried hard, but India were too good.
47.6 overs (0 Run) OUT! Bowled! Perfect yorker ocne again. Too good for the number 11 batsman. It is on middle and off, Mustafizur looks to put his bat down but he misses. 2 in 2 for Bumrah. He won't get a hat-trick though are Bangladesh are bowled out. INDIA WIN BY 28 RUNS AND QUALIFY FOR THE SEMI-FINALS.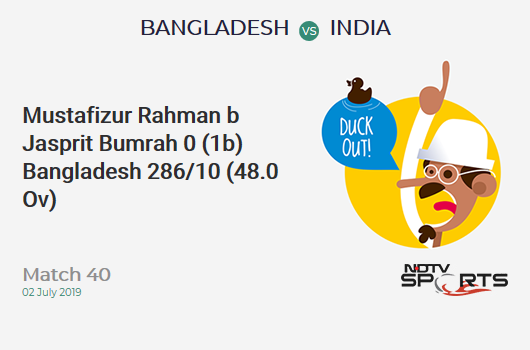 Mustafizur Rahman walks out at number 11.
47.5 overs (0 Run) OUT! Bowled! A fast and straight yorker on middle, Rubel looks to put the bat down but he is late and the stumps are disturbed.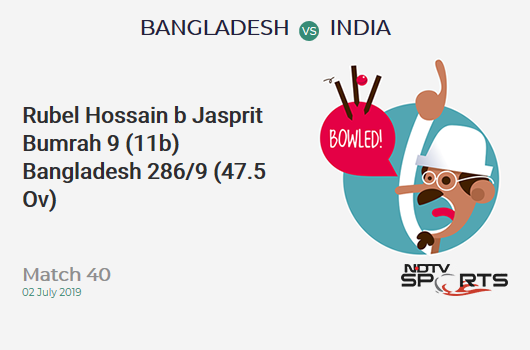 47.4 overs (1 Run) On the pads, Saifuddin flicks it down the leg side and gets a single.
47.2 overs (1 Run) Slower ball on a length, Rubel pulls it towards mid-wicket for a single.
47.1 overs (1 Run) Full toss on off, Saifuddin flicks it to deep mid-wicket for a single.
46.6 overs (0 Run) Very full, almost a yorker, on middle, Hossain digs it out behind the stumps, to Dhoni.
46.5 overs (0 Run) Outside off, a swing and a miss.
46.4 overs (1 Run) Better ball. Very full on middle, MS plays it to long on for a single.
46.3 overs (4 Runs) FOUR! 37 needed of 21 balls. Short on the body, Saifuddin pulls it towards the backward square leg fence for a boundary.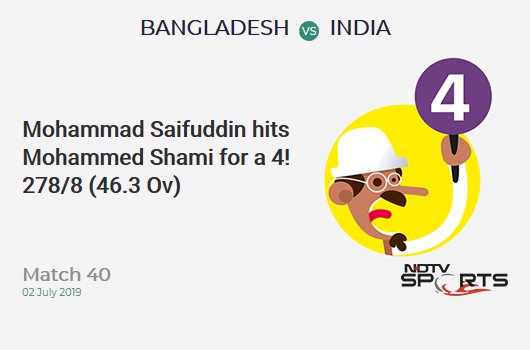 46.3 overs (1 Run) WIDE! Bouncer is over the head of Saifuddin. Wide signalled by the umpire.
46.2 overs (1 Run) Full toss on middle, Rubel does not take the full toll of it but just hits it to long on for a single.
46.1 overs (0 Run) Swing and miss. Full outside off, Hossain swings his bat at it but misses.
45.6 overs (1 Run) Full on middle, Rubel looks to hit it on the off side but gets a thick inside edge. The ball rolls to the on side and he takes one.
45.5 overs (1 Run) On the pads, MS flicks it to the on side for a run.
45.4 overs (1 Run) In the air but safe. Full on off, Rubel lofts it over cover-point. Pant in the deep misjudges it and takes it on a bounce. Single taken.
45.3 overs (4 Runs) FOUR! That is hit with venom. Good length ball on off, Rubel smashes it over the bowler's head for a boundary.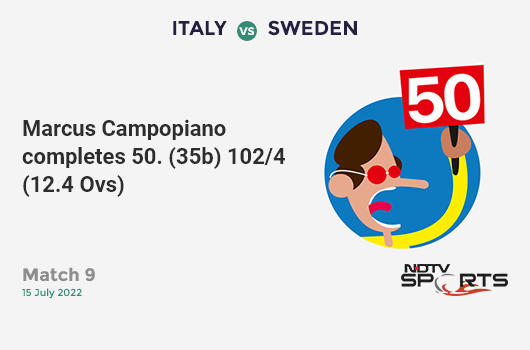 45.2 overs (1 Run) Low full toss on off, Saifuddin strokes it towards long off for a single.
45.1 overs (0 Run) Dipping full toss on off, Saifuddin guides it to short third man.
Match Reports
Topics mentioned in this article