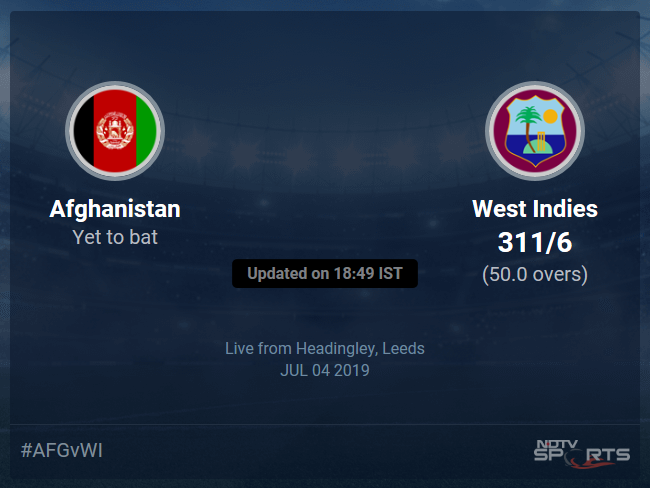 Right then, one final chance for Afghanistan to get a consolation win in this World Cup. But they have a tall task in front of them. Can their batting step up and scale down this big target? Do join us in a short while to find out.
Shai Hope, the top run-scorer of the West Indian innings, says he is pleased they crossed the 300-run mark. Mentions he is happy to get some runs under his belt. Adds that the team score is more important but he feels good to be amongst the runs. Reckons the wicket is a little slow and their plan was to keep wickets in hand so that they can have a launching pad. Jokingly says he won't be telling what lengths their bowlers will be bowling.
Afghanistan were very poor in the field. Plenty of catches went down. They dropped Nicholas Pooran thrice and he really made them pay by putting in a quickfire partnership with Jason Holder. The three Afghan spinners were brilliant today but they failed to pick too many wickets in the middle overs. The rest of the bowling was not consistent and towards the end, it fell completely flat.
14 runs in the last three balls, 111 in the last 10 overs and West Indies have ended up with a big total on the board! A strong batting show by them after losing Chris Gayle cheaply. Evin Lewis, Shai Hope and Shimron Hetmyer played delightful knocks but the real impetus to the innings was provided by the fifth wicket stand. At one stage it looked like Afghanistan will restrict West Indies inside 300 but the pair of Holder and Pooran went bonkers in the final 10 and added 105 in very quick time.
49.6 overs (4 Runs) FOUR! What happened there? That should have been another wicket for Shirzad but instead, it is a boundary. He bowls a slower one on middle, Brathwaite is once again early into the shot. It hits the bottom part and goes up in the air towards long off. It has really gone high up in the air. Naib seems to settle under it but then tries to protect himself as he loses the ball in the sun. It sails over his head and goes over the ropes on one bounce. Another fortunate boundary for the West Indies. So the over which started terrifically for Afghanistan has ended West Indies' way. THEY END ON 311/6!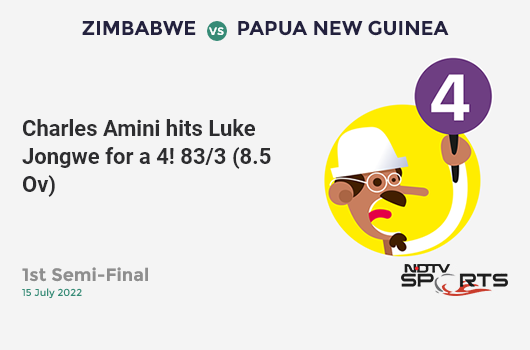 49.5 overs (4 Runs) EDGY FOUR! West Indies won't mind how they come as long as they come. Length and on middle, Brathwaite swings again but this goes off the outside edge and down to the third man fence.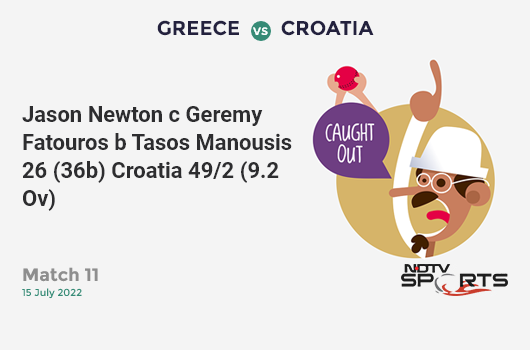 49.4 overs (6 Runs) SIX! Over long off! Brute force that! Another slower one around off, Brathwaite picks it this time, waits for it and brings up 300 in style.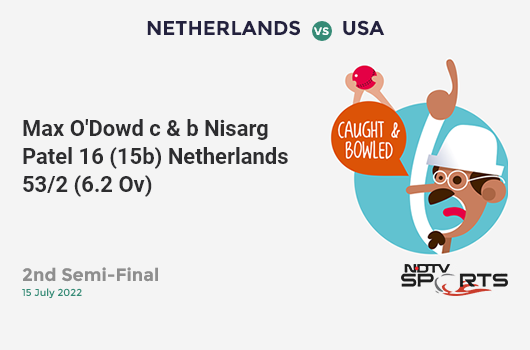 49.3 overs (0 Run) Three dots now! This is on off, Brathwaite guides it to point.
Fabian Allen arrives with 4 balls remaining.
49.2 overs (0 Run) OUT! Two wickets off the first two balls! Holder is the man walking back now. Shirzad gets his first. It is another slower one on middle, Holder is a little early in the shot. He ends up dragging it up in the air towards square leg where Zadran takes a good catch running in from the deep. A top inning by the skipper as well. He has surely done his job.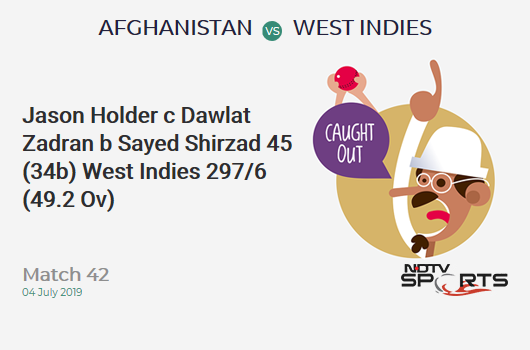 Carlos Brathwaite walks out to bat.
49.1 overs (0 Run) OUT! A big mix-up and Pooran is run out! A dot to begin the last over. This is a slower one outside off, Holder swings but misses. Pooran charges to the other end but Holder is not interested. The keeper throws it back to the bowler who collects it and calmly takes the bails off at his end. End of another excellent knock by NP.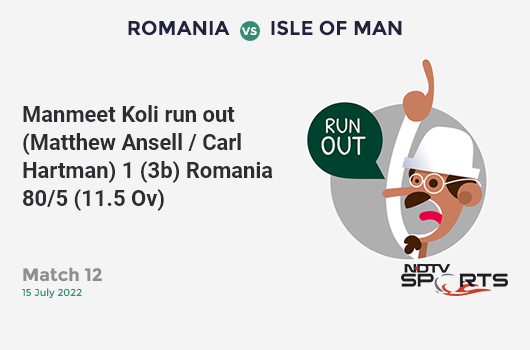 Sayed Shirzad to bowl the final over.
48.6 overs (2 Runs) A couple to end! 20 from the over and now 310 is possible. Full and on middle, Pooran jams it through mid-wicket and takes two.
48.5 overs (0 Run) Looks to be innovative there by playing the paddle scoop. The ball is also down the leg side but Pooran does not connect.
48.5 overs (5 Runs) FIVE WIDES! Also, the 100-run stand is up and a partnership which has probably taken the game away from Afghanistan. This is very short and on middle, Pooran watches it go through. It bounces in front of the keeper who fails to collect it. Bonus runs these.
48.4 overs (6 Runs) SIX! Looked like a mishit but it has still gone over long on. Slower delivery, on a back of a length outside off, Pooran rocks back and swings his bat firmly. Doesn't connect from the middle but it still flies for a biggie.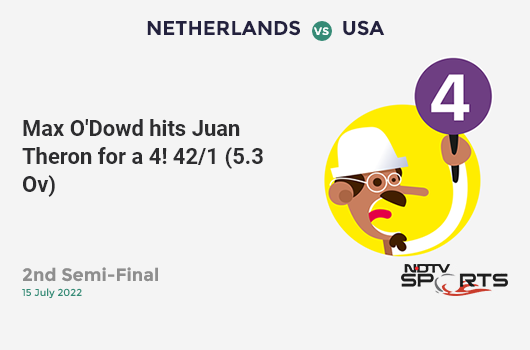 48.3 overs (1 Run) Width on offer outside off, Holder reaches out for it with an angled bat and forces it to deep point for one.
48.2 overs (0 Run) Lands it on a length and outside off, Holder leaves it thinking it to be a wide. It ain't.
48.1 overs (6 Runs) SIX! The long extension of his arms and he has dispatched it into the crowd. Full toss and angling in on middle, that's a poor delivery at any stage, forget this one, Holder clears his front leg and goes big over wide long on.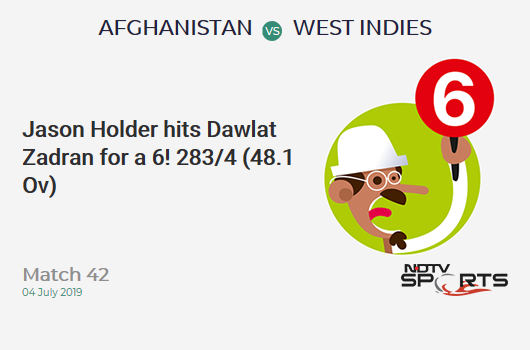 47.6 overs (1 Run) A leg bye to end another good over for Windies. This is bowled on the pads, Holder looks to flick but misses. It hits the pads and rolls on the leg side. A leg bye taken.
47.5 overs (4 Runs) FOUR! Deft! Extremely good shot. Mujeeb fires this full and on off, it is almost a yorker. Holder at the very end opens the face of the bat and jams it down to the third man fence.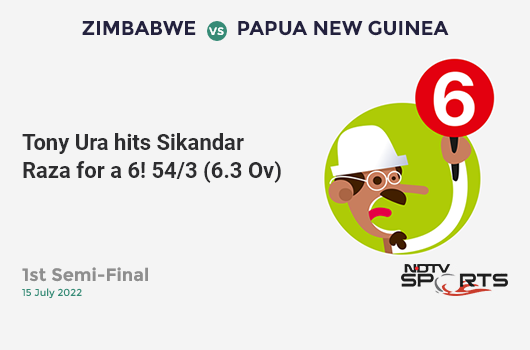 47.4 overs (3 Runs) Just over the fielder! Three runs! Shorter and outside off, Pooran looks to cut but it goes off the outer half over point. Three taken. Follows his ton with his second half century in ODIs. Pooran is a serious talent and has shown that in this World Cup.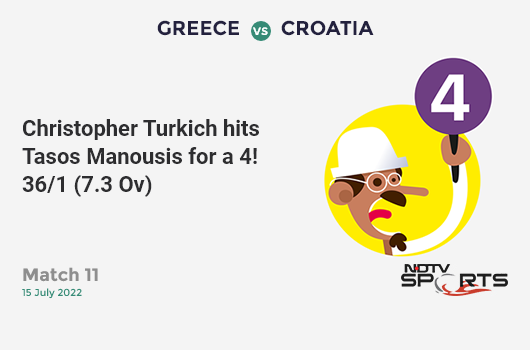 47.3 overs (0 Run) A dot now! Pooran makes room and Mujeeb bowls it just inside the tramline outside off. NP goes after it but misses.
47.2 overs (1 Run) On off, Holder works it through mid-wicket for one. Two singles to begin the 48th.
47.1 overs (1 Run) Flatter and outside off, Pooran slaps it through covers and gets to the other end.
46.6 overs (2 Runs) Pooran runs the second without the bat in his hand! Excellent stuff! A full toss on middle, Holder hits it back at the stumps at the other end. The ball deflects onto the leg side. They take one and then Holder wants the second. Pooran drops his bat at the other end but still goes for it and makes it in. 15 from the over. Another big one.
46.5 overs (6 Runs) SIX! That is going, going and gone! That was hit really high but it was handsome too. A slower one on on off, Holder picks it early, waits for it and drags it way over the mid-wicket fence.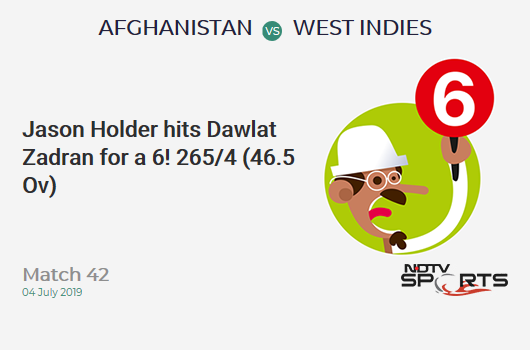 46.4 overs (1 Run) Bowls it very full this time and on off, Pooran hits it down to long off for one.
46.3 overs (4 Runs) FOUR! Pierces the gap brilliantly! 6 from the first three balls. He moves onto 45. Another slower ball which is shorter in length. Pooran goes back and pulls it over mid-wicket. It is between long on and deep mid-wicket.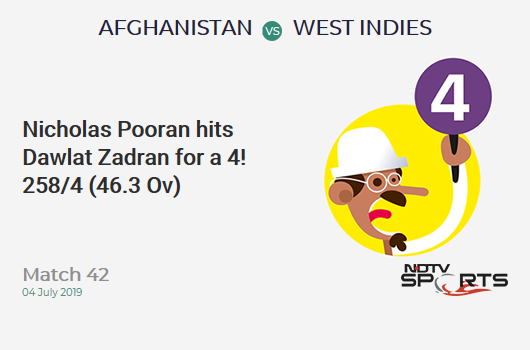 46.2 overs (1 Run) Good change in pace! Slower and shorter on middle, Holder pulls it through square leg for one. He mistimed it actually.
46.1 overs (1 Run) Fuller and outside off, Pooran creams it through covers for one.
Dawlat Zadran is back on!
45.6 overs (0 Run) Loopy and on off, driven back to the bowler. Rashid finishes his spell, 10-0-52-1! Just 6 wickets in 9 matches in this World Cup, a dismal tournament for the Afghan leggie.
45.5 overs (1 Run) Short and on middle, pulled to deep mid-wicket for a single.
45.4 overs (1 Run) Goes back and punches it in the gap on the leg side for a run.
45.4 overs (1 Run) Wide again! Wrong 'un goes wrong. Down the leg side, Jason tries to work it away but misses. 250 up for West Indies!
45.3 overs (1 Run) Drags his length short and delivers it on middle, Nicholas goes deep inside the crease and punches it to long on for one.
45.2 overs (0 Run) Beaten! Spinning away from the batsman from around off, Pooran moves back to play on the leg side but is beaten by the away turn.
45.1 overs (1 Run) Too full in length on off, driven through extra cover for a run. Does the right thing by handing the strike to Nicholas.
Match Reports
Topics mentioned in this article
West Indies Cricket Team
Afghanistan
Headingley, Leeds
World Cup 2019
Afghanistan vs West Indies, Match 42