Story Progress
Back to home
Afghanistan vs West Indies Live Score, Over 1 to 5 Latest Cricket Score, Updates
Live Updates of Today Match between Afghanistan vs West Indies from Headingley, Leeds. Check commentary and full scoreboard of the match.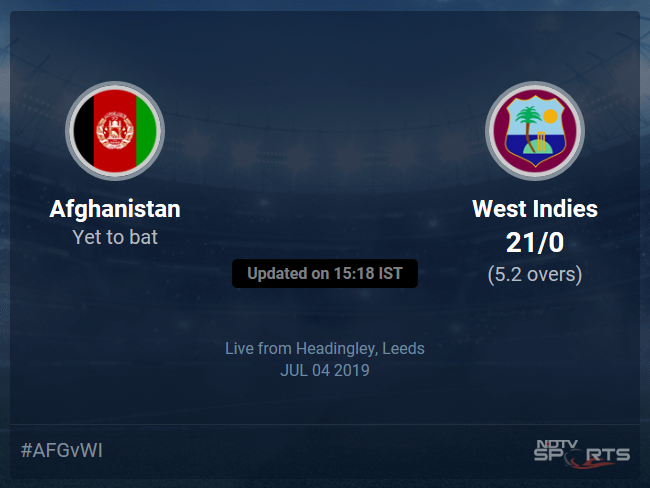 AFG vs WI Latest Score
4.6 overs (0 Run) A good nut to end! It lands on off and then straightens. Gayle lunges forward and tries to defend but it goes off the outer half to point. This is what he should be bowling on consistent basis.
4.5 overs (0 Run) On the pads again, Gayle looks to flick but misses to get hit on the pads.
4.4 overs (1 Run) A little too short and it turns back in. Lewis pushes it down to long on for one.
4.3 overs (0 Run) Corrects his line and bowls it closer on the off pole, Lewis defends it out.
4.2 overs (4 Runs) FOUR! In the gap, shorter boundary on that side and a boundary! Short and outside off, Lewis goes back and slaps it through cover-point and the ball races away to the fence.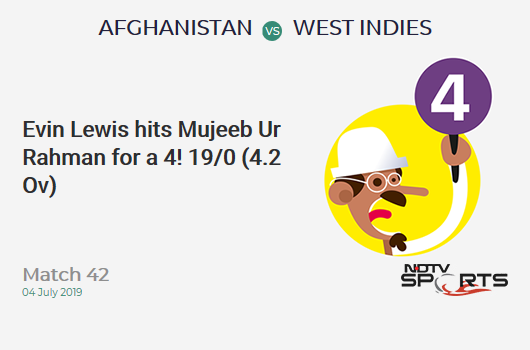 4.1 overs (0 Run) Flatter and on middle, Lewis goes back and works it to mid-wicket.
3.6 overs (0 Run) This time a length ball is in the channel outside off, going away with the angle of the bowler, Gayle keeps his bat close to his body and allows it through. Just a boundary from the over.
3.5 overs (0 Run) Goes hard at a shortish ball on off but gets a big inside edge onto the pads.
3.4 overs (4 Runs) FOUR! Bludgeoned! Back of a length delivery outside off, Gayle keeps his weight on the back foot and smashes it past his partner at the other end for a boundary down to long off, first from his bat.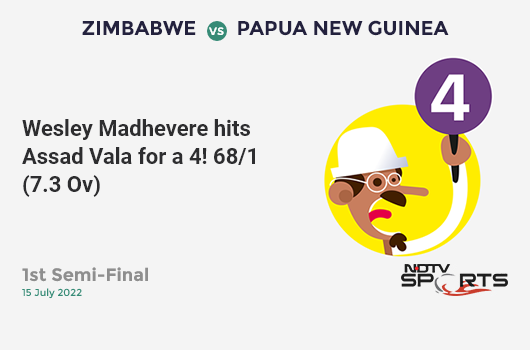 3.3 overs (0 Run) Bowls it wide outside off, offering the batsman to have a go at it, Gayle is watchful at the moment and shoulders arms.
3.2 overs (0 Run) Straighter delivery, on a length, Gayle tries working it on the leg side but misses. He is hit quite high on the pads this time.
3.1 overs (0 Run) Mistimed shot! On a good length around off, angling away from the batsman, Gayle remains back and tries to hit it across the line. But it takes the inside edge and strikes him on the pads.
2.6 overs (0 Run) Flighted and full on off, Lewis prods forward and defends it safely on the off side.
2.5 overs (0 Run) Skidding down the leg side, Evin tries his best to get it away with his flick shot but misses.
2.4 overs (4 Runs) FOUR! Better this time! Mujeeb goes short and wide outside off, Lewis camps back and whacks it through the gap at covers for a boundary.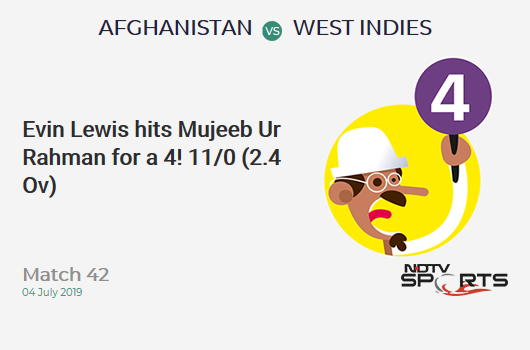 2.3 overs (0 Run) Hangs on the back foot to slap it through covers but gets an inside edge onto his pads. Could have easily dragged it on.
2.2 overs (0 Run) Quicker again, flatter and on off, Lewis strokes it back from the crease. A good stop from the bowler.
2.1 overs (1 Run) Flatter and straighter one around off, a bit on the shorter side which allows Gayle to rock back and punch it down to long on. They pick up a single.
1.6 overs (4 Runs) FOUR! A boundary to end the over! Spoils the over somewhat. On the pads, easy pickings with fine leg up. Lewis works it fine on the leg side and bags the first boundary of the game.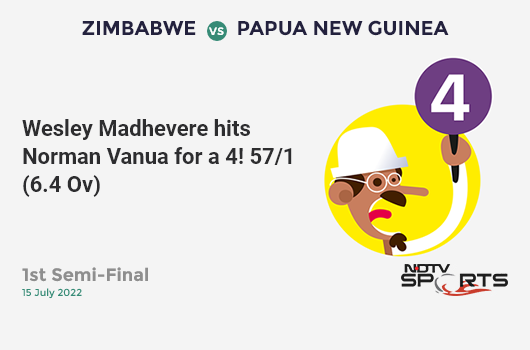 1.5 overs (0 Run) Another dot! This is on the stumps once again, Lewis pushes it back to the bowler.
1.4 overs (0 Run) Good shot but no runs! Fuller and outside off, Lewis strokes it hard but straight to cover-point.
1.3 overs (0 Run) Well bowled! This is slightly shorter and it lands outside off, it comes back in. Lewis leaves it but due to the movement back in, it hits him high on the pads.
1.2 overs (0 Run) On a good length and outside off, Lewis shoulders arms to this one.
1.1 overs (1 Run) On the pads, Gayle works it towards mid-wicket and takes an easy single.
Dawlat Zadran to bowl from the other end with the second new ball.
0.6 over (1 Run) Fullish and around off, Gayle works it in front of square leg for a run. West Indies are away! A quiet first over from Mujeeb.
0.5 over (0 Run) Beaten! A slider landing full outside off, Gayle tries to defend off his front foot but it whizzes past his blade.
0.4 over (0 Run) Tossed up ball outside off, going straight on, Gayle allows it through.
0.3 over (0 Run) Poor delivery but Gayle fails to put it away. Full and down the leg side, Chris sweeps but finds short fine leg.
0.2 over (0 Run) Flatter this time, full and on off, Gayle leans and defends it on the leg side.
0.1 over (0 Run) Starts with a flighted full ball around off, Gayle is on the front foot as he pushes it to covers.
Out come the Afghanistan players on the field. They get into a huddle before spreading around. Now, Chris Gayle and Evin Lewis stride out to open the inning for West Indies. As expected, Mujeeb Ur Rahman, who has removed Gayle twice in ODIs in as many attempts, has the first new ball in his hand. Can he strike again? Here we go...
Bright and sunny conditions. A decent crowd has also come to watch this match. The players from both sides are also on the field to sing their respective national anthems.
West Indies (Playing XI) - Chris Gayle, Evin Lewis (IN FOR SUNIL AMBRIS), Shai Hope (WK), Shimron Hetmyer, Nicholas Pooran, Jason Holder (C), Carlos Brathwaite, Fabian Allen, Kemar Roach (IN FOR SHANNON GABRIEL), Sheldon Cottrell, Oshane Thomas.
Afghanistan (Player XI) - Rahmat Shah, Gulbadin Naib (C), Ikram Ali Khil (WK), Asghar Afghan, Mohammad Nabi, Najibullah Zadran, Samiullah Shinwari, Rashid Khan, Mujeeb Ur Rahman, Dawlat Zadran (IN FOR HASHMATULLAH SHAHIDI), Sayed Shirzad (IN FOR HAMID HASSAN).
Afghanistan captain, Gulbadin Naib says that he also wanted to bat first. Adds that it's dry and will help the spinners more later on. Says that they have played really good cricket in the last few games. Wants to try hard on the ground and the results can take care of itself. Two changes for them as well, Sayed Shirzad and Dawlat Zadran in for Hashmatullah Shahidi and Hamid Hassan.
West Indies skipper, Jason Holder says that they want to bat as it's a good wicket and he feels it will slow down as well. Wants to finish this contest well. Two changes in the team, Evin Lewis and Kemar Roach come in for Sunil Ambris and Shannon Gabriel.
Toss - Up goes the coin and it comes down in favour of Jason Holder. WEST INDIES WILL BAT!
Pitch report - The dimension of the ground is quite decent in Ian Bishop's words, neither too big nor too small. Sanjay Manjrekar looks at the surface and says it's white in colour. Suggests it is good for batting with lesser cracks. Feels the captain winning the toss would want to bat first. Adds that if the ball lands on the seam, there might be some lateral movement too.
Topics mentioned in this article