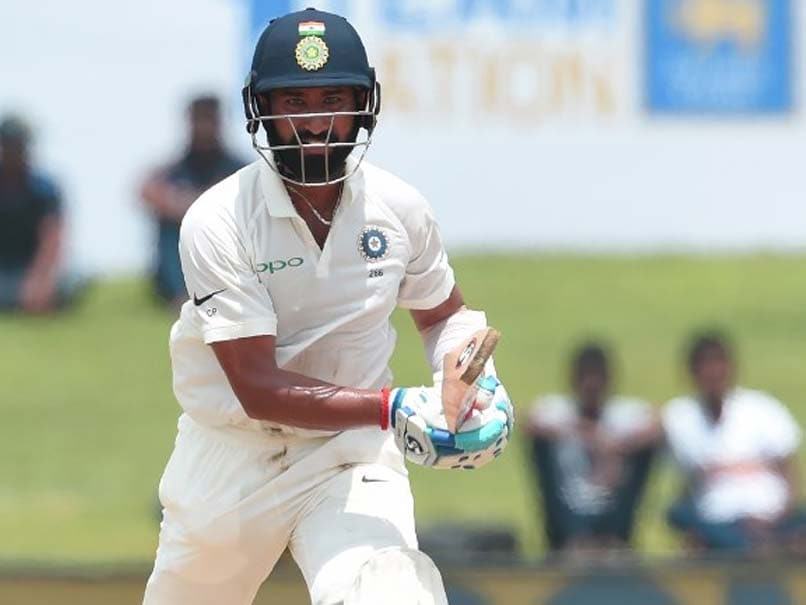 Cheteshwar Pujara scored his 12th Test century.
© AFP
Shikhar Dhawan (190) and Chesteshwar Pujara (144 not out) put India in a commanding position as the visitors reached 399/3 on Day 1 of the first Test against Sri Lanka at Galle. In the first session, India lost Abhinav Mukund cheaply for 12. Following which, Dhawan and Pujara stitched together a record 253-run partnership for the second wicket. Dhawan, who was hitting the Lankan bowlers at will, fell 10 runs short of his maiden double ton just before tea. Post tea, Sri Lanka got the important wicket of India captain Virat Kohli, who was dismissed for three runs. For Sri Lanka, Nuwan Pradeep returned with the figures of 3/64 in his 18 overs.
Earlier, Hardik Pandya was included in the playing XI and got his Test cap from captain Virat Kohli. Kuldeep Yadav surprisingly has been dropped. While Mohammed Shami and Umesh Yadav are the two fast bowlers in the team, R Ashwin and Ravindra Jadeja will take care of the spin bowling. (SCORECARD)
Catch all the highlights of India vs Sri Lanka, 1st Test, Day 1 from Galle here:
17:30 IST: First Test, Day 1 comes to end. India score 399/3. Cheteshwar Pujara (144) and Ajinkya Rahane (39) remain not out. 
17:19 IST: 100-run partnership comes up between Cheteshwar Pujara and Ajinkya Rahane.
17:07 IST: Four! Bit of width from Pradeep, Pujara cuts the ball away for a boundary behind point.
16:53 IST: Last session, Day 1 -- India scored 79 runs in 25 overs and lost 1 wicket. Second new ball has been taken.
16:52 IST: After the 80th over, India 361/3. Pujara (123), Rahane (26).
16:42 IST: 350 comes up for India in the 77th over.
16:37 IST: 75 overs done, India 347/3. Pujara (117), Rahane (18).
16:34 IST: Danushka Gunathilaka introduced back into the attack for his second spell.
16:26 IST: Four! Full and wide from Lahiru Kumara, Pujara times the ball beautifully and drives through the covers.
16:23 IST: Gunaratne injury update: Asela Gunaratne has been ruled out of the remainder of the India-Sri Lanka Tests and also the 5 match ODI series.
16:17 IST: Four! Rahane comes down the track and hits the ball over the bowlers head.
16:10 IST: 70 overs gone, India 327 for three. Pujara (107), Rahane (9).
15:57 IST: Four! Full from Lahiru Kumara, Pujara drives.
15:56 IST: Century! Pujara scores his 12th Test centruy against Sri Lanka off 173 balls.
Century no. 12 for @cheteshwar1. The willow work continues for the run-machine #TeamIndia #SLvIND pic.twitter.com/CWWX6R70C5

— BCCI (@BCCI) July 26, 2017
15:51 IST: Four! Back-to-back boundaries for Pujara off Herath, edging closer to his 12th Test ton.
15:50 IST: Four! Pujara drives Herath for a boundary.
15:48 IST: In the first 10 overs of the last session, India have scored 22 runs and lost 1 wicket.
15:42 IST: 300 comes up for India in the 63rd over. Pujara and Rahane are in the middle.
15:38 IST: Lahiru Kumara comes back for his second spell.
15:30 IST: At the end of the 60th over, India 294/3.
15:19 IST: Four! Pujara comes down the pitch and hits Herath for a boundary through mid-wicket region.
15:17 IST: Ajinkya Rahane is the new man in. 
15:13 IST: Out! A big wicket for Sri Lanka, Virat Kohli departs cheaply for just three runs. Nuwan Pradeep gets his third.
15:09 IST: Sri Lanka take a review! Short from Pradeep, Kohli pulls, wicket-keeper appeals for caught behind but the umpire turns the appeal down.
15:08 IST: Gunaratne ruled out of Galle Test with fractured left thumb
15:06 IST: The last session of Day 1 has started and there seems to be a little threat of rain.
14:43 IST: TEA! India are 282/2 in 55 overs. They scored 167 runs in the session. Pujara 75*, Kohli 1*
14:38 IST: Virat Kohli is the new man in. 
14:37 IST: OUT! In the air and caught at mid-off. He has thrown it away but he should be applauded for his 190-run knock off 168 balls. India 280/2 in 54.1 overs. 
190 (168) with 31 boundaries. Stellar knock from @SDhawan25 #TeamIndia #SLvIND pic.twitter.com/6grtt8lzh3

— BCCI (@BCCI) July 26, 2017
14:35 IST: FOUR! Dhawan paddle sweeps it for a boundary to cross his highest score that he made on his debut match vs Australia in 2013. 
14:34 IST: Sri Lanka have just four bowlers in a benign pitch. You got to feel for the inexperienced side.
14:26 IST: India have scored 153 runs in 25 overs of this session so far. It has been a tough day for Sri Lanka in the office
14:25 IST: FOUR! Dhawan vaults into the 180s. He might well get the double-hundred by tea time. Tea is 15 minutes away
14:21 IST: Oh dear! Pujara just nudged that away and stole two runs from the fielder. And that fielder was none other than Angelo Mathews. Strange cricket from him.
14:20 IST: FOUR! This time through the on-side. He is tormenting the Sri Lanka attack. He is nearing his highest score of 187 
14:18 IST: FOUR! Dhawan crunches that through the off-side and gets another boundary. 
14:15 IST: They need to find ways to break this partnership
14:13 IST: This is school cricket stuff from Sri Lanka and nothing seems to be going right for the hosts. 
14:11 IST: He was on 64 at Lunch and in no time he has moved on to 160. Extraordinary batting by Dhawan
14:10 IST: FOUR! He is hammering away the bowlers. Taking on Sri Lanka captain Rangana Herath now. Dhawan is going great guns 
14:07 IST: Shikhar Dhawan reaches 150-run mark. India 227/1 in 46.3 overs.
14:04 IST: FOUR! Length too short to trouble any batsmen, forget Shikhar Dhawan, who is on 145. 
14:03 IST: FOUR! And smashed straightaway for a one bounce four. Dhawan is not letting them breathe
14:02 IST: Now, Gunathilaka comes into the attack. 
14:00 IST: Rangana Herath aka Rangaiyya is the only bowler spared by Dhawan. India 212/1 
13:55 IST: FOUR! Towards backward square leg now. Keep counting his boundaries, literally Dhawan is going berserk. 
13:52 IST: Now, the cap comes up for him. And hits the boundary straightaway. Outside the leg stump and swept away nicely. 
13:51 IST: So, the helmet goes off for Dhawan. He doesn't even require a cap. 
13:50 IST: India are going at five runs an over now. They are 199/1 
13:45 IST: FOUR! Shikhar Dhawan is on a rampage now. Smashed through the extra covers this time. 
13:40 IST: FOUR! Dhawan seems to be enjoying himself. Runs are coming thick and fast for the visitors now and they are cruising along. Nothing going Sri Lanka's way.  
13:38 IST: Dhawan has not spared any Sri Lanka bowler. Everytime he has got the opportunity, the left-hander has made full use of it.  
13:36 IST: FOUR! Short and wide by Lahiru Kumara and Dhawan pounced on it. Smashed it for a boundary. He is making life difficult for the Sri Lanka bowlers 
13:32 IST: Since Test cricket started here 18 years ago, the hosts have won 16 times at this venue, their four being on the trot. The way Indians are going, it seems the record will be broken
13:25 IST: FOUR! Cheteshwar Pujara scores his 16th half century and he does it in style. India 178/1 in 37.2 overs.
13:22 IST: FOUR! Another boundary for Dhawan. He is unstoppable
13:20 IST: India are 166/1 after 36 overs. Dhawan 106*, Pujara 46*
100 for @SDhawan25! It's his 5th Test century, and his first since his 134 against Sri Lanka in Galle in August 2015! #SLvIND pic.twitter.com/mrgf8xy7MK

— ICC (@ICC) July 26, 2017
13:19 IST: His last Test century came at this very own venue and he repeats the dose with a scintillating 100 and what a way to get it. 
13:17 IST: FOUR! Shikhar Dhawan completes his 5th Test century with a boundary. And he celebrates it with his trademark style.  
13:10 IST: This time it's Pujara into the action. Punched off the backfoot for three runs.
13:08 IST: FOUR! Cut away this time by Dhawan for a boundary. He is just five runs short of his 5th Test hundred now.  
13:05 IST: Shikhar Dhawan is literally toying with Sri Lanka's bowling. Again back-to-back boundaries for the left-hander. He moves on to 90 now
12:57 IST: FOUR! Dhawan dances down the track again and drives it towards covers for a boundary. Dilruwan looks in trouble. The opener moves on to 82 now.
12:51 IST: FOUR! Short delivery again by Nuwan Pradeep and Dhawan was quick to gauge that. Poor stuff by Sri Lanka. With no Swing and no great pace, one can never bother any batsman with the short ball.  
12:48 IST: FOUR! Back-to-back boundaries for Shikhar Dhawan and he is dealing in boundaries now. India cruising towards a big score. Visitors are 127/1 after 29 overs. Dhawan 74*, Pujara 39*
12:43 IST: Rapped on the pads of Dhawan and a loud appeal for an LBW. The umpire turns it down and they're not going for a review. 
12:40 IST: Second session underway!  India have clearly dominated the first session and the credit has to be given to Shikhar Dhawan and Cheteshwar Pujara. Sri Lanka haven't bowled well and they will have to pull up their socks to put visitors in trouble
At Lunch on Day 1, India 115/1 (27.0 Ovs) Shikhar Dhawan 64*, Pujara 37* #SLvIND pic.twitter.com/vJ1IFRZZ4f

— Sri Lanka Cricket (@OfficialSLC) July 26, 2017
12:05 IST: LUNCH! India are 115/1 after 27 overs. Shikhar Dhawan 64*, Cheteshwar Pujara 37*
12:00 IST: There hasn't been any drawn Test in Sri Lanka in the last three years. Each of the 18 most recent matches have yielded results. 
11:55 IST: FOUR! Back-to-back boundaries for Shikhar Dhawan. This time, he sweeps it towards the backward square leg. 
11:53 IST: FOUR! That also brings up 100 for India in the 25th over. 
11:45 IST: Fifty comes up for Shikhar Dhawan in 62 balls. He gets his 4th in Tests 
11:43 IST: Shikhar Dhawan moves on to 49 in just 61 balls. India are 88/1 in 21.1 overs.
11:35 IST: Two runs for Pujara. The captain will be livid with himself for spraying this down the leg-side, glanced.
PHOTOS: Opening Ceremony of the India tour of Sri Lanka! #UltimateShowDown @SLvIND pic.twitter.com/dzrNEUJjOy

— Sri Lanka Cricket (@OfficialSLC) July 26, 2017
11:25 IST: FOUR! Short delivery again and Dhawan spanked it for a boundary. Lahiru Kumara is trying hard to trouble Dhawan with the short ball, but the lines haven't been great 
11:20 IST: FOUR! Thank you delivery by Dilruwan there and Pujara placed it in the gap for a boundary. Sri Lanka bowlers are really struggling at Galle.
11:13 IST: Gunaratne seems to have injured his wrist while taking the catch and is now going off the field
11:09 IST: Dropped! Outside edge and put down by the fielder at second slip. Shikhar Dhawan it was. He had just bowled a beamer and was struggling badly to find a rhythm and then the drop catch happens. You got to feel for the bowler.
11:07 IST: FOUR! Two boundaries in the over for Shikhar Dhawan. Again spraying down the leg side, very poor stuff by Lahiru Kumara
11:05 IST: O dear!  Rangana Herath got an awkward bounce at covers and Pujara gets three. The captain apologises to the bowler
11:00 IST: Little bit of confusion between the pair. Pujara dives and safe! Dhawan called for a quick single but sent Pujara back.
10:57 IST: FOUR! Pradeep again drifting towards the leg side and rightly punished by Pujara. He puts it away past mid-wicket for a boundary
10:52 IST: Still very early days and haven't seen any assistance for the spinners. 
10:50 IST: India are 41/1 after 10 overs. Dhawan 22*, Pujara 6*
10:44 IST: FOUR! Shikhar Dhawan comes down the track and smashes it for a boundary 
10:43 IST: FOUR! The ball swings away and Pujara plays it with soft hands . The ball died well in front and wide of the slip cordon. Nervous start for the batsman
10:42 IST: New batsman Cheteshwar Pujara comes to the crease. 
10:40 IST: WICKET! Edged and caught behind. Fuller delivery by Nuwan Pradeep and a simple catch for the wicketkeeper. He is out on 26 and another failure for the opening batsman. 
10:32 IST: So, change of bowling in the 6th over itself. Dilruwan Perera comes into the attack. He has taken 79 wickets in 18 Test matches in his career
10:30 IST: FOUR! Poor delivery again by Kumara. Nearly halfway down the pitch and Mukund spanked it for a boundary. 
10:28 IST: Fuller delivery by Kumara hits Dhawan's pads. A loud appeal but may be the inside edge saved Dhawan there from LBW
10:26 IST: Dhawan saw the width and couldn't hold himself back, swing and a miss. India 16/0 after 5
10:19 IST: FOUR! Kumara pitches it on the leg side and Mukund flicks it for his first boundary. Poor stuff by the bowler. 
10:14 IST: FOUR! Overpitched by Pradeep and Dhawan straight drives it for his first boundary. Nothing was wrong with the ball though.
10:10 IST: India are 5/0 after 2 overs. Shikhar Dhawan 1*, Abhinav Mukund 3*
10:05 IST: Certainly a big moment for Mukund. He didn't do much when the last time he played for India against Australia. He has featured in 6 Tests and scored only 227 runs with an average of 18.91. 62 being his highest doesn't justify his talent at all. Not to forget he has got a triple hundred in First-Class cricket
10:04 IST: Little flick towards the leg side gives Mukund his first runs of the day. 
Proud moment for young @hardikpandya7 as he is all set to make his Test debut #TeamIndia #SLvIND pic.twitter.com/YTGTzQ0Z4y

— BCCI (@BCCI) July 26, 2017
10:02 IST: First ball of the Test match and Shikhar Dhawan gets off the mark straightaway
10:00 IST: Players are out in the middle. Shikhar Dhawan and Abhinav Mukund to open for India and Nuwan Pradeep to start the proceedings for Sri Lanka
Test match No.50 for @ashwinravi99. Good luck champ! #TeamIndia pic.twitter.com/NOiNVs3Mrj

— BCCI (@BCCI) July 26, 2017
09:47 IST: Virat Kohli presents the Test cap to Hardik Pandya. Test cap number 289.
09:45 IST: So, Hardik Pandya included in playing XI and he gets his first Test game after playing 17 ODIs and featuring in 19 T20Is
.#TeamIndia win the toss and have elected to bat first #SLvIND pic.twitter.com/JLMgHHVzjq

— BCCI (@BCCI) July 26, 2017
09:40 IST: Sri Lanka (Playing XI): Dimuth Karunaratne, Upul Tharanga, Kusal Mendis, Danushka Gunathilaka, Angelo Mathews, Asela Gunaratne, Niroshan Dickwella(w), Dilruwan Perera, Rangana Herath(c), Lahiru Kumara, Nuwan Pradeep
India (Playing XI): Shikhar Dhawan, Abhinav Mukund, Cheteshwar Pujara, Virat Kohli(c), Ajinkya Rahane, Hardik Pandya, Wriddhiman Saha(w), Ravichandran Ashwin, Ravindra Jadeja, Umesh Yadav, Mohammed Shami
09:30 IST: Toss Time! India captain Virat Kohli wins toss, elect to bat. 
09:25 IST: Pitch Report! Win the toss and get the runs on the board and the first day is the best day to bat on this wicket, says Russell Arnold. A lot more grass  and moisture on the wicket but still a good wicket to bat on. 
09:20 IST: The toss is just ten minutes away and the teams would definitely like to bat first after winning the toss. For the records, On India's last visit in Sri Lanka, they collapsed to 112 all out when they had only 176 to chase in the final innings at Galle. The wrecker-in-chief on that occasion was Herath, who took seven for 48 and is now the makeshift captain of the Lankan team.
09:15 IST: The Galle pitch is expected to take turn very early in the game
09:10 IST: Rain is forecast on all five days of the Test and frequent interruptions could be the order of the day. But Galle has some good facilities and covers can protect the entire ground
09:05 IST: Team India captain Virat Kohli has decided to put a full stop to all questions regarding Anil Kumble's acrimonious departure and the subsequent appointment of Ravi Shastri as head coach. Now the focus is purely on cricket.
09:00 IST: Hello everyone. Welcome to the live blog of the first Test, Day 1 between India and Sri Lanka.
While India start as overwhelming favourites after the seventh-ranked Sri Lanka scraped past Zimbabwe in a one-off Test last week, Shastri has warned against complacency.
The visitors played a drawn two-day warm-up game in Colombo with returning batsman Shikhar Dhawan among the scorers.
Opener Lokesh Rahul, who scored a half-century in the practice game, has been ruled out of the first match due to viral fever with Tamil Nadu batsman Abhinav Mukund taking his place in the starting eleven.
Sri Lanka, whose new Test skipper Dinesh Chandimal has been ruled out through flu, will need all the experience of stand-in captain Rangana Herath.
The left-arm spinner, who took 11 wickets against Zimbabwe and his 31st five-wicket haul in 81 Tests, is key for Sri Lanka.