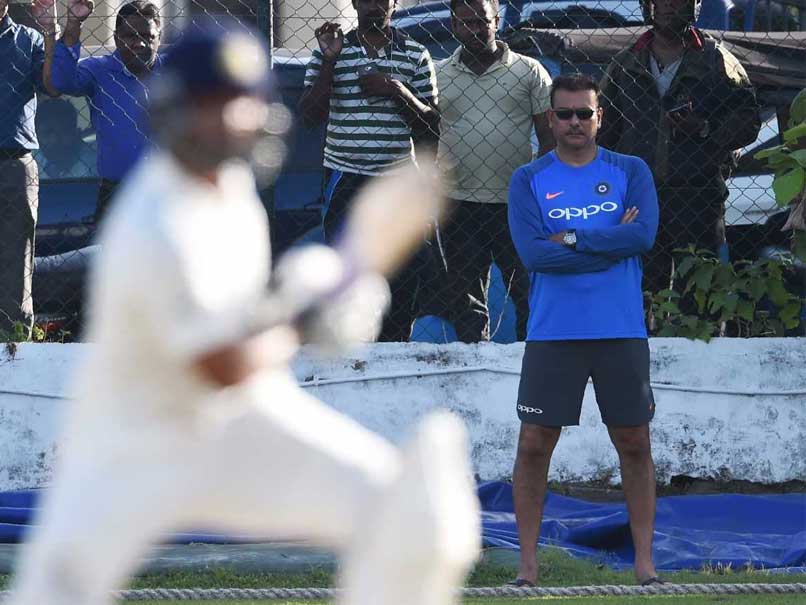 Ravi Shastri was appointed Indian cricket team's coach after Anil Kumble's exit.
© AFP
New India coach Ravi Shastri will on Wednesday look to maintain his team's number one status as a Test side when they take on Sri Lanka at Galle in the first of three matches. Shastri, who took over the demanding role after Anil Kumble resigned last month, has backed India to continue the "fearless brand of cricket" that helped them regain the number one position last year from Pakistan."Back to business with a great bunch," Shastri tweeted on Monday with photos of his during India's practice match in Colombo. One of the replies to Shastri's tweet came from Kevin Pietersen. The former England captain asked Shastri a rather interesting question. Head coach again buddy?", wrote Pietersen.
Back to business with a great bunch #TeamIndia #SLvIND pic.twitter.com/yQR06B8ocH

— Ravi Shastri (@RaviShastriOfc) July 24, 2017
Head coach again buddy?

— KP (@KP24) July 24, 2017
The maverick batsman's response took cricket fans by surprise. Considering that the news of Shastri bagging the high-profile job made headlines in the cricketing circles, it was quite surprising for Pietersen to be unaware of the same. It isn't clear whether Pietersen's question was a genuine one or an attempt to indulge in some typical English banter, but the twiteratti decided have some fun at the India coach's expense.
No he is on a travel tour exploring Sri Lanka

— Prince Sanghvi (@princesanghavi) July 24, 2017
Coach for sure, Head - not sure ! ??

— rigil.shankar (@rigils) July 24, 2017
No mate. Assistant to Kohli.

— Ashfaq Shah (@shahashfaq) July 24, 2017
Incidential coach... LOL

— Keval Bhojani (@bhojani_keval) July 24, 2017
This time he is #GreatIndianJugad Coach

— Samir Jha???? (@samir26_01) July 24, 2017
Haha more like a head of circus.

— deepak (@deepakbhai149) July 24, 2017
"They know their job. They are professional cricketers. Once they step on the field they take over. That is how it should be," said Shastri, who became head coach after Kumble quit over his 'untenable' relationship with Kohli.
"My role will be to get the guys to express themselves and play a fearless brand of cricket," the former all-rounder added.
While India start as overwhelming favourites after the seventh-ranked Sri Lanka scraped past Zimbabwe in a one-off Test last week, Shastri has warned against complacency.
"Sri Lanka can't be taken lightly at home. Their track record playing at home is as good as any another team. We would look to improve in the series," said the 55-year-old.
(With inputs from AFP)