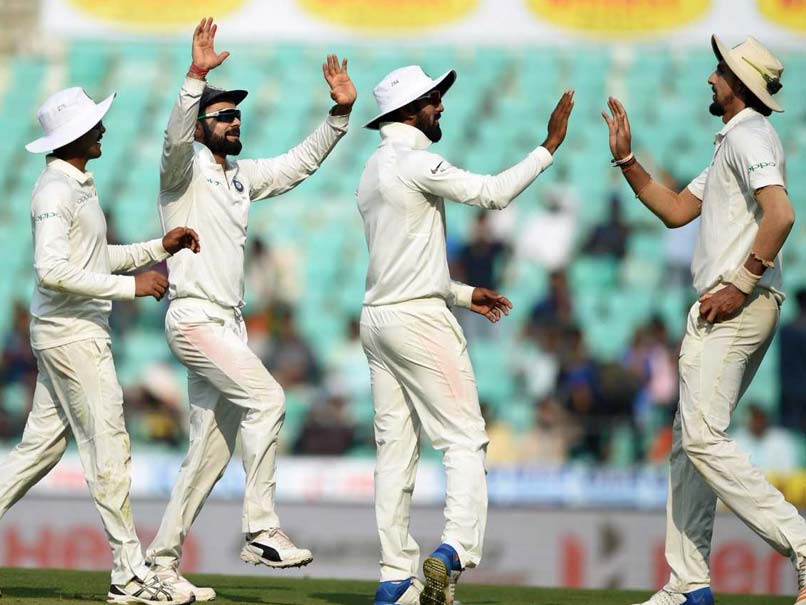 Highlights, 3rd Test Day 3: India vs Sri Lanka at Feroz Shah Kotla.
© AFP
Sri Lanka ended Day 3 on 356 for 9 as India came back strongly in the last session of play. The Sri Lankan skipper Dinesh Chandimal (147*) played a captain's knock and is still out there in the middle. The visitors would look to get as close to the Indian total as possible. Ravichandran Ashwin was the pick of the bowlers for India with figures of 3 for 90 as Mohammed Shami, Ishant Sharma and Ravindra Jadeja picked up a couple of wickets each. The Indians picked up 5 wickets in the last session after going wicketless in the first session and the lone wicket of Angelo Mathews in the second session. The Sri Lankans are still trailing by 180 runs with Chandimal and Lakshan Sandakan at the crease at the end of third day's play at the Feroz Shah Kotla stadium, New Delhi. (Scorecard)
Earlier, Riding on Mathews (111) and Chandimal's partnership, Sri Lanka had fought back brilliantly in the first two sessions. Having lost Mathews in the post-lunch session, Sri Lanka had gone to tea with the score on 270 for 4, still trailing India by 266 runs. Ashwin was the lone wicket-taker in the session.
Earlier, Mathews and Chandimal helped Sri Lanka reach 192 for 3 at lunch. The Indian bowlers tried everything, starting from coming round the wicket to bowling at the rib cage but the visitors negotiated all of that without losing a wicket in the first session. For the hosts, Mohammed Shami looked threatening on more than a couple of occasions, beating the bat at will but failed to get the breakthrough for India. Ravindra Jadeja did what he does best by holding one end up and getting the odd ball to turn and bounce but none of it resulted in a wicket. For the first time in the Test match, an entire session has gone the Lankan way but India would not be too worried about it. It is just a matter of getting one breakthrough with the visitors still trailing by 344 runs.
Catch all the highlights of India vs Sri Lanka, 3rd Test, Day 3, straight from Feroz Shah Kotla, Delhi.
16:26 IST: That's it for the day. The umpires have decided that the light is not good enough to continue and hence the players are going off the field. Sri Lanka 356 for 9 at stumps on Day 3, still trail India by 180 runs.
16:20 IST: Four! Chandimal goes down the track and hits Ashwin over the top for a boundary.
16:16 IST: Four! Chandimal flicks it over mid-wicket for a boundary. The Sri Lanka captain is looking to add as many as possible for his team.
16:12 IST: Wicket! Just as we speak Jadeja gets rid of Lahiru Gamage. That was straight and hitting the stumps. The umpire raises the finger. Sri Lanka go for the review. Replays suggest it would have clipped the bails. Gamage takes the long walk back to the pavilion. Sri Lanka 343 for 9.
16:10 IST: Jadeja comes back on with India needing two more wickets to wrap up the Sri Lankan innings,
16:04 IST: Two back to back boundaries for Chandimal and with that Sri Lanka have saved the follow on. So India will have to bat again. Sri Lanka 342 for 8, still trail by 194 runs.
16:00 IST: Lahiru Gamage is the new batsman for Sri Lanka.
15:57 IST: Wicket! Shami gets the line right this time and all Lakmal could do was to edge it to the keeper who makes no mistake. Sri Lanka 331 for 8.
15:52 IST: Another great delivery from Ashwin. Lakmal lucky to be still there.
15:50 IST: Four! Ashwin goes for the leg-spinner but in the process bowls it short. And Lakmal cuts it through covers for a boundary. 
15:43 IST: Suranga Lakmal is the new man in for Sri Lanka. The visitors need to ensure that their tail wags or else India will run away with the match.
15:42 IST: This is an excellent spell from Ashwin. There is a bit of turn in the wicket but not too much. He has cleaned up Dickwella here. Indians are crawling back in the match. Sri Lanka need to be careful here. Someone needs to give Chandimal company or else all the hard work put in by Mathews and the Sri Lankan captain will be of little help.
15:41 IST: Wicket! Ashwin gets another one. Niroshan Dickwella departs without troubling the scorers. Sri Lanka lose their seventh wicket.
15:39 IST: Slower one from Ishant, Chandimal failed to pick it, gets the outside edge but just falls short of Saha behind the stumps.
15:34 IST: Four! Ishant bowls it wide and Chandimal hits it on the up through covers for a boundary.
15:28 IST: Niroshan Dickwella is the new man in, joins his captain Chandimal.
15:25 IST: Wicket! Roshen Silva takes the long walk back to the pavilion without troubling the scorers. Ashwin gets his man. Tossed up, spun a bit and Silva looking to defend gets an inside edge and the man at short-leg takes an easy catch. Sri Lanka 318 for 6.
15:23 IST: Wicket! Brilliant catch by Wriddhiman Saha. This was a poor shot from Sadeera. Just pokes at a ball outside off-stump and Saha behind the stumps dives to his right and holds on to a one-handed catch. Ishant Sharma gets the wicket.
15:21 IST: Four! Ishant gets the ball to come back in as Sadeera goes for the big heave, gets a thick inside edge and the ball runs away to the boundary through the mid-wicket region.
15:17 IST: Fifty-run stand comes up between Sadeera and Chandimal. Sri Lanka not throwing it away here. They are making India toil hard for wickets here.
15:15 IST: You can't keep Kohli out of action for too long. Chandimal pushed it wide of Kohli who dived to save some runs. Sensing an opportunity of a run-out Kohli had a go at the stumps only to hit Sadeera in the elbow. Kohli sees the funny of it, so is Chandimal and Sadeera. All seems to be well in the middle.
15:10 IST: The pitch is offering some turn at the moment but nothing alarming.
15:05 IST: Ashwin continues to probe away, looking for his second wicket.
15:00 IST: The Indian spinners are bowling in tandem at the moment. Sri Lanka would look to get as close to the Sri Lankan total as possible.
14:57 IST: Four!! Sadeera taking some chances and has the rub of the green going his way currently.
14:49 IST: Sadeera this time comes down the track to Jadeja, gets a leading edge but it goes over the mid-off fielder. At least Sadeera is showing some grit in this Test unlike the previous Tests. It's taken two bumps to the head for the Sri Lankan batsman to finally get going.
14:45 IST: Sadeera comes down the track and tries a cross-batted hoick but to no avail. Ashwin is bowling well, hitting the right line and length and is started to cause a few problems.
 14:36 IST: CENTURY! Chandimal picks up a single to get to his 10th Test ton. Captain's innings!
14:35 IST: Dinesh Chandimal on 99. This has been a stellar knock from the Lanka captain.
14:12 IST: Another good over from Ashwin comes to an end. The players go off the field for tea with Sri Lanka still trailing India by 266 runs.
14:09 IST: Four! Jadeja bowls it wide and Samarawickrama drives it through the covers. Gets off the mark with a boundary.
14:07 IST: Ashwin is getting it to turn from round the wicket. On that occasion, it turned way too much. Beats the batsman as well as the keeper and it runs away for four byes. Sri Lanka will take it, doesn't matter how they come.
14:05 IST: Sadeera Samarawickrama is the new batsman in for Sri Lanka.
14:04 IST: Four! Jadeja bowls it quicker through the air and Chandimal dugs it out and gets it away, wide of first slip for a boundary.
14:00 IST: Wicket! Ravichandran Ashwin gets the breakthrough for India. Mathews playing for the turn, gets the outside edge and Saha holds on to a very good catch. The round of wicket theory for Ashwin has worked. Sri Lanka lose their fourth wicket with the score on 256.
13:56 IST: If Sri Lanka can manage to get close to the Indian total, the hosts need to make sure that they bat well in the second innings. Or else, it might be Sri Lanka's match to lose. 
13:52 IST: Ishant Sharma getting it to nip back into the right-handed Chandimal. The extra bounce could have got him into trouble but it was well played at the end. Although in the process, Chandimal seems to have hurt his finger. India right now running out of ideas to break the partnership. It is slowly starting to frustrate the Indians.
13:47 IST: Four! Short from Ishant and Mathews hooks it for a boundary. So this partnership is going from strength to strength at the moment. Who would have thought that after they were reduced for 75 for 3 yesterday.
13:43 IST: One coming of that Ishant over. Sri Lanka would look to play out the next half an hour without losing a wicket. If they can make it happen, it would be two back to back sessions for the visiting team without losing a wicket.
13:38 IST: Ishant Sharma comes back on to the attack.
13:37 IST: Another economical over from Jadeja comes to an end. Only one coming of that over.
13:33 IST: Another good short ball from Shami. Took Mathews by surprise as he went for the pull shot.
13:29 IST: Chandimal trying to work Jadeja on the on side, gets a thick inside edge onto his pad and luckily for him it doesn't loop up in the air. Nothing going India's way at the moment. 
13:27 IST: Shami finishes one more over. Sri Lanka 241 for 3.
13:25 IST: Four! Back of a length ball from Shami and Chandimal just punches it through covers for a boundary.
13:22 IST: Dropped! Mathews continues to ride his luck. Again, trying to go for the big one, didn't quite get hold of it and the man at mid off got both his hands to it but could not hold on to it. Vijay Shankar has let one go there. The jump was not well timed at mid off and to make matters worse it has gone for a boundary. Jadeja is absolutely livid with that effort.
13:20 IST: Jadeja comes back on with Sri Lanka still trailing by 304 runs
13:15 IST: Drinks being called for. So Sri Lanka have survived one more hour after lunch without losing a wicket. Mathews brought up his eighth century after lunch and Chandimal looking good to get to his 10th Test century. India still looking for that breakthrough.
13:09 IST: Shami now trying the slower ball with the new ball. He has tried everything today to get a breakthrough. Missed the bat a couple of times, managed to surprise the batsman with the odd short ball but nothing to add in the wickets column today.
13:05 IST: Four! Short and wide from Ishant and Chandimal won't miss out on those once he is set. Cuts it through point and picks up a boundary.  
13:00 IST: Angelo Mathews, Dinesh Chandimal bring up their 150-run stand for the fourth wicket.
12:54 IST: Another quiet over from Ishant. Sri Lanka 224 for 3.
12:49 IST: Four! Shami pitching it up, trying to get a bit of movement and Chandimal drives it through the covers. Will get a boundary. Two boundaries coming of that Shami over.
12:47 IST: Four! Shami drifts down the leg-side and Chandimal works it off his legs for a boundary. India looking for wickets with the new ball.
12:42 IST: Worked on the on side off his hips and Mathews will be a relieved man. Gets to his eighth Test century. Sri Lankans are showing some character after conceding a big first innings score.
12:40 IST: Dropped! Ishant bowls it back of a length and gets the edge. Rohit Sharma at second slip drops a sitter. That should have been taken. Mathews survives once again. 
12:35 IST: Mathews slowly inching towards his eighth Test century. India looking for that breakthrough. The hosts would hope that one would lead to another wicket.
12:30 IST: Jadeja bowls his tenth maiden of the match. Sri Lanka 205 for 3. Mathews 98*, Chandimal 57*
12:26 IST: Jadeja finds the edge but Saha behind the stumps fails to hold on to that. It was a difficult catch to be honest. The ball stayed a touch low for Saha behind the stumps. It went through his legs and Mathews gets a boundary.
12:22 IST: Jadeja, meanwhile bowls one more maiden.
12:18 IST: Chandimal tries to work it on the on side, missed it completely and a huge appeal for leg before. The umpire is not interested and India go for the review. There was enough turn to take it down the leg-side. India lose one review.
12:14 IST: Jadeja right on the money right after lunch. Starts off with a maiden.
12:12 IST: Three coming of the first over after lunch.
12:10 IST: Welcome back after lunch. Ashwin to continue.
11:30 IST: That's it. End of the first session. Sri Lanka would believe that they have done very well. The visitors have not lost a wicket. Mathews and Chandimal have stitched together a 117-run unbeaten fourth wicket stand. Sri Lanka 192 for 3 at lunch on Day 3.
11:28 IST: Turn and bounce for Jadeja. Hits Mathews on the gloves but it went straight down. 
11:24 IST: Mathews comes down the wicket to Jadeja. Not quite to the pitch of the ball, gets it on the outside half of the bat and the ball just falls short of the point over. Lucky escape for Mathews.
11:20 IST: Only one coming of that Jadeja over. Ashwin to continue. So both spinners bowling in tandem.
11:17 IST: Jadeja comes back on, replaces Shami.
11:13 IST: Four! Ashwin bowls it a bit quicker and Mathews just helps it round the corner for a boundary. Good paddle sweep.
11:10 IST: Four! Shami bowls it full and wide and Chandimal goes for it. It was in the air for quite some time but the man at point had little chance.
11:08 IST: Two coming of that Ashwin over. India still searching for the first wicket of the session.
11:04 IST: Ravichandran Ashwin comes into the attack.
11:02 IST: Sri Lanka going along nicely here. 174 for 3, still trail India by 362 runs.
10:55 IST: Short and in the ribs. Chandimal glances it fine. Just short of the fielder at leg gully. 
10:54 IST: Four! Pitched up from Shami and Chandimal hits through the line. Beautiful shot from covers.
10:50 IST: Four! Short again from Ishant and Mathews up to the task. That went like a bullet to the fence. 
10:44 IST: The Indian seamers have tried everything. The short ball ploy is not going to bother Mathews or Chandimal that much. It is the full ball, moving away that can produce the edge.
10:40 IST: Ishant Sharma comes back into the attack. Looks like he is going to come round the wicket. This will be interesting.
10:36 IST: So the umpires have called for drinks. Sri Lanka have survived the first hour without losing a wicket. 
10:32 IST: Great delivery! Pitched around middle, turned away. Mathews playing for the ball coming in and was beaten comprehensively. This is what Jadeja can do from time to time.
10:30 IST: Sri Lanka 156 for 3.
10:22 IST: Jadeja trying to bowl from different angles, using the crease to good effect. So far, Mathews is in no trouble. 
10:20 IST: Indians still looking for a breakthrough this morning. Mathews and Chandimal have looked good in patches. With the skills some of the Indian bowlers possess, they will keep probing away.  
10:13 IST: Four! Chandimal goes for the drive, gets a thickish outside edge and it runs away to the cover point boundary. Some turn there for Jadeja. Moral victory for the bowler.
10:09 IST: Another excellent ball from Shami. Mathews had no clue about that one. But the important thing for Sri Lanka is that they haven't lost a wicket in the morning.
10:06 IST: Looks like Chandimal is not feeling well. He has signalled to the dressing. Still no official word as to what is the problem. Looks as though he is not feeling comfortable. The Indians are clearly not happy. Not the pollution again, we hope.
10:02 IST: This is a fiery spell from Shami. Another quick bouncer which was well directed.
10:00 IST: That was beautifully bowled by Shami. He is in the middle of a very good spell. Just shaping away and beats Mathews all ends up.
9:57 IST: Four! Chandimal whips it off his legs for a boundary. Jadeja getting his line wrong and the Sri Lankan captain made full use of that lose ball.
9:55 IST: Jadeja comes back on after bowling the first over of the day.
9:53 IST: Shami finds the edge but that didn't carry to Pujara in the slips. Chandimal this time playing with soft hands which was one of the reasons why it didn't carry to the slips.
9:51 IST: Short from Shami. The ball didn't climb as much and hits Chandimal on the forearm. Chandimal guilty of not keeping his eyes on the ball.
9:49 IST: Sri Lanka 141 for 3.
9:42 IST: Pace from both ends now, Mohammed Shami into the attack. Mathews whips the ball off his pads to score the first boundary of the day.
9:38 IST: Ishant Sharma bowls the second over of the day. Good, tidy start from him.
9:30 IST: Jadeja to start the proceedings for India. He had to complete his over from Day 2.
9:27 IST: The Indian bowlers will want to see the back of Angelo Mathews as soon as possible this morning.
9:24 IST: Hello and welcome to our live cricket blog for Day 3 of the final Test between India and Sri Lanka.
It appeared to be another day of dominance for the Indian team with their skipper breaking many a records but the antics of the visitors spoiled Kohli's party. With their below-par bowling being sent on a leatherhunt, Sri Lankan team seemed to disturb the rhythm of the Indian batsmen by halting the play which was evidently not appreciated by the hosts. It is not the first time that an Indian team had to declare their innings due to compulsion though 40 years back, circumstances were vastly different. In 1976 at Kingston (Jamaica), Michael Holding and Wayne Daniel's 'beamer ball tactic' had left the Indian top-order injured. India were 87 for 5 in their second innings, leading by only 12 runs when skipper Bishan Singh Bedi had to declare the innings fearing that Holding would injure his tail-enders.