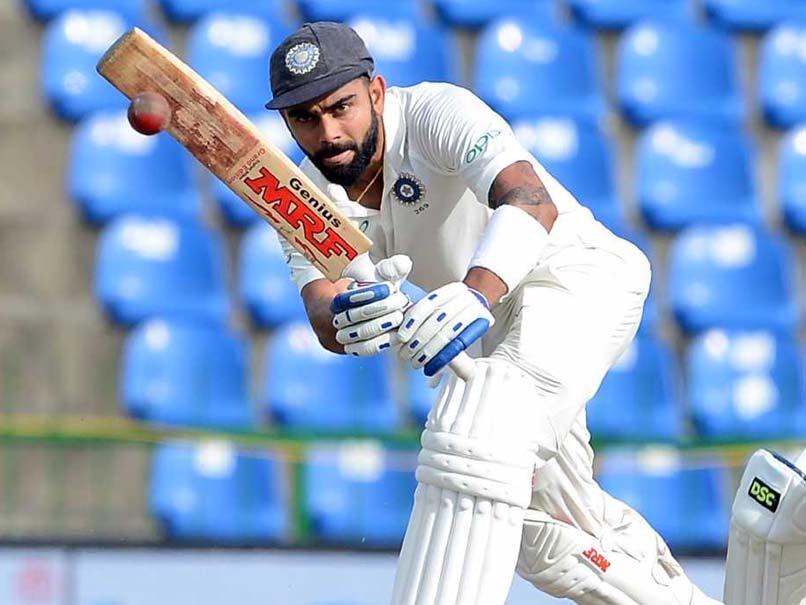 Highlights, 3rd Test, Day 2: India vs Sri Lanka at Feroz Shah Kotla.
© AFP
Sri Lanka ended Day 2 on 131 for 3 with Angelo Mathews (57) and Dinesh Chandimal (25) at the crease after losing Dimuth Karunaratne (0) in the first ball of their innings. Dhananjaya de Silva (1) struggled to get going and soon departed as the visitors found themselves in a spot of bother before Dilruwan Perera (42) took the attack to the Indians. Perera was dismissed against the run of play, leaving Sri Lanka struggling on 75 for 3. Mathews and Chandimal stitched together an unbeaten 56-run stand for the fourth wicket before bad light stopped play at the Feroz Shah Kotla Stadium in Delhi. Mohammed Shami, Ishant Sharma and Ravindra Jadeja picked up a wicket each. Earlier, India declared their first innings on 536 for 7 after losing Ravichandran Ashwin (4) and Virat Kohli (243) in quick succession, thanks to the frequent stoppages in play due to the poor air quality in the stadium that led to the Sri Lankan players having an animated discussion with the on field umpires, trying to convince them to go off the field. If that was not enough, Sri Lanka soon lost both their fast bowlers due to injuries and there came a point where they just didn't have enough fielders to take the field. Kohli was seen visibly frustrated with the frequent stoppages and decided to declare with India well and truly sitting in the driver's seat.
Dilruwan Perera opened the batting for Sri Lanka along with Dimuth Karunaratne as the Indian fast bowlers came out firing in all cylinders. Mohammed Shami struck for the hosts in his very first ball as Karunaratne departed without troubling the scorers. Dhananjaya de Silva never really looked settled before falling to a Ishant Sharma delivery as the visitors were reduced to 18 for 2 at tea, still trailing India by 518 runs. On the first day, the hosts rode on Murali Vijay's century (155) to end at 371 for four on Saturday. (Scorecard)
Catch all the highlights of Day 2 of 3rd Test between India and Sri Lanka straight from New Delhi
16:58 IST: The umpires are getting together. The light isn't getting any better. That's it for the day. Sri Lanka 131 for 3 at the end of Day 2, still trail India by 405 runs. Mathews 57*, Chandimal 25*
16:57 IST: Jadeja coming over the wicket to Chandimal. Trying to change the angle.
16:55 IST: Ashwin has pulled things back after an expensive couple of overs early on in his spell.
16:52 IST: Jadeja has been very economical today. Bowled 14 overs, giving away only 22 runs. Also picked up the wicket of Perera.
16:46 IST: It would be ideal for India to get rid of Mathews or Chandimal before the close of play. Sri Lanka on the other hand would look to play through the day.
16:39 IST: Back to back maidens for India. Sri Lanka playing for the close of play. The visitors need to be careful here.
16:36 IST: Sri Lanka 124 for 3 in 37 overs. Still trail India by 412 runs.
16:30 IST: Excellent comeback from Shami. Brilliant yorker and Chandimal digs it out.
16:30 IST: Four! Lovely shot from Chandimal. Clipped it off his legs for a boundary.
16:24 IST: Hint of reverse swing for Shami. Sri Lanka 117 for 3.
16:18 IST: Still 18 overs left in the day. Not sure whether we will get all those overs.
16:10 IST: Four! Short again from Ashwin and Chandimal rocks back and guides it through the vacant third man region.
16:00 IST: Mathews brings up his 29th fifty. Two back to back sixes for the Sri Lankan. Ashwin proving to be expensive in his first over.
15:56 IST: Ravichandran Ashwin comes on to the attack.
15:55 IST: Sri Lanka are 91/3 after 26 overs. 
15:49 IST: An impressive over from Ishant comes to an end. Bowls a maiden.
15:45 IST: Ishant Sharma comes back on to the attack.
15:41 IST: Shami drifting down the leg-side and Chandimal picks up a couple.
15:39 IST: Shami bowls it short and Mathews goes for the hook shot. Gets a top edge and it falls in no man's land. That was a good short ball from Shami.
15:36 IST: Sri Lanka 77 for 3 after 20 overs.
15:30 IST: Dinesh Chandimal is the new batsman for Sri Lanka.
15:27 IST: Wicket: Jadeja strikes for India. Perera departs. That was straight and hitting the stumps. The umpire ruled it in favour of the batsman that forced India to ask for the review. Replays suggest it would have crashed into the middle-stump. Sri Lanka lose their third wicket.
15:21 IST: Four! Beautiful straight drive from Mathews. Nothing Shami could have done about that.
15:21 IST: Shami comes back on for India.
15:18 IST: Four! This time Perera takes the aerial route. Hits Jadeja straight over his head for a boundary.
15:13 IST: Four! Perera dealing in boundaries at the moment. Another one for the Sri Lankan.
15:12 IST: Just as we speak, Jadeja gets one to turn sharply. Mathews had no clue about that one.
15:11 IST: Four! Played on the up by Perera and it will find the fence. Jadeja looking for the turn, not getting much at the moment.
15:09 IST: A maiden over from Ishant Sharma comes to an end. Sri Lanka 53 for 2.
15:05 IST: Four! Jadeja bowls it down the leg-side and Perera helps it down the leg-side.
15:04 IST: Ravindra Jadeja comes on to the attack.
15:00 IST: Four! Great shot! Full from Ishant and Mathews hits it straight past mid on.
14:58 IST: Two back to back boundaries for Mathews. That will make him feel a lot better.
14: 56 IST: Ishant once again produces the edge. Just falls short of Rahane at gully. Mathews living dangerously.
14:50 IST: DROPPED! Ishant produces the edge off Mathews' blade and Kohli puts the catch down at second slip.
14:48 IST: After 8 overs, Sri Lanka at 33/2.
14:42 IST: FOUR! Another boundary for Perera. He moves to 20.
14:38 IST: DROPPED! Dhawan, at second slip, drops Perera off Shami's bowling. That should have been taken!
14:33 IST: FOUR! Shami's delivery is lifted over extra cover by Perera.
14:10 IST: Four! Ishant once again finds the outside edge but that will run away for a boundary. Mathews survives. Sri Lanka go into tea with the score on 18 for 2, still trail India by 518 runs.
14:05 IST: Wicket! de Silva playing from the crease and Ishant strikes for the home team. That was right in front. Sri Lanka lose their second wicket. 
14:00 IST: Shami again gets it to move back in and de Silva not moving his feet, playing from the crease. Another big appeal for leg before but the umpire feels that the batsman got an inside edge. Replays suggest otherwise. Wonder why Kohli didn't go for the review. May be he got influenced by the on-field umpire who reckoned it had hit the bat.
13:58 IST: Wide outside off stump from Ishant and Perera throws his bat at it. Survives a scare.
13:54 IST: A brilliant over from Shami comes to an end. Sri Lanka would be happy not to have lost a wicket in that over.
13:51 IST: Shami gets it to move back into the right-hander. Big appeal for leg before but a touch too high to be given out and de Silva survives.
13:48 IST: Four! Too full from Ishant and Perera gets another boundary. 
13:48 IST: Four! Perera uses the pace of Ishant on that occasion and gets a boundary. 
13:47 IST: The lights are on here in Kotla. Dilruwan Perera off the mark with a couple.
13:40 IST: Dhananjaya de Silva is the new man in. Goes for the pull right away. Lucky to be still there.
13:37 IST: Wicket! Karunaratne out first ball. Shami comes round the wicket with the new ball and finds the edge. All that could have gone wrong for Sri Lanka has gone wrong here.
13:35 IST: The Indian players are out there in the field. The Sri Lankan openers make their way out. Dilruwan Perera has come out to open the batting with Karunaratne. 
13:25 IST: Well, there is another hold up in play and this is thankfully not because of the pollution. Sri Lanka have already lost both their fast bowlers. With Lakmal and Gamage off the field along with Sadeera, Sri Lanka are a fielder short. They have two substitutes already fielding and the visitors are struggling to find another fielder. Now Kohli has had enough of this. India have declared with the score on 536 for 7. 
13:23 IST: Four! Saha helps himself to a boundary.
13:20 IST: The umpires are not getting off the field as play resumes once again after a brief stoppage.
13:15 IST: Now Lakmal is walking off the field. It has been a busy afternoon session for the Sri Lankan physio. The Sri Lankan team manager Asanka Gurusinha is now on the field, having a discussion with the on-field umpires. The pollution only seems to be bothering the Sri Lankan team. Not the crowd in Kotla, nor the Indian players. Wait a minute! Now the Indian head coach Ravi Shastri makes his way to the middle. All getting involved in an animated discussion.
13:10 IST: Four! Short, asking to be hit and Ravindra Jadeja makes no mistake. Pulls it for a boundary.
13:07 IST: Wicket: Sandakan gets it to spin back into Kohli and the Indian captain is struck right in front of the wicket. The umpire raises the finger but Kohli reviews. Replays suggest that it was hitting the leg-stump. A brilliant knock comes to an end as the whole of Kotla gives him a standing ovation. The stoppages are helping Sri Lanka at the moment in picking up wickets. Kohli dismissed for 243.
13:00 IST: Gamage is off and Lakmal will complete his over.
12:58 IST: The Sri Lankan physio is running to attend Gamage. There is another brief stoppage of play.
12:56 IST: Meanwhile, Kohli is inching closer to the 250-run mark. 
12:51 IST: Wriddhiman Saha is the new man in for India.
12:50 IST: Wicket: Ashwin plays away from his body and hits it straight to gully. Gamage strikes. The stoppage seems to have worked for Sri Lanka. India lose their sixth wicket.
12:47 IST: After all that drama, play resumes. Sri Lankans are clearly unhappy.
12:45 IST: Sri Lanka captain Dinesh Chandimal is talking with the umpires. They are not happy with the present conditions.  
12:40 IST: This is a bizzare situation. The umpires are having a conference and David Boon, the match referee, is talking over the phone with them. This looks like more to do with the pollution. 
12:35 IST: Play being held up at the moment. It looks as though it is because of the smog it seems. It looks quite hazy out there. The Sri Lankan players are certainly struggling. The umpires are having a discussion at the moment with the players. Kohli seems to be unfazed of the situation and wants to carry on. There is no wind to improve the air quality either at the ground.
12:30 IST: The shoulders have dropped and the visitors are looking flat at the moment. This will certainly not help their cause. 
12:28 IST: Runs are coming way too easily for the Indians at the moment. With still a bit of batting to come and Kohli at the crease, it might just be another very long day for the Sri Lankans.
12:25 IST: The Sri Lankans players are wearing masks at the moment. Kohli is giving them a good hiding at the moment. Or is it just the Delhi air? A bit of both I guess.
12:22 IST: Four! Advancing down the track to Gamage and Kohli smashes it through covers for a boundary. These are not good signs for Sri Lanka. With that he moves to his highest Test score. Kohli 236* and looking good for a triple century.
12:18 IST: Ashwin picks up a couple to end another Sandakan over.
12:16 IST: Sandakan to continue. Attacking field for Ashwin.
12:14 IST: Ravichandran Ashwin is the new batsman for India. He has got off the mark with a single.
12:12 IST: Four! Kohli starts of the second session in fine fashion. Whips it off his legs for a boundary. Gamage could do little about that.
12:10 IST: Hello and welcome to the second session of play. India are going along nicely here although they had just lost the wicket of Rohit Sharma just at the stroke of lunch.
11:34 IST: So players go for lunch as India lose their fifth wicket. India 500 for 5 at lunch. Virat Kohli remains unbeaten on 225.
11:31 IST: Wicket: Sandakan again bowls it short and wide and Rohit in trying to guide the ball, gets a thin edge through to the keeper. The umpire slowly raises the finger but Rohit straight away goes for the review. Replays suggest he got the toe-end of the bat. So at the stroke of lunch, India have lost the wicket of Rohit Sharma.
11:29 IST: Four! Poor delivery. Short and wide from Sandakan and Rohit just gives direction to the ball. Already 10 from the over. Sri Lanka just can't stop the flow of runs.
11:28 IST: Four! Sandakan tries to bowl the quicker one and Rohit Sharma just uses the pace of the bowler. Will get a boundary for his efforts.
11:27 IST: Kohli is clearly struggling out there in the middle. He is apparently struggling with muscle stiffness. The lunch break would be a welcome break for the Indian captain.
11:25 IST: Dhananjaya de Silva is back on the attack. 
11:23 IST: Four! Oh dear! Sums up the kind of morning the Sri Lankans are having. The fielder at deep square-leg did all the hard work, ran around 10-15 yards to his right, had put in the dive but couldn't prevent the boundary.
11:19 IST: Four! Half chance for Sri Lanka but the ball goes between the keeper and leg-slip. Mathews at leg-slip was caught napping as Kohli continues to ride his luck.
11:14 IST: The new ball has not worked for Sri Lanka. They have been taken for plenty after the visitors took the new ball. The Indians won't mind that as long as the runs keep coming.
11:09 IST: The Sri Lankans never really looked like they are going to pick up a wicket or two in the first session. Both Kohli and Rohit are looking good for many more as the visitors keep chasing leather.
11:05 IST: Just as we speak about Kohli, Rohit reminds us that he is also batting out there in the middle. Goes for the lofted shot and clears the fence at ease. Brings up his eighth Test fifty in style.
11:02 IST: Virat Kohli is the only batsman to have scored three double centuries in a calendar year, not once but twice. Donald Bradman in 1930, Ricky Ponting in 2003, Michael Clarke in 2012 and Brendon McCullum in 2014, have all done it once in their career.
10:59 IST: Virat Kohli became the second Indian to score two back to back double hundreds after Vinod Kambli. Wally Hammond was the first man to do it in the year 1928-29 and achieved the same feat in the year 1933. Donald Bradman had done it once in the year 1934. Kambli got it in 1993. The other batsmen to have scored two back to back double hundreds are former Sri Lanka captain Kumar Sangakkara, who got it in the year 2007 while former Australia captain Michael Clarke got it in 2012.
10:57 IST: Most double hundreds for India in Tests: Sachin Tendulkar, Virender Sehwag and Virat Kohli have got six while Rahul Dravid is second in the list with 5. Sunil Gavaskar has got 4 and Cheteshwar Pujara has got 3 for India.
10:55 IST: Rohit Sharma on the other hand is playing a good hand. He is not too far away from bringing up another half-century and if he can convert that into a century, it will a great comeback for the Mumbai Indians captain, having scored a century in the last Test.
10:53 IST: Most double hundreds as captain: Virat Kohli (6*), Brian Lara (5) and Donald Bradman, Greame Smith and Michal Clarke all getting 4 each.
10:51 IST: Kohli was seen not sprinting for the second run. There was an opportunity to pick up a couple earlier in the over but Kohli declined the second run. Looks like he is struggling with an injury out there in the middle. Still no official word as to what has gone wrong. 
10:50 IST: Short and Kohli goes for the pull. Will get a couple of runs and that is all that was required to get to his sixth double century. Kohli has got all of them in the last 17 months. What a great year the Indian captain is having. Back to back double hundreds for the Delhi batsman. 
10:40 IST: Loud shout for leg-before. Kohli goes for the forward defence. The ball just about spun back in from Perera and the Sri Lankans think that they have got their man. The umpire thinks otherwise and Sri Lanka go for the review. Replays suggest that the ball hit the bat first before hitting the pads. The visitors lose their review.
10:35 IST: Kohli just six away from getting to his double-century. Rohit on the other hand going at a good pace. India maintaining a healthy run-rate.
10:30 IST: Good first hour for India as both Virat Kohli and Rohit Sharma are looking good at the crease. Sri Lanka need to break this partnership as both these players have the ability to score quickly.
10:26 IST: India 436 for 4 in 104 overs. Kohli 189*, Rohit 37*
10:20 IST: Four! Excellent shot from Rohit. Again just using the pace of the ball and guides it down third man region. Perera comes back on and concedes a boundary.
10:16 IST: Four! Short and Rohit quick on the pull shot. The new ball is travelling to all corners of the Feroz Shah Kotla.
10:14 IST: Four! Gamage goes for the yorker but ends up bowling a full toss. Kohli up to the mark as he inches closer to another double-century.
10:12 IST: Four! Nice juicy half volley and Rohit will not miss out on those. Runs are coming thick and fast for India.
10:09 IST: Four! Kohli not in complete control of that shot. It got big on him at the end and the ball finds the gap between slip and gully. Fifty run partnership comes up with that boundary.
10:05 IST: So India have already added 40 runs in the first hour of play. Sri Lanka yet to get a breakthrough in the first session.
10:00 IST: Four! Kohli slices that one from Lakmal and the ball races away to the boundary.
9:54 IST: Gamage comes on, replacing Sandakan.
9:52 IST: Lakmal comes back brilliantly. Just gets it to move away from Kohli and the Indian captain feeling for that one outside off-stump.
9:51 IST: Four! First ball with the new ball and Kohli helps himself to a boundary. His first of the morning as Lakmal tries to swing it from the middle-stump but only manages to bowl at his pads. 400 up for India with that boundary.
9:50 IST: Suranga Lakmal comes on to the attack, replacing Perera. Sri Lanka have taken the second new ball.
9:48 IST: A beauty from Sandakan to end the over. Rohit beaten all ends up. India 398 for 4 in 96 overs.
9:46 IST: Four! Wide down the leg-side from Sandakan and Rohit sweeps it fine for a boundary.
9:44 IST: Four! Perera bowls it wide and Rohit just guides it to the third man region for a boundary.
9:41 IST: Six! Tossed up by Sandakan and Rohit Sharma goes over the top and it has gone the distance. First six of the match.
9:40 IST: Sri Lanka haven't taken the new ball. The visitors are still operating with both the spinners.
9:38 IST: Good start with the ball by the Sri Lankans. Not too many lose balls on offer for the Indians.
9:35 IST: Sandakan to share the ball with Perera. So spin from both ends.
9:32 IST: Only one coming of that first over of the day. Kohli tucks it away for a single.
9:30 IST: Perera to start the proceedings for Sri Lanka. Kohli to take strike.
9:25 IST: So both the overnight batsmen, Kohli and Rohit are out there in the middle. We are all in readiness for the second day's play.
9:20 IST: India lost a couple of wickets at the stroke of play yesterday but still on top, having scored at a healthy run-rate on the first day. The only way Sri Lanka can somewhat come back into the Test match is by picking up wickets and then follow it up with a good batting performance.
9:15 IST: Virat Kohli would look to carry on from here he left yesterday. A triple century is on the cards for Kohli? We will have to wait and see.
9:10 IST: There is a slight grass cover as it was on the first day's play but it is more superficial, reckons Sunil Gavaskar. It will only help the ball coming on to the bat.
9:05 IST: There is a slight chill in the air. The pitch looks to be as good as it was yesterday if not better.
9:00 IST: Hello and welcome to the second day's play at the Feroz Shah Kotla Stadium in New Delhi.
Hello and welcome to Day 2 of the 3rd Test with India on 371/4. How many runs do you reckon the hosts will add to their overnight tally? #INDvSL pic.twitter.com/L9t7DeYU1g

— BCCI (@BCCI) December 3, 2017
For the islanders, Sandakan was the pick of the bowlers with figures of 2/110 while Dilruwan Perera and Lahiru Gamage picked one wicket each. Earlier, India elected to bat after winning the toss on a placid Kotla track. The Indian opening duo of Vijay and Shikhar Dhawan (23) gave a solid 42-run start before the latter gifted his wicket away to a harmless Dilruwan Perera off-break delivery.