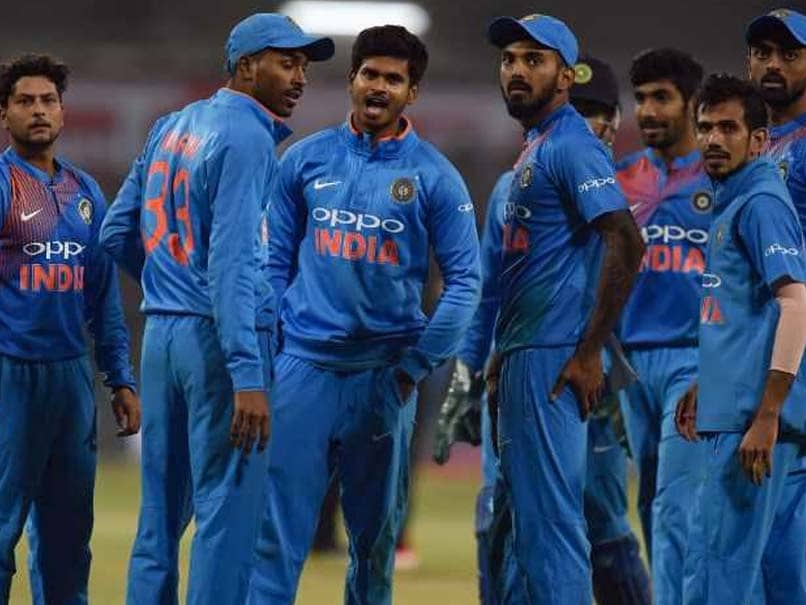 Highlights, 3rd T20I: India vs Sri Lanka at Wankhede Stadium.
© AFP
India lost KL Rahul (4) early in run chase but Rohit Sharma and Shreyas Iyer weathered the early storm before Rohit (27) was dismissed of the bowling of Dasun Shanaka. Iyer and Pandey got India close to the 100-run mark before Iyer (30) had to take the long walk back. Pandey (32) took India close to victory before getting dismissed. Dinesh Karthik (18*) and MS Dhoni (16*) finished things off for the hosts as the visitors lost the final T20I by 5 wickets. India won the series 3-0.
Earlier, Rohit won the toss and elected to field first on a pitch that looked good for batting, Jaydev Unadkat struck early for India as Sri Lanka lost Niroshan Dickwella early. Washington Sundar looked impressive with the ball in his first match for India and also picked up a wicket. Sri Lanka lost wickets at regular intervals and never really got going. Asela Gunaratne top scored for the visitors and Dasun Shanaka's late onslaught helped Sri Lanka reach 135 for 7 in 20 overs. For India, Unadkat and Hardik Pandya picked up a couple of wickets with Mohammed Siraj and Kuldeep Yadav claiming a wicket each.  (Scorecard)
Catch all the highlights between India vs Sri Lanka, 3rd T20I, straight from Wankhede Stadium, Mumbai.
22:27 IST: Sri Lanka tried and did everthing but at the end 135 was just not good enough. India won the Test series 1-0, followed it up by winning the ODI series 2-1 and now the T20I series 3-0.
22:27 IST: Four! Low full toss and Dhoni puts it away in style. India win the match by 5 wickets and complete a series whitewash. 
22:25 IST: A misfield and India get a couple. India need 1 now to win the match,
22:24 IST: Six! Nice juicy full toss from Pradeep. Asking Karthik to hit it for a maximum and he obliges. That pretty much seals the match for India. Need 3 off the final over.
22:21 IST: Karthik still searching for that boundary. Will get a couple instead. India need 9 off 7 balls.
22:21 IST: Oh well! Karthik goes for the lap sweep. No connection and that puts the pressure right back on the batsman.
22:20 IST: Karthik slogs but will only get a couple. India need 11 off 9 balls.
22:19 IST: Here comes Pradeep. Can he not concede a boundary in this over? That would make things difficult for India in the last over.
22:17 IST: Runs coming of singles in that over from Perera. India need 15 off 12 balls.
22:15 IST: Three coming of the first three balls of the over. India need 17 off 15 balls.
22:14 IST: India need 20 off 18 balls.
22:12 IST: Huge appeal for leg before. That looked straight but the umpire doesn't think so. Sri Lanka have straight away gone for the review. Replays suggest that would have missed the stumps. A bit too high. Dhoni survives again.
22:11 IST: Short from Chameera and Dhoni hits it through the covers. Will get a couple.
22:09 IST: Four! Chameera found the edge, just goes wide of the diving keeper. Dhoni survives.
22:07 IST: MS Dhoni is the new man for India.
22:06 IST: Wicket: This is was the wicket that Sri Lanka wanted. Manish Pandey has been cleaned up here by Chameera. India lose their fifth wicket. Need 28 off 23 balls.
22:04 IST: India need 28 off 24 balls.
22:03 IST: Four! Back of a length from Pradeep and Pandey has clobbered that through covers for a boundary.
22:00 IST: Dinesh Karthiik is the new man in for India.
21:58 IST: Wicket! Shanaka bowled it short and Hardik Pandya went for the upper cut. Got the toe end of the bat and the keeper made no mistake. India lose their 4th wicket.
21:56 IST: Four! Attempted yorker from Shanaka, missed his spot and Pandey up to the task.
21:55 IST: Four! Pandya has got that one away past mid-wicket.
21:54 IST: Hardik Pandya is the new batsman.
21:52 IST: Four! Hit straight past the bowler. Pandey will get a boundary. Dananjaya tried his best to stop it on his follow through but fails to do so. India 87 for 3 after 14 overs.
21:50 IST: Wicket! Unlucky Iyer has to depart. Run Out for 30. Pandey hit that straight and Dananjaya got a hand to that ball that went on to hit the stumps. 
21:48 IST: Iyer meanwhile is getting the physio's attention. There can be a bit of a delay here. Not sure what the problem is though. May be the hamstring.
21:45 IST: Nine coming of that Chameera over. India 81 for 2 after 13 overs.
21:44 IST: Pandey smashed it to point, there was never a second there and a poor throw didn't help Sri Lanka's cause.
21:38 IST: Eleven coming of that Shanaka over. India finally get a big over.
21:37 IST: Six! Iyer picked the slower one and has deposited that in the stands.
21:33 IST: Three overs have gone by without a boundary. The last boundary came in the eighth over. Runs are coming in ones and twos for India at the moment.
21:31 IST: Dananjaya comes back into the attack.
21:30 IST: India 56 for 2 in 10 overs.
21:26 IST: 50-up for India but it has taken a long time. India 50 for 2 in 9 overs.
21:24 IST: At the moment Sri Lankans are getting the ball to move both ways. Iyer and Pandey struggling to cope with the swing at the moment.
21:20 IST: Four Leg-Byes! That doesn't help in a low scoring match. Pradeep gets it to come back into Pandey who was beaten all ends up, so was the wicket-keeper.
21:16 IST: Manish Pandey is the new man in for India.
21:16 IST: Wicket! This is a big wicket for Sri Lanka. Rohit Sharma has to take the long walk back. Shanaka does the job for Sri Lanka. India 39 for 2 in 7 overs.
21:09 IST: Four! Two back to back boundaries for the Indian captain.
21:09 IST: Four! Nuwan Pradeep comes on and Rohit greets him with a boundary.
21:07 IST: Five coming of that Perera over. India 26 for 1 in 5 overs.
21:06 IST: Good come back Perera. Gets it to come back into Rohit and it goes through his bat and pad. 
21:05 IST: Four! Width on offer and Rohit makes no mistake in putting it away.
21:04 IST: Thisara Perera comes into the attack.
21:03 IST: Good over from Chameera comes to an end. India 21 for 1 in 4 overs.
21:00 IST: Four! Iyer straight away gets off the mark with a boundary.
20:58 IST: Shreyas Iyer is the new man in.
20:58 IST: Wicket! Big appeal for leg before and up goes the finger. Rahul has reviewed it straight away. Replays suggest that it would have just clipped the bails. Unlucky Rahul has to depart. Chameera strikes for Sri Lanka.
20:57 IST: India get the big over. 13 coming of that Dananjaya over. India 17 for 0 in 3 overs.
20:55 IST: Six! Dananjaya gives it a bit of air and Rohit takes full advantage of that. Smashed it straight down the ground.
20:54 IST: Four! Rohit goes for the slog, finds the gap.
20:52 IST: KL Rahul played and missed a couple of times in that over. Good start for Sri Lanka with the ball. One coming of that over. India 4 for 0 in 2 overs.
20:50 IST: Dushmantha Chameera to share the new ball with Dananjaya.
20:48 IST: Good first over by Dananjaya. Both the Indian openers are off the mark. Three coming of that over.
20:48 IST: Dananjaya starts off with a wide.
20:47 IST: Akila Dananjaya to start the proceedings for Sri Lanka. Rohit Sharma to face.
20:45 IST: So both the Indian openers are out there in the middle. Rohit Sharma and KL Rahul are the two openers for India,
20:33 IST: A couple to end the over. 18 coming of that last over from Siraj. Sri Lanka 135 for 7 in 20 overs.
20:32 IST: Six! Shanaka comes down the track. picks up the slower ball and deposits it into the stands.
20:31 IST: Four! Full and Dananjaya hits it straight over the top of the bowlers head.
20:30 IST: Four! Top edge and Akila Dananjaya will get a boundary for that.
20:28 IST: Another great over from Unadkat. Finishes with figures of 2 for 15.
20:20 IST: Wicket: Pandya bowls it short, Gunaratne goes for the big shot, doesn't time it and Kuldeep at mid wicket makes no mistake. Sri Lanka 111 for 7.
20:18 IST: Sri Lanka 110 for 6 in 17 overs.
20:15 IST: Unadkat comes back into the attack. Sri Lanka would look to get some momentum in the last couple of overs of the innings.
20:12 IST: Six! Dasun Shanaka goes for the big one. Connects well. Will get a maximum for that.
20:10 IST: Sri Lanka 96 for 6 in 15 overs.
20:02 IST: Huge appeal for leg before. The umpire thinks it is not out. India after thinking a lot goes for the review. Kuldeep is confident that he has got his man. Replays suggest it would hit the bails. So the umpire's call saves Gunaratne. 
20:00 IST: Wicket! Mohammed Siraj gets his first wicket. Thisara Perera departs. Sri Lanka 87 for 6.
19:56 IST: Four! This time Siraj bowls it full and Perera goes straight.
19:55 IST: Four! Short and wide from Siraj and Perera makes no mistake in putting that away.
19:52 IST: The Sri Lankan captain Thisara Perera makes his way out into the middle.
19:51 IST: Wicket! Another one bites the dust. Danushka Gunathilaka sweeps but finds the man at deep-wicket. Kuldeep gets the wicket.
19:49 IST: Good over from Sundar. Returns with figures of 1 for 22 in his four overs.
19:47 IST: Sundar comes back into the attack.
19:46 IST: Sri Lanka 67 for 4 in 10 overs. 10 runs coming of that  Kuldeep over.
19:45 IST: Four! Gunaratne goes for the reverse sweep, finds the gap. 
19:42 IST: Danushka Gunathilaka is the new man in for Sri Lanka.
19:40 IST: Wicket! Pandya gets his name in the wickets column. Samarawickrama takes the long walk back. Sri Lanka lose their fourth wicket.
19:38 IST: 8 coming of that Kuldeep over. Sri Lanka 53 for 3 in 8 overs.
19:36 IST: Four! Samarawickrama comes down the track and hits it over mid-wicket for a boundary.
19:34 IST: Dropped! Gunaratne goes for the cut, gets the edge. Difficult chance for the keeper. Hit Dhoni on the thumb and off it goes.
19:33 IST: Kuldeep Yadav comes into the attack and almost immediately beats the bat.
19:32 IST: Sri Lanka 45 for 3 in 7 overs.
19:29 IST: Four! Samarawickrama comes down the track, goes for the pull and will get a boundary. Not in full control of that shot. In fact, it hurried on to him, got the glove and raced away to the fine-leg boundary.
19:27 IST: Hardik Pandya comes into the attack.
19:25 IST: Mohammed Siraj concedes 11 of his first over.
19:24 IST: Four! Top shot from Samarawickrama. Will get a boundary for his efforts.
19:23 IST: Four! Gunaratne steps down the track and finds the gap through covers.
19:20 IST: Four! Gunaratne finds the fence. Nothing much Sundar can do there.
19:19 IST: Sadeera Samarawickrama and Asela Gunaratne are the two new batters for Sri Lanka. The visitors need to rebuild after a poor start to the innings.
19:16 IST: Wicket! Another one goes. This time Tharanga picks up the man at the deep. Unadkat picks up his second wicket. Sri Lanka 18 for 3.
19:14 IST: Wicket: Soft dismissal for Perera. Simple caught and bowled chance for Sundar and he accepts it gleefully. Kusal Perera goes for Sri Lanka.
19:13 IST: Perera goes for the big one but finds the man at long on. Poor fielding by Pandya there would give him four. Sundar visibly disappointed. 
19:10 IST: Kusal Perera is the new man in. Only 3 coming of that Unadkat over. Sri Lanka 9 for 1 in 2 overs.
19:08 IST: Wicket! Dickwella departs in trying to go over the top. Unadkat strikes for India in his first over.
19:05 IST: Jaydev Unadkat to share the new ball with Sundar.
19:04 IST: Good start by Sundar. Only six coming of that first over.
19:02 IST: Four! Tharanga gets of the mark with a boundary. 
19:00 IST: Surprise! Washinton Sundar on his debut will open the bowling for India. 
18:58 IST: Upul Tharanga will open the batting with Niroshan Dickwella for Sri Lanka. 
18:50 IST: So players are making their way out in the middle for the national anthems.
18:38 IST: Angelo Mathews misses out due to a hamstring injury he sustained in the last match.
18:36 IST: Here is a look at the teams:
Sri Lanka: Niroshan Dickwella(w), Upul Tharanga, Kusal Perera, Danushka Gunathilaka, Sadeera Samarawickrama, Asela Gunaratne, Dasun Shanaka, Thisara Perera(c), Akila Dananjaya, Dushmantha Chameera, Nuwan Pradeep
India: Rohit Sharma(c), Lokesh Rahul, MS Dhoni(w), Shreyas Iyer, Manish Pandey, Dinesh Karthik, Hardik Pandya, Washington Sundar, Kuldeep Yadav, Jaydev Unadkat, Mohammed Siraj
18:34 IST: Thisara Perera after losing the toss: Toss doesn't matter, have to stick to our plans. Already told my teammates to give 100% and keep their confidence up. Hope the boys can do something special tonight. Kusal and Tharanga are really big hitters. We have good options with these two. Two changes. Gunathilaka and Shanaka in for de Silva and Mathews.
18:32 IST: Rohit Sharma at the toss: We are looking to field. Don't think it will change a lot. Just wanted to change it a bit, we've been batting first. This time of year, any ground in India, there will be dew factor. We just have to play the game we've been playing. We've played enough cricket to understand what to do when conditions change. Things have been wonderful, god has been kind. Making the team win is the most important thing for me. Not just one individual, as a team we have played good cricket. Want to come out here and have good fun. Will be a great crowd, Mumbai is known for that. Two changes. Washington Sundar will make his debut and Siraj comes in. Chahal and Bumrah miss out.
18:30 IST: India have won the toss and elected to field first on a track that Rohit reckons will remain the same throughout the match. 
18:26 IST: The pitch seems to be a good one for batting with little help for the bowlers. Another high scoring match on the cards.
18:24 IST: The players are warming up for the final encounter. India have already won the series, having beaten Sri Lanka in the first two T20Is of the three match series.
18:21 IST: India are all set to test their bench strength and the latest coming in from Wankhede is that Washinton Sundar will be making his debut in today's match.
18:20 IST: Hello and welcome to the third and final T20I of the series. India would look for a series whitewash. Sri Lanka on the other hand would be looking to end the year on a high with a consolation win.
Stand-in skipper Rohit Sharma, who equalled David Miller's record of the fastest ever T20I century during his 43-ball 118-run innings in Indore, is in top form and would love to continue his good run at his home ground. Be it KL Rahul, Shreyas Iyer, Manish Pandey or the experienced campaigner Mahendra Singh Dhoni -- all have chipped in when needed and coach Ravi Shastri would expect them to fire big time on Sunday.