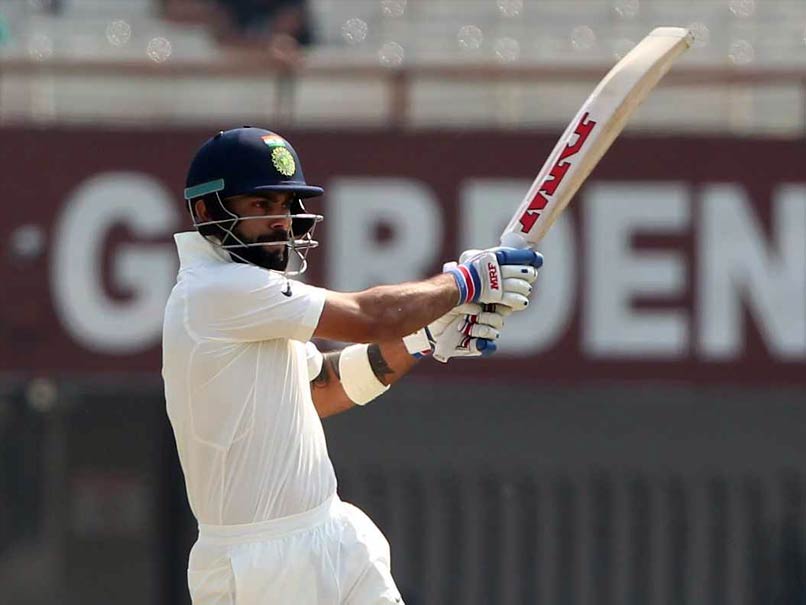 India vs Sri Lanka: Virat Kohli scored his 18th ton in the second innings of the 1st Test
© AFP
India and Sri Lanka played out a thrilling draw in the first Test of the three-match series at the Eden Gardens in Kolkata on Monday. Chasing 231 runs to win, Sri Lankan batsmen came under some heavy pressure and completely lost the plot. Bhuvneshwar Kumar (4/8) and Mohammed Shami (2/34) produced a spell of high-class fast bowling to wreak havoc on the visiting batsmen. In the end, bad light came to Sri Lanka's rescue with India just three wickets away from a sensational win.
India were bundled out for 172 in their first innings. In reply, Sri Lanka posted 294 runs in their first innings. In the second innings, India declared at 352/8 riding on an unbeaten century (104*) by Indian skipper Virat Kohli. Sri Lanka finished their second innings at 75/7. (SCORECARD)
Catch the highlights and updates of Day 5 of the opening Test between India and Sri Lanka straight from Eden Gardens.
16:27 IST- And its over. An entertaining match comes to an end. Sri Lanka held onto their nerves as they earned a hard-fought draw against hosts India at the Eden Gardens. Sri Lanka finished their second innings at 75/7 after bad light curtailed the day's play.
India 172, 352/8 decl | Sri Lanka 294, 75/7 (26.3 overs) 
16:22 IST- OUT! Cracker of a delivery by Bhuvi. He clean bowls Perera for a duck. India need 3 wickets to win. Sri Lanka 75/7
16:11 IST- OUT! Dickwella departs for 27 runs. He is out LBW by Bhuvi. India are 4 wickets away from a win. Sri Lanka 69/6
15:55 IST- OUT! Chandimal is clean bowled by Shami. Chandimal departs for 20 runs. Sri Lanka are 69/5
15:45 IST- It seems the match is heading towards a draw. Both Chandimal and Dickwella have kept their cool abd are building a partnership. A heated discussion between the Lankan batsmen and Indian skipper Virat Kohli is taking place. The on-field umpires played truce in order to continue the day's play. Sri Lanka are 62/4
15:32 IST- Chandimal and Dickwella steady Sri Lankan ship after India rattled their top order with four quick wickets. Lankans need another 179 runs to win. Sri Lanka are 52/4
15:21 IST- SIX! Dickwella hits two maximum in Shami's over. Sri Lanka are 40/4
15:10- OUT! Angelo Mathews departs for 12. He is out LBW off Umesh Yadav's ball. India are 6 wickets away from victory. Sri Lanka are 22/4 
Four down for 22.... #IndvSL pic.twitter.com/IHH2id8KOR

— Aakash Chopra (@cricketaakash) November 20, 2017
15:08 IST- FOUR! Mathews drives the ball to the mid off boundary. Sri Lanka are 22/3 
14:52 IST- OUT! Sri Lanka are in trouble after Thirimanne departs for 7 runs. Bhuvi takes his second wicket of the innings. A good low catch by Ajinkya Rahane at gully. Sri Lanka are 14/3
14:48 IST- Umesh Yadav begins the proceedings for India. The hosts need 8 wickets to win this Test match. Sri Lanka are 8/2
14:28 IST- Tea break. Shami and Kumar took a wicket each to leave Sri Lanka at 8/2. India set a 231-run target for the Lankans.
14:11 IST: OUT! Shami strikes. Karunaratne departs for 1. Sri Lanka in trouble. Sri Lanka are 2/2
That moment when the Indian Skipper asks the Eden Gardens crowd to get behind the bowlers #INDvSL pic.twitter.com/i9KqZbsFTZ

— BCCI (@BCCI) November 20, 2017
13:58 IST- OUT! Samarawickrama is clean-bowled by Bhuvi for a duck. What a start for India. Bhuvi now has 50 wickets from 19 Test matches averaging 28.66. Sri Lanka are 0/1
13:54 IST- Sri Lankan openers Sadeera Samarawickrama and Dimuth Karunaratne are out there. Bhvneshwar Kumar takes the ball for India. Sri Lanka need 231 runs to win.
13:44 IST- Virat Kohli brings up his 18th Test hundred with a SIX. Remains unbeaten on 104. His first at Eden Gardens. With this, India declare their innings at 352/8. Set 231-run target for Sri Lanka.
50th International 100 for @imVkohli ........ #Freak

— Michael Vaughan (@MichaelVaughan) November 20, 2017
13:24 IST- SIX! Kohli reaches the 90s with a huge six off Lakmal. He is now on 94. A maximum away from his century. India are 331/8
13:29 IST- OUT! Bhuvneshwar Kumar departs for 8. Good catch by Dilruwan Perera off Gamage's delivery. India are 321/8
13:17 IST- Kohli is going berserk now. Three boundaries in the over. Shanaka is getting hammered by the Indian skipper. Kohli is now on 86. India are 314/7
Abhi world mein 2 top drivers hain, ek toh Lewis Hamilton aur doosre Virat Kohli....sublime. #IndvSL

— Aakash Chopra (@cricketaakash) November 20, 2017
It has been some half hour this! Kohli has just so easily got that scoreboard moving. Don't think Sri Lanka have enough time now....

— Harsha Bhogle (@bhogleharsha) November 20, 2017
13:13 IST- 300 up for India. Kohli reaches 300 in style with an immaculate straight drive. The ball races towards the boundary increasing India's lead over Sri Lanka by 179 runs. India are 301/7
13:11 IST- Original decision was out. Review taken by Kohli. Successful review. On-field decision is reversed. India are 297/7
13:10 IST- FOUR! Kohli slams his 9th boundary with an exquisite cover drive. He is now on 72 runs. India are 295/7
13:00 IST- Second new ball taken. Kohli slams Lakmal to the boundary. Kohli has been the lone ranger in India's second innings. India now lead Sri Lanka by 164 runs. India are 286/7
12:55 IST- OUT! Saha departs for 5, Sadeera takes a good low catch. India lose its seventh wicket. India are 281/7
12:44 IST- India extend their lead to 152 runs. Kohli looks relaxed with the bat. Saha opens his account with a single on the onside. India are 274/6
12:35 IST- OUT! Ashwin clean bowled by Shanaka. He departs for 7 runs. He couldn't read the length of the ball and the middle-stump is dislodged by Shanaka. India are 270/6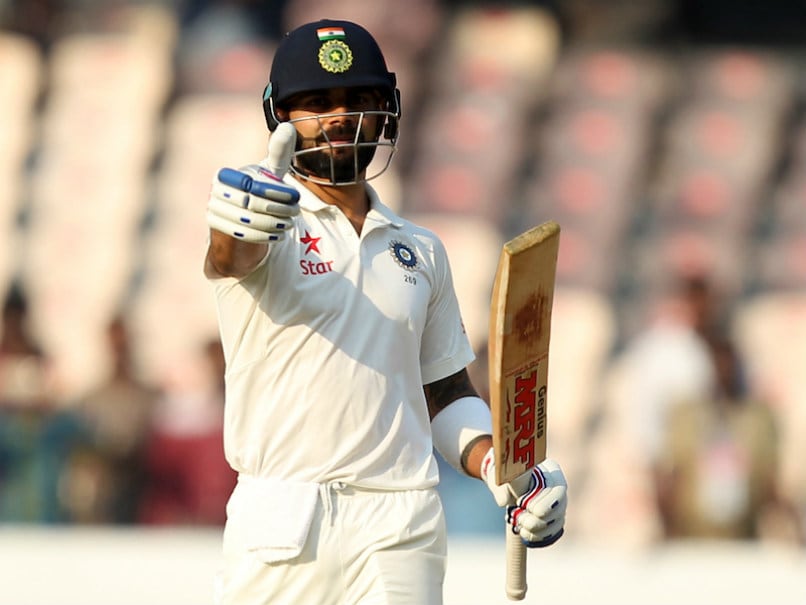 12:26 IST- FIFTY for Virat Kohli. His 15th Test fifty. His exquisite shot selection coupled with patient batting helped India rebuild after losing wickets in quick succession in the first session prior to the lunch. India are 268/5 
FIFTY! 15th Test 50 for @imVkohli #INDvSL pic.twitter.com/lHZMZzsU0z

— BCCI (@BCCI) November 20, 2017
12:16 IST- Ashwin is off the mark with a boundary. Well placed onto the gap between the slip and gully. The ball races to the boundary. India are 256/5
12:12 IST- Dasun Shanaka takes the ball for Sri Lanka. Ashwin on strike. He is yet to open his account in the second innings. India are 251/5 
12:10 IST- We are back after the lunch session. India resume their innings. It seems this match is headed towards a draw.
11:33 IST- Lunch. Kohli has been on top form today and remains unbeaten on 41. Sri Lankan pacers Lakmal and spinner Dilruwan Perera took the four wickets that fell in the first session. India lead by 129 runs.  India are 251/5.
If you are searching really, 190 in 40 overs........ https://t.co/O6RxlZkiJz

— Harsha Bhogle (@bhogleharsha) November 20, 2017
11:19 IST- OUT! Dilruwan Perera strikes. India lose their 5th wicket, Jadeja departs for 9. Good low catch by Thirimanne. India are 249/5
11:18 IST- Kohli-Jadeja pair is stabilising the Indian innings after an initial jitter. Is this match heading towards a draw or is there a twist in the tale?
India are 249/4
11:06 IST- FOUR! A Virat Kohli special shot. Driven straight to the long on for a boundary. Kohli is now on 33 off 47 balls. India are 240/4
11:03 IST- FOUR! Virat, on the back foot, hits the ball straight to the sweeper for a boundary. A little wide by Gamage, Kohli gives the necessary treatment to the ball. India are 235/4
TRIVIA: Virat Kohli at Eden Gardens
Matches 4
Runs 107
Average 17.83
10:58 IST- Kohli is now anchoring the Indian innings with support from Jadeja. Kohli is now on 23. India lead the visitors by 107 runs. India are 229/4
10:40 IST- FOUR! Beautifully driven to the off side by Kohli. The balls stayed in the air for sometime but the shot was decent pace behind it to see it reach the boundary. India are 224/4
10:35 IST- Lakmal has been terrific for the visitors. A slight niggle has forced him out of the ground. His quick two wickets derailed India for sometime and onus now on Jadeja and Kohli to ensure they don't give away their wickets. India are 216/4
10:30 IST - Drinks break taken. India are 215/4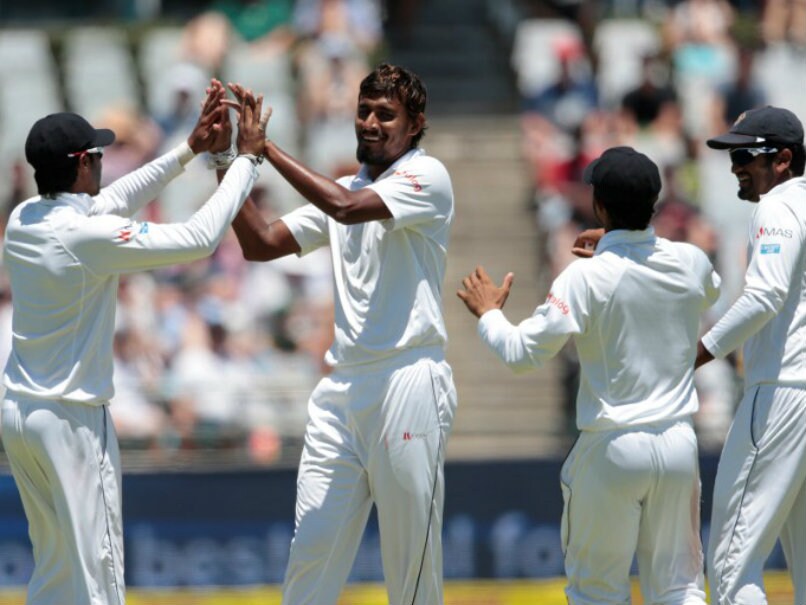 10:18 IST - OUT! LBW decision reviewed after initial decision says OUT. India lose their review. Rahane departs for a duck. Lakmal strikes again in the same over. Back-to-back wickets for the Lankan pacer. Next batsmen Ravindra Jadeja. India are 213/4
10:10 IST- OUT! Unexpected bouncer foxes Pujara. Good low catch by Dilruwan Perera at gully.  Decision gone to the third umpire. Pujara departs for 22. India are 213/3
10:02 IST- Three runs off Gamage's over. Kohli looks at ease on the crease unlike the first innings. India are 205/2
09:52 IST- 200 comes up for India. They extend lead to 78 runs. Kohli defends the ball for a quick single. India are 200/2
09:45 IST- FOUR! Scare for Indian skipper Virat Kohli. Dickwella misses it. India are 199/2
09:38 IST- WICKET! Lokesh Rahul misses out on his hundred. Clean bowled by Suranga Lakmal on 79. India lead Sri Lanka by 70 runs. India are 192/2
09:35 IST- India extend their lead to 70 runs. KL Rahul is batting at 79 and Pujara at 16.
09:28 IST- India have begun on a positive note. They are hitting boundaries every over. They are scoring at 6 runs per over in the first session of Day 5. India are 190/1
09:25 IST- Back-to-back FOURS! First one was beautifully driven onto the off-side while the second was a full delivery which Pujara ensured reached the boundary. India are 189/1 
09:21 IST- TRIVIA! Cheteshwar Pujara becomes the third Indian cricketer, after Ravi Shastri and ML Jaisimha to have batted on all 5 days of a Test match. 
09:15 IST- Lokesh Rahul faces Dasun Shanaka for the first ball of the fifth day. Slides the ball to the the on-side region for a quick single. India are 174/1
09:10 IST - Hello and welcome to the live blog of Day 5's play at the Eden Gardens between India and Sri Lanka.  India ended the day on 171-1, leading by 49 after wiping out a 122-run first-innings deficit.
For India, pacer Mohammed Shami dismissed both overnight batsmen, Niroshan Dickwella and Chandimal, to check Sri Lanka's progress on the morning of day four. Wicketkeeper-batsman Dickwella, who made 35, and Chandimal, 28, had scored briskly to extend their partnership to 62. Bhuvneshwar claimed four wickets each while third seamer Umesh Yadav chipped in with two. The visitors are seeking their first Test win on Indian soil in the three-match series.