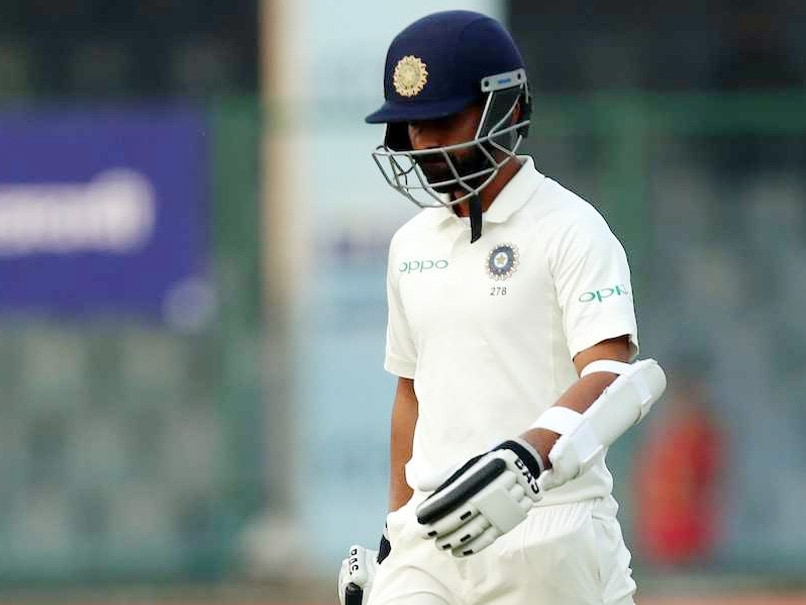 Ajinkya Rahane was dismissed for 1 on Day 1 of the 3rd and final Test.
© AFP
Sanjay Bangar, Indian cricket team's batting coach, has come out in strong defence of Ajinkya Rahane after he was dismissed for 1 on the opening day of the third and final Test against Sri Lanka at the Feroz Shah Kotla, New Delhi. Rahane was the only Indian batsman to be dismissed for a single digit score as skipper Virat Kohli and Murali Vijay made merry on a placid batting track. Rahane has been in some miserable form in the ongoing three-match series but Bangar said that Rahane is a quality batsman and has the ability to bounce back quickly.
While other Indian batting stars have plundered the Sri Lankan bowling attack, Rahane has managed a total of a mere seven runs from four innings at an average of 1.75.
"I think that would be hurting him definitely but he is a quality player. And going forward, even his overseas record has been phenomenal. Yeah, he would be disappointed. He is a quality player and has the ability to bounce back quickly," Bangar exuded confidence.
The Indian middle-order bat came to the crease after a mammoth 283-run partnership between Kohli and Vijay, and with India in complete control. But Rahane failed to take advantage of the situation and was stumped off the bowling Lakshan Sandakan for 1.
By Rahane's loft standards, the dismissal was an extremely soft one and Bangar said that the Indian batsman would be hurting with the manner he got out.
"He (Rahane) would be disappointed in the manner he got out. He is somebody who works hard on his game, like all players do. May be last match (trying to square cut off-spinner Dilruwan Perera) and this match (stumped off Sandakan), he erred in shot selection," Bangar said at the end of the first day's play of the third Test against Sri Lanka.
"He is one of the few players who has scored in every overseas country we have toured. That shows the quality he possesses. He is a quality player who has always performed when the chips are down for the team. He will be hurting with the kind of dismissals he has had but he is too good a player to not score runs for a long time."
Meanwhile, Bangar pointed to the country's diverse soil and climatic conditions for the curators' failure to provide the team management with pitches of their choice.
Asked if this is an ideal wicket for preparation for the all-important South Africa tour, Bangar spoke about the helplessness of the curators.
"The nature of surfaces cannot be consistent since we are a diverse country and as we hop from region to region, the nature of the pitch is changed. Even though we wanted to have a wicket with pace and bounce, with a bit of grass cover, the curators can only do as much because it all depends on nature of the soil, which is peculiar (he perhaps meant unique) to a particular region," said Bangar.
(With PTI Inputs)