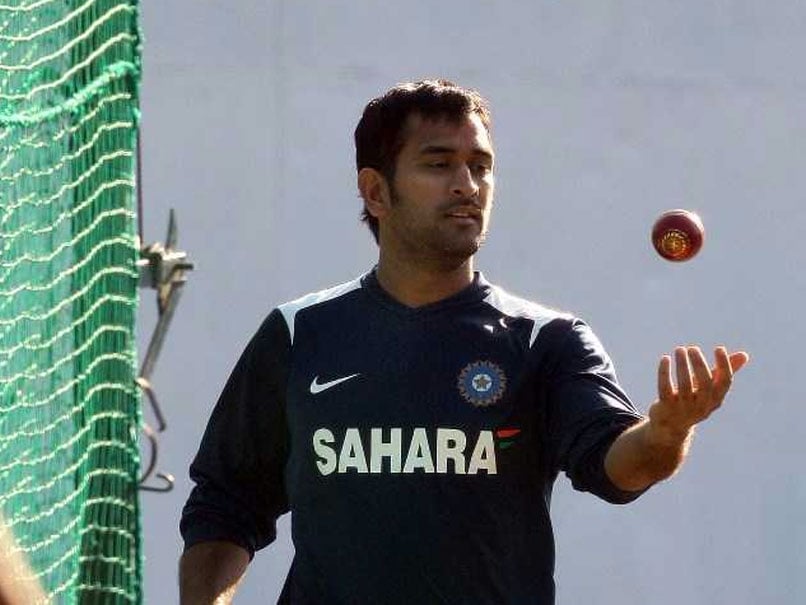 MS Dhoni has one wicket in One-Day International (ODI) cricket.
© AFP
Mahendra Singh Dhoni is a man of multiple abilities and talent. It's hard to think of things that Dhoni can't do on a cricket field. Everyone knows his prowess with the bat and his capabilities behind the stumps, but one thing that the former India captain does quite well but has sort of gone under the radar is bowling. Dhoni has bowled 36 balls in ODIs, 96 in Tests and 12 in T20Is but this aspect of his game has rarely been spoken about. On Saturday, ahead of the first ODI against Sri Lanka at Dharamsala, the BCCI's official Twitter handle posted a video of Dhoni bowling in the nets to Axar Patel and fans were left spellbound by what transpired.
In the video, Dhoni can be seen bowling medium pace, around the wicket, to left-hander Axar Patel. The slow motion shows Dhoni clearly bowling a big no-ball but that is not the point of interest. 
After that Dhoni bowls three deliveries to Axar, who manages to get bat to just one ball, the rest to he is beaten all ends up by some immaculate swing bowling by India's former captain.
Is there anything that @msdhoni cannot do? You have seen him bowl leg spin now it is time for seam up. #INDvSL pic.twitter.com/8WLuKnyyE5

— BCCI (@BCCI) December 9, 2017
The post was a superhit, garnering more than 880 retweets, over 4,400 likes and close to 150 replies at the time of writing this.
There were a few naysayers, who pointed to the Dhoni overstepping but largely fans were left amazed at Dhoni's skill with the ball.
With the way he's bowling and having Karthik in the team can't he play as much as an all rounder? He's bowling as fast as hardik Pandya.

— Pradhyoth (@Pradhyoth1) December 9, 2017
Great @msdhoni

— Biswanath Mishra (@babunmishra706) December 9, 2017
Agarker might take some bowling lessons from @msdhoni

— Jinil James (@Jinil_James_Jr) December 9, 2017
Thala #msd King

— prabu vijay (@prabu39561601) December 9, 2017
want to see @msdhoni bowling at next #odi

— Yavan Sharma (@yavansharma264) December 9, 2017
He can do anything #MahinderBahubaliDhoni #INDvSL

— TestCaptain (@TestCaptain1) December 9, 2017
Thala Axar is beaten all ends up we love to c MSD bowling in this series, as we hav DK in the 11 #INDvSL

— Bharath (@iam_Bharath_R) December 9, 2017
absolutely nothing that he cannot do in cricket field. !! he is super man and he can do any thing!!! love you @msdhoni

— Gavin George (@GavinalphaGavin) December 9, 2017
Dhoni returns to the India fold after a brief spell away with India playing three Tests against visiting the Lankans. The 36-year-old will have to mentor stand-in captain Rohit Sharma in the ODI series with regular skipper Virat Kohli being rested from the limited-overs series.
India will aim to go on top of the ICC One-Day International (ODI) rankings when they take on Sri Lanka for a three-match ODI series starting on December 10. India, on 120 points in the rankings, are one point behind South Africa.
However, if they win the first match in Dharamsala they will overtake the Proteas with 121 points. But in order to maintain the top spot, India will have to win the ODI series 3-0. India are currently the top-ranked side in Test.