Story Progress
Back to home
Highlights, India vs Sri Lanka, 1st ODI: Visitors Beat Hosts By Seven Wickets
Highlights, India vs Sri Lanka: Thisara Perera-led team beat India by seven wickets at Dharamshala.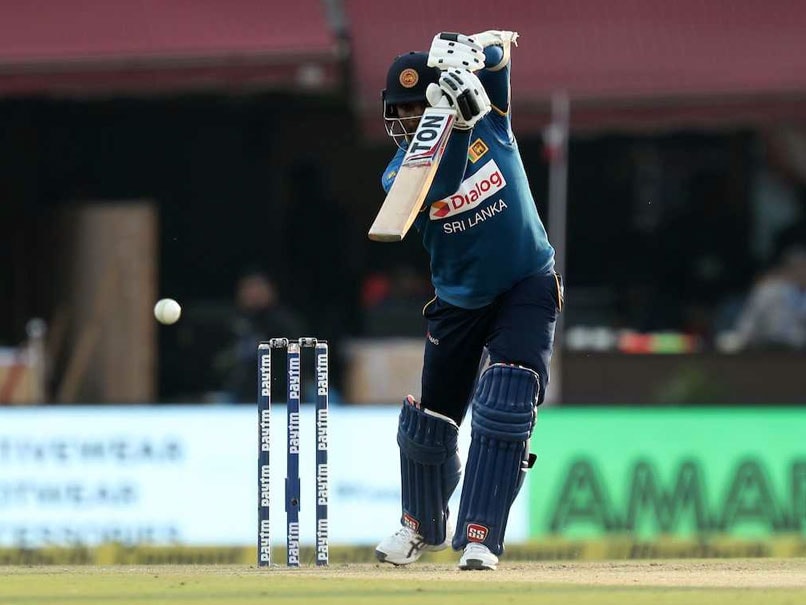 Highlights: Sri Lanka beat India by seven wickets, lead series 1-0.
© BCCI
Thisara Perera-led Sri Lanka bounced back from their Test series drubbing in style by beating India by seven wickets in the opening game of the three-match One-Day International (ODI) series at Dharamshala on Sunday. The Lankan lions left the number two ODI ranked team embarrassed as their bowlers did not allow the famed Indian batting line-up to perform to their capabilities. Winning the toss, Perera elected to bowl and put India into bat. Sri Lanka pacers Suranga Lakmal and Angelo Mathews ripped through the Indian batting top-order in swinging conditions as the home side were bowled out for 112. India, however, struck early through Jasprit Bumrah and Bhuvneshwar Kumar to reignite their hopes of an unlikely win. But a brilliant 49 from Upul Tharanga and a 49-run unbeaten stand between Angelo Mathews (25) and Niroshan Dickwella (26) got the visitors comfortably across the line. (Scorecard)
Highlights of India vs Sri Lanka 1st ODI, straight from HPCA Stadium, Dharamshala
17:22 IST: Thank you for joining us for the live blog. Tune back in on December 13 for the second ODI at Mohali.
17:10 IST: And it is done! Mathews drives Bhuvneshwar straight down the ground to beat India by seven wickets.
17:07 IST: Sri Lanka need 4 runs to win!
17:03 IST: Back-to-back boundaries from Dickwella off Hardik. He is in a hurry!
17:02 IST: Four! Width from Hardik and Dickwella drives it for a boundary.
17:01 IST: 100 comes up for Sri Lanka in the 19th over.
17:00 IST: Four! Short delivery from Bhuvneshwar, Dickwella pulls it away for a boundary.
16:57 IST: Four! Mathews crashes at the width, carves Bumrah over point for a boundary.
16:52 IST: Four! Lack of width from Hardik but Dickwella manages to edge the ball past the wicket-keeper.
16:48 IST: Four! Bumrah bowls a tad bit outside off and Mathews rocks back and hits the ball for a boundary.
16:44 IST: After the 15th over, Sri Lanka 76/3, need 37 runs.
16:42 IST: Four! Mathews gloriously drives Hardik through the on-side to end the 15th over. And it is drinks!
16:32 IST: OUT! Hardik Pandya gets the length right, has ball wobbling away from a straightish line as Tharanga (49) edges it to Dhawan at slips, who takes the catch in the second attempt.
16:28 IST: Four! Short from Hardik and Tharanga pulls it away with authority.
16:27 IST: Close! Brilliant seam movement from Bhuvneshwar, Tharanga edges the ball but falls short of Dhawan at slips.
16:21 IST: Four! Back-to-back boundaries from Tharanga off Hardik Pandya. It looks like the visitors are in a hurry to finish off the game.
16:17 IST: After 10 overs, Sri Lanka 42/2. Need 71 runs to win with eight wickets remaining.
16:14 IST: Angelo Mathews gets off the mark on the 11th delivery.
16:13 IST: Four! Slow yorker from Bumrah and Tharanga edges it past the wicket-keeper for a boundary.
16:09: IST: Four! Back-to-back boundaries for Tharanga off Bhuvneshwar. Picks it off the pads and chips it over the leg-side.
16:08 IST: Four! Width from Bhuvneshwar Kumar, Tharanga frees his arms and slices the ball behind point for a boundary.
16:04 IST: Another wicket maiden for India, this time from Bhuvneshwar. 
15:59 IST: OUT! Bhuvneshwar cramped Thirimanne for space as the latter dragged the ball back to the stumps. Sri Lanka 19/2.
15:54 IST: No ball! Upul Tharanga edges the ball to Kedar Jadhav at gully but Bumrah has over-stepped the line. So it is not a wicket but a free-hit instead.
15:50 IST: After 5 overs Sri Lanka 12/1.
15:48 IST: Wicket maiden over for Jasprit Bumrah.
15:46 IST: OUT! Gunathilaka looking to break the shackles, makes room for himself, trying to go over the bowler's head, edges it back to the keeper, departs for one. Sri Lanka 7/1 in 3.4 overs.
15:41 IST: After three overs, Sri Lanka 7/0.
15:40 IST: Four! Wide and full from Bhuvneshwar, Gunathalika guides it away for the first boundary of the Sri Lankan innings.
15:37 IST: Close! Full delivery from Bumrah, entices Gunathilaka for a drive as the ball moves away further. The Indian is looking for the outside edge.
15:35 IST: Jasprit Bumrah to share the new ball with Bhuvneshwar.
15:34 IST: Good first over from Bhuvneshwar, concedes only two runs. Sri Lanka 2/0 after the first over.
15:31 IST: Bhuvneshwar Kumar is opening the bowling for India.
15:30 IST: Welcome back to Sri Lanka's chase. Danushka Gunathilaka and Upul Tharanga opening the batting for Sri Lanka.
14:44 IST: OUT! Dhoni trying to go big and ended up slicing it for the man at sweeper cover to take it. He departs for 65. India all-out for 112 in 38.2 overs.
When the going gets tough, the tough get going. Was amazing from @msdhoni . But with just 112, doesn't look like this one is going to be a contest.#INDvsSL

— Mohammad Kaif (@MohammadKaif) December 10, 2017
There's only one thing cooler than the Dhauladhar Mountain Range in Dharamsala...that's MSD. Supercool under pressure. #IndvSL

— Aakash Chopra (@cricketaakash) December 10, 2017
Considering what transpired before they got together, this is like a triple century partnership between @msdhoni and Kuldeep Yadav!

— Cricketwallah (@cricketwallah) December 10, 2017
14:39 IST: Dhoni is dealing in boundaries and sixes now. India will look to score as much as they can
14:36 IST: SIX! Dhoni dances down the track and hits it for a maximum. India go past 100
14:33 IST: Fifty for MS Dhoni. That was a full toss and he timed the drive through the covers for a four. The team management applauds
One man standing tall & gets to yet another valuable half century. @msdhoni in full flow at the moment #INDvSL pic.twitter.com/0SVWHkB4EU

— BCCI (@BCCI) December 10, 2017
14:29 IST: SIX! Dhoni stays on the backfoot and smashes it powerfully over long-off for the first maximum of the match
14:25 IST: OUT! Bumrah tries to go for a big shot but misses it completely. Dhoni is the last man standing now amid wreckage
14:23 IST: MS Dhoni fails to get a single as Dananjaya bowls a maiden over
14:20 IST: Review! Impact outside and missing the stumps. Bumrah survives. India 87/8 after 33 overs. 
14:19 IST: A loud shout for an LBW and given out by the umpire. India go for the review
14:18 IST: MS Dhoni takes a single off the fourth delivery. Two balls to negotiate for Bumrah 
14:15 IST: Dhoni clobbers the drive and manages to get a single in the last delivery of the over
14:11 IST: FOUR! Dhoni smashes it using his strong bottom hand for a boundary towards sweeper cover. India 85/8 after 31 overs
14:10 IST: Sri Lanka's second spinner Sachith Pathirana comes into the attack now.
14:05 IST: Fuller length delivery outside off and it takes the toe-end of the bat as Dhoni was trying to leave it alone. India 80/8 in 29 overs
14:00 IST: India 80/8 after 28 overs. Dhoni 33*, Bumrah 0*
13:57 IST: FOUR! Dhoni comes down the track again and connects well for a boundary off  Dananjaya
13:51 IST: FOUR! Full toss by Perera and the ball takes the inside edge of Dhoni's bat. 
13:47 IST: OUT! Kuldeep Yadav's foot was on the line and the umpire has given that out. Dananjaya strikes on the first ball itself. Kuldeep Yadav goes for 19
13:46 IST: And straightaway. They have gone up for a stumping appeal. 
13:45 IST: Akila Dananjaya comes into the attack now.
13:39 IST: Four! Short and wide from Perera and Dhoni slaps it away for a boundary over the point fielder.
13:37 IST: Four! Wide delivery from Pradeep and Kuldeep guides it away for a boundary.
13:35 IST: Four! Short delivery from Nuwan Pradeep and Dhoni pulls away for a boundary. With this boundary India evaded the risk of registering their lowest ever ODI total.
13:30 IST: FOUR! MS Dhoni dances down the track but the ball takes the inside edge. Another boundary for the former India captain
13:28 IST: FOUR! Outside edge but Kuldeep Yadav survives. He was trying to play towards the leg side, couldn't judge the swing. All's well that ends well. India 44/7
13:26 IST: FOUR! What a shot. The ball was pitched on the leg side and Kuldeep Yadav flicked it towards square leg for his first boundary. India 40/7 in 21.3 overs
13:22 IST: FOUR! MS Dhoni dances down the track and smashes it for a boundary towards covers. First boundary for him. 
13:20 IST: MS Dhoni goes for a big heave but misses it completely. India 29/7 after 20 overs. 
13:12 IST: A large appeal for an LBW but the umpire turns it down. Sri Lanka are going for a review. The third umpire stands by the Not-Out decision. Dhoni survives. 
13:07 IST: Suranga Lakmal finishes his spell with the figures of 10-4-13-4. 
This might take you by surprise, but the batsman best equipped to handle these conditions in this batting group is Mahendra Singh Dhoni.#dharamsala#IndvSL

— Sanjay Manjrekar (@sanjaymanjrekar) December 10, 2017
13:02 IST: OUT! Edge and caught by Dickwella. India in absolute shambles as they lose their seventh wicket. Bhuvneshwar goes for a duck
12:57 IST: India's lowest score in ODIs is 54 vs Sri Lanka at Sharjah in 2000.
12:55 IST: Appeal for an LBW but turned down by the umpire. But optimistic Sri Lanka are going for the review. Not-Out! It's an umpire's call but they will not lose the review
12:52 IST: OUT! Pandya steps down the track but decided to leave the ball at the end. Absolutely nothing shot by the batsman as India sink further. India 28/6
12:48 IST: FOUR! Superb shot by Hardik Pandya. Pandya leans forward and drives it in the gap past cover-point
12:45 IST: FOUR! Outside edge and will go for a four towards the third-man area. Hardik Pandya it is. Second boundary of the innings
12:40 IST: Bowled him! Inside edge and Shreyas Iyer falls this time. India have lost half-their-side and are in dire straits at the moment. India 20/5 after 14 overs
12:39 IST: MS Dhoni, the most experienced in this line-up, comes to the crease now. A big responsibility on his shoulders 
12:35 IST: Wicket!  Lakmal is on fire and the Indians are clueless at the moment. Manish Pandey goes for two
12:30 IST: On a good length and a hint of shape back into the right-hander Shreyas Iyer. Poor footwork by the batsman. 
12:25 IST: India are 12/3 after 11 overs. Manish Pandey 1, Shreyas Iyer 6
12:20 IST: Leading edge and safe. Gunathilaka did all he could to get his fingers underneath the ball, but takes it on the half-volley diving forward.
12:14 IST: Wicket! Rapped on the pads and given out by the umpire. Karthik wants a review but time-up, says the umpire. India lose their third wicket
12:10 IST: India are 8/2 after 8 overs. A very slow start by the Indians. Karthik is yet to get off-the mark in 14 balls, while Shreyas Iyer is on 5 off 12 deliveries. 
12:08 IST: Another loud shout for LBW by Mathews but the on-field umpire turns down the appeal. However, this time Sri Lana do not opt for a review.
12:04 IST: India 6/2 in seven overs. Karthik and Iyer out in the middle.
11:59 IST: Four! Shreyas Iyer gets off the mark with a boundary on the 11th ball. First boundary for India in the innings.
11:55 IST: Sri Lanka have been brilliant with the ball as the Indian batsman are struggling to get runs on the board.
11:51 IST: Dinesh Karthik is the new man in.
11:50 IST: OUT! Niroshan Dickwella appeals for caught behind but the on-field umpire turns it down. Sri Lanka take a review yet again and are successful as the ball had grazed the bat a little bit. Lovely line from Lakmal, shortens his length and straightens a tad, Rohit was moving forward in defence, the ball grazed the outside edge and Dickwella held on. India 2/2 in 4.1 overs.
11:48 IST: Yet another maiden from Mathews! India are completely on back-foot at the moment.
11:42 IST: Rohit Sharma gets the first run on board for India after 15 deliveries. Lankan bowlers have been on-point with the ball till now.
11:40 IST: Shreyas Iyer is the new man in.
11:39 IST: OUT! Front-foot is fine and no bat is involved. Impact was in line, ball pitched in-line and hitting the wickets. Dhawan is out as the stadium goes silent. Dhawan was shuffling across on the flick, the bat came at an angle and was beaten on the inside edge. India 0/1 in 2 overs.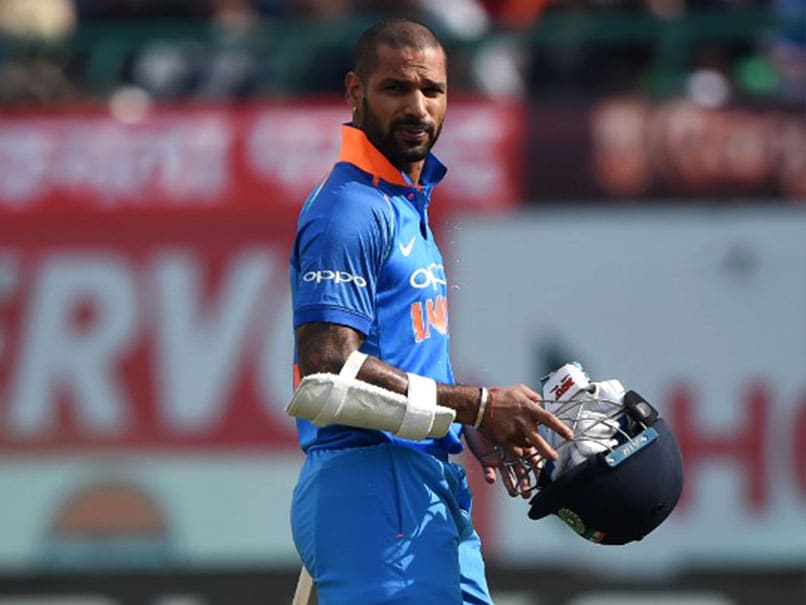 11:38 IST: Huge LBW appeal from Mathews, on-filed umpire turns down the appeal. But Thisara Perera and Mathews take their review.
11:36 IST: Angelo Mathews is sharing the new ball with Lakmal.
11:34 IST: Maiden first over for Sri Lanka.
11:31 IST: Brilliant first ball from Lakmal. Forcing Rohit to play as he edge sthe ball to second slip but the ball doesn't carry. 
11:30 IST: Rohit Sharma and Shikhar Dhawan are opening the batting for India. Suranga Lakmal opening the bowling for Sri Lanka.
11:25 IST: Both teams are on the ground for their respective national anthems.
11:15 IST: Sri Lanka playing XI: Upul Tharanga, Danushka Gunathilaka, Lahiru Thirimanne, Angelo Mathews, Asela Gunaratne, Niroshan Dickwella(w), Thisara Perera(c), Sachith Pathirana, Suranga Lakmal, Akila Dananjaya, Nuwan Pradeep
11:12 IST: Shreyas Iyer is making his ODI debut. Big day for the young cricketer. 
11:11 IST: Team India playing XI:
Here's the 11 that will take the field for #TeamIndia in the 1st ODI against Sri Lanka #INDvSL pic.twitter.com/BaYa66wuha

— BCCI (@BCCI) December 10, 2017
11:03 IST: Team India practicing before the match.
#TeamIndia going through the drills at the picturesque Dharamsala. Action to unfold soon #INDvSL pic.twitter.com/olqiuiGt4g

— BCCI (@BCCI) December 10, 2017
11:00 IST: Sri Lanka captain Thisara Perera wins toss, opts to bowl.
Toss time - The visitors have won the toss and will bowl first #INDvSL pic.twitter.com/Xg6uj88x6M

— BCCI (@BCCI) December 10, 2017
10:44 IST: Kedar Jadhav has been ruled out with hamstring injury and Shikhar Dhawan was down with fever yesterday. It will be interesting to see India's playing XI in the opening game
10:42 IST: The 1st ODI between India and Sri Lanka will be played at the picturesque HPCA stadium at Dharamshala and India team minus Virat Kohli will eye another whitewash against depleted Sri Lanka side
10:40 IST: Hello and welcome to the live blog
Dinesh Karthik and Mahendra Singh Dhoni are likely to take the next two slots. Kedar Jadhav has been ruled out due to injury, Shreyas Iyer or Manish Pandey might get a look-in. Karthik had scored a fifty in the two chances that he got in the West Indies series, while against New Zealand the wicket-keeper batsman hit scores of 37, 64 not out and 4 not out in the three games. Dhoni, on the other hand, had faced criticism when he struggled to get going in the second T20I against New Zealand which the hosts lost by 40 runs and the former skipper will look to silent his detractors. All-rounder Hardik Pandya will continue to be a vital cog in India's wheel as he completes what has been an exception year in international cricket for him. One among orthodox leg-break bowler Yuzvendra Chahal and chinaman Kuldeep Yadav will be in the playing XI along with Axar Patel, whose primary job is to restrict runs. Jasprit Bumrah and Bhuvneshwar Kumar will spearhead the pace department and the visitors will have a tough time dealing with them in the opening as well as at death overs. Among others, it will be interesting to see if skipper Rohit decides to give rookie Siddarth Kaul a chance as a third pacer at the HPCA Stadium, which is expected to aid swing bowling.
Sri Lanka have shown the stomach for a fight in the Delhi Test after barely managing to save the first Test in Kolkata and losing the second at Nagpur and they would be eager to erase the ignominy of losing 0-5 at home in September.
The visitors were also humiliated 0-5 by Pakistan in their last bilateral series in October and it will take really a special effort from Thisara Perera's men to tame India at their own backyard.
For Sri Lanka, Kusal Perera and Asela Gunaratne is returning to the team after recovering from injuries and a lot will depend on these players.
Sri Lanka will bank on young batsman Dhananjaya de Silva, who scored a fighting century in the third Test to force a draw at Delhi.
Teams:
Promoted
India: Rohit Sharma (Captain), Shikhar Dhawan, Ajinkya Rahane, Shreyas Iyer, Manish Pandey, Washington Sundar, Dinesh Karthik, MS Dhoni (WK), Hardik Pandya, Axar Patel, Kuldeep Yadav, Yuzvendra Chahal, Jasprit Bumrah, Bhuvneshwar Kumar, Siddarth Kaul.
Sri Lanka: Thisara Perera (capt), Upul Tharanga, Danushka Gunathilaka, Lahiru Thirimanne, Angelo Mathews, Asela Gunaratne, Niroshan Dickwella (wk), Chaturanga de Silva, Akila Dananjaya, Suranga Lakmal, Nuwan Pradeep, Sadeera Samarawickrama, Dhananjaya de Silva, Dushmantha Chameera, Sachith Pathirana, Kusal Perera.