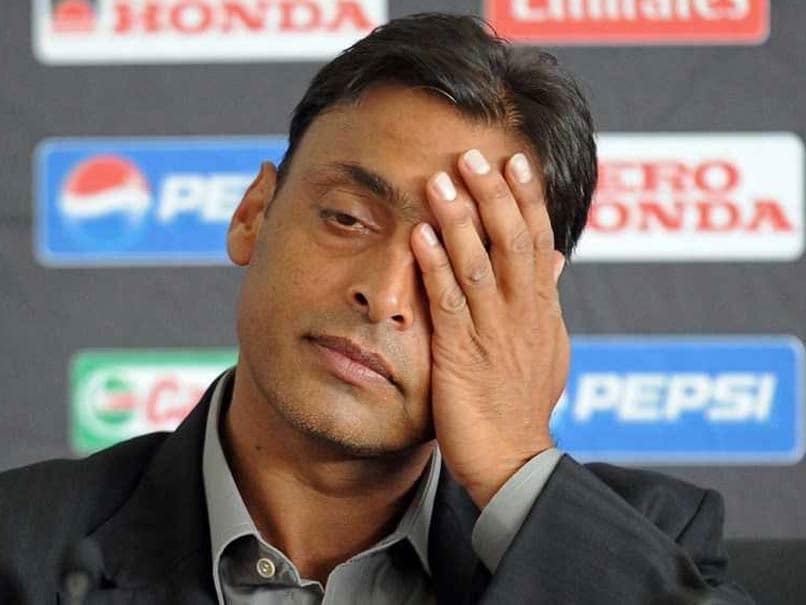 Shoaib Akhtar was trolled after he expressed his opinion about the pitch-tampering scandal in Pune.
© AFP
Former Pakistan pacer Shoaib Akhtar came out with a strong statement against the pitch-tampering allegations that surfaced before the start of the 2nd ODI between India and New Zealand in Pune. The fiery fast bowler tweeted to say that he was "shocked and speechless" to hear about the scandal and asked that it be dealt with an "iron fist". However, Indian fans on Twitter asked Akhtar to "keep calm" and worry about Pakistan's cricketing affairs. Pandurang Salgaoncar, the pitch manager at the Pune ground, was allegedly exposed during an undercover sting by India Today that claimed he doctored the surface ahead of Wednesday's match.
ICC officials cleared the match to start on schedule after India's cricket board banned Salgaoncar from the Maharashtra Cricket Association (MCA) ground. India went on to beat New Zealand by six wickets to level the three-match ODI series 1-1.
Am shocked and speechless to hear about this new #pitchfixing scandal. #INDvsNZ

— Shoaib Akhtar (@shoaib100mph) October 25, 2017
Even if this is #pitchfixing is rumor or a joke it should be dealt with an iron fist coz the game has already been damaged alot!!

— Shoaib Akhtar (@shoaib100mph) October 25, 2017
While Pakistani fans were in agreement with Akhtar, Indian fans decided to strike back.
Hey champ...Pitch curator is already suspended with immediate effect...cool down my Love...its just a Sting not any proof against anyone.

— Urmila Roy (@ummii_roy) October 25, 2017
Abe damage to tab hua jab amir ki wapsi hui 5 saal baad Pakistan mein 5 saal baad desh bhakti ka certificate mil gya

— virat ka kya (@kya_virat) October 25, 2017
Buss Kar Pakistan players fixing mein PHD kar chuka hai aur tu hume pitch fixing ka gyaan de raha hai Remember 2010 lords test match

— Mayanti Langer (@Langer_Mayanti) October 25, 2017
Me bhi shocked huaa mujhe Maloom pda ki Sarjeel Khan fixing scandal me fas gaye

— Ashvani Thakur (@ThakurAshvani1) October 25, 2017
Why are u shocked? Its regularly happening in Pakistan, like ball tampering, match fixing, spot fixing, sab ka fixing

— Chetan D Naik (@ChetanNaik84) October 25, 2017
Look who is talking about fixing.

— Md AdNaN (@TaimooriAdnan) October 25, 2017
tht fixer was a reporter who record the whole thing.tht was not real..but still bcci fired the pitch curator...thts how u deal with cheaters

— I'm Just Saying (@BornOffencive) October 26, 2017
Keep calm and celebrate your only CT17 win

— Sai Nivedh (@SAINIVEDH) October 25, 2017
Had you and your unruly behavior dealt with iron fist, things were a lot more different.

— Manish Mishra (@egalitariansoul) October 25, 2017
The Board of Control for Cricket in India (BCCI) banned Salgaoncar soon after he was seen promising a favourable track to reporters who posed as bookies.
Salgaoncar also showed the men around the Pune surface the day before the ODI, breaching the ICC rules governing access to the pitch.
The 68-year-old was a fast bowler from Maharashtra state in the 1970s before taking up the role of curator with the state association. He played a total of 63 first-class games.
Earlier this year as well, Salgaoncar was in dock when ICC match referee rated Pune's pitch as poor after the end of the first Test between India and Australia.
The match had ended on the third day with the visiting team defeating India by a margin of 333 runs.