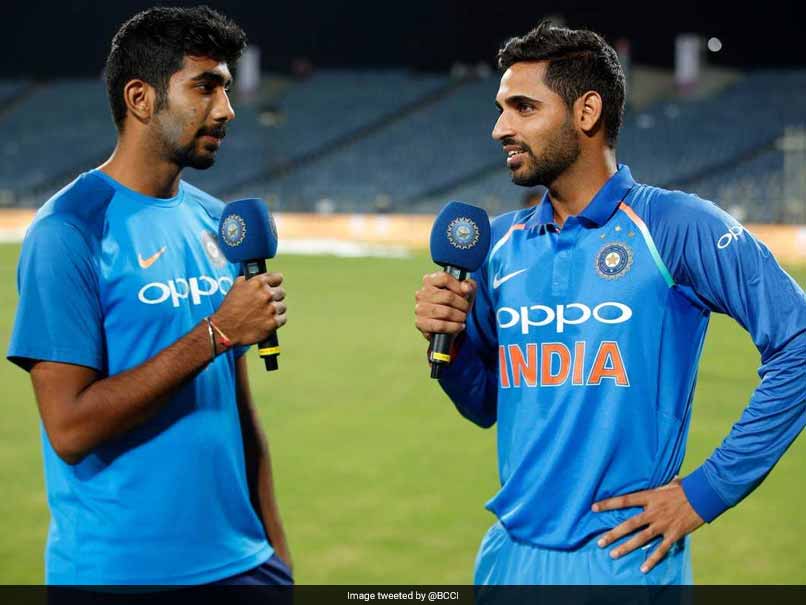 Bhuvneshwar Kumar's 'knuckle ball' has yielded high returns.
© Twitter
Bhuvneshwar Kumar started off as swing bowler but off late has reinvented himself, adding some extra pace to his bowling. The change has not been all positive as the medium-pacer has lost out on some the prodigious swing he used to rely on so heavily. However, that has not deterred the Indian fast bowler and he has only improved with each passing day, bringing in new variations to his game. Bhuvneshwar has struck a deadly partnership with Jasprit Bumrah, both at the beginning and at the end of an inning. In the past year, Bhuvneshwar has played 20 matches for India, taking 24 wickets at a brilliant economy rate of 4.82. He now doesn't just rely on his pace and swing, he added a new ball to his arsenal during the Indian Premier League (IPL) 2017 and that has paid rich dividends.
Following the hosts' comfortable six-wicket win over New Zealand in the second ODI in Pune, India's two speedsters -- Bhuvneshwar and Bumrah -- got together on bcci.tv for a question-answer session.
Bhuvneshwar got talking and when asked about his mysterious 'knuckle ball', he said: "I developed it just before the IPL. During Test matches in India the ball doesn't swing much and you have two fielders in catching positions so keeping that in mind, I developed the ball. But I didn't know that it would be handy in T20s and one-dayers too.
"I'm glad I added this variation," he added.
Bhuvneshwar impressed in the second ODI as India levelled the three-match series 1-1 with the decider set to be played in Kanpur on October 29. The 27-year-old was the pick of the Indian bowlers, taking three for 45 to help India restrict New Zealand to 230 for nine.
The pacer has been brilliant in recent times. He topped the bowling charts in IPL 2017, ending the season as the highest wicket-taker. Bhuvneshwar took 26 wickets in 14 matches with a best of 5/18 and pretty much held the 'Purple Cap' for the entirety of the season.