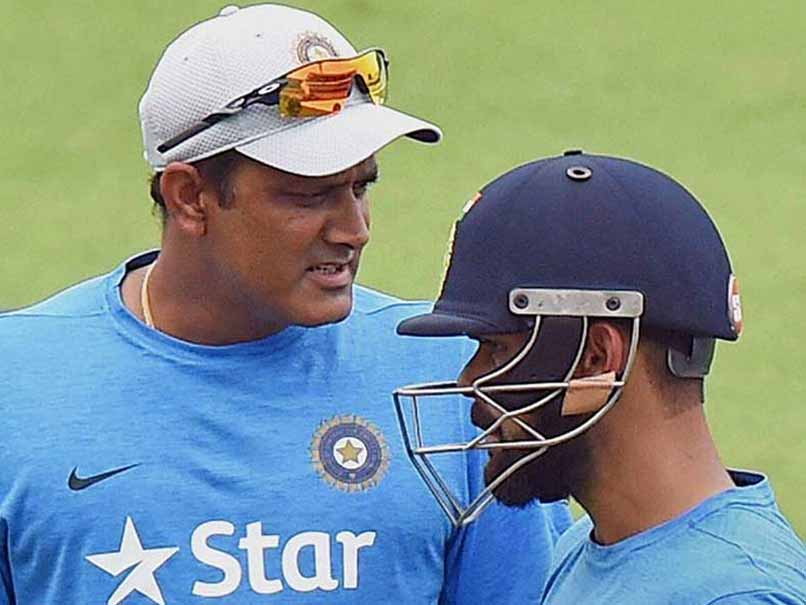 There have been rumours circulating that all's not right between Virat and Kumble.
© PTI
The Indian cricket team kicked off its Champions Trophy title defense on a sure-footed note after comfortably beating New Zealand in the opening warm-up tie. However, according to certain media reports in the country, all's not right in the Indian camp. There are reports circulating that Virat Kohli and his men are unhappy with head coach Anil Kumble's 'overbearing attitude and working style.' However, according to NDTV sources, there is no such rumoured rift in the Indian team but there have been differences of opinion.
With the all-important opener scheduled for June 4 when India take on arch-rivals Pakistan, these rumours are the last thing the players would want to deal with.
Several media reports have said that Kumble does not share warm equations with the players and that he no longer enjoys the confidence of the team. Kohli had reportedly informed the Board of Control for Cricket in India (BCCI) about this development.
With Kumble's contract running out at the end of the Champions Trophy in June, the Indian cricket board had last week invited applications for the role of the team's head coach, making it clear that Anil Kumble would not get an automatic extension. Kumble only gets the benefit of a direct entry at the application stage. The move surprised many especially since the former India captain guided the team to complete domination in the home season. Under Kumble, the Indian cricket team is yet to lose a series.
"To ensure a fair and completely transparent process, a nominee of the Committee of Administrators (CoA) will oversee the entire process along with the Cricket Advisory Committee...The BCCI's three-member advisory committee comprising Sachin Tendulkar, Sourav Ganguly and VVS Laxman will conduct interviews and seek presentations to select the best possible candidate to guide the team and take Indian Cricket forward," read the board's press release.
According to sources, the Board officials feel their powers have diminished because Kumble directly deals with the Committee of Administrators (CoA) regarding the question of raises. Thus, it would be to their benefit to have him out of the equation. But till now, there have been no applications for the head-coach job.