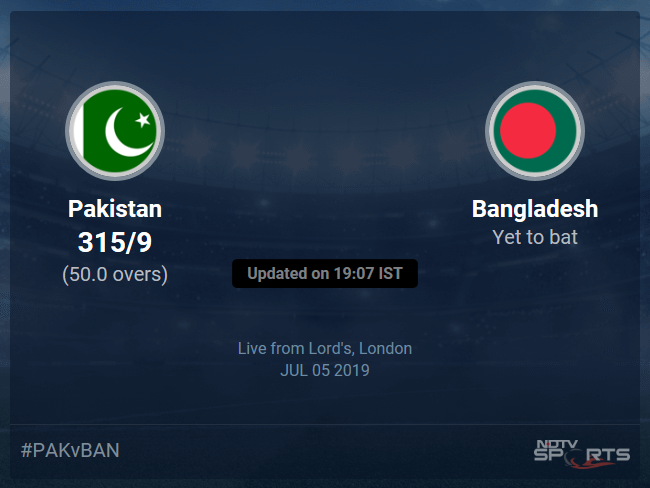 Imam-ul-Haq says he feels great and even special as it was good for the team. States the wicket seems a little slow and it might just get slower. Mentions his partnership with Azam was good and now they need to bowl it well since Bangladesh are a good batting side. On trying to score 400 he says, they needed to be realistic and Bangladesh were bowling really well. Reckons the conditions were not easy and their plan was to score something around 300 or 320. Ends by saying he could not do a lot about his dismissal, he would have been happy if this ton would have come earlier, he was trying hard but was unable to but now it is important to win this game.
Now then! The target is similar to what Bangladesh could not chase against India. They do have a batting line-up which is capable of doing it but Pakistan have been bowling well recently. A side which is in-form with the bat vs a side which is in-form with the ball. A cracking chase awaits. For now, Imam-ul-Haq is giving an interview.
The Bangladesh bowling was very good to begin with! Mehedi Hasan especially as he bowled a very economic spell. However, once Powerplay 1 ended, they weren't that good and leaked runs in the middle overs. They finished strongly, like they have been doing in the tournament. Saifuddin and Rahman once again were influential at the end. The former finished with a three-fer and the latter with a fifer.
A strong batting performance by Pakistan has come to an end! Yes, it is not a score which could help them qualify but it never looked like that was on their mind. After electing to bat, people expected them to come out all guns blazing but that was not the case. Their openers started off cautiously. They lost Zaman as he tried to break free. However, Azam and Imam then got themselves in and added a 157-run stand for the second wicket. That stand helped lay the foundation. Azam fell in the 90s but Imam continued and got to a ton. There was another handy stand between him and Hafeez but once the opener got out, Pakistan seemed to lose their way. Haris and Hafeez did not contribute a lot. Sarfaraz went back in retired hurt. Imad though stepped up to the occasion and his cameo towards the end took Pakistan close to 320.
49.6 overs (1 Run) NO hat-trick as Sarfaraz negotiates the last ball watchfully. This is on a length and around middle, Sarfaraz defends it on the off side for one! Just the 7 runs and two wickets from the last over. PAKISTAN FINISH WITH 315!
So Sarfaraz does walk out to bat. He has one ball to face.
49.5 overs (0 Run) OUT! He does get a fifer! Got one in the previous game and one today. His 5th in ODIs. Excellent performance with the ball by him. This is short and around middle, Amir makes room and looks to cut but it is too close to play that shot. He gets an outside edge to the keeper. Amir initially starts walking but then seeing the umpire not raises his finger, he stops. Rahman then puts in an appeal and the umpire does raise it this time. Rahman is on a hat-trick here.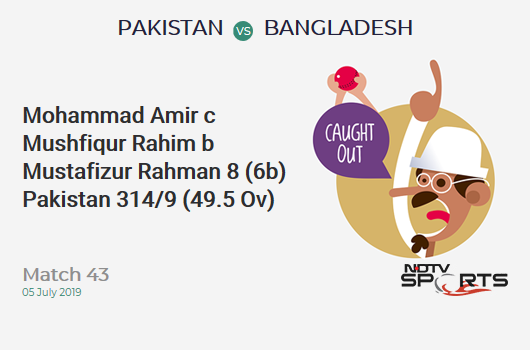 Shaheen Afridi walks out to bat.
49.4 overs (0 Run) OUT! Imad holes out! But not after playing a gem of an innings. He falls 7 short of a fifty. This is short and outside off, Imad backs away and looks to upper cut but only manages height on it. It goes towards third man where Mahmudullah runs in and takes a catch. 4th wicket for Rahman, he has two more balls to get a fifer.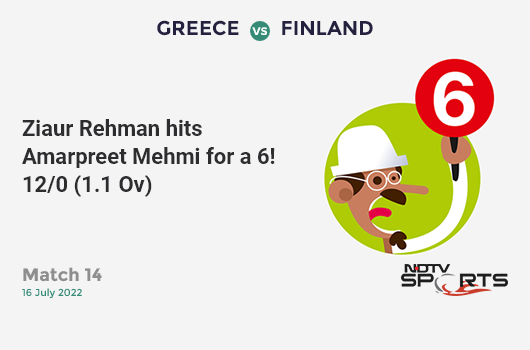 49.3 overs (0 Run) A dot now! Imad looks to be innovative as he tries to shuffle across and paddle scoop it. Rahman bowls it wide outside off and Imad misses.
49.2 overs (4 Runs) FOUR! Excellent shot! He sees the fielders on the off side are all up in the ring so makes room. The Fizz bowls a full toss. Imad guides it past point and bags a boundary. 6 from the first two balls.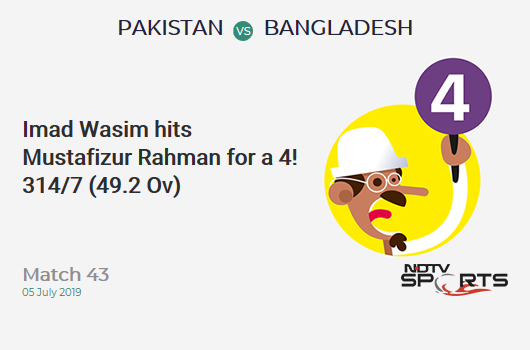 49.1 overs (2 Runs) A full toss on middle, Imad hits it wide of long on and takes two. Good start to the last over for Pakistan.
48.6 overs (1 Run) A single to end! 13 from the over. Fuller and on middle, this it hit down to long on for one. 12 needed to get to 320. Can they do so?
48.5 overs (4 Runs) FOUR! Another boundary! Once again it is a very poor ball! Short and outside off, it is another slower one. It sits up to be hit. Wasim waits for it and slaps it over covers once again.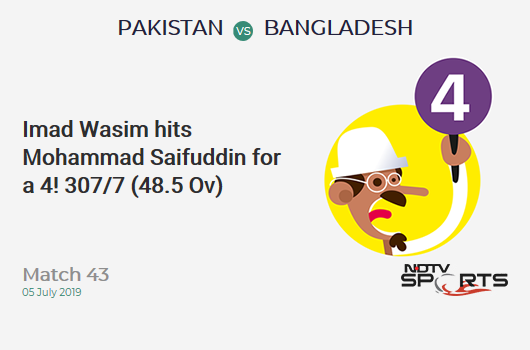 48.4 overs (4 Runs) FOUR! Slapped! 300 up in style! Slower one outside off, Imad is expecting it so he waits for it and hammers it through covers for a boundary.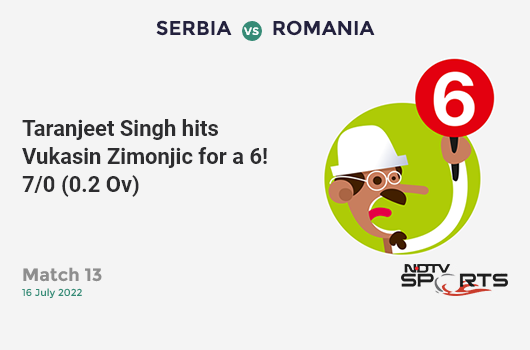 48.3 overs (1 Run) In the air... but safe again! Amir looks to play the scoop but since it is the slower one, he has no pace to work with. He is also early in the shot so it goes off the lower portion of the bat uppishly but well short of square leg. A single.
48.2 overs (2 Runs) Nicely played! Amir once again makes room and Saifuddin goes very full on middle, Amir guides it past point. The third man fielder gets across and keeps it down to two.
48.1 overs (1 Run) In the air... and on the bounce! Imad gets off strike though! Shorter and on middle, it is the slower one. Imad looks to pull but gets a top edge towards deep mid-wicket for one.
47.6 overs (1 Run) Imad somehow gets a single which he wanted! A shorter one on middle, the bounce surprises Imad. He somehow fends it on the off side and keeps strike. A brilliant over by Rahman.
47.5 overs (0 Run) Is there an edge? Rahim feels so but the umpire does not! A dot though. Short and around middle, Imad looks to upper cut but misses. Rahim appeals but the umpire signals one for the over.
47.4 overs (1 Run) Amir makes room but Rahman follows him. Amir works it through square leg for one.
47.3 overs (4 Runs) FOUR! Amir is off the mark in style with a crunching cover drive. The Fizz overpitches and Amir just gets bat on ball, he hits it through covers and you need not run for those. Any runs from his bat are all bonus runs.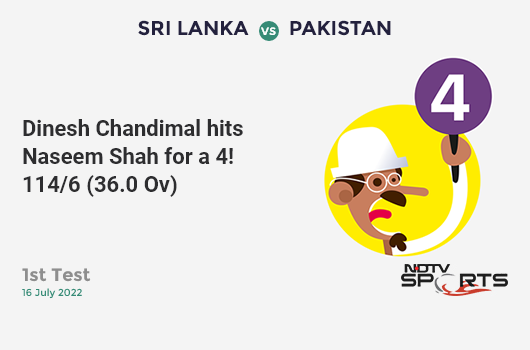 47.2 overs (0 Run) On the stumps, Amir pushes it back to the bowler. A dot which is gold at this stage.
Mohammad Amir is the new man in.
47.1 overs (0 Run) OUT! Caught and bowled! That is a sensational take! Take a bow Rahman. He has a huge smile on his face and rightly so! This is a fuller length and on middle, Shadab looks to play it with a straight bat but ends up playing it early. It goes back very low and to the left of the bowler who gets down and takes it with his left hand stretched out. Two wickets in three balls for Bangladesh.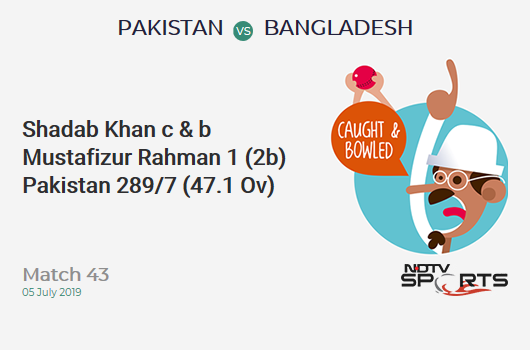 46.6 overs (1 Run) A single to end another good over for Pakistan. This is on a good length and around off, Khan pushes it to long on for one.
Shadab Khan is the new man in.
46.5 overs (0 Run) OUT! TIMBER! A wonderful yorker! Just too good for Wahab Riaz. It is right at the base of middle pole. Wahab who has a high backlift, fails to get his bat down in time and the stumps are disturbed. Third wicket for Saifuddin.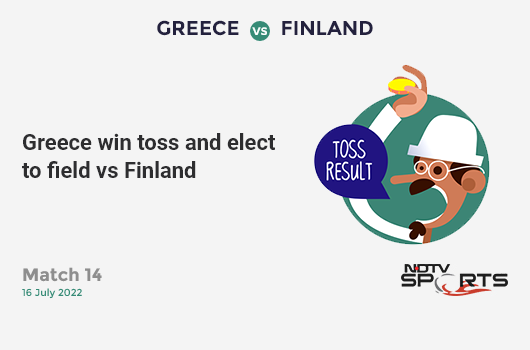 46.4 overs (1 Run) On the shorter side and on middle, Imad pulls it through square leg for one.
46.4 overs (1 Run) Wide! Saifuddin feeling the pressure. He once again gets the slower one wrong as he bowls it way too wide outside off. Wided.
46.3 overs (6 Runs) SIX! Just over! Imad is playing a gem of a knock here! This is right in the slot. Full and on middle, Imad lofts it over the long on fence for a biggie. It is the longer part of the ground so he really hit that well.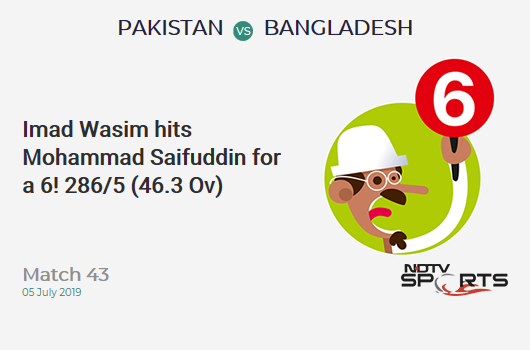 46.2 overs (0 Run) Misses! This is outside off, Imad looks to hit it through the off side but misses.
46.1 overs (1 Run) Slower one and on the shorter side, Wahab does the right thing by guiding it towards short third man and giving strike to Imad.
45.6 overs (1 Run) Riaz goes to the back foot and flicks the ball to square leg for a single.
45.5 overs (1 Run) Shorter and on the body, Imam fends it on the off side for one.
45.4 overs (1 Run) On the pads, Wahab looks to flick but misses. It hits the pads and rolls on the leg side. A leg bye taken.
45.3 overs (1 Run) A single now as Wasim upper cuts it towards third man.
45.2 overs (4 Runs) FOUR! Back-to-back boundaries! This is a poor ball! A full toss on the pads, easy for Imad as he works it behind square on the leg side. 8 from the first two balls. Can Pakistan make this a huge over?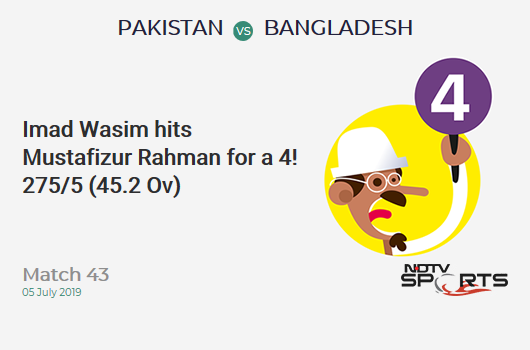 45.1 overs (4 Runs) MISFIELD AND FOUR! Another one by Bangladesh and the over has started with a boundary. Short and outside off, Imad slaps it through cover-point. Sarkar in the deep runs to his right, dives but lets it through.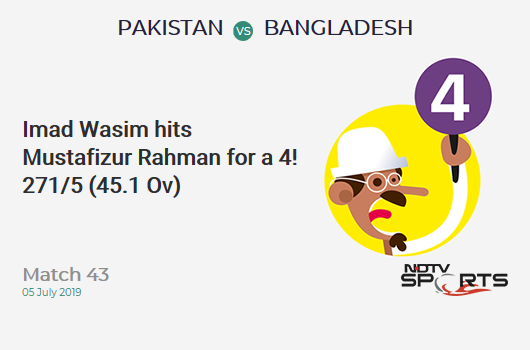 Match Reports
Topics mentioned in this article
Bangladesh Cricket Team
Pakistan Cricket Team
Lord's, London
World Cup 2019
Pakistan vs Bangladesh, Match 43