Story Progress
Back to home
India vs Afghanistan Live Score, Over 46 to 50 Latest Cricket Score, Updates
Live Updates of Today Match between India vs Afghanistan from The Rose Bowl, Southampton. Check commentary and full scoreboard of the match.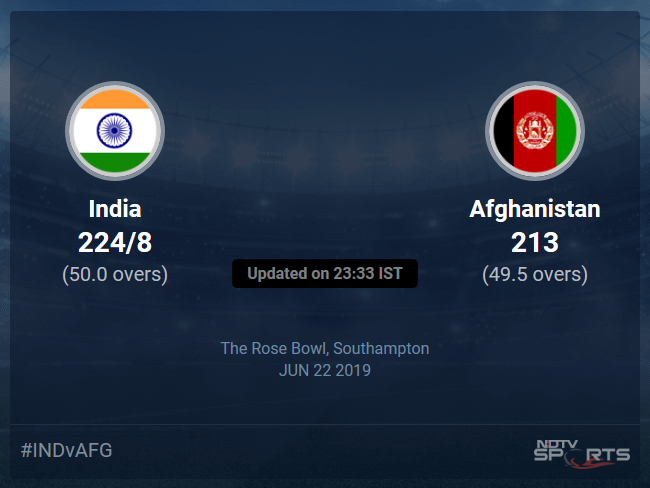 IND vs AFG Latest Score
That's all from this close game. Afghanistan made sure that they don't get steamrolled, in fact, they gave India a very good run for their money. The Men in Blue now jump to the number 3 position in the points table after this hard-fought win. You can now switch tabs to catch all the action from Match 29 of this World Cup. For Sunday, you can join us at 1030 local (0930 GMT) for the clash between Pakistan and South Africa at Lord's. Cheers!
India skipper, Virat Kohli says this is one of his best victories. Mentions they have been playing very good cricket. Further adds that they felt 260 or 270 would have been an outstanding score but 250 would have been par. Admits at the halfway mark, they did have doubts in their mind but they had the self-belief. Informs as soon as he went in to bat, he knew it was a slow wicket and the cross-batted shots were not the option here. Mentions that they needed to work it around and get into the innings as it was always going to be difficult with so many quality spinners in the opposition. Tells they look to use Bumrah smartly and he can pick wickets at any time. Informs they planned to give him the 49th so that Shami has quite a few runs to defend. Mentions Shami was excellent, especially his first spell, he was getting the ball to move around. Also tells Vijay Shankar has also shown intent, he has been fielding well too. Ends by saying the players in the squad are hungry and they know what it is to represent your country in the World Cup.
Afghanistan skipper, Gulbadin Naib says they played really well. Mentions that they bowled well and did an amazing job in restricting the Indian batting line-up which is very strong. States Afghanistan did well with the bat too but credits Bumrah for the way he bowled. Informs that the wicket was good in the first half and the spinners were very good, especially Rashid, who made a strong comeback. Further adds that they bowled well at the end too. Stresses the total was not a big one but they needed a big score from someone but it did not come. Ends by saying they lost their first 4 games really badly but in the last two games, they have done well and it is a positive sign for the team.
Jasprit Bumrah is the Man of the Match for his outstanding bowling! He says to be the go-to bowler of his skipper gives him a lot of confidence to express himself and that helps him to keep a clear mind. States the wicket was getting slower so they needed to be accurate with the older balls. Mentions he was backing his yorkers, the slower ball could also be used but it had to be according to the situation. Stresses they wanted to create pressure and increase the required run rate and it worked for them. Ends by saying they are all very close to each other, they discuss about the plans and it is very good that everybody is chipping in with the wickets.
It eventually came down to handling pressure. Afghanistan showed their inexperience there. They had India on the mat for some time but lacked the killer instinct to press the advantage home. A few reckless shots added to their woes and then to handle the class of Bumrah and Shami was always going to be too hot to handle, especially at the death. The Men in Blue showed good character under pressure and just hung in there. They won the decisive moments and this close win will give them more happiness and confidence than any win so far in this tournament. A good workout was needed heading forward.
With Afghanistan slowly inching closer to the target, Virat Kohli turned to his trump card, Jasprit Bumrah. The speedster didn't disappoint his skipper and removed the set batsmen, Rahmat Shah and Hashmatullah Shahidi, in a space of three balls. The 29th over completely changed the landscape of this match and India bounced back on top. They slipped in some tidy overs to swell the required run rate and in spite of Mohammad Nabi trying his best by stitching a few partnerships, they fell short by 11 runs.
Yet another cliffhanger! Sri Lanka punched above their weight last evening to upset England and now Afghanistan nearly got the better of India. World Cup is surely warming up with some really close contests now. This match was played on a sluggish surface where India struggled to get going with the bat. They managed just 224 in their 50 overs and offered a real chance to Afghanistan. The Afghans started nervously but the second and third wicket partnerships kept them on the track and India on the back foot.
What an end to this thriller! Well done Afghanistan for making India work hard for their 50th World Cup win! They gave a real scare to the Men in Blue and won hearts of everyone with their lion-hearted effort. The Afghans will be disappointed on missing out on a golden opportunity to upset one of the title favourites. But chin up, you have done everyone proud.
49.5 overs (0 Run) OUT! KABOOM! Shami takes a hat-trick! Only the second Indian to take a hat-trick in the World Cup. What a comeback into the team for him! He was given the responsibility of the last over and has come out with flying colors. He keeps it simple, goes full and straight at 142 kph, right at the base of the leg stump. Mujeeb swings but misses and the ball kisses the leg pole. All smiles in the Indian camp as they WIN BY 11 RUNS!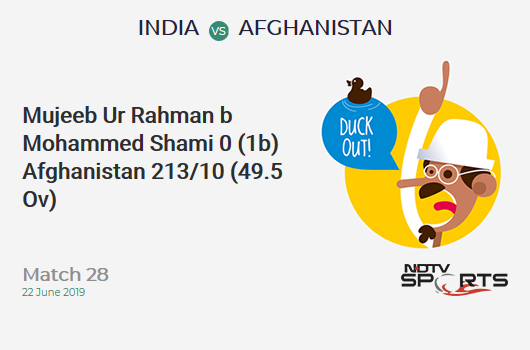 Mujeeb Ur Rahman is the new man in. He will face the hat-trick ball from Mohammed Shami.
49.4 overs (0 Run) OUT! TIMBER! Two in two for Shami. What a comeback from him after going for a boundary on the first ball. He is delighted. He punches his fist in joy. He attacks the stumps, Alam swings but misses. The furniture behind is disturbed.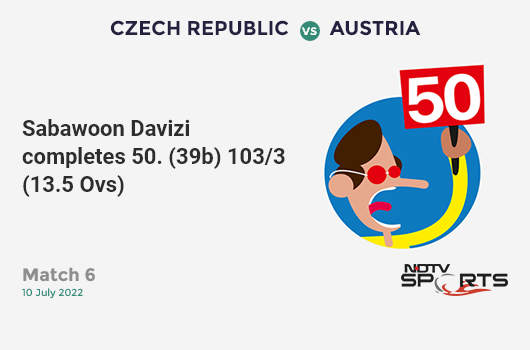 Aftab Alam is the new man in.
49.3 overs (0 Run) OUT! There goes Nabi and there goes all the hopes of Afghanistan chasing this down. The Indian supporters and the Indian players can finally breathe a sigh of relief. Shami goes very full, Nabi looks to go over the long on fence. He though does not get under it and hence, the power is not there. It goes to Pandya who takes a good catch moving to his left. A top knock by Nabi but his effort will probably go in vain. 12 needed in 3 balls.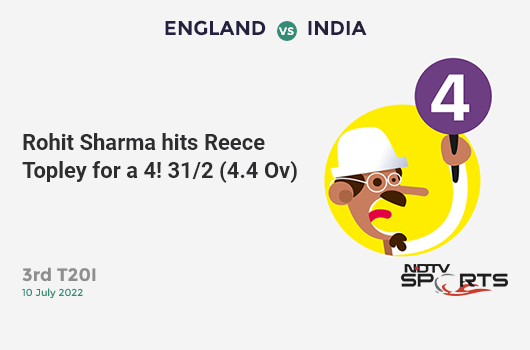 49.2 overs (0 Run) DOT BALL! Very full and on middle, Nabi winds up for a big shot but heaves it off the inner half to deep mid-wicket. Turns down the single. He wants to do it on his own.
16 needed off 6 balls. Mohammed Shami to bowl it. Nabi will be on strike. Can Afghanistan pull it off?
48.6 overs (1 Run) He takes one! Don't think he could have done a lot though with that delivery. It is a yorker on middle, Nabi jams it out to square leg for one. Just the 5 from the over, once again Bumrah is the man who delivers for India. 16 needed in 6.
48.5 overs (1 Run) Just the single again! Full and outside off, Ikram jams it through covers for one. One ball to go, what will Nabi do? Go for a biggie or take one?
48.4 overs (0 Run) Another dot! Which means 18 needed in 8. A low full toss, Ikram hits it straight to short mid-wicket. Ikram needs to hit it big here, he needs to strike one.
48.3 overs (1 Run) Top class stuff! Bowls another yorker on middle, all Nabi can do is jam it down to long on for one. Also, Ikram comes on strike.
Seems like Nabi has broken his bat on the last shot. He asks for a new bat.
48.2 overs (2 Runs) A couple now! A low full toss now by Bumrah. Nabi does not hit it that well but gets it wide of long off for two.
48.1 overs (0 Run) Tremendous, tremendous stuff! A yorker, nothing you can do with that. It is jammed out towards point.
47.6 overs (2 Runs) Two from the final ball which means 21 from 12 needed! Just the three from the over. He goes short and Ikram makes room. Ikram pulls it over mid-wicket. Chahal gives it a chase and keeps it down to two.
47.5 overs (0 Run) Another dot! Goes short and on the body, Ikram ducks under it. 23 needed in 13 now.
47.4 overs (0 Run) Another dot! This time it is the slower one, it takes off after pitching. Ikram is hit on the gloves as he tries to defend. The ball rolls beside the pitch. No run taken. 23 needed in 14.
47.3 overs (0 Run) Short and outside off, Ali Khil looks to pull but misses. A dot, which is gold dust at this stage.
47.2 overs (1 Run) Very full and on middle, this is jammed through mid-wicket for one.
47.1 overs (0 Run) NOT OUT! Nabi survives! The impact is outside off! What a review taken by him. Afghanistan can now breathe a huge sigh of relief. They are still in it. Nabi shuffles across and looks to flick it on the leg side. He misses. The ball hits the pads and an appeal follows. The umpire raises his finger. Nabi has to review and he does so. Replays roll in and they show the impact is outside off.
Massive moment in this match! Mohammad Nabi has been adjudged lbw! The impact appears to be outside the line. He has taken the DRS. Phew, let's wait and watch what the Ball Tracker tells us. IMPACT IS THE ISSUE! Nabi survives.
Mohammed Shami comes on to bowl. He has 2 overs left.
46.6 overs (1 Run) A single which means Nabi keeps strike! 24 needed in 18. Full and outside off, this is jammed through point for one.
46.5 overs (0 Run) Another excellent yorker, Nabi jams it out to the bowler. Two excellent deliveries after being hit for a biggie.
46.4 overs (0 Run) Good comeback! Bowls a yorker outside off, Nabi does well to jam it out.
46.3 overs (6 Runs) SIX! What a hit! Bumrah bangs this short and on middle, Nabi stays back and pulls it over the square leg fence for a biggie. 200 up for Afghanistan!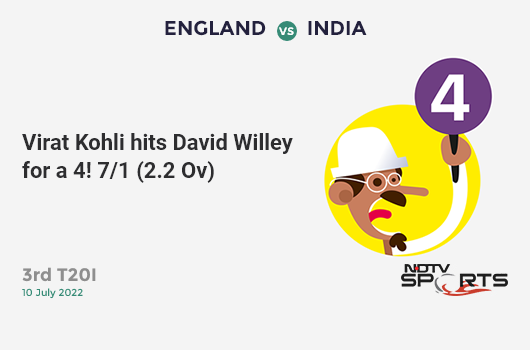 46.2 overs (1 Run) Direct hit would have been curtains for Nabi! Back of a length delivery on off, Ikram dabs it down to the right of backward point and tries to steal a run. Hardik Pandya rushes across to the ball, picks it up and has a shy at the striker's end. Misses and Nabi gets a life.
46.1 overs (0 Run) Heavy ball. Bumrah spears in a full ball on off from 'round the wicket, Ikram just digs it out back to the bowler.
Jasprit Bumrah has change of ends.
45.6 overs (1 Run) Slower through the air, full and on leg, Ikram once again sweeps, this time more in front of square leg and gets a single. 32 needed in the last 4 overs.
45.5 overs (2 Runs) Too full in length on middle, Ikram sweeps it behind square leg and scampers back for the second run.
Ikram Ali Khil is the new man in.
45.4 overs (0 Run) OUT! Stumped! Beauty of a delivery. One leggie to another leggie and it's a beautiful sight, if you are an Indian fan. Nicely tossed up ball by Chahal. He serves it full and outside off, Rashid is drawn forward as tries to drive but it spins away to beat the outside edge. He has dragged his back leg outside the crease in the process as well and Dhoni needs no second invitation. 35 needed off 26 balls, this is getting close!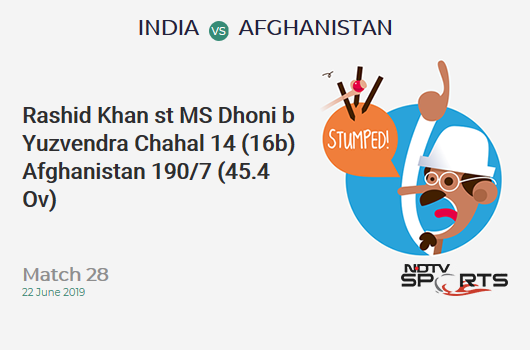 45.3 overs (4 Runs) FOUR! Innovation at its best! That's a brilliant strike. Yes, it's risky but it has paid off. Full and around off, Rashid brings out the reverse-batted shot and nails his shot over point.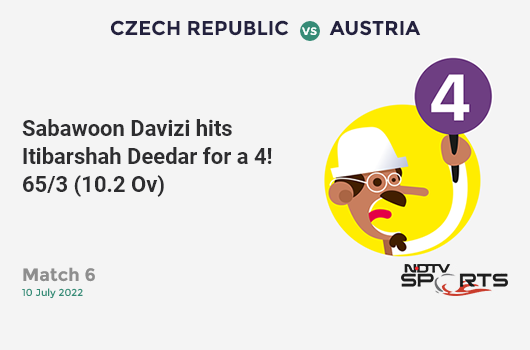 45.2 overs (0 Run) Play and a miss! Short and wide outside off, Rashid tries to cut but it stays low and goes under his bat.
45.1 overs (1 Run) Sliding down the leg side, Nabi helps it through square leg for a run.
Topics mentioned in this article