Story Progress
Back to home
Afghanistan vs India Live Score, Over 26 to 30 Latest Cricket Score, Updates
Live Updates of Today Match between India vs Afghanistan from The Rose Bowl, Southampton. Check commentary and full scoreboard of the match.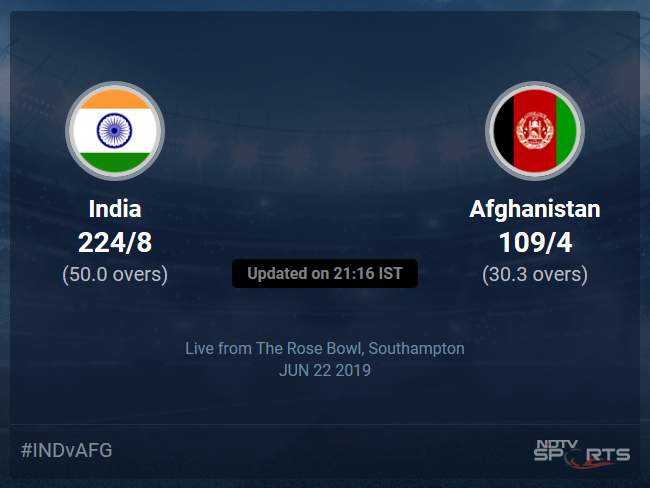 AFG vs IND Latest Score
29.6 overs (0 Run) Good short one on off, Nabi just about evades it. Just a single from the over, a very good one, Pandya bowled with a lot of fire there.
29.5 overs (0 Run) Outside off but just inside the tramline. Left alone.
29.4 overs (0 Run) Another dot! Full and on off again, Nabi strokes it to covers.
29.3 overs (0 Run) Well bowled! India have their tail up at the moment. A yorker on middle, Nabi jams it out.
29.2 overs (0 Run) On the fuller side, it is driven to covers.
Pandya pulls out right at the end. He may have missed his run-up.
29.1 overs (1 Run) Shorter and around off, this is slapped through covers for one.
Mohammad Nabi comes in to bat. The experience and aggression of Nabi would be the key here. And we have a change in bowling too. Hardik Pandya to bowl now.
28.6 overs (0 Run) OUT! Caught and bowled! Bumrah has turned things around and is sending jitters to the Afghan dressing room. He switches to 'round the wicket for the left-hander and delivers a back of a length ball around off. Shahidi is stuck inside the crease and plays his shot early. The face of the bat is closed when the ball arrives and it lobs back off the leading edge. Bumrah runs forward to complete the catch and throws the ball up in celebration. India have roared back into this match after this double-wicket maiden from Boom-Boom-Bumrah!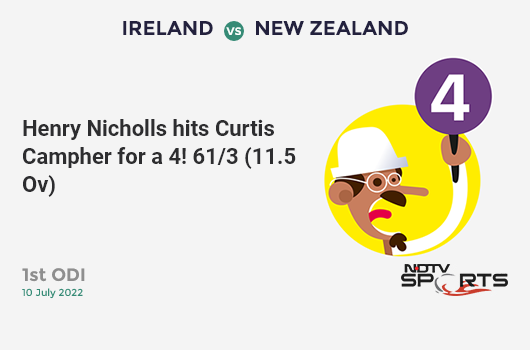 28.5 overs (0 Run) Shows the full face of the bat and defends the ball off the back foot.
Asghar Afghan is the next man in. Afghanistan would want that their ex-captain takes them to their first victory in this tournament.
28.4 overs (0 Run) OUT! Superb catch by Yuzvendra Chahal! India get a lifeline here. The 42-run stand is broken and the crowd has also come back to life. Bowling short more often than not works against the Asian batsmen. Bumrah digs it in at 144 kph, nicely directed, Shah takes on the challenge to pull but fails to middle his shot. It flies off the top edge behind square leg and Chahal rushes forward and across from the deep to take a fine low catch. 119 needed more!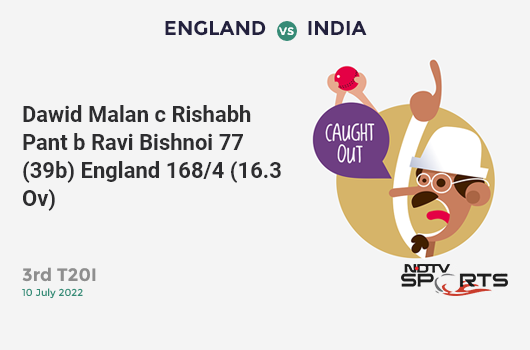 28.3 overs (0 Run) Full in length and outside off, Shah hits it square of the wicket and Pandya makes a good stop.
28.2 overs (0 Run) Good length and on off, this is defended.
28.1 overs (0 Run) Appeal for an lbw! Nothing from umpire Aleem Dar. Virat Kohli is furious. Bumrah darts in a length ball on off and gets it to nip back in at 142 kph. Shah is caught on the back foot trying to block but is beaten in pace. He is rapped on the pads, they appeal but to no avail. It's clipping leg, the replays confirm.
27.6 overs (0 Run) Another dot! Shorter and outside off, the batter looks to cut but ends up chopping it on the off side.
27.5 overs (0 Run) Slower through the air again and outside off, Shahidi throws his bat at it and gets beaten.
27.4 overs (0 Run) Full and on middle, this is pushed back to the bowler.
27.3 overs (0 Run) BEATEN! Tosses it up around off, HS looks to defend but the ball spins away and beats the outside edge.
27.2 overs (2 Runs) In the air... but safe and the batters take two! Shahidi plays the sweep but gets a top edge which lands in the square leg region. The batsmen take one, they see Shankar taking his own time to get to the ball, they go for the second and complete it.
27.1 overs (0 Run) Gets away with one there, Kuldeep. Short and outside off, Shahidi cuts it to point.
26.6 overs (2 Runs) Goes short and on the body, Shah looks to pull but it goes off the gloves fine on the leg side. Yadav runs to his right, dives and saves three for his side. His effort was checked but replays show he has done well. 6 from the over, a good one for Afghanistan.
26.5 overs (2 Runs) Misfield! This is guided towards point where the fielder fails to stop it cleanly and concedes two extra run.
26.4 overs (0 Run) Outside edge but short! Slower one and outside off, there is some extra bounce there. Shah looks to guide it down to third man but gets an outside edge which does not carry to Dhoni.
26.3 overs (1 Run) Another length ball outside off, this is guided past point for one. 100 up for Afghanistan. 125 more needed.
26.2 overs (1 Run) Outside off, Shah opens the face of the bat, it goes off the outside edge and down towards third man which is quite fine for one. Shah wants the second run but is sent back. The throw is fired towards the bowler's end where Kohli deflects it onto the stumps but the batter is well in.
26.1 overs (0 Run) On the fuller side, it is hit to mid off.
Jasprit Bumrah comes on. His figures so far 4-0-13-0. India are in a desperate need of a breakthrough here. Virat has turned to his trump card. Can he deliver?
25.6 overs (1 Run) Floats it up outside off, it ends up being a full toss. The batsman hits it down to long off for one. This pair is doing it with ease at the moment.
25.5 overs (0 Run) On the stumps, it is hit back to the bowler.
25.4 overs (4 Runs) FOUR! Picks his spot brilliantly! Too short by Kuldeep. Enough time for Shah to go back and pull it in between long on and mid-wicket for a boundary.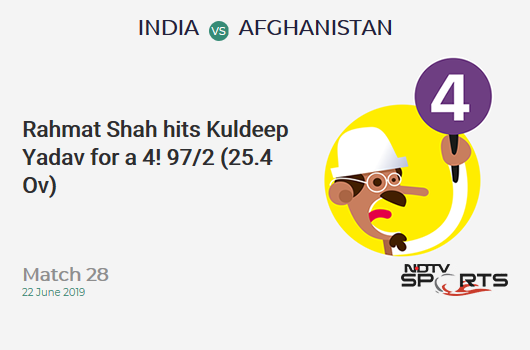 25.3 overs (0 Run) Almost! Flatter and around off, this one turns back in. Shah picks it late, he initially was looking to cut but in the end chops it to the keeper.
25.2 overs (1 Run) Flighted ball on off, once again it is a little too full. Shahidi strokes it down to long off for one.
25.1 overs (1 Run) Flighted ball on middle, this is eased down to long on for one.
Topics mentioned in this article