Story Progress
Back to home
Afghanistan vs India Live Score, Over 31 to 35 Latest Cricket Score, Updates
Live Updates of Today Match between India vs Afghanistan from The Rose Bowl, Southampton. Check commentary and full scoreboard of the match.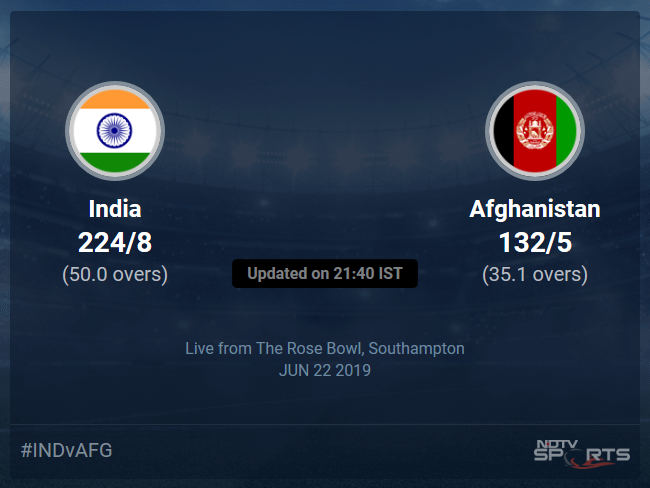 AFG vs IND Latest Score
34.6 overs (0 Run) OUT! TIMBER! Chahal has got the breakthrough. Once again, just when Afghanistan seemed like they were moving ahead, India strike. Yuzvendra tosses it up on off, it is the leg spinner. Afghan looks to hit it against the turn over the leg side. He misses and the ball kisses the off pole. Half the side back in the hut for Afghanistan. 95 needed in 90.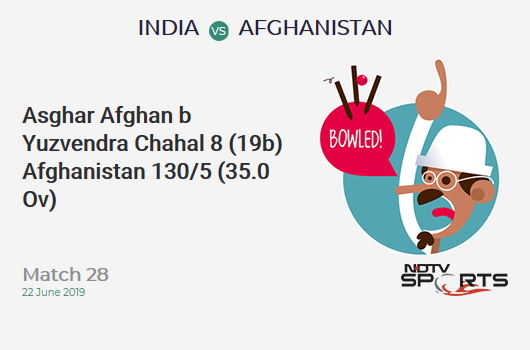 34.5 overs (0 Run) BEATEN! This is flatter and around off, this one pitches and turns away. Afghan plays inside the line and gets beaten.
34.4 overs (1 Run) Flatter and on off, this is pushed down to long off for one.
34.3 overs (0 Run) Slower through the air on off, Nabi guides it backward point.
34.2 overs (0 Run) Very full on middle, Nabi jams it out to mid-wicket.
34.1 overs (4 Runs) FOUR! Great start to the over! Pressure on the bowler. Less than a 100 needed now. Nabi brings out the sweep shot, hits it nicely and past the diving short fine leg fielder for a boundary.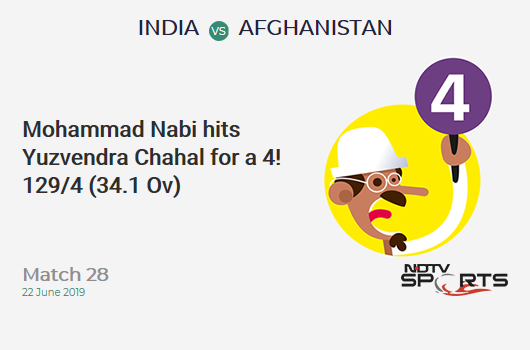 33.6 overs (1 Run) Another slower one and this is eased down to long on for one. 100 needed now in 96.
33.5 overs (1 Run) Another slower one, Afghan works it towards square leg and takes a single.
33.4 overs (0 Run) On the stumps, this is worked to mid-wicket.
33.3 overs (0 Run) Slower one on off, Afghan pushes it to covers.
33.2 overs (1 Run) Length and around off, Nabi plays it with an angled face of the bat but it goes down off the outside edge towards third man for one.
33.1 overs (1 Run) On the fuller side, this is worked through mid-wicket for one.
32.6 overs (4 Runs) FOUR! What a shot! Chahal slows this up in the air but lands it a touch short outside off, Nabi rocks back and cuts it through the line. Once it beats the diving point fielder, it's always going to the fence.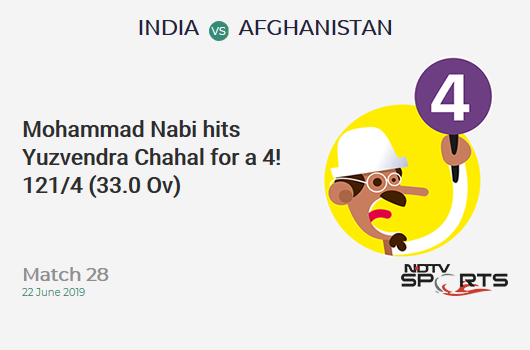 32.5 overs (0 Run) Tossed up ball on off, pushed off the front foot to extra cover.
32.4 overs (0 Run) A leg spinner landing on leg, Nabi nudges it to short fine leg and looks for a run. He is sent back.
32.3 overs (1 Run) Flighted and full, dropping on middle, Afghan goes down to slog sweep but it takes the inner half and rolls through mid-wicket for a run.
32.2 overs (0 Run) Strides forward and helps it on the leg side to mid-wicket.
32.1 overs (0 Run) Quicker and fuller on off, defended back off the front foot.
Yuzvendra Chahal comes on to bowl. He took a smart catch can he do it with the ball in hand.
31.6 overs (0 Run) On the off pole, this is kept out.
31.5 overs (2 Runs) It lands in no man's land! Nabi looks to go big. He tries to hit this ball outside off over cover. He ends up slicing it over point. Rahul from point runs back, Shankar from sweeper cover runs in, both don't call for it and in the end it lands between the two. The batsmen also run two.
31.4 overs (2 Runs) Goes short, Nabi pulls it nicely, rolls his wrists over the ball and hits it through backward square leg for two.
31.3 overs (1 Run) On the shorter side and outside off, Afghan hits it through covers for one.
31.2 overs (0 Run) Good length on off, Asghar defends it onto the ground.
31.1 overs (0 Run) Slower one and fuller in length, Afghan looks to drive it on the off side but it goes off the inner half towards mid-wicket.
31.1 overs (1 Run) Goes short but down the leg side, wided.
Drinks break. The match has completely turned on its head after the double-wicket maiden by Jasprit Bumrah. He removed both the set batsmen in a space of three balls and has brought India back into this match. 115 needed off 114 balls is still gettable but now it's all about handling the pressure. The Indian bowlers are experienced in doing so while Afghanistan haven't encountered such situations much at a big stage like this. Their most experienced batting pair is in the middle and they need to construct a partnership here to get in front.
30.6 overs (1 Run) A single to end another fine over from Bumrah. It is short and on middle, Afghan pulls it through square leg for one. 115 more needed in 114.
30.5 overs (0 Run) Lovely bowling! Follows the bouncer with a yorker but Afghan was up to the task as he jams it out. Run rate needed now above 6.
30.4 overs (0 Run) Quick, that is really quick! Short and it skids through, it is bowled at 141 KPH. Afghan tries to move out of the way but the ball hits his bat and rolls back to the bowler.
30.3 overs (0 Run) Shorter and outside off, Afghan looks to cut but ends up chopping it to point.
30.2 overs (0 Run) Back of a length on off, Afghan stands tall and defends it onto the ground.
30.1 overs (2 Runs) Excellent fielding! First an excellent catch and now this fielding effort from Chahal. This is on the pads, Afghan works it fine on the leg side, Chahal runs to his right, dives and pushes it back in. Two taken.
Topics mentioned in this article