Story Progress
Back to home
Sri Lanka vs England Live Score, Over 46 to 50 Latest Cricket Score, Updates
Live Updates of Today Match between England vs Sri Lanka from Headingley, Leeds. Check commentary and full scoreboard of the match.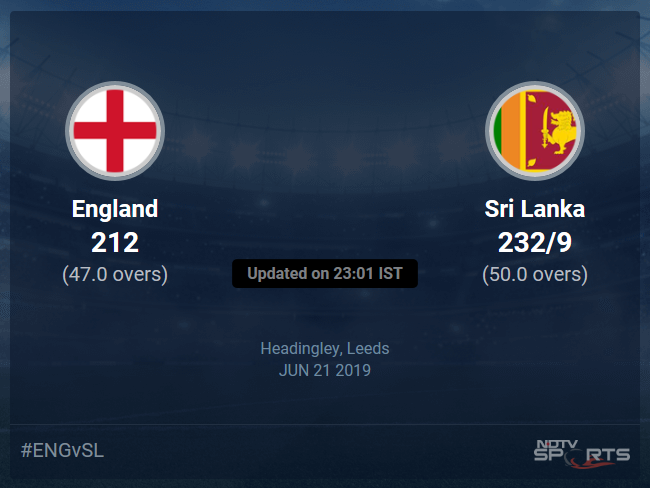 SL vs ENG Latest Score
So, that is the end of the game! This is probably the upset of the tournament, at least till now though. However, will this victory see Sri Lanka go strength to strength and how much will this affect England? Well, we will know in the coming future. On the 22nd though, we have 4 different teams batting it out. Yes, it is a double header, the first game sees India taking on Afghanistan in Southampton, that game will begin at 1030 local (0930 GMT). The other game is a cracking one as West Indies lock horns against New Zealand in Manchester at 0130 local (1230 GMT). Till then, take care and goodbye!
Victorious Sri Lanka skipper, Dimuth Karunaratne says they lost the toss and sometimes they were under pressure whereas sometimes they were dominating. Tells when batting they knew it was a tough wicket and were looking to get 250-270 but lost wickets. Credits Mathews for his innings and ended up with a good total. Tells it was a team effort as Malinga got wickets along with Dhananjaya. Says Root's wicket was the turning point of the game and knew how good he is. Tells he luckily they got his wicket at a critical juncture.
England skipper, Eoin Morgan says they were good with the ball but the lack of substantial partnership did the damage. Says losing this game was more frustrating than shocking. They knew it was going to be tough to win all games in the tournament but they wanted to do that. Says they just need to dust themselves off and come stronger in the next game. Reckons it is a long tournament. Says Australia is a tough opponent and taking them on at the home of cricket will be a good challenge.
For his brilliant bowling display, LASITH MALINGA IS NAMED THE MAN OF THE MATCH - Malinga says that when Stokes was dropped they were worried as they knew how good a player he is. Says they kept bowling stock balls even when couple of those went for boundaries towards the end they did not worry. The plan was to maintain good line and length and mix it up with the variations without giving away any loose deliveries. Tells they are a confident side and are looking to take the momentum from this going forward.
Earlier in the day, the Lankans were put into bat and were bundled out for 232. Archer and Wood were the stars for England. However, that proved to be enough in the end, Ben Stokes' unbeaten 82 went in vain and Malinga emerged as the hero for today with a four-fer.
Who was the star with the ball for Sri Lanka? Well, when you look at the figures, you have to tell, it is Lasith Malinga who ended with a four-fer and four big wickets of Bairstow, Root, Buttler and Vince. However, credit has to be given to all the Lankan bowlers here. Everybody was extremely disciplined and never gave anything away. Udana and Dhananajaya were also crucial as they took five amongst them. Nuwan Pradeep also had a wicket to his name and probably the one which mattered the most, the last one.
Defending 232, you need early wickets and Sri Lanka did manage to send both the openers back in the hut quite early on. Root and Morgan then steadied the ship with a fifty run stand. The latter fell but then Stokes joined Root and the two added yet another 50-plus run stand. England were on top then but Sri Lanka did not let them run away with the game. They kept bowling tight and never let England score freely and that tight bowling finally paid off. They got Root and Buttler in quick succession. Moeen Ali and Archer threw it away when they needed to bat sensibly. Stokes was the lone man fighting and at one stage, it seemed like, he would win the game for them but Wood could not negotiate the one ball he had to of Nuwan Pradeep.
WHAT A GAME! WHAT A GAME THIS WAS! Wow! How many of you'll thought that Sri Lanka would win this game after posting 232? Surely, surely not many! I never felt they had a chance. However, they have risen against all odds and have come out on top in a game they had to win.
46.6 overs (0 Run) OUT! EDGED AND TAKEN! Wood can't negotiate it! He has nicked it behind to the keeper. Jubilation scenes out there as the Lankan players are running all around the ground in happiness. Pradeep bowls the perfect Test match line. It is on a length and around off, Wood plays inside the line, the ball kisses the outside edge and goes into the hands of the keeper. The Lankan players appeal and the umpire raises the finger. SRI LANKA WIN THE GAME BY 20 RUNS!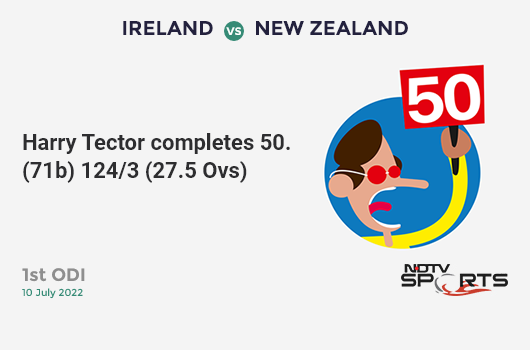 46.5 overs (1 Run) Very full again, Stokes works it through mid-wicket and takes one. Once again, Wood has one ball to face.
46.4 overs (0 Run) A low full toss outside off, Stokes jams it through covers. He thinks of two but then does not even take one.
46.3 overs (4 Runs) FOUR MORE! Unreal stuff from Stokes. He is doing it all by his own! 22 in 21 now. Game evenly poised again. The slower one on middle, Stokes goes down on one knee and manages to drag it past short fine leg for a boundary.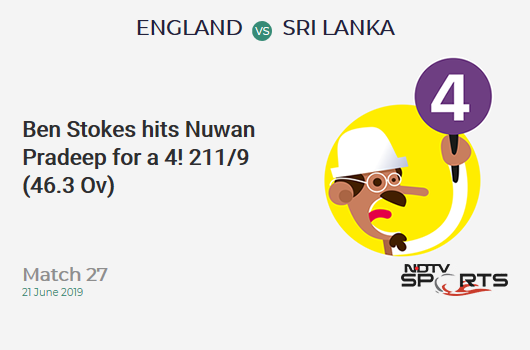 46.2 overs (4 Runs) FOUR! Top, top shot! Stokes has managed to find the gap! 26 needed in 22 now. Another low full toss outside off, Stokes shuffles across and whips it past mid-wicket. It is away from long on and it trickles over the fence.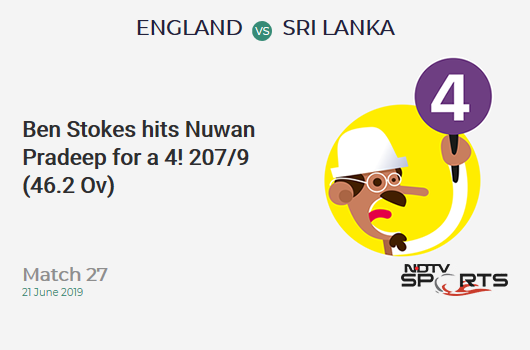 46.1 overs (0 Run) Extremely full, good ball to begin with! Stokes whips it to mid on.
Who will bowl now? Thisara Perera, Nuwan Pradeep or a gamble with a spinner? It is going to be Nuwan Pradeep.
45.6 overs (0 Run) Wood does! Udana lands it on a length and around off, Wood plants his front foot forward and defends it onto the ground. 30 needed in 4.
45.5 overs (1 Run) Takes the single does Stokes! Wood has one ball to play out. Full and outside off, this is jammed through covers for one.
45.4 overs (2 Runs) Lovely, lovely running and also smart batting by Stokes. This is a very slow ball on middle, Stokes works it towards mid-wicket with very soft hands. They take one, then go for the second. Wood slips while turning back but still manages to make it in.
45.3 overs (0 Run) Stokes once again uses his feet but this time does not get to the pitch of the ball. Defends it. Sensible batting.
45.2 overs (6 Runs) SIX! BANG! Consecutive biggies for Stokes! 33 needed in 28 now. This is a powerful stroke. He dances down the track, gets to the pitch of it and clobbers it over the long off fence for a biggie. 200 up for England.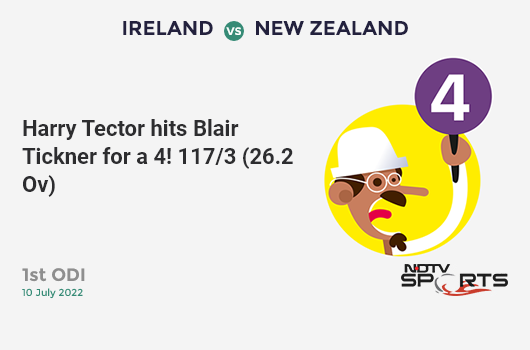 45.1 overs (6 Runs) SIX! BOOM! That is right out of the middle and it clears the fence with ease. Udana goes full, right in the zone for Stokes. He tonks it over the long on fence for a biggie.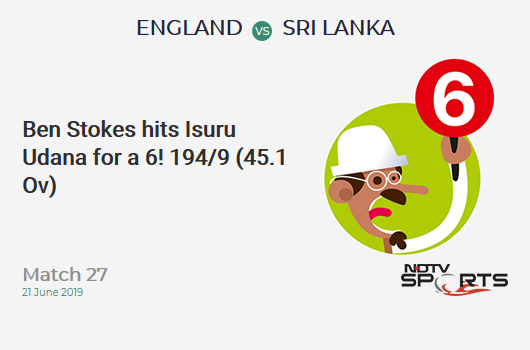 Topics mentioned in this article