Story Progress
Back to home
Bangladesh vs Afghanistan Live Score, Over 46 to 50 Latest Cricket Score, Updates
Live Updates of Today Match between Bangladesh vs Afghanistan from The Rose Bowl, Southampton. Check commentary and full scoreboard of the match.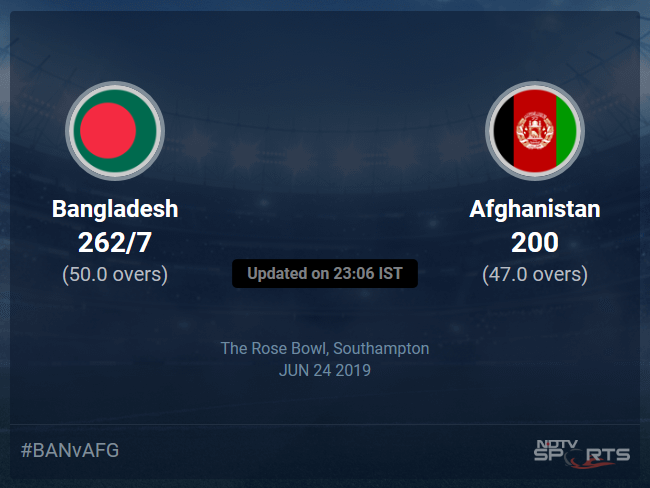 BAN vs AFG Latest Score
That ends game number 31. Bangladesh keep their hopes of a semi-final alive while Afghanistan are fighting hard to avoid the wooden spoon. Tuesday sees another eagerly awaited clash of this World Cup - not the Ashes exactly but a contest of a similar genre. It is Australia against England and it will be exciting to see who becomes the lord of Lord's. Join us on June 25, 2019, at 10.30 am local (0930 GMT). ADIOS! TAKE CARE!
Victorious Bangladesh captain, Mashrafe Mortaza, smiles when asked about the crowd. Thanks them from the bottom of his heart. Is not short of words when asked to praise Shakib calling him as one of the most important players in the team. On Rahim-Shakib's partnership, Mash says that it was short but very important. Praises Tamim and Mahmudullah for their contributions. On the latter's injury, Mashrafe says that there is a week to go before their next match against India, so Mahmudullah will be assessed gradually. On their upcoming games against India and Pakistan, Mortaza says that Bangladesh will give their best and hope for the best.
Afghanistan captain, Gulbadin Naib, says that the India match was a close one but in this one, blames the poor quality of fielding. Adds that they gave away 30-40 runs extra but does not want to take any credit from Bangladesh's batting or Shakib. On Najibullah batting so low down the order, Naib deflects the question, stating that he is an experienced player and can hit the ball long and blames Ikram Ali Khil for not rotating the strike while batting above him. On Afghanistan's journey so far, Gulbadin says that the team has been suffering from injuries which is why they have not been able to perform well consistently.
SHAKIB AL HASAN HAS BEEN NAMED THE MAN OF THE MATCH. Shakib says that the support for Bangladesh has been great throughout this World Cup as the crowd has been right behind them. On asked what gave him more happiness - 50 or 5-fer, Al Hasan mentions the five wickets made him more happy as it was important but he had to work hard for his half ton too. States Rahim played really well and without him the score would not have been possible. Further adds Tamim's and Mosaddek's contributions were also important. Tells they had to bat well as Afghanistan have got really good spinners. On his good batting form, Shakib says that he does not know how he is playing so well, but he worked hard and was prepared for it and it is paying off. Ends by saying he wants the form to continue in the matches ahead and they have big games coming up, against India and Pakistan.
7th loss in a row for Afghanistan. They equal the record set by Zimbabwe in 1992, becoming the second team to lose 7 straight matches in a single edition of the World Cup. They started nicely with the ball but then took the foot off the hook. Their batting has never come good in this tournament and it did not come good here either. It is sad to see this performance because after the India game, one would have expected a better show than this one. Please stay tuned for the presentation...
Shakib's day. Mushfiqur's day. Bangladesh's day. They get the 2 points they desperately were searching for. The Tigers move to 5th spot, with 7 points in as many games. The day began with Shakib and Rahim keeping Afghanistan at bay with a 61-run stand, with Rahim capping the innings off with a fine 83. And then with the ball, the number 1 all-rounder in the world in this format strut his stuff, taking a 5-fer. Only the second player ever, to score a fifty and take a 5-fer in the same World Cup game. These are also his best ODI figures.
Comprehensive. Victory by 62 runs. Bangladesh have defeated Afghanistan in a clinical fashion and have re-staked their claim for the semi-final spot. Final 4 decided, you say? Think again.
46.6 overs (0 Run) OUT! KABOOM! Saifuddin knocks Mujeeb over! Shinwari will not be a happy man with the shot Mujeeb has just played. He would have wanted him to defend the ball out so that he could get a chance to score one and get to his half ton in the next over. That is not the case though. Mujeeb swings blindly to this length ball on the stumps. He misses by a long way and the furniture behind is disturbed. BANGLADESH WIN BY 62 RUNS!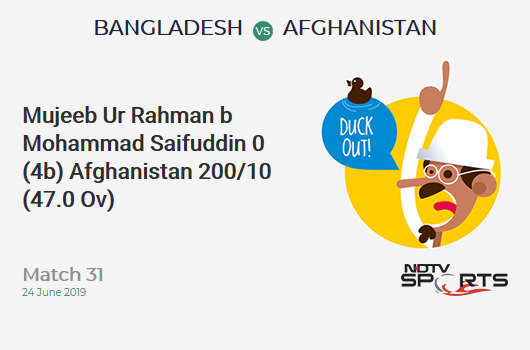 46.5 overs (0 Run) Fuller and on off, this is hit to covers.
46.4 overs (1 Run) Safe! Short and outside off, Shinwari looks to pull but the bat shakes in his hand. He gets a top edge which lands safe in the mid-wicket region. A single taken.
46.3 overs (4 Runs) FOUR! That is fiercely struck! Full and on off, Shinwari smashes it back past the bowler who rightly takes his leg out of the way. Shakib runs to his right and dives but fails to stop it.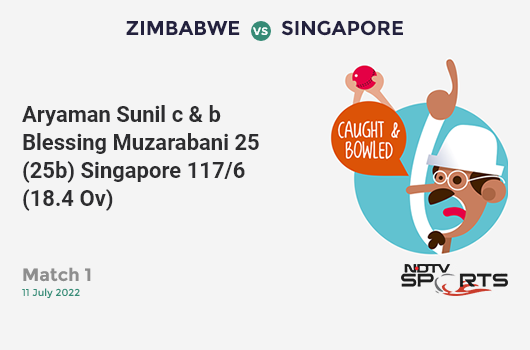 46.2 overs (0 Run) Full and on middle, this is jammed down to long on. No single taken.
46.1 overs (0 Run) A yorker outside off, Shinwari fails to jam it out.
Mohammad Saifuddin is back on for the final rites. 7-0-28-0 so far.
45.6 overs (0 Run) Almost! Back of a length and around off, once again it straightens after pitching. Mujeeb makes room and then looks to block it out but gets beaten.
45.5 overs (0 Run) Outside off, Mujeeb does go after it but gets beaten.
Mujeeb Ur Rahman is the last man in for Afghanistan.
45.4 overs (0 Run) OUT! EDGED AND TAKEN! This was always on the cards! Bangladesh a wicket away now. Mustafizur bowls it on a back of a length around off, this straightens. Zadran looks to push at it but the ball straightens, takes the outside edge and goes into the hands of Rahim. The keeper does not put in a confident appeal but the bowler does and the umpire raises the finger.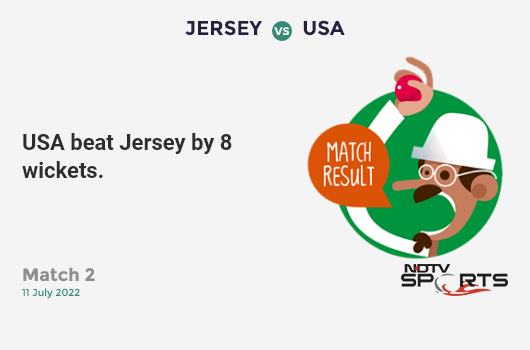 45.3 overs (0 Run) A slower one, fuller in length and around off, Shinwari looks to play it with a straight bat but the ball jags away and beats the outside edge.
45.2 overs (0 Run) On the stumps, Zadran pushes it to mid off.
45.1 overs (1 Run) Shorter and on middle, Shinwari looks to pull but mistimes it towards deep square leg for one.
Topics mentioned in this article