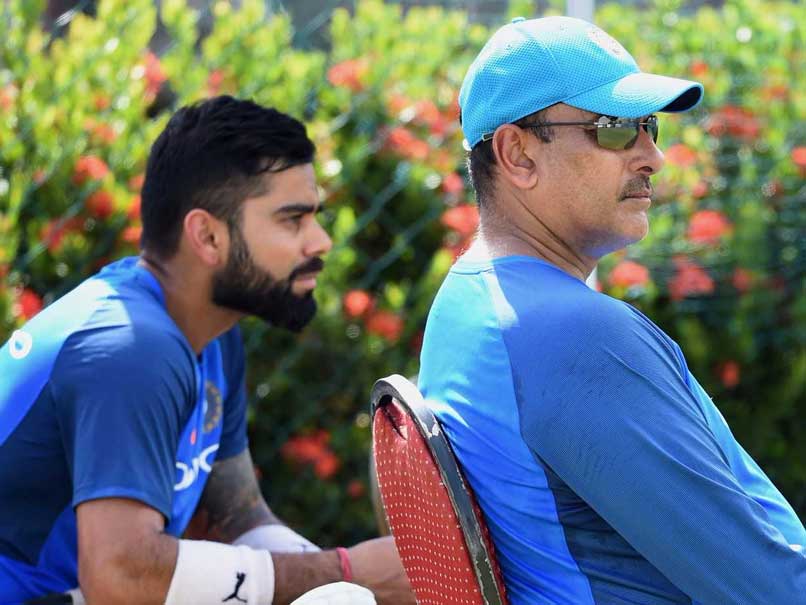 Ravi Shastri and Virat Kohli share a solid working relationship.
© AFP
Indian cricket team coach Ravi Shastri has said Virat Kohli and his boys can do what their predecessors couldn't ahead of the side's second Test against Sri Lanka on Thursday. Shastri believes that having played with each other for the last two years will help the team deliver better results going forward. The 55-year-old cited the example of the team's 2-1 series win during its last Sri Lanka visit in 2015, a first in 22 years. Shastri added that several great players were part of the Indian squad during the two decades, yet the team failed to win a series in Sri Lanka.
I'm positive about the fact that the current Indian team can do things that probably no other Indian team has done before - @RaviShastriOfc pic.twitter.com/LUek9yJYav

— BCCI (@BCCI) August 1, 2017
After taking charge of the team in his second stint, Shastri has tweaked team's preparation style and though it's early days, an immediate impact can be noticed. A key implementation on Shastri's part is how the batsmen are now ever ready to bat in the middle. This has nothing to do with the batting order, instead a new practice of warming up before going down to the middle. It was evident in Galle itself when Shikhar Dhawan and Abhinav Mukund - India's pairing for the first Test - reached the ground before the rest of the squad. The mandate for them was to get to the nets and start hitting balls just in case India bat first.
The underlining aspect of this new thought process from coach Shastri is his belief that the team should exert its number one status on the field.
Shastri has also brought forth a certain differentiation in the team's thinking in the short span of time that he has spent with them thus far. In one of his first conversations with the team, the coach had underlined the 'importance of enjoying the game before thinking of anything else'.
Apparently, he had asked the players to remember why they had started playing cricket and urged them to 'exhibit this passion on the field'.
Given the short timeframe of comparison, it might be harsh to highlight Kumble's coaching approach as a bit too methodical, if not mechanical. Shastri's first move has been to unshackle the players in his own inimitable way, whilst keeping a tight leash on how things take their course within the dressing room.
(With inputs from PTI)