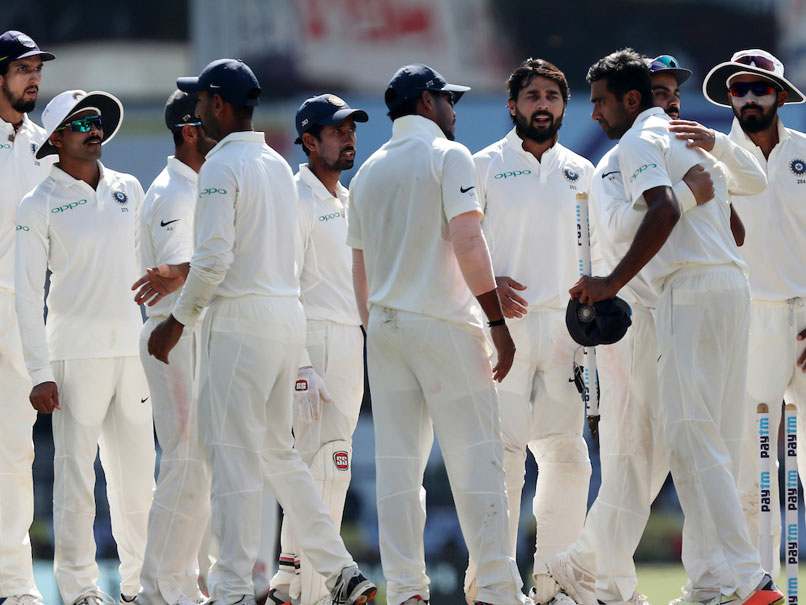 Highlights, India vs Sri Lanka: Hosts in command after picking up 3 wickets before close of play
© BCCI
Sri Lanka ended Day 4 on 31 for 3 as Ravindra Jadeja struck twice for the hosts. Mohammed Shami gave India the first breakthrough as Sadeera Samarawickrama (5) gloved one to gully. Jadeja then got rid of the other opener Dimuth Karunaratne (13) before dismissing the nightwatchman Suranga Lakmal, who went without troubling the scorers. Virat Kohli (50) and Rohit Sharma (50*) made quick-fire fifties as India declared their second innings with the score on 246 for 5, giving Sri Lanka a target of 410 runs to win the Test. The visitors still need 379 runs to level the three-match series which is highly unlikely on a pitch which is starting to keep low and turn a bit. (Scorecard)
Earlier, in their pursuit for quick runs, India lost Shikhar Dhawan and Cheteshwar Pujara but not before the duo had added 77 runs for the third wicket in the post lunch session. India got to tea with the score on 192 for 4, lead by 355 runs, having lost two wickets in the session on the fourth day of the third Test match played at Feroz Shah Kotla, New Delhi. Virat Kohli and Rohit Sharma had added 48 for the fifth wicket in no time and a declaration was on the cards right after tea as the hosts looked to get as close as possible to the 400-run mark lead. 
India were 51 for 2 at lunch in their second innings. Ishant Sharma got the breakthrough early in the morning by dismissing Dinesh Chandimal for career-best 164 as Sri Lanka were bowled out for 373 in their first innings. India lost Murali Vijay and Ajinkya Rahane early in the second innings but Cheteshwar Pujara looked at his fluent best in his brief stay at the crease with Shikhar Dhawan before players went off for lunch. India had extended their lead to 214 runs with eight wickets in hand.
Catch all the highlights of India vs Sri Lanka, 3rd Test, Day 4, straight from Feroz Shah Kotla, Delhi.
16:32 IST: The lightmeters are out and the umpires have decided to walk off. So it is stumps on Day 4. Sri Lanka 31 for 3, need 379 runs to win the Test match and level the series. India on the other hand need seven wickets to win the series 2-0.
16:30 IST: Wicket: The nightwatchman strategy has not worked for Sri Lanka. Jadeja has gone right through Lakmal's defence here. The off stump goes for a walk. Jadeja picks up his second, Sri Lanka lose their third.
16:29 IST: Suranga Lakmal is the new man in. Sri Lanka have decided to send a nightwatchman.
16:28 IST: Wicket: That was another very good delivery. Tossed up by Jadeja and Karunaratne pokes at it outside off stump, gets a thin edge and Saha makes no mistake. 
16:26 IST: Six! de Silva takes the aerial route and gets a maximum for his efforts. Ashwin tosses it up and de Silva goes through with the shot.
16:19 IST: So 17 overs still left in the day. Not sure of we can get that many today. The lights are already in full operation.
16:12 IST: Big shout for leg before. The umpire has given it in favour of the bowler. Jadeja celebrates as de Silva goes for the review. Replays suggest de Silva has got a inside edge. So the decision has to be reversed.
16:12 IST: Ashwin bowls another maiden to Karunaratne.
16:08 IST; Two coming of that Jadeja over. Sri Lanka 16 for 1.
16:05 IST: So spin from both ends now. Jadeja comes on.
16:04 IST: Ashwin starts off with a maiden.
16:00 IST: So spin for the first time. Ashwin comes on, replacing Ishant.
15:58 IST: Dhananjaya de Silva is the new man in for Sri Lanka.
15:56 IST: Wicket: What a beauty from Shami. Another short ball aimed at the body and Sadeera this time gloves it to Rahane at gully. Sadeera was not sure after the umpire raised the finger and went for the review. Replays suggest it had just brushed the gloves. Sri Lanka lose their first wicket.
15:55 IST: What a peach of a bouncer that was from Shami. Sadeera swayed away at the end but it kept tailing back into the right-hander.
15:43 IST: Shami with the round the wicket line is troubling Karunaratne here. Gets beaten once again.
15:42 IST: Sri Lanka 9 for 0 after 3 overs.
15:39 IST: Good solid defence from Sadeera. Sri Lanka need to see off this tricky period. A couple of wickets for India would mean that the visitors will have their work cut out tomorrow to save the Test match.
15:34 IST: Four! This time Shami gets the edge but the ball goes in-between Saha and first slip. Narrow escape for Karunaratne.
15:25 IST: He gets the edge of Karunaratne's bat, but it falls just short of the slip fielder. Testing first over from the lanky Indian pacer.
15:20 IST: Ishant has the red cherry in hand.
15:16 IST: So the target for Sri Lanka would be 410 runs and they have a little more than a day to get it. India would think they are in with a great chance of winning this Test match.
15:15 IST: Rohit Sharma brings up his 9th fifty as India declare on 246 for 5, lead by 409 runs.
15:13 IST: The lead is now past 400 for India.
15:10 IST: Ravindra Jadeja is the new man in for India.
15:07 IST: Wicket: Kohli goes for the big one but only manages to find the fielder at long on. Gamage gets the wicket. India 234 for 5, lead by 397 runs.
15:03 IST: Kohli brings up his 15th fifty in Test matches with a single. India lead by 395 runs.
15:00 IST: Four! Rohit this time gets into the act. Gets a boundary. India are going at a rapid pace here. You can see a declaration any time now. 
14:58 IST: Four! Kohli sits back and hits it through point for a boundary. Lakmal on that occasion giving too much room to Kohli.
14:56 IST: The only way Lakmal can prevent India from scoring is by bowling wide of the stumps but that one was so wide that it was called a wide by the umpires.
14:54 IST: Sandakan doesn't concede a boundary in that over but India have still managed to score six runs of the over in just ones and twos.
14:45 IST: Short and Rohit pulls it in front of square. Brilliant piece of fielding in the deep prevents a boundary. That would have been a brilliant catch. Even Kohli applauded that effort from Sadeera in the deep. The ball just seemed to have popped out after his elbow hit the ground. Great bit of fielding.
14:40 IST: Four! Kohli comes down the track and lofts Lakmal over the top of mid off. 
14:34 IST: 50-run stand comes up between Virat Kohli and Rohit Sharma.
14:32 IST: Welcome back for the last session of play on the fourth day.
14:12 IST: So the umpires have called for tea with India leading by 355 runs. Kohli batting on 25 and Rohit Sharma batting on 28. Hosts 192 for 4 at tea.
14:06 IST: Four! Sandakan gets the googly wrong and Rohit won't miss out on those. Easy pickings for the Indian. Not looking good for Sri Lanka here.
14:04 IST: Four! Short again from Gamage and Rohit has dismissed that out of his presence for a boundary. That has gone to the square leg fence like a rocket. Rohit moves on to 21 off 19 balls. India have clearly made up their mind that they are going to go for everything here and take that lead past 400 at the earliest and the rate at which they are going, they might as well get there just after tea.
14:00 IST: India 173 for 4, lead by 336 runs.
13:53 IST: Four! Beautiful shot from Rohit Sharma. There was room to play the drive but to play it with such ease requires a lot of talent. Gamage again the bowler who can only stand and watch.
13:47 IST: Four! Kohli gets into the act. Beautiful work of the wrists and it will get him a boundary. All Gamage can do is to stand and watch it go to the mid-wicket boundary.
13:45 IST: Four! Not short enough to pull, Rohit goes for it and gets a top edge. Luckily it has gone down the third man boundary. Gamage can't believe his luck.
13:43 IST: Gamage comes back on for Sri Lanka.
13:41 IST: Rohit Sharma is the new man in, joins his skipper Kohli.
13:40 IST: Wicket! One too many for Dhawan. Once again comes down the wicket but this time  Sandakan is up to the task as Dickwell behind the stumps removes the bails in a flash. Dhawan stumped Dickwella b Sandakan 67 
13:35 IST: Four! This time Dhawan brings out the sweep shot. The result, the same. Another boundary. de Silva running out of ideas here.
13:34 IST: Four! Dhawan  oozing in confidence at the moment. Uses his feet once again to the off-spinner and splits the gap between cover and long off. Nothing de Silva could have done to change that. Saw Dhawan coming down the track, dropped it a bit short but the young left-hander goes through with the shot.
13:32 IST: Six! Great use of the feet from Dhawan. Gets to the pitch of the ball and hits Sandakan out of the ground. 
13:31 IST: Short from Sandakan and Dhawan whips it off his legs for a single. Gets to his fifth half-century with India leading by 286 runs.
13:30 IST: Sandakan comes into the attack.
13:29 IST: Dhawan picks up a single. Moves to 49.
13:25 IST: Four! Short and wide from Lakmal. Dhawan takes full advantage of the lose ball and cuts it over point for a boundary. Good over for India. 12 coming of that Lakmal over.
13:22 IST: Four! Lovely shot from Dhawan. Comes down the track and hits Lakmal right through the line. Not a fielder moved. That went to the fence like a rocket.
13:21 IST: Virat Kohli is the new man in for India.
13:20 IST: de Silva came round the wicket and got it to straighten after pitching. Pujara just opened the face of the bat and Angelo Mathews holds on to a very good catch at first slip.
13:19 IST: Wicket: de Silva strikes for Sri Lanka. Removes Cheteshwar Pujara. India lose their third wicket with the score on 106.
13:16 IST: Pujara picks up a couple of twos that takes him to 49.
13:10 IST: 100 comes up for India. Lead by 265 runs at the moment.
13:08  IST: Lakmal comes round the wicket to Dhawan and the Indian opener works it off his legs for a couple.
13:04 IST: Dhananjaya de Silva comes in to the attack. Concedes five singles in that first over. Both Dhawan and Pujara have added 70 runs so far.
12:58 IST: Lakmal finishes one more economical over.
12:55 IST: In the last 10 overs, India have scored 40 runs. That is a very healthy run rate and if they can go at the same rate, a declaration is on the cards right after tea.
12:53 IST: Four! Perera bowls it short outside off stump and that was beautifully played by Dhawan. Played it late and the man at point tried his best to save the boundary but in the end it was not good enough.
12:49 IST: Only one coming of that Lakmal over. India 85 for 2.
12:45 IST: Suranga Lakmal comes back into the attack.
12:40 IST: Another poor review! Perera comes round the wicket. Pujara comes forward but seems to be pad first. Replays confirm it is pad first. But the ball just didn't spin enough to come back and hit the stumps. There was always that element of doubt. Never really looked out. Sri Lanka lose their review.
12:36 IST: Four! Pujara again comes down the track and finds the gap between cover and mid off. The mid off is standing quite deep there but still couldn't prevent the ball from going to the fence. Great batting. Nothing much Perera could have done with that. 
12:32 IST: Dhawan coming down the wicket, hits it through the line and a good bit of work at mid off saves a boundary. Gamage again guilty of overstepping on that occasion.
12:28 IST: Four! Pujara comes down the track and beats mid off easily. Good intent there from Pujara. He is certainly looking for quick runs here. Perera tossing it up and Pujara up to the task.
12:25 IST: Another quiet over from Gamage. Sri Lankans are not giving away any easy runs to India.
12:22 IST: Perera tossing it up a bit more here. Trying to entice the batsman to go for the big hits.
12:18 IST: Five coming of that Gamage over. India 60 for 2.
12:13 IST;  Four! Pujara goes for the drive and a poor piece of fielding at covers will give him a boundary. Gamage is not happy.
12:12 IST: Runs coming in ones and twos in the first over after lunch.
12:11 IST: Perera to start things off after lunch. Pujara to take strike.
12:10 IST: Welcome back after lunch. This will be an important session for the Indians. They would like to get a move on and may be declare just after tea.
11:30 IST: The players are heading for lunch break. India 51 for 2 at lunch, lead by 214 runs. Dhawan 15*, Pujara 17*
11:25 IST: So India getting a move on here. A good couple of boundaries for the home team.
11:22 IST: Four! Two back to back boundaries for Cheteshwar Pujara. First came down the track and hit it straight past the bowler which was followed by a beautiful back foot drive of a shortish ball. Using the depth of the crease to perfection here Pujara.
11;17 IST: Great delivery from Lakmal. Angled into the right hander and just about straightens enough to beat the bat.
11:13 IST: Pujara gets off the mark with a single.
11:12 IST: Cheteshwar Pujara is the new man, joins Dhawan in the middle. 
11:11 IST: Wicket: Just as we speak. Rahane tries to go for the big one but finds the man at long on. Perera gets the wicket for Sri Lanka. India have lost their second wicket.
11:10 IST: India would certainly have a crack at the Lankans after tea. Would ideally like to give themselves close to four sessions to bowl out the visitors.
11:10 IST: Lakmal continues to probe away. India playing sensibly here but at some point they would like to up the ante.
11:05 IST: India 28 for 1 after 12 overs. Dhawan 9*, Rahane 10*
10:57 IST: Good news for Sri Lanka. Lakmal comes back on to the field and immediately gets the ball.
10:56 IST: Another play and miss from Rahane. Gamage bowls it wide and Rahane throws his bat at it. Misses it completely.
10:48 IST: Poor review! Perera bowls it a touch short again and Rahane transfers his weight to the back foot, looking to get it away through the on side only to miss the ball. Big shout for leg before but the umpire was not convinced. Sri Lanka went for the review and the replays suggest that it would have just kissed the leg stump. So the on-field decision stays.
10:46 IST: Four! Short from Perera and Rahane cuts it through cover point for a boundary. That was a poor delivery from Perera. 
10:44 IST: Gamage completes another quiet over. India 19 for 1.
10:39 IST: Four! Rahane comes down the wicket and lofts Perera over mid off for a boundary. That's a good way to get back into form or rather hit your way back to form. 
10:36 IST: Dilruwan Perera comes on, replacing Lakmal.
10:35 IST; Sri Lanka still struggling with the pollution in Delhi. The first to fall prey to that is Suranga Lakmal who is vomiting on the ground. The physio is out once again and looks as though he will have to leave the field. This is a bit of a blow for the Lankans. Lakmal was in the middle of a very good spell and was troubling Rahane. Dasun Shanaka will come out to field in place of Lakmal who is slowly walking off. 
10:34 IST: Gamage bowls an economical over. Rahane still looking a bit tentative. 
10:29 IST: This time Lakmal gets it to move away. Rahane feeling for that one. Luckily it missed the edge.
10:25 IST: Lakmal gets it to move back into the right handed Rahane. Rapped on the pads and a huge shout for leg before. The umpire raises the finger and Rahane goes for the review. Replays suggest that the ball was missing leg. Also a touch too high to be given out.
10:21 IST: India 12 for 1 after 4 overs.
10:17 IST: Rahane gets off the mark with a single. 
10:16 IST: Ajinkya Rahane is the new man in for India. No Chesteshwar Pujara at No 3. Clearly the Indians are looking for quick runs.
10:15 IST: Wicket: Vijay playing away from his body to a ball that just moved away a bit, gets a thin edge and the keeper makes no mistake. Lakmal strikes for Sri Lanka. India lose their first wicket with the score on 10. Vijay gone for 9.
10:11 IST: Gamage gets it to move back into the right-hander, Vijay trying to play on the up, gets beaten as the ball just misses the inside edge.
10:09 IST; Dhawan gets off the mark with a single. So both the openers are off and away.
10:08 IST: Lahiru Gamage to share the new ball with Lakmal. 
10:07 IST: Four! Vijay gets another one. This time through the vacant third man region. Expensive first over from Lakmal.
10:06 IST: Four! Back of a length and Vijay played it on the up through cover point. First boundary for India and Vijay in the second innings.
10:05 IST: Lakmal right on the money first up. Bowls a beautiful away swinger to start off the first over. Vijay left it alone.
10:04 IST: Suranga Lakmal to take the new ball. Vijay to take strike.
10:00 IST: The Sri Lankan fielders are out there in the middle. Most of them wearing masks again. For India, Shikhar Dhawan and Murali Vijay will open the innings.
9:54 IST: Wicket! Ishant bowls it short, outside off stump and Chandimal (164) went for it, gets a top edge and Dhawan at third man makes no mistake. Sri Lanka bowled out for 373, trail India by 163 runs.
9:51 IST: Sandakan negotiates the last three balls of the Jadeja over without any trouble.
9:50 IST: Chandimal tries to work it on the on side, gets a leading edge and takes a single.
9:48 IST: First change of the morning. Jadeja comes on. Chandimal to take strike. This will be interesting. Will the Sri Lankan captain go for the big one or take the single that is on offer. Almost everyone is at the boundary.
9:46 IST: This time Ishant gets it to move away from the right handed Sandakan, who pokes at it but no damage done.
9:45 IST: Ishant comes round the wicket and bowls a quick bouncer. Sandakan ducks under it.
9:44 IST: Sandakan plays and misses at that one. Ishant would be looking to bowl that line more often.
9:40 IST: Four! Another boundary for Chandimal. Runs are coming thick and fast for Sri Lanka in the morning. Chandimal moves to his highest Test score. Batting on 163 at the moment.
9:39 IST: Four! Shami drifting down the leg side and Chandimal helps it round the corner for a boundary.
9:35 IST: Sandakan negotiates the last two balls of the Ishant over. Sri Lanka 364 for 9.
9:32 IST: Four! Wide outside off stump and Chandimal gets it fine through third man which is a lot squarer. Ishant needs to get closer to the stumps.
9:32 IST: Ishant Sharma to share the new ball with Shami.
9:31 IST: 3 coming of the first over of the day.
9:31 IST: Chandimal guides it for a single to the third man region. Gets a single and brings up his 150.
9:30 IST: Worked it off his legs for a couple. Chandimal moves closer to 150.
9:38 IST: Shami to start the proceedings for the hosts. Chandimal to take strike.
9:26 IST: Hello and welcome to the fourth day's play of the third and final Test match between India and Sri Lanka played at the Feroz Shah Kotla, Delhi.
Sri Lanka on their part, would be happy to have saved follow-on, which will ensure that they don't need to bat long enough in the second innings in order to save the Test match. In the previous five Test matches which lasted 16 and half days out of 25, this was the first time that the Lankans put up some resistance courtesy their two senior pros. The Indians will have something to worry about as this innings has been one of their worst fielding efforts with as many as five catches being dropped. The Indian bowlers could not be faulted despite little assistance from the track. Ishant got some of the deliveries to rear up awkwardly, but the Lankan duo did not do anything impetuous, leaving most of them alone. Ishant, in particular, bowled a testing spell to Mathews, with some of the deliveries coming into him after hitting the seam. However, his short deliveries most of the times could be left alone as they were not pitched in the right areas.
After the first hour, Kohli brought back Shami to make good use of the old ball, but there was not much reverse swing on offer. Ishant got a reward in the final session when Sadeera Samarawickrama (33) nicked one for Saha to take a brilliant one-handed catch. Saha repeated the act, but that was a two-handed effort off Shami's bowling to dismiss Suranga Lakmal.