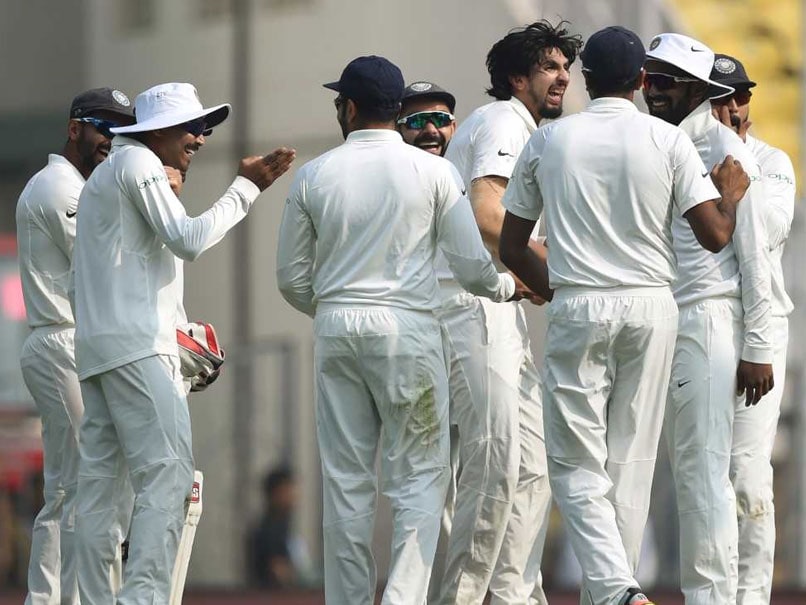 India vs Sri Lanka: Indian bowlers will look for early breakthroughs to break Sri Lanka's resolve.
© AFP
A horrendous batting display by the visitors saw India thrash Sri Lanka by an innings and 239 runs in the second Test at the VCA Stadium in Nagpur to take a 1-0 lead in the three-match series. The visitors fell like a pack of cards in the first session on Day 4, losing 7 wickets in no time. India rode on a brilliant double century by skipper Virat Kohli along with tons by Cheteshwar Pujara, Murali Vijay and Rohit Sharma on Day 3 and the penultimate day of the Test saw the Indian bowlers come to the party. Spinners Ravichandran Ashwin and Ravindra Jadeja did most of the damage while Ishant Sharma also bowled well as the visitors were bundled out for 166 runs in the second innings. Sri Lanka were all out for 205 in their first innings while India declared on 610 for six in their first innings, taking a 405-run lead. India now play Sri Lanka in the third and final Test at the Feroz Shah Kotla, Delhi on Saturday.(Live Scorecard)
Earlier on Day 3, India declared after reaching a massive 610/6 in their first innings. Kohli (213) built a 173-run stand for the fifth wicket with Rohit Sharma (102 not out), who slammed his first Test century in four years. In reply, Sri Lanka scored 21/1 in their second innings. After India declared with a first-innings lead of 405 runs, Sri Lanka lost Sadeera Samarawickrama (0), who was bowled by paceman Ishant Sharma. Dimuth Karunaratne (11 not out) and Lahiru Thirimanne (9 not out) were at the crease at the end of the day.
Catch the highlights of India vs Sri Lanka, 2nd Test, Day 4, straight from Nagpur
12:59 IST- India win by an innings and 239 runs
Its over! India thrash Sri Lanka by an innings and 239 runs. With this, Ashwin becomes the quickest to reach 300 Test wickets. This win equals India's biggest victory in Test cricket. Sri Lanka 205, 166-all out (49.3 Ovs) | India 
If the opposition is not challenging enough, you annihilate them. That's exactly what India has done here. Lost the toss. Bossed the game. #IndvSL

— Aakash Chopra (@cricketaakash) November 27, 2017
12:49 IST- OUT! Umesh strikes, Chandimal departs for 61. Good catch by Ashwin. Sri Lanka 165/9, trail by 240 runs, India are one wicket away from victory
12:45 IST- Chandimal is now on 61 off 78 runs. He is batting as if this is an ODI match. Good support by Lakmal at the other end. Sri Lanka are just delaying the win for the hosts. Sri Lanka are 165/8
12:36 IST- Both Chandimal and Lakmal have stitched a 52-run partnership. The first in Lanka's second innings. The last ten overs has seen 57 runs scored for the loss of 2 wickets. Sri Lanka are 159/8
12:32 IST- Chandimal now has two fifties to his name in this match. He has batted well so far bu only if he had support, Sri Lanka would have put on a fight. Visitors trail India by 253 runs. Sri Lanka are 152/8
12:25 IST- Play resumes after lunch. Session 2 begins. The teams are back onto the field. India need two wickets to win. Let us see Sri Lanka's resolve and how long they last at the crease. Ashwin takes the ball and its just the matter of time now for the hosts.
12:00 IST- R Ashwin is a wicket away from becoming fastest to 300 Test wickets surpassing former Australian bowling great Dennis Lillee while India are two wickets away from winning the second Test.
11:46 IST- LUNCH. Sri Lanka are 145/8 after 41 overs. Trail India by 260 runs. The first session saw the visitors lose 7 wickets for 124 runs in 32 overs.  Chandimal (53) and Lakmal (19) are still batting. Ashwin, Sharma and Jadeja have bowled well to take wickets at regular intervals. However, poor shot selection and panic hitting by the visitors has only helped India's cause in the second Test match. India are 2 wickets away from a huge victory.
At Lunch on Day 4 Sri Lanka are (205 & 145/8), India need 2 more wickets to win the Nagpur Test #INDvSL pic.twitter.com/R7Z0clRR7e

— BCCI (@BCCI) November 27, 2017
11:36 IST- Dinesh Chandimal is the only silver lining in the Lankan batting innings. But its too late for the visitors now. India need two wickets to wrap up the match. The lunch session has been extended by 15 minutes. Sri Lanka are 125/8
11:26 IST- OUT! Herath departs for a duck. Caught by Rahane. Ashwin now has three wickets. He is one wicket away from 300 Test wickets. He is gone past 50 wickets for the year. Sri Lanka are 110/8
11:24 IST- OUT! LBW. Ashwin strikes, Perera departs for a duck. The Lankans asked for a review but was overturned. India are three wickets from a victory.
11:16: OUT! Ashwin strikes, Shanaka departs for 17. Sri Lanka lose their 6th wicket. Awful batting by the visitors. They are throwing away their wickets and the match at will. Shanaka didn't had to play such a shot. Sri Lanka 106/6, trail by 299 runs
11:10 IST- 100 up for the Lankans. 66 runs have come in boundaries for the visitors. Sri Lanka have already lost half their side. The question here is whether they will limit the damage by batting longer or lose their remaining wickets? Sri Lanka are 100/5
11:07 IST- Chandimal going berserk. Hammers Ashwin all over the park with three boundaries in the over. 16 runs from the over. Sri Lanka are 96/5
11:03 IST- OUT! Sri Lanka lose their fifth batsman. Dickwella departs for 4 as Ishant Sharma takes his second wicket. Good bowling by the tall pacer. Foxes the batsman with the sudden bounce who edges it. Virat Kohli takes a good catch to edge closer to a victory. Sri Lanka are 80/5, trail India by 325 runs
Have really enjoyed watching Ishant bowl today. Haven't vsaid that for a while so good to see

— Harsha Bhogle (@bhogleharsha) November 27, 2017
10:55 IST- Ashwin returns in the bowling attack for the hosts. A good over by the off spinner. Sri Lanka are 73/4
10:50 IST- The Lankan innings is falling apart. When we thought they would be careful with their shot selection, they ended up being careless. Another wicket and the hosts can sense an early victory here. Jadeja is that star bowler for India. Sri Lanka are 71/4
10:38 IST- OUT! What was Mathews thinking. Tries to play Jadeja on the drive and succumbs. An experienced batsman like Mathews playing a wayward shot like that has put the visitors on the backfoot now. This is the third soft dismissal now. SL have lost three wickets in the first hour itself. Sri Lanka are 68/4, trail India by 337 runs
Poor dismissal from Angelo Mathews rendered poorer by the fact that it has been seen before.

— Harsha Bhogle (@bhogleharsha) November 27, 2017
Jadeja is one player you can come to a ground just to watch him field. That swoop and throw just now was like a predator cat on the move

— Harsha Bhogle (@bhogleharsha) November 27, 2017
10:34 IST- Time for drinks. Time for both teams to strategise and regroup.
Soon after the wickets of Gunaratne and Thirmanne fell, Chandimal and Mathews appear more aggressive. Have been hitting boundaries every over for the visitors. Sri Lanka 68/3 after 25 overs
10:30 IST- Both the new batsmen Dinesh Chandimal and Mathews trying to settle in after two Sri Lankan wickets fell in quick succession. The visitors will want these two to bat for a while if they want to stay in this match. Sri Lanka trail by 343 runs. Sri Lanka are 63/3 
10:17 IST- OUT! Umesh Yadav strikes, Thirimanne departs for 23. A soft dismissal. A time when the visitors needed a partnership, Karunaratne and Thirimanne depart cheaply. Credit to Indian skipper Virat Kohli for bringing on Jadeja and Umesh Yadav. Both paid dividends for the hosts. Sri Lanka are 48/3
10:15 IST- SIX! Angelo Mathews opens his account in the 15th ball with a maximum off Ravindra Jadeja's ball. Hits it straight over long on. Sri Lanka are 48/2 
10:08 IST- Fourth bowler brought in by Kohli in the first session so far. It seems he wants to try all combinations to wrap up the Lankan innings. Jadeja got the breakthrough and now its Umesh Yadav who will look to strike for the hosts. The Lankans trail India by 365 runs. Sri Lanka are 39/2 
09:58 IST- OUT! Jadeja replaces Ashwin and strikes back immediately. Sends Karunaratne packing to the pavilion for 18 runs. Good ball and an equally good catch by Murali Vijay. Sri Lanka are 34/2
09:45 IST- Good bowling by Sharma. The ball didn't carry to Pujara. Lucky escape for Karunaratne. Sri Lanka are 31/1
09:33 IST- FOUR. Easy runs for the left-hander. Karunaratne pushes the ball towards fine leg for a boundary. Sri Lanka are 27/1
09:30 IST- Day 4 action begins. Dimuth Karunaratne (11) and Lahiru Thirimanne (9) arrive at the crease. Thirimanne faces R Ashwin. Sri Lanka are 21/1
09:10 IST- Sunil Gavaskar says Sri Lanka need to be mentally strong to survive on this pitch. The visitors need to look for runs and play normal cricket.
09:05 IST- R Ashwin needs four more wickets to become the fastest bowler to reach 300 Test wickets. The record is currently held by Denis Lillee, who achieved the feat in 56 matches.
08:52 IST- Hello and welcome to the live blog updates of Day 4 action of the second Test between India and Sri Lanka. The visitors were 21/1 at the end of Day 2. India will aim to wrap up the match today itself.  
This is what India need today...a knockout punch to go 1-0. #IndvSL pic.twitter.com/1vYMQZUQBV

— Aakash Chopra (@cricketaakash) November 27, 2017
Kohli had also shared a 183-run stand for the third wicket with overnight centurion Cheteshwar Pujara, who got out just before lunch for a well-made 143. Kohli surpassed former Australian captain Ricky Ponting (9) and former South African skipper Graeme Smith (9) in recording the most number of international centuries in a year by a captain. The Indian captain also equalled Brian Lara's record of most number of double tons by a captain in Tests. India, resuming the third day at 312/2 and a lead of 105 runs, rode on Kohli, who scored the bulk of the runs for India in the morning session as Pujara added only 22 runs to his overnight individual score of 121 not out.