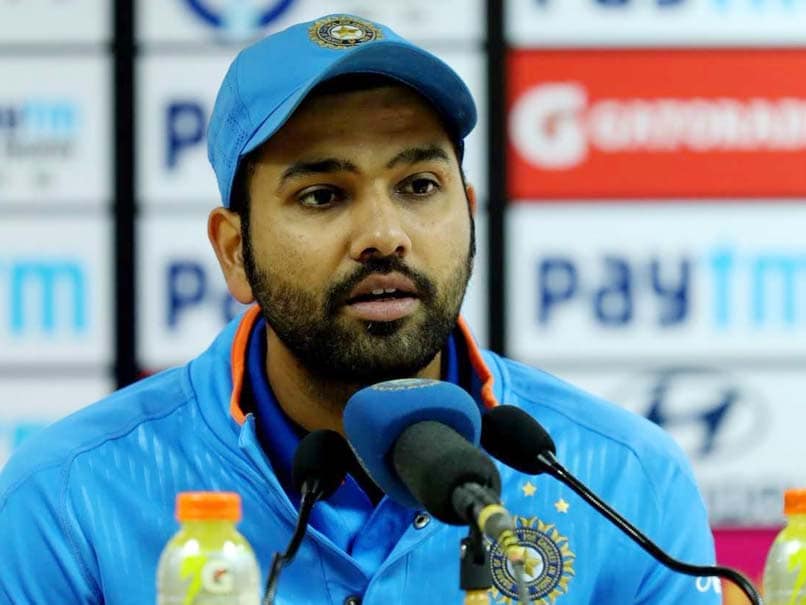 Rohit Sharma hailed his team's brilliant comeback.
© BCCI
India displayed an all-round performance as they beat Sri Lanka by eight wickets and registered their eight consecutive bilateral series win on Sunday. India's stand-in captain Rohit Sharma, impressed with the win, said the team needed to maintain their sublime form when they travel overseas for upcoming tours. Rohit maintained that since the Indians will be abroad for next one and half year they have to be ready for the challenge and keep their red-hot form intact. Courtesy Shikhar Dhawan's fine century, hosts trounced the Lankan lions comfortably and now eye to win the three-match T20 series as well, starting December 20.
"We need to continue this consistency. We are going abroad now, the next one and half year will be challenging and we have to be ready for that," Rohit said at the post-match ceremony.
"The youngsters bring a lot of energy and I'm sure they are ready for all the upcoming challenges," he added.
The skipper hailed his team for the "terrific comeback" they made after the morale-shattering defeat in the first ODI in Dharamsala.
Rohit also said that the just-concluded series gave him a toast of what captaincy actually is.
"(It was a) terrific comeback after the first game in Dharamsala. We showed plenty of character. This has been the hallmark of the team. Whenever we were defeated, we have always come back strong," he said.
"I think the first game was a bit testing as a captain, because we didn't put enough runs on the board, and in the second game since we had runs I had the luxury to try out a few things, and today was perfect," Rohit explained.
Terming the win as "team effort", Rohit singled out Shreyas Iyer for special praise.
 "Whenever we put into tough situations, we responded well. We played as a team and that's what counts at the end of the day.
"The batting of Shreyas Iyer was a big positive. He showed a lot of intent. The way he came and batted was brilliant. He batted fearlessly," he said.
Losing skipper Thisara Perera failed to hide his disappointment after losing the series but preferred to look ahead.
"Really disappointing for us. We played well in the first game, and it was a good chance to beat India in India, but we didn't execute the plans well in the last couple of games in both the departments," he said.
"We got a good start today, but the middle order didn't capitalise and so we couldn't put enough runs on the board. "We already lost the ODI series and now we have to think about our future. We have to stay at present and forget the rest," the Lankan captain added.
Dhawan, who struck a blistering 100 off 85 balls today, was named man-of-the-series for his superb display with the willow.
The left-hander said he is currently batting at his best in all formats of the game.
"I feel like I'm batting my best. I know my game well now, which is why my consistency has gone up. A bit on technique and changed my guard," he said.
"I'm an experienced player. I know how to handle situations, and my success rate has gone up. Most of the time I score fifty, I look to go for a century."
(With PTI Inputs)