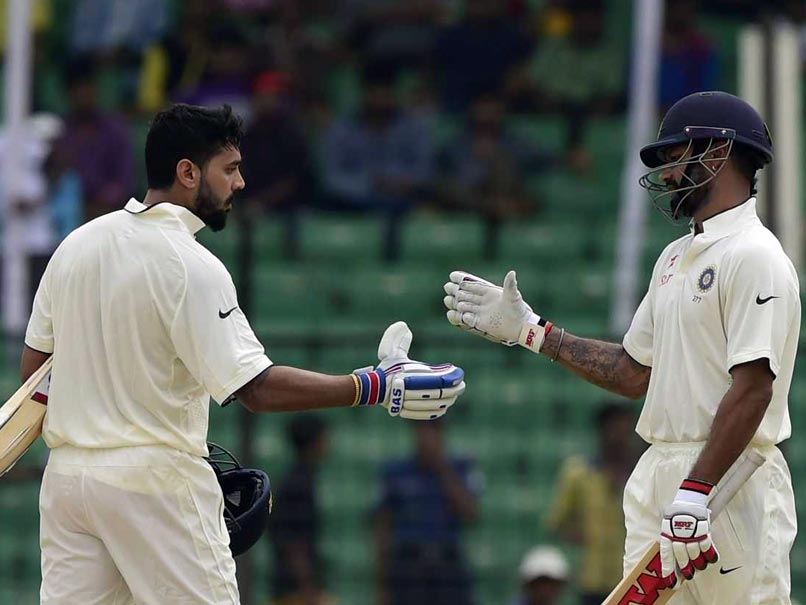 Murali Vijay and Shikhar Dhawan are good friends off the field.
© AFP
India opener Murali Vijay was included in the 15-member Test squad against Sri Lanka but was not picked in the playing XI for the first Test to accommodate Shikhar Dhawan and KL Rahul. However, Vijay made a comeback with a patient 128 off 221 balls in the second Test against Sri Lanka at Nagpur as he got a berth in the squad in place of Dhawan, who was away for personal reasons. Ahead of the third Test, the right-handed batsman spoke on how his off-field friendship with Rahul and Dhawan helps him deal with sensitive selection matters with ease.
Throwing some light on the off-field camaraderie which the trio share, Vijay said, "We three are very good friends off the field and that makes it much easier. Definitely, it unsettles (when one is dropped) the opener, who is playing regularly. Obviously, we three share a good rapport outside the field and this will help us big time during the (South Africa) series coming ahead and future."
The Tamil Nadu opener said that sharing feeling about selection openly with each other helps them to move on when one among the three is dropped.
"Make it easier, lighter and more fun (for the other). Talking about it openly and having a good chat over it rather than keeping things within yourself and making the other person feel it," Vijay said.
The 33-year-old said whenever he and Dhawan have faced such a situation, they talked about it and moved on. "It's better off going in the open. Like whatever I feel or Shikhar feels, we put it out in the open, so that it comes off and we move forward," he said.
"Basically, we are fun-loving people and we do things together. We have good times outside the field, which is really helping us as a team."
However, Vijay did not answer the question on the playing XI for the third and final Test.
"I don't know. Whatever the team management does, we are well-equipped and all looking to contribute. I don't know how they (team management) are going to play around with the team. It's absolutely their choice and we are ready to do it for the team," said Vijay.
Vijay, who has 3536 runs in 52 Tests with 10 hundreds, said that communication and sharing of knowledge come in handy while playing in challenging conditions.
"We have been playing Test cricket abroad for a while now and the same members have stuck together. It's going to be very important for us to communicate and share knowledge with each other," he said.
"These are things I am looking forward to in this tour as these are the things that will add value rather than going and having hit in the centre.
"We should clear our head before we are going to do. These are aspects we are looking forward to and there are definite plans for team building activity and it will be good fun," Vijay added.
(With PTI inputs)