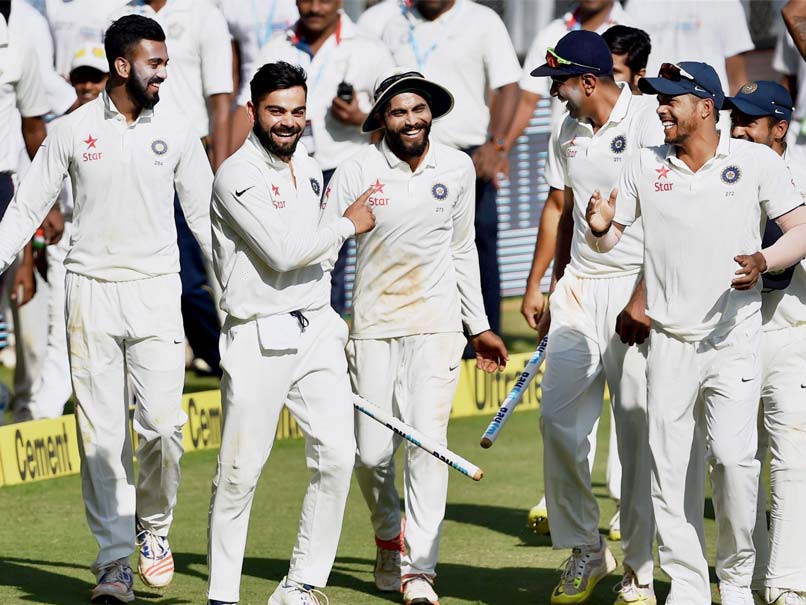 India have already won the five-match Test series 3-0
© BCCI
It was quite a trying week for Chennai, as Cyclone Vardah shattered the peace. It was a trauma that affected everyone and even the M.A. Chidambaram Stadium, the venue for the fifth and final Test between India and a harried England. Virat Kohli will be looking to signing off the year with another win, while the city and the nation will be hoping he gets the fourth double-century of 2016.
The Board of Control for Cricket in India (BCCI), otherwise also engaged in a legal wrangle in Supreme Court, which may culminate on Thursday, would be hoping, along with the Tamil Nadu Cricket Association (TNCA) that the match is played through its course of five days.
Kohli too would be hoping that this happens, since it would give him the opportunity to gun for the fourth 200. But as the India captain has said often, personal milestones are passe. But surely, there will be a corner of his mind which would say, "Won't be a bad thing to get another".
On the other end of the spectrum is England skipper Alastair Cook. He is defeated, harried and hassled, and has already indicated that Joe Root is ready for captaincy. This essentially should mean that he has had about enough of captaining England.
Not only have the visitors been defeated, they have shown that they aren't particularly good losers. Jimmy Anderson was in the firing line for suggesting that Indian pitches have largely hidden the faults in Kohli's batting technique.
Veterans from Pakistan great Inzamam-ul-Haq to Kapil Dev came down on the bowler like a tonne of bricks for the statement.
Equally, the fact that he has only claimed four wickets through the series could be attributed to his technique as a bowler being exposed by the sub-continental pitches.
So much so that he has now been ruled out of the Test, due to 'general soreness'. One could venture to assume that the soreness is more of head and heart than of the body.
Nevertheless, this is in the past now, though a little reminder off and on won't be a surprise. Especially if India can go ahead 4-0.
In the sum total, it won't matter much, barring the numbers, if India were to lose. But Kohli is not a captain who is given to settling for whatever he has - he will definitely go for a 4-0 verdict.
More so, Chennai needs it. The city could do with some good news. Maybe Team India will be the bearer of that.