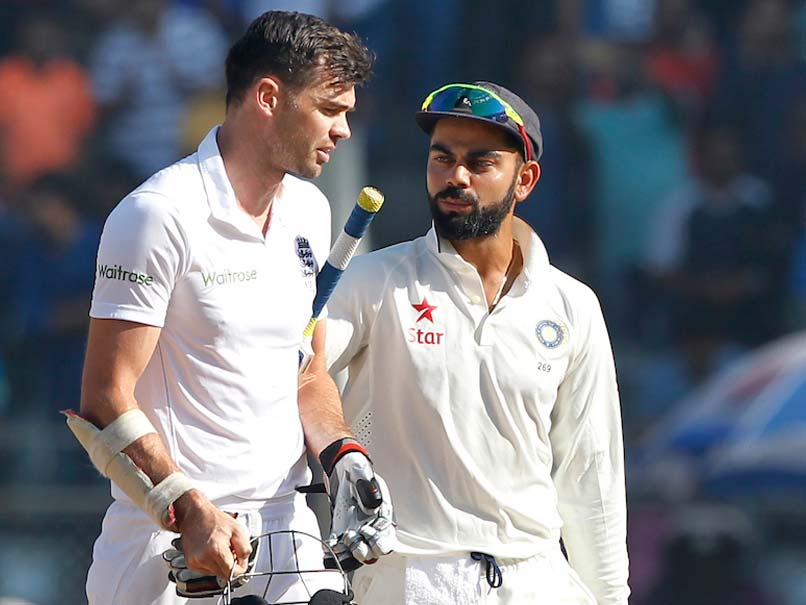 Virat Kohli asked Jimmy Anderson to 'move on' after the incident.
© BCCI
Pakistan chief selector Inzamam-ul-Haq has come out in support of India's Test skipper Virat Kohli after England pacer Jimmy Anderson took a jibe at the star batsman's technique. After Day 4 of the Mumbai Test, Anderson told reporters that Kohli's flaws were not exposed in the series due to the nature of pitches in India. While Kohli refused to be drawn into this controversy, Inzamam criticised Anderson, saying that pacer should first take wickets in India before questioning the Indian's ability.
Kohli was awarded man-of-the-match for his 235-run knock in the first innings of the Mumbai Test. Riding on the skipper's batting brilliance, India carved out a comprehensive win in the 4th Test to seal the series against Alastair Cook's men.
"It is surprising to me that Anderson should question Kohli's runs and ability because I haven't seen him take too many wickets in India," Inzamam said on the Geo Super sports channel.
"Does Anderson mean to say that if you get runs in England you get some sort of certificate that makes you a quality batsman," Inzamam, one of the best batsmen ever to emerge from Pakistan, said.
"Don't the English and Australian players struggle when they play in the sub-continent? Does that mean they are bad players or weak teams? To me, it does not matter where you get runs because in Test matches runs are runs," the former Pakistan skipper added.
Inzamam also praised the 28-year-old Kohli and termed him as a quality player.
"I always judge a batsman by seeing how many times the runs he scores leads to his team winning matches. In my opinion if a batsman scores 80 and it helps his team win, it matters more to me than someone scoring 150 and his team still losing.
"He is a quality player and when he is getting runs his team does well. That is important to judge or classify a batsman's value. There is hunger in him for runs," he said.
The fifth and final Test will be played in Chennai from December 16.
(With inputs from PTI)